One of the most charming and accessible destinations in peninsular Malaysia is historic Melaka (Malacca). It's really hard to find someone who has visited Melaka and disliked it. Rather, most visitors consider Melaka to be one of the most rewarding destinations in Malaysia. So what makes Melaka such a well-regarded place to visit? Here is my opinion.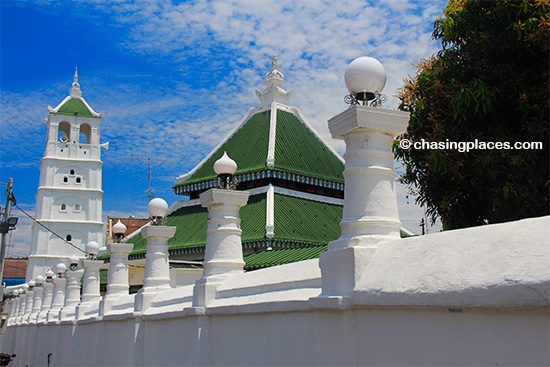 1. Melaka is very accessible from either Singapore or Kuala Lumpur.
Whether you land in either one of these hubs, Melaka is no more than 3 hours away by bus. Now, with solid intra-city bus services in Melaka, it doesn't take much effort (or money) to get right down to Jonker Walk (the most famous street in Melaka) from Melaka Sentral.
2. Melaka serves up excellent cuisine.
You never have to walk far to find great local cuisine in Melaka. Whether you are looking for traditional Chinese cuisine, Nyonya, or basic hawker food, Melaka has you covered. You will also be delighted to know that the food in Melaka is significantly cheaper than in Singapore and Kuala Lumpur.
3. Melaka has a great night market along Jonker Walk.
Come night time and the main tourist street in Melaka gets even more interesting. Jonker Walk transforms into a large street market with local vendors selling everything from Henna tattoos to ear candles. Hawker food is never too far from reach as you stroll the market and pass by historic buildings and lanterns.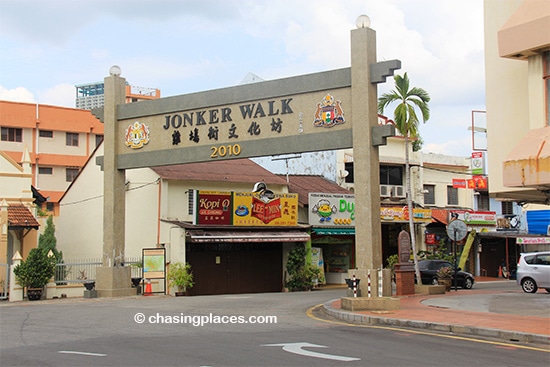 4. Melaka has the beautiful Sungai Melaka (Melaka River) flowing through its downtown core.
Once a pivotal trade route during the 15th century, Sungai Melaka only adds to the charming atmosphere around Melaka's tourist area. Early in the morning, or late in the afternoon capture beautiful water reflections. Since there is a walkway lining the river, also consider taking an early morning walk (or run) all the way out to the Malacca Straight (Straight of Melaka).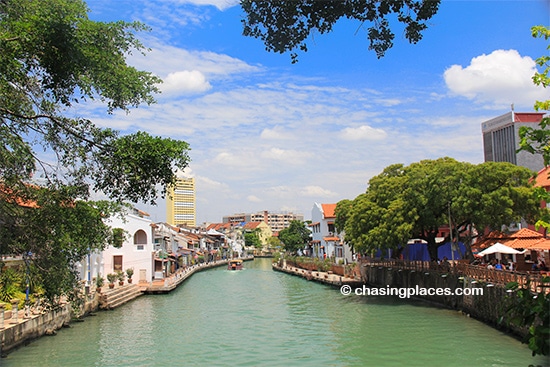 5. Melaka is full of Heritage Sites to Explore.
Christ Church, St. Paul's Hill, and Cheng Hoong Teng Temple are just a few of the headliners that attract tourists from all over the world to Melaka. Kampung Kling Mosque and A Famosa Fort should also be on anyone's list who decides to visit the city. Melaka is an official UNESCO World Heritage City, so there are plenty of sites to see over the course of a couple of days.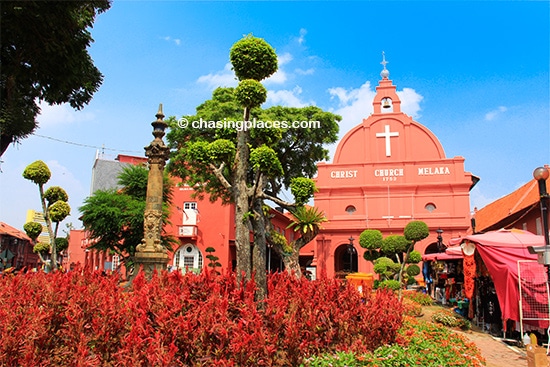 Travel Checklist: Do you have everything you need?
6. Melaka is compact and can be easily navigated by foot.
Once you arrive at Dutch Square or in the vicinity of Jonker walk, you will appreciate the reachable attractions. Most of the noteworthy temples, mosques, historical sites, famous restaurants, and tea shops are within a 10 minute walk. Malaysia is scorching hot during the day (pretty much year round) so it's nice to have everything conveniently located in Melaka.
7. Melaka has an excellent range of boutique hotels and guesthouses for a city its size.
Finding a hotel or guesthouse that suits you is extremely easy in Melaka. Most of the accommodation choices are located minutes away from Jonker Walk or along Sungai Melaka (Melaka River). In low season you can find great deals online when tourist numbers are down. In my opinion, book well in advance and try to find something close enough to the action, but far enough from the thick tourist crowds that can clog up the tourist region.
Click here and use the map tool to find a place to stay that suits you near the prime tourist sites. Melaka has roughly 420 accommodation choices to choose from.
8. Melaka is loaded with trendy art shops.
Melaka is not all about hawker food and souvenirs. The city also has a broad range of tiny art shops selling locally made goods. You can easily find hand-made jewellery and lots of household ornaments on the streets off of Jonker Walk. Let's face it – shopping is an entertaining way to avoid the rays in the middle of the afternoon.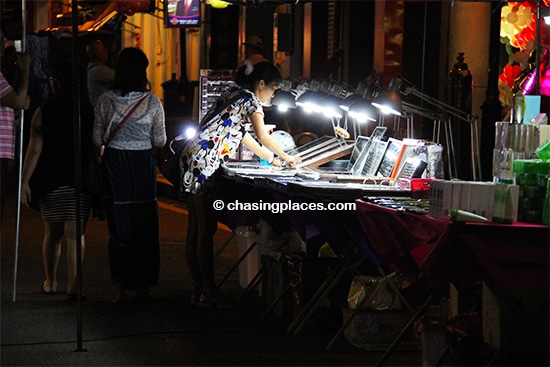 9. It might sound generic, but Melaka is just charming.
It's hard to identify a single entity that makes Melaka such a charming destination to visit in Malaysia. Rich history, riverside restaurants, picturesque Dutch Square? Of course different travellers perceive different sites, differently. Spend a night or two roaming Melaka's streets and sites and form your own opinions along the way.
Where did we stay in Melaka (Malacca)?
We have visited Melaka many times.  Each and every time we have stayed within walking distance of Jonker Walk. Sometimes Jonker can get a bit overcrowded with day-trippers. Therefore, trying to book a room a few streets over is a good strategy. During our last trip we stayed at Kawan Kawan Guest House. We don't have a direct affiliation with this or any property in Melaka, therefore our opinion is an unbiased one. Overall it turned out to be a nice budget choice. It took us about 3-4 minutes to walk to Jonker Street. It's located on a quiet street with some nice boutique art shops and restaurants. At night you might hear some noise from adjacent rooms due to their thin room walls. Again, it depends on your priorities. At the time of writing it had a score of 7.8/10 based on 225 verified guest reviews. I would consider this to be a fairly accurate representation of this property.
How to find the cheapest rooms in Melaka (Malacca)?
Melaka (Malacca) has a healthy range of hotels to choose from.  But of course this raises the question of which hotel site to use in order to find the best prices. Traditionally, www.agoda.com has been the leading accommodation site in Malaysia with the widest selection of rooms.  This is still the case for Melaka. Many of our readers use Agoda, but if you're up for shopping around try www.hotelscombined.com. Hotelscombined.com gets excellent reviews from our readers because it quickly enables visitors to complete price comparisons of the world's leading hotel sites. Another reputable option is www.booking.com.  Many of our readers book exclusively with www.booking.com for their worldwide travels. I have created a table that shows the top hotels in Melaka to save you some time:
Top Rated Properties in Melaka (Malacca)
Based on Verified Guest Reviews
Important: Mobile Users must swipe from left to right to see entire table.
Criteria:
Properties rated based on 'overall' review scores from each respective website's verified guests.
Minimum of 50 verified guest reviews required to be considered eligible for comparison.
All star ratings and verified guest review scores are tallied at the time of writing, and therefore, are subject to change.
Another option for you is to compare prices of hotels in Malacca:
Fee free to share your own in the comment section below.
Have a safe and enjoyable trip!