This post was originally published in 2015, and updated on February  7, 2020. 
Most buses that service the popular tourist destination of Melaka terminate at Melaka Sentral. This is not ideal for most tourists because Melaka Sentral Station is still around 15 minutes away from Jonker Walk (the primary tourist area of Melaka).
So this raises the big question: What's the best way to get from Melaka Sentral to Jonker Walk?
Quite recently Malaysia's taxi prices were increased significantly which now makes public transport a more practical option than before.  Although it depends on the time of day and the corresponding traffic, I would recommend taking a bus from Melaka Sentral as opposed to a taxi.
Taxi drivers in Melaka typically don't use a meter, which of course can easily result in the passenger paying more than they should for the journey.
Since most of the hotels in Melaka are within walking distance from Jonker Walk (street) you should have no problem walking from the bus stop unless you have a load of luggage. Therefore, it is important to know where to go at Melaka Sentral in order to avoid delays in your journey.
Here is a step-by-step guide on how to get from Melaka Sentral to Jonker Walk by bus:
Step 1. Once you arrive at Melaka Sentral, you will notice that the Station is organized based on international and domestic bus departures. I wouldn't book your room near the station.
Instead, proceed to the domestic bus terminal of Melaka Sentral to find the correct bus heading to Jonker Walk.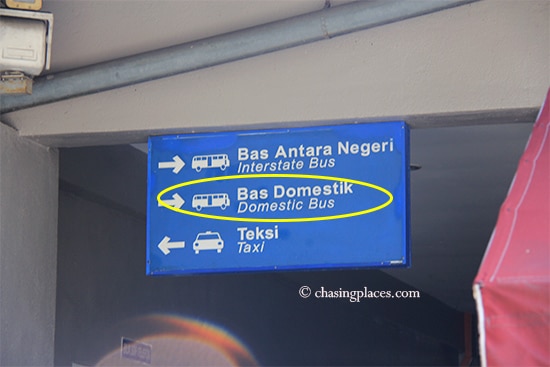 Step 2. The domestic terminal of Melaka Sentral has plenty of different ticket offices.  You can ignore these and proceed directly to bus pick-up Gate #17.  You will be able to clearly see the gate numbers through the glass windows from inside the Station.
Step 3. During our recent experience visiting Melaka, at peak times Bus #17 can get quite crowded due to the combination of locals and tourists trying to make their way down to Dutch Square, Jonker Walk and the rest of the top attractions in Melaka.
Therefore, it's a good idea to wait outside near Gate #17 to make sure that you get a spot on the bus. If it's quiet at the time, then just wait inside if you want.
Step 4. The longest we have waited for a bus to arrive at Melaka Sentral was twenty-five minutes.  Expect to wait between fifteen minutes to thirty minutes for the bus to arrive.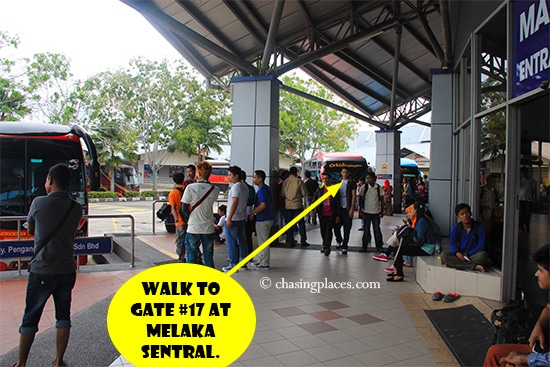 Step 5. Once you are on the bus a local bus employee will walk around to collect money for the ticket. The bus ticket from Melaka Sentral to Jonker Walk costs RM 2 (approximately $0.50 USD).
Travel Checklist: Do you have everything you need?