Considered by many to be one of the highlights of visiting peninsular Malaysia, Melaka, is no longer a secret destination for travellers. To the contrary, Melaka pulsates with energy due to the diverse influx of tourists it receives – especially on weekends.
After visiting Melaka on multiple occasions, I would like to share an overview of my experience there and provide our readers with an honest review of the city and its attractions. Of course, your interests and opinions may differ from mine.
I find that the most convenient and affordable way to reach Melaka is by bus.  Typically, once I arrive at Melaka Sentral I make full use of the public bus network in the city to get down to Dutch Square and Jonker Walk. Dutch Square is a big highlight of the city in my opinion. It is a vibrant area of Melaka that is well maintained and nicely surrounded by gardens. If you can visit Dutch Square early in the morning or late afternoon when the lighting is optimal you will capture beautiful photos of Christ Church and the adjacent Melaka River.  Christ Church is unmistakable due its vibrant red colour which provides strong contrast to the other aged buildings in Melaka's historic area.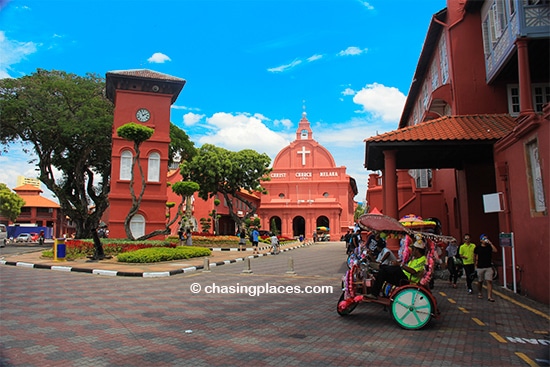 One of the common activities for tourists visiting Dutch Square is to hire a trishaw driver for a tour around the main tourist areas of the city. If you are feeling overwhelmed by Melaka's steamy weather or you are tight for time, I would recommend hiring one.  However, if you are up for a bit of a workout, most of Melaka's top attractions can be easily seen over the course of a day or two by simply walking around. Either way, the trishaws are a colourful and unique addition to the streets of Melaka.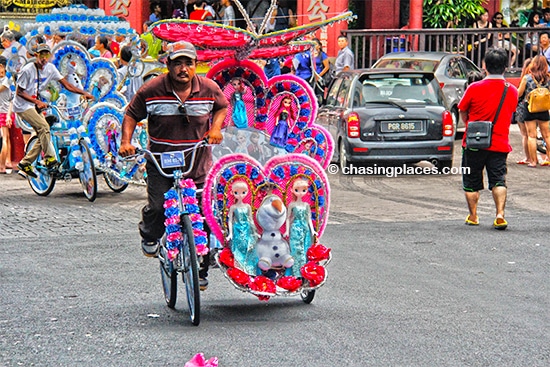 Literally minutes away from Dutch Square is famous Jonker Walk – the main artery of Melaka's tourism industry. 'Jonker' is lined with shops, restaurants and it is famously known for its thriving weekend night market. I personally love the energy and the multicultural feel of this street. You will find tourists from all over the world checking out local art shops and traditional snacks on offer.  If you can visit Melaka during the weekend, I would recommend it. If you spend the night, this will provide you with an opportunity to see the night market.  It can get extremely busy, however, so keep this in mind or otherwise you might feel slightly claustrophobic (especially on a long weekend).
Two noteworthy sites to see right in the vicinity of Jonker Walk are Kampung Kling Mosque and Cheng Hoong Teng Temple. They are both located on Jalan Tukang Besi, which is the street that runs parallel to Jonker Walk. I often prefer to walk down Jalan Tikang Besi if I want to avoid the tourist crowds along Jonker Walk.  If I were you, I would allocate about 30 minutes to seeing both Kampung Kling Mosque and Cheng Hoong Teng Temple.  There are also a few interesting craft stores and cafes in the same area if you want to slow down and take a minute to get away from the sun for a while. This is also a great area to book your room in because it is extremely close to the night market, but far more laid back and quieter than Jonker Walk.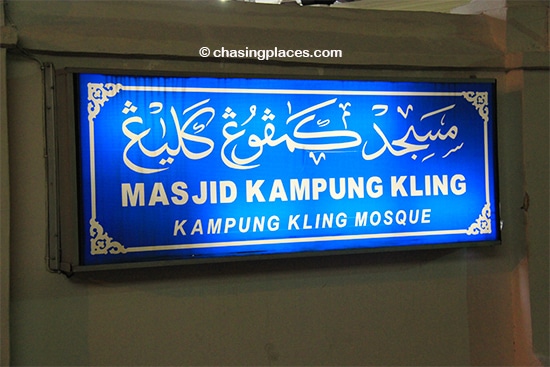 Once you have rested up, one affordable activity that I would highly recommend doing while in Melaka is going on a Melaka River Cruise.  The Melaka River is so conveniently located that it actually passes under Jonker walk and runs adjacent to Dutch Square. It's quite rare in South East Asia to find a river running through such a scenic city, so take advantage of the opportunity. It's no Venice or Amsterdam by any means, but the Melaka river cruise is still a fun thing to do!
During my first visit to Melaka, I felt like I needed to get a different perspective of the heritage area. To do so, I walked by Dutch Square along the River to Menara Taming Sari.  If you are unfamiliar, Menara Taming Sari is sort of like a Melaka's version of a sky tower. It differs from most sky towers because you travel up the tower in a rotating elevator that serves a dual role as a viewing platform.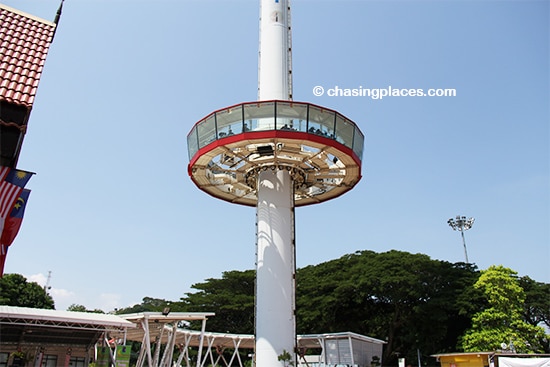 Once at the top, you will get stunning views of Melaka's historic area and other regions of the city proper. Some of the noteworthy landmarks you will be able to clearly see from the top include Melaka River, the Flor del la Mar (a recreation of the 16th century ship), and St. Paul's Hill.  I would recommend placing a trip up Menara Taming Sari as one of the first "to do's" in your Melaka itinerary. The justification for this is that once you get an idea of where the main sites are located in the city, it will make the rest of your navigation around the city that much easier.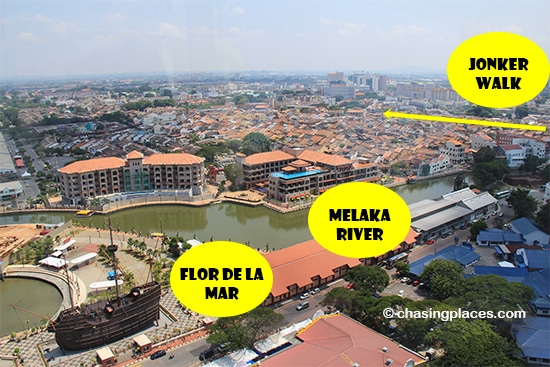 Travel Checklist: Do you have everything you need?
Historians and most vacationers should definitely make the effort to also see St. Paul's Church, A Famosa and the Stadthuy's while in Melaka. Of the three, my favourite is St. Paul's Church.  Since it is perched atop St. Paul's Hill, you will also get nice views of Melaka's tourist region.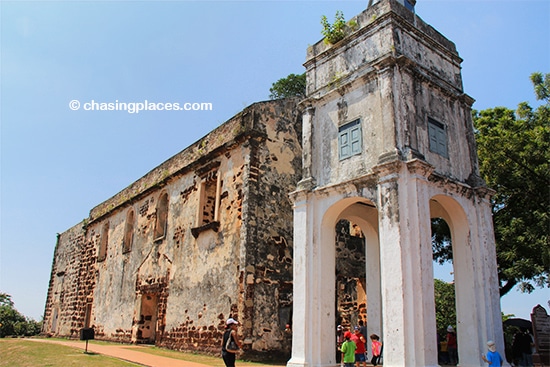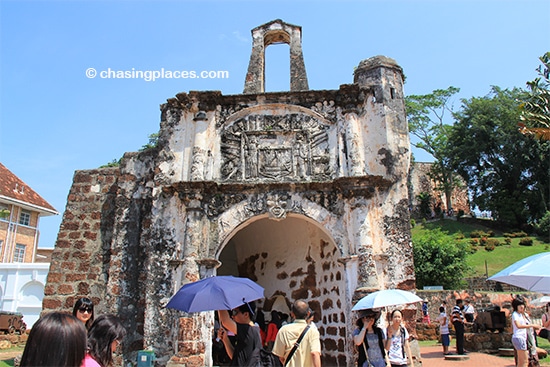 Many guidebooks also speak of Melaka's Portuguese Settlement. During my most recent trip to Melaka I decided to check it out as well. After about a 15 minute ride on public bus #17 from Dutch Square, I asked to get dropped off at the Settlement. You will find a few restaurants near the water, a small museum and a few traditional homes in the area. I personally found the architecture and the settlement as a whole quite disappointing. If you come from Portuguese ancestry or you are a historian you might disagree. I suggest that if you are tight for time, this is one of the sites in Melaka to see if you come back a second time.
After a sweaty day walking around Melaka's various sites, rest for a while because the Jonker Walk Night Market will pick up shortly after 6 pm on weekends. I usually check out the market for an hour or two and then stop by at one of the live music venues along Jonker. If you still happen to be out around 11 pm, then swing by the Hard Rock for their live band.  Typically, their bands are from Indonesia and they play a wide range of high quality music. Another bonus is that the Hard Rock in Melaka is completely smoke-free (unlike most establishments in Malaysia).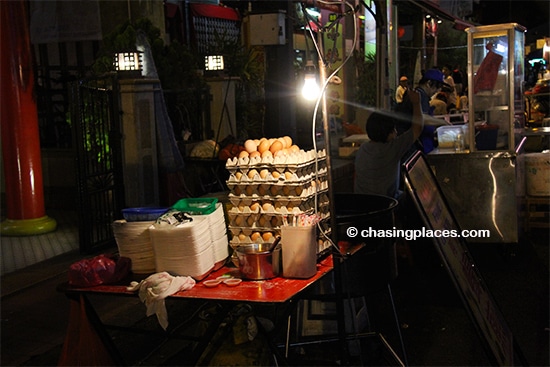 Although Melaka is regarded by many as a prime "daytrip" destination, I tend to disagree. If you book a room near Jonker Walk and you spend at least one night, you can slow down and do things that you would otherwise never have time for.  Go for a trishaw ride, take a relaxing stroll along Melaka River, or even sample the best Nyonya restaurants in town.
Where did we stay in Melaka?
We had two main priorities in terms of accommodation for this trip to Melaka: 1) find something affordable and 2) make sure it's close to Jonker Walk. Eventually, we decided to stay at Kawan Kawan Guest House. We don't have a direct affiliation with this property.  Therefore, I can honestly say that we had a nice stay.  It's a simple budget choice.  Very close to Jonker Walk – less than a five minute walk to/from the main street. It could get a bit noisy due to their thin walls if there's a loud group staying there, but it was fine during out stay.  Look elsewhere if you want something more luxurious. At the time of writing it had a score of 7.8/10 based on 231 verified guest reviews.
How to find the cheapest rooms in Melaka?
Melaka has plenty of rooms to choose from, with the top choices getting booked up early (especially in the vicinity of Jonker Walk).  Try www.agoda.com, www.booking.com or www.hotelscombined to get the largest selection of rooms. To save you valuable time:
Top Rated Properties in Melaka (Malacca)
Based on Verified Guest Reviews
Important: Mobile Users must swipe from left to right to see entire table.
Criteria:
Properties rated based on 'overall' review scores from each respective website's verified guests.
Minimum of 50 verified guest reviews required to be considered eligible for comparison.
All star ratings and verified guest review scores are tallied at the time of writing, and therefore, are subject to change.
You can also use the Search Box below to compare hotel prices:

Overall, I highly recommend visiting Melaka. It has plenty of attractions.  It is family friendly, very affordable, and extremely convenient to navigate by simply walking around.  Enjoy your trip and feel free to check out one of our related articles!