The gassho-style houses, which are also declared UNESCO Heritage Sites, are collectively one of the prime attractions to see in the Hida region of Japan. And if you find yourself in the regional capital of Takayama, it is hard to pass up the chance to see these gassho-zukuri houses up close and personal. This is why we made it a point to allocate a day to see the main spots for gassho-style viewing, which happen to be Shiragawa-ko and Ainokura.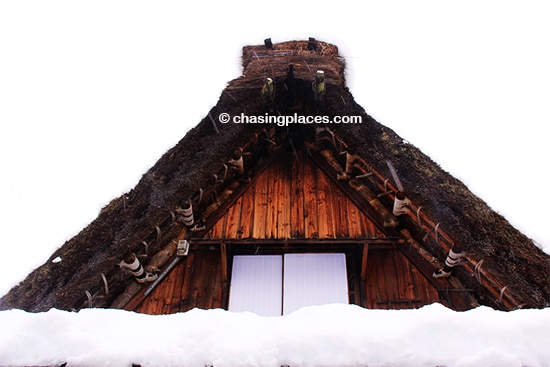 To Tour or not to Tour (that is the question!)?
There are two main ways to get to Shirakawa-go, the first being taking public transport (a bus) or going for a tour.  We did not want to spend time trying to figure out the bus stops and walking routes to get to Ainokura and Shirakawa-go, so we took the faster and more convenient option, which is booking a tour.
Booking a tour to Shirakawa-go while in Takayama is actually pretty easy! As we walked through the streets of the city center, we passed by several tour agencies. Even guesthouses and hotels in the city offer tours not only to gassho-style communities but also to nearby attractions.
Take note that the tour offices in Takayama are divided into two primary types. Some offices are run by the company that also operates the tour and provides the transport and the guide. The second category (which includes most guesthouses and hotels) is a third-party entity that allocate slots to guests, and gets a commission for doing so. As you may have guessed, third-party tour agencies will be more likely to charge more due to the commission. But for a number tourists, the difference in cost may not be too bad as agencies in Takayama, during our experience, provide excellent service.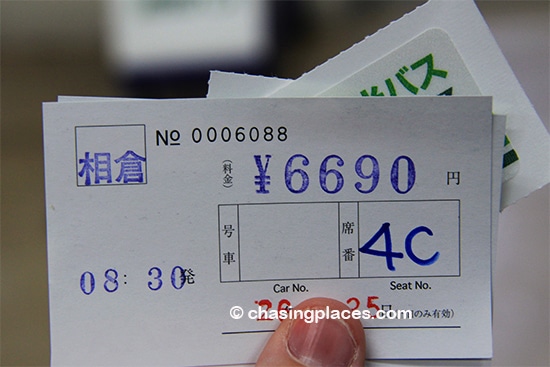 In a true Chasing Places fashion, we opted to browse around before settling for a tour company to book with.  We finally decided to take the Nohi Bus Tour, since the location of their office was very close to our hotel. Nohi Bus has a ticket center set up close to Takayama's bus terminal. The terminal is also less than a 2-minute walk from the city's main train station.
The tour office is very conspicuous, therefore it wasn't difficult to find. After we inquired about the price, we reserved seats for the next day. But we were informed that the payment would only be accepted on the day of the tour, and that we needed to come early in the morning to book the tickets.
The Itinerary
Nohi Bus runs several tours to various destinations all throughout the day.  We chose the Ainokura and Shirakawa-go itinerary for the guided tour as these are the top two spots recommended by guidebooks when it comes to viewing gassho-zukuri architecture.
However it is important to take note that Ainokura and Shirakawa-go are not the only gassho style villages that Nohi Buses go to.  The other gassho architecture-oriented itinerary also involves a visit to Shirakawa-go, but it goes to the other prominent villages in Gokayama called Suganuma.
To learn more about gassho style homes click here.
The morning tour to Shiragawa-ko and Ainokura starts at 8:30 am. There is another schedule for this itinerary during the day.  Thus, if you want to get the morning tour, be sure to wake up early to purchase your tickets, which was what we actually did during our stay in Takayama.
The Tour on a Heavy Snow-Filled Day
As mentioned in the previous article, Nohi Bus loads up around 40 passengers for the tour. A dedicated English-speaking guide is the one responsible for making sure that all registered passengers are on board and comfortable.  The service rendered by the guide is commendable. She used a microphone to be heard by everybody and she was quite knowledgeable, not to mention, pleasant all throughout the trip.
It is important for us to mention that visiting Shirakawa-go and Ainokura during winter can be quite tricky! From one perspective, this period is the great time to see the gassho houses in action as they were built to withstand severe snow falls. The snowy winter wonderland environment enhances the beauty and charm of these houses, which are mainly made of wood and grass roofs. But as mentioned, winter in the Hida region is rather harsh. The snowfall the region experiences is no joke. Thus, if you choose a tour in December to March, be prepared for heavy snow and even snow storms.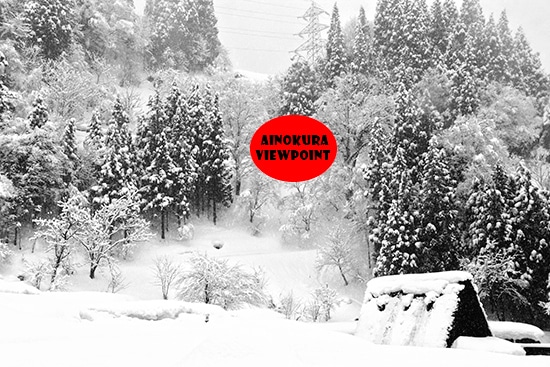 We were not so lucky during the day of our tour as a wicked snow storm was just blowing away to its heart's content!   We were even thinking that they might cancel the trip. But judging from the demeanor of the guide and driver, snow storms are normal occurrences.  The trip was not cancelled! But because of the heavy snow, we could barely see any of the significant landmarks (like bridges), being pointed out by the guide during our ride.
After driving for about an hour and 20 minutes, we finally reached our first stop — the village of Ainokura. It was understandably quiet all around the village. We envisioned the villagers are all curled up inside trying to keep warm. It was indeed cold and not the most ideal day to walk around, but the show had to go on.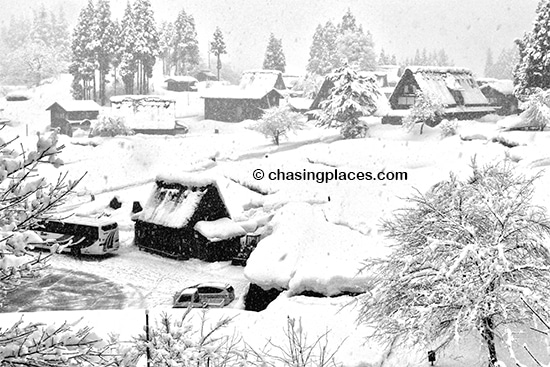 We did not stay long in Ainokura as the village is quite small and it is purely a residential area. Our guide reminded us that people in the village value their privacy and they do not appreciate tourists snooping around their private property. Nonetheless, we finally saw the famous gassho-style homes. According to our guide, the roofs of gassho houses in Ainokura are steeper and more inclined than their Shirakawa-go counterparts.  This is because Ainokura receives significantly more snow in a year, so they will need an inclined roof that will get rid of the weight of the snow much more effectively!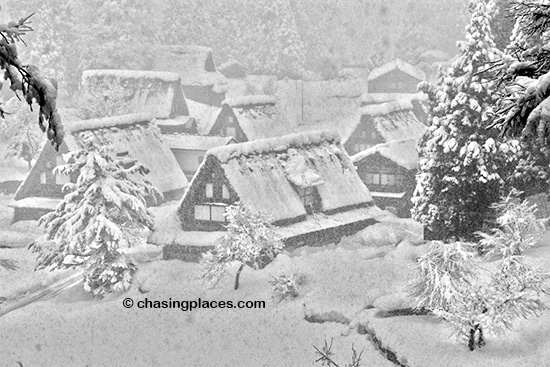 Aside from admiring the houses, there was not really much to do in Ainokura, so an hour is more than enough to browse around.  Once all passengers were back on the bus, we then made our way to Shirakawa-go.
We soon learned that Shirakawa-go is a larger area that is made up of a couple of villages. The biggest among of them is called Ogimachi. Unlike Ainokura, Shirakawa-go is much more tourist oriented. It has some viewpoints, shops, restaurants and cafes.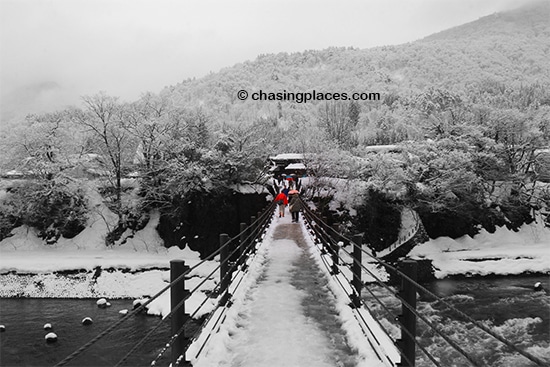 Travel Checklist: Do you have everything you need?
The Japanese Lunch
As part of the tour package, we were served lunch at one of the restaurants in the area. The set lunch featured traditional food.  The locals referred to it as Tenshukaku.
The lunch featured an unlimited purple-ish organic rice, some pickled vegetables and dried fish taken from a lake in the region. The fish was absolutely delicious but quite small, certainly not enough for meat-eaters. The organic rice was delicious and filling. But the highlight of the set lunch was the yummy miso paste served on a leaf, which was burned from underneath. This is supposed to be one of the specialties of the Hida region.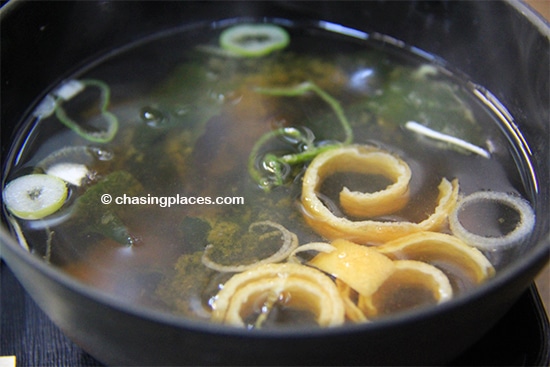 The restaurant where we ate at, was also conveniently a grocery/souvenir store. So after lunch, and like our fellow tourists, we naturally walked around the large building to browse at the items for sale.
A Few Hours in Shirakawa-go
At this point of the tour, the guide announced that we were free to walk around Shirakawa-go on our own, provided that we were aware of where the bus was going to park to wait for us. We were basically given around two hours to explore. For some people, this was enough time. But the company also seemed aware that other tourists may want to stay longer.
As a solution, Nohi Bus also allows its tour guests to stay longer. To go back, they can catch the Nohi express buses that pick up passenger in Shirakawa-go at around 5:30 p.m. Take note that pick-up times for Nohi express buses may vary depending on the seasons/times of the year. It is best to check their official website or ask the guide for the bus schedule on that particular day.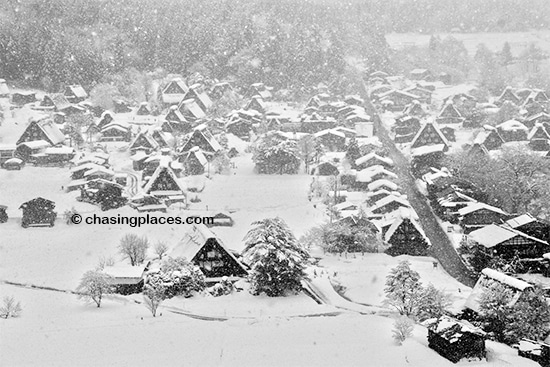 We personally thought that 2 hours was enough to explore the village. There are gassho-style houses that were turned into restaurants and cafes. The area is also equipped with a visitor information center and a museum complex.
Walking around Shirakawa-go is quite memorable. Despite the snow storm and cold, overall it was worthwhile to see the architecture that has made a mark on the world.  It is too bad that gloomy weather prevented us from getting better photographs of the gassho houses.
It cleared up a bit when we were walking around, revealing the beauty of the wooden structures all around us. By the time, we got on the bus and we were about to head back to Takayama, it completely stopped snowing and the rays of the sun were peeking through the clouds.
"Darn it! Just our luck!"
We could have easily shouted in frustration while on the bus. But, we were too polite to do this. But the weather change did not really dampen our spirits. And it shouldn't have; after all, the village folks value their heritage too much and they will do everything in their power to preserve these houses for a very long time. This dedication is not only impressive but it also gives us the chance to go back and experience Shirakawa-go all over again.
Where did we stay during this trip?
We visited these beautiful UNESCO sites as part of a day trip from Takayama.  Therefore, our priorities in terms of accommodation were to find something well rated by previous guests, cultural, and yet close to Takayama's main bus and train stations.  We eventually decided to stay at Ryokan Seiryu Hotel in Takayama. Even though we don't have a direct affiliation with this property, it won't stop us from raving about how awesome our stay was there. Sensational service with an authentic Japanese feel to the place.  Great onsen, well priced and conveniently located within walking distance to the stations. We are not the only ones who enjoyed this property. At the time of writing it had a fabulous score of 8.5/10 based on 87 verified guest reviews.
How to get the cheapest rooms in Takayama?
Takayama serves as the gateway to these two fabulous gassho-style villages. With day trips conveniently organized in Takayama it's probably the most convenient place to stay if you're travelling near the alps. Our readers prefer booking their rooms in Japan with reputable providers such as www.agoda.com and/or www.booking.com. Another popular alternative if you're on a strict budget is to use www.hotelscombined.com. Many of our readers visiting Japan enjoy the practical approach of completing a price comparison prior to booking. To save you some time, I have included links to their respective property lists for Takayama:
Top Rated Properties in Takayama Based on Verified Guest Reviews
Important: Mobile Users must swipe from left to right to see entire table.
Criteria:
Properties rated based on 'overall' review scores from each respective website's verified guests.
Minimum of 50 verified guest reviews required to be considered eligible for comparison.
All star ratings and verified guest review scores are tallied at the time of writing, and therefore, are subject to change.