The Maldives is a fascinating country on so many different levels.  Superb beaches, world class scuba diving, top-notch resorts, and a growing backpacking industry are just a few of the noteworthy reasons to visit this island nation. But there is still so much more to the Maldives than most people think.
Few tourists spend enough time in the compact capital city, Malé.  Instead, they tend to get whisked off via seaplane or speedboat to their resort without getting a true taste of the local culture and the Maldivian way of living. However, for the few that spend some quality time in Malé, they begin to appreciate the little things that make the Maldives such a unique travel destination. During our recent visit to Malé, we had ample time to explore the city and also try out some day trips. One of the most convenient, relaxing and affordable islands we visited was nearby Villingili.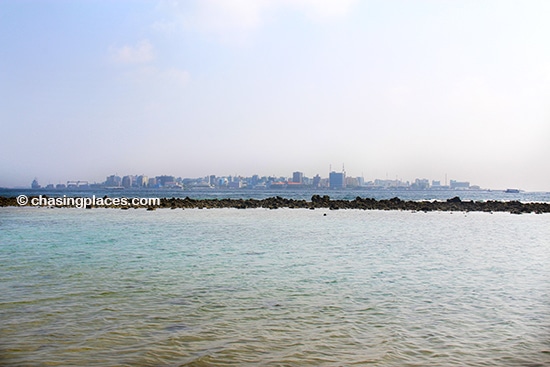 This is my Villingili Travel Review
Here are the main websites we used for planning this trip to Villingili and the Maldives:
World Nomads Travel Insurance. 24/7 coverage for 150+ adventure activities. Get a Quote
Momondo, Booking Buddy. We always use these 2 great price comparison sites to find the world's cheapest flights.
Agoda, Booking.com, HotelsCombined. We have relied on these 3 accommodation sites for over 10 years.
See the Complete List of all the Cost-Cutting Travel Resources we use here….
Our trip to Villingili began when we hopped on one of the local ferries at the terminal in Malé. Since Villingili is only roughly 2 km east of Malé the trip over took only 10 minutes.  The ferry was well maintained and the sea was very calm.  The one way ferry ticket was ridiculously cheap at 3.25 MVR (approx. $0.20 USD). During the trip over, I found it interesting just to peak through the ferry windows.  Large vessels passed by whereas others appeared to be anchored off of the shores of Malé.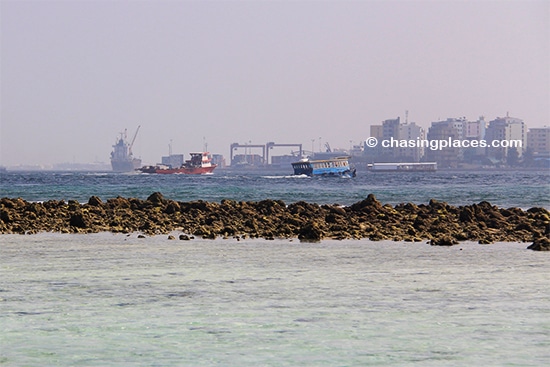 When we arrived at Villingili's Ferry Terminal, we quickly disembarked and within minutes we were already on the Public Beach. Villingili's Public Beach was initially empty, so we had it all to ourselves. After about an hour chilling on the beach, a few young families began to show up.  The beach itself, is quite nice with white sand and very clear water despite its proximity to Malé and the vessels passing between the two islands. If you are accustomed to seeing beaches in Southeast Asia, then Villingili's Public Beach will surely impress you.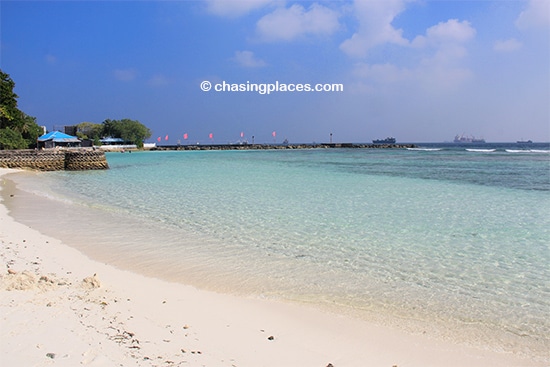 The beach is ideal for swimming and it is perfect for a laidback picnic. But, personally, I enjoyed gazing out across the Andaman Sea over to Malé. Since Villingili's Public Beach is located on the eastern side of the island, it serves as an idyllic vantage point. I suggest for you to spend some time just relaxing the beach.  Ferries, large ships, and seaplanes will keep you entertained.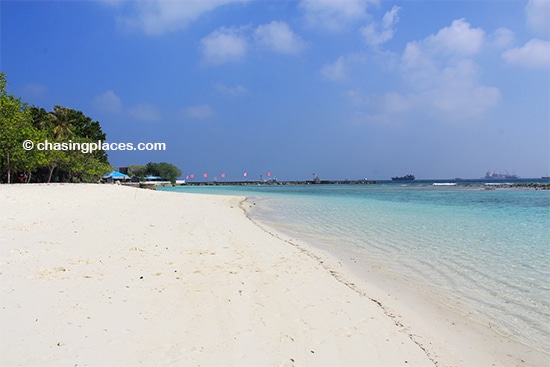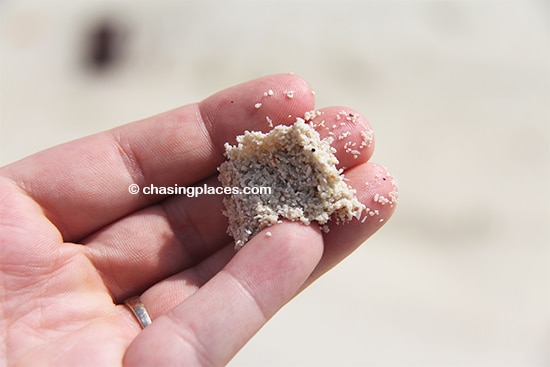 Travel Checklist: Do you have everything you need?
When the sun began to take its toll on my skin, I knew it was time to go for a stroll around Villingili. Since the island is less than a kilometre east to west or north to south, it didn't take me long to get a feel for the place. Tree-lined roads helped produce excellent shade and road traffic was non-existent.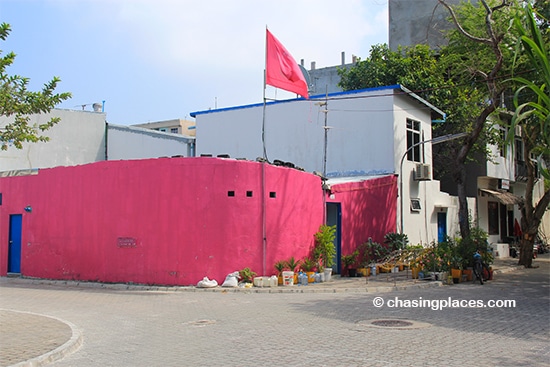 There was a noticeable emphasis on environmental issues and keeping the island clean – which was great to see. At the centre of Villigili there is a large football field for locals to practice their moves. We also walked by a school, a few cafes, a bank and a few small hotels without seeing anyone else on the road. The houses on Villingili have curved cement walls with tiny windows which are similar to the buildings found on Maafushi Island.  We couldn't believe how slow the pace of life is on Villingili in comparison to Malé.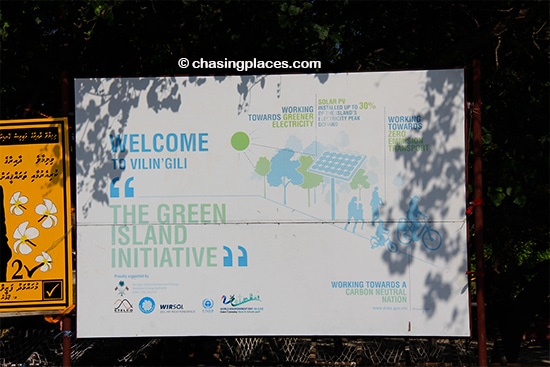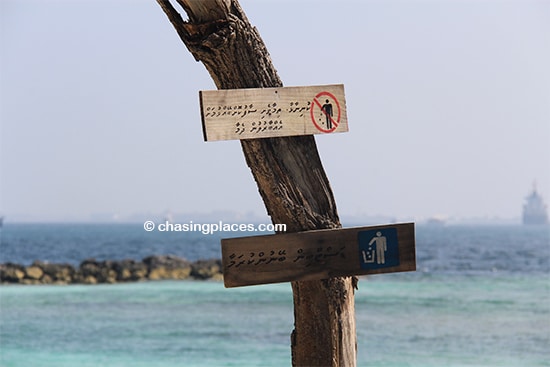 I also appreciate the fact that Villingili is much less commercialized in comparison to other islands that I have seen. There is nobody passing out flyers or touts continuously pestering tourists to buy cheap products. Even as we walked towards the southwest corner of the island (to the second beach we visited) it felt like we had the island to ourselves. The second beach we visited was not quite as nice as Villingili's main public beach, but it was completely empty and it appeared to be a relaxing spot to soak up some sun.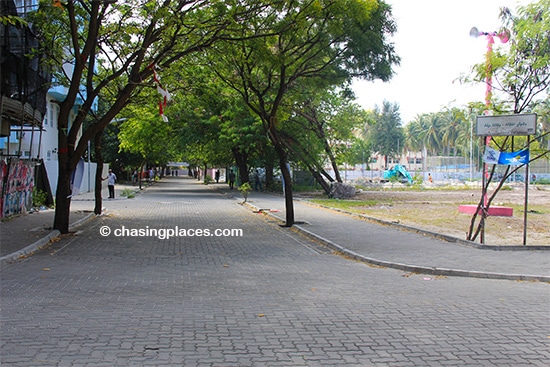 Overall, Villingili turned out to be a very relaxing and enjoyable day trip for us while we were in the Maldives. However, different tourists yearn for different experiences.  Therefore, I have provided some recommendations to help you plan your itinerary effectively:
Visit Villingili:
If you want to enjoy a nice quiet beach with an excellent view of Malé.
If you want to have a picnic with your family or travel companions.
If you want to see another Maldivian Island without spending a fortune. Villingili is an extremely affordable island to visit in the Maldives.
If you have only 2-3 hours to kill and you want to get a feel for a local island.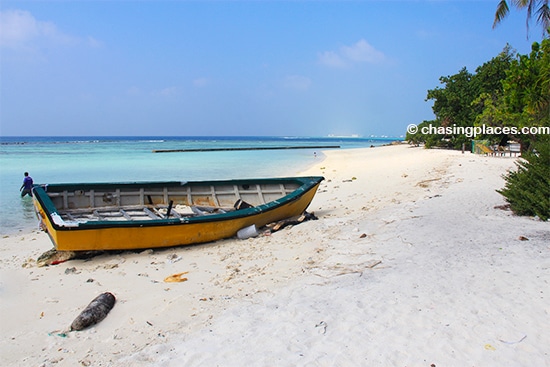 Don't Visit Villingili:
If you want a party seen on the beach. Villingili is a picnic beach, but it's not Cancun!
If you want a wide selection of restaurants to choose from. The selection of restaurants on Villingili is not very extensive in comparison to Malé.
If you like energetic streets (like in Mumbai, or Bangkok) then Villingili will seem super sleepy.
Where did we stay during this trip?
We visited Villingili a few times during our stay in the Maldives.  Since it's so accessible from Male, we opted to stay in the capital near the ferry pier.  This made it very convenient for us to catch the affordable ferries throughout the country using Male as our main hub. We stayed at Marble Hotel in Male. It was located about 300 meters from the pier which was awesome.  The staff were friendly, but the property could use and overall face-lift. At the time of writing it had a score of 6.5/10 based on 179 verified guest reviews. Based on our experience in Male, you might want to consider these positively reviewed properties:
Sala Boutique Hotel – rated 8.6/10 based on 232 verified guest reviews at the time of writing.
The Somerset Hotel – rated 8.4/10 based on 314 verified guest reviews at the time of writing.
Please take note that we are not directly affiliated with any of these properties.  These are just our honest suggestions for places to stay.
Want to find the cheapest rooms in the Maldives?
We also found that the accommodation options on Villingili were quite limited in comparison to Malé. It's more practical to book with the world's best price comparison site and use Male as your base as your base to explore other outlying islands. Using a comparison site such as www.hotelscombined.com to book your rooms in the Maldives is a strong option because they offer the widest selection with the cheapest possible prices. Many of our readers also prefer to book with www.agoda.com and www.booking.com.  I have created links to their property lists to save you some time:
Rooms in Male – www.booking.com
Compare Room Prices in Male – www.hotelscombined.com
If you happen to have some questions or comments regarding Villingili, Malé or our trip to the Maldives in general, please feel free to comment below. Be sure to have a safe and enjoyable trip to the mesmerizing Maldives!