Before we landed in the Maldives I started planning this trip well in advance. About 6 months before our departure date I started using these websites to get everything sorted, right from travel insurance to accommodation.
World Nomads Travel Insurance. 24/7 coverage for 150+ adventure activities. Get a Quote
Momondo, Booking Buddy. We always use these 2 great price comparison sites to find the world's cheapest flights.
Agoda, Booking.com, HotelsCombined. We have relied on these 3 accommodation sites for over 10 years.
See the Complete List of all the Cost-Cutting Travel Resources we use here….
When you think of the Maldives (pronounced as "Maldeeves" by the locals), a few things immediately come to mind such as beaches, islands and of course more beaches. Although the Maldives is loaded with spectacular strips of white sand and some of the clearest water in the world, this article focuses on a different characteristic of the Islamic country – the culture of the capital city Malé.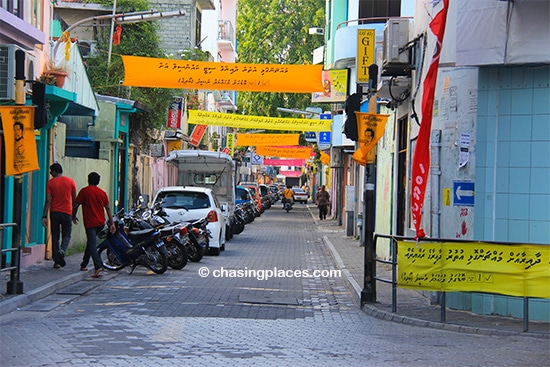 One of the most fascinating things about the Maldivian capital city is the fact that few tourists spend enough time there to understand or even appreciate the cultural aspects of the city. In most cases, wealthy tourists arrive at Malé International Airport and shortly after they get whisked away to their remote island resorts via sea plane or speed boat.  Some then return to Malé for only a few hours as part of a packaged day trip organized by their respective resort. During the planning stage of our trip to the Maldives we knew that it was a priority for us to see Malé for at least a couple of days to find out how a capital city located in the middle of the Indian Ocean would actually function?  Would it have lots of traffic or would it have a sleepy, laid-back island vibe? What would the food be like……expensive, inexpensive, spicy or mild? You get the idea.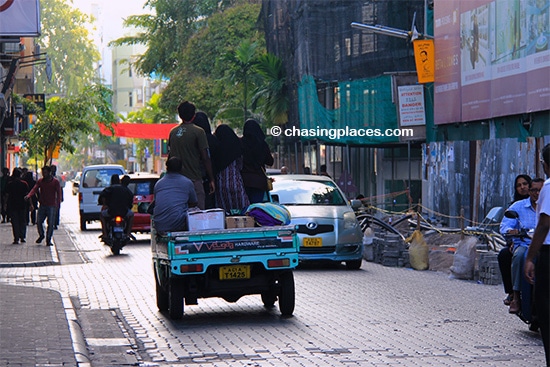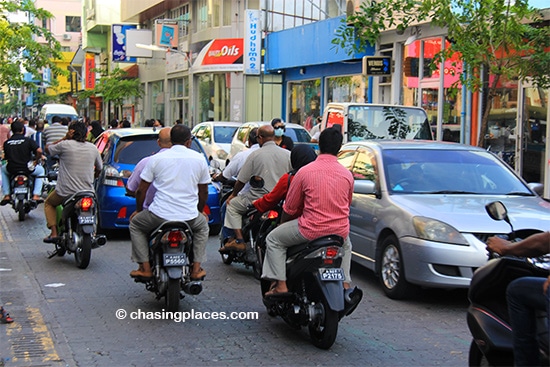 It didn't take long to draw up some initial observations about Malé. The roads for the most part are quite narrow, almost as if they were originally designed for motorcycles opposed to large vehicles. The locals whisked by us primarily on motos and scooters with the odd car or truck mixed in.  Since the island has a population of over 100,000 residents compressed into an area under 6 km2, we weren't entirely surprised.  The sidewalks are super narrow, so be prepared to walk front-to-back opposed to side-to-side.  Helmets seem to be quite sparse as well, with most drivers neglecting their purpose completely.  Although some of the locals would hammer down on the throttle from time to time around the ring road that circles the island, there just isn't enough space in Malé to drive like a maniac. In terms of speed that is.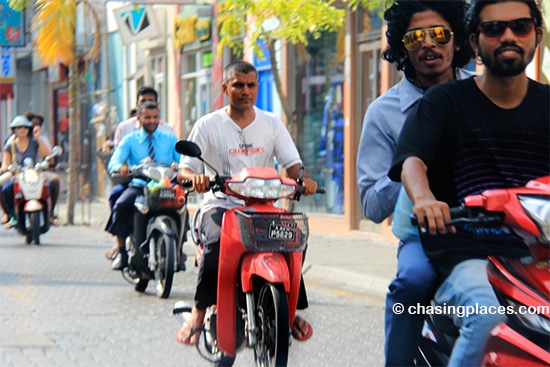 Prior to landing in the Maldives we read many sources regarding the religious beliefs in the country.  All of those sources consistently mentioned the conservative lifestyle of the locals and the government.  Since the Maldives is an Islamic country, alcohol is sparse in Malé, but we felt that the locals carried themselves like those living in moderate countries such as Malaysia and Indonesia in terms of their dress and lifestyle. The more remote local "guesthouse islands" conform to a much more reserved dress code based on our experience in comparison to the capital. It also seemed like there were many Sri Lankans working and living in the city which made it quite difficult to generalize the way people looked and acted.  It was quite apparent, however, that Malé has been strongly influenced by its northern neighbours (India and Sri Lanka) in so many ways including fashion, food and driving standards.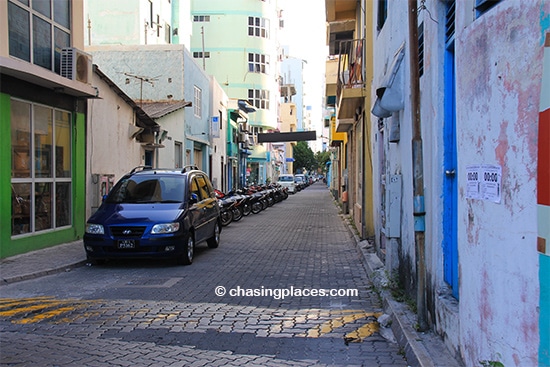 Travel Checklist: Do you have everything you need?
One of the best activities in Malé is simply walking around the city.  Due to its compact layout, it can be easily navigated on foot (assuming that you can dodge the motos!). We walked from the west side of the island to the east side.  The architecture on the island is quite basic in comparison to many of the modern metropolises around the world, but it was very interesting to see first-hand how they managed to squeeze so many apartment buildings, restaurants and tea shops into such a confined area. The sound of motorcycles and other vehicles echoing against the walls of the buildings make this tiny island capital feel quite bustling at times.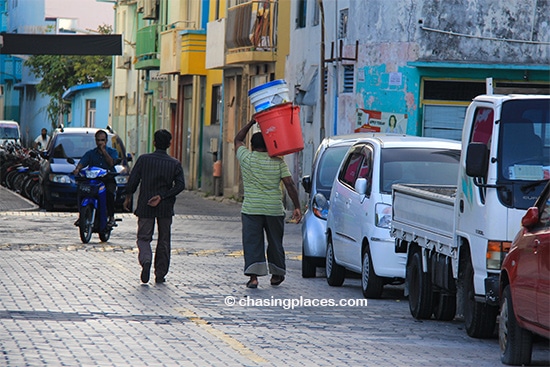 Eventually we returned to the tiny hotel we were staying at, only to start thinking about what we wanted to eat for dinner. Malé doesn't have the largest selection of tourist restaurants, so you will probably enjoy your visit more if you try to eat what the locals eat.  During the day consider trying some "short eats" at one of the tea shops in the city.  These tiny snacks are delicious and very affordable in comparison to the dishes served up on resort islands. Malé and the Maldives in general are big on tuna.  So many of their dishes include tuna that it's almost hard to avoid at times. After a meal or two it won't take you long to figure out why.  The tuna steaks in Malé could be some of the best we have come across anywhere.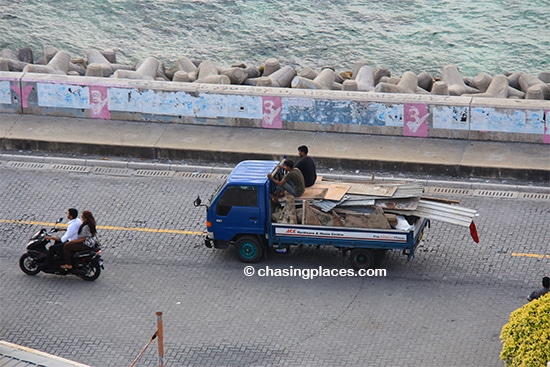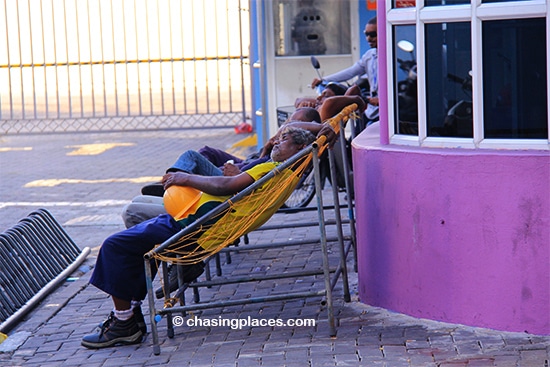 After a couple of days in Malé we also couldn't help but notice something rather unique in front of many of the establishments around the city.  We saw many locals relaxing on home-made, welded chairs that were lined with meshing. In most cases, at least 3-4 chairs were attached to one another as part of the steel framework.  Many of the locals seemed quite content sitting back and talking to their friends about everything under the sun. This reminded us that away from Malé's busiest streets, the locals still know what island life is all about.
When our alarm clock summoned us to the pier for the ferry to Maafushi Island, we were kindly greeted farewell by the hotel staff. We didn't really know what to expect of Malé in terms of accommodation choices, but there are a handful of solid options in the city if you do your research.  We would recommend getting a sea view room if possible to soak up the sunrise and/or sunset.  It's also quite enjoyable watching the boat traffic and sea planes from a balcony in the city. If you want to find a room with a good view take a look here.  Although the locals appeared quite reserved and shy, they were very warm and helpful once they felt more comfortable speaking with us during our stay in Malé. After all, it's not too common to meet people who were born in the middle of the Indian Ocean surrounded by arguably the nicest islands in the world!
How to find the cheapest rooms in the Maldives?
Technically, there are three different accommodation providers that we would recommend if you are visiting this beautiful country: www.booking.com, www.agoda.com and www.hotelscombined.com. In our particular case, we found www.booking.com to be the most useful – especially for guesthouse rooms on some of the remote islands. Hotelscombined is very effective at comparing prices before you book, so it might be something you want to try if you're on a budget!
If you have any questions about Malé or our experience visiting the island please feel free to comment below.  Safe travels!