The gigantic metropolitan of Thailand, Bangkok, is made famous by its dazzling, sometimes naughty nightlife, bustling street markets, towering buildings, golden palaces, river cruises, zipping tuk tuks and a movie franchise that deals with the consequences of partying too much. In the movie "Hangover II," characters talk about the perils of being lost in Bangkok, and the dangers of not being found again, once it happens. You can indeed get lost in the urban jungle that is Bangkok. And yes, there are potential perils (i.e. tourist traps) as it has become a major tourist hotspot. But whether you like big cities or not, there is no denying that most adventures in Thailand begin and end in Bangkok, and it is up to you to make this stay, albeit short, a worthwhile experience.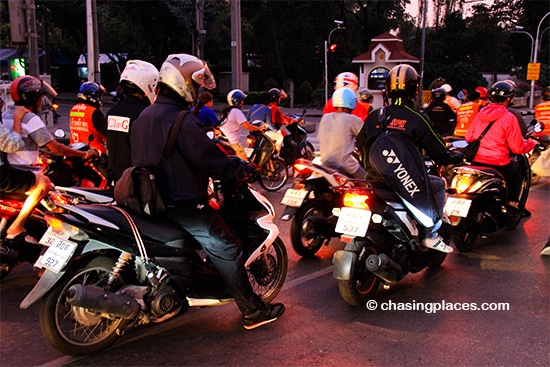 Here are some places in the Thai capital that Chasing Places recommend for you to check out, if you have a day or two to explore:
1. Ko Ratanakosin
This is also known as the royal district of Bangkok.   All of the major attractions in the city can be found in this neighborhood.   Since most of these attractions are of walking distance from each other, this may be the first place you should visit.  Start your day early as the weather is much more pleasant in the early morning.
Wat Phra Keuw – This is also called the Temple of the Emerald Buddha.  Consistent with the other name suggests, it is the home of the highly venerated Emerald Buddha.  Thus, Wat Phra Keuw is one of the most sacred Buddhist sites in all of Thailand.
The Grand Palace – Just adjoined to Wat Phra Kuew. This is the former residence of the Thai monarchs. Both Wat Phra Keuw and the Grand Palace are set in a massive complex, encompassing a land area of almost 95 hectares.  Aside from the palace and the temple, there are over 100 buildings situated in this complex, and they reflect the Thai's ingenious architectural designs and the royal history of the country in the last 200 years. The green space that surrounds the Palace and the temple complex is called Sanam Luang.
 Wat Pho – This is the home of the largest reclining Buddha in Thailand. The Buddha measures 46 meters long and 15 meters high, making it an impressive sight.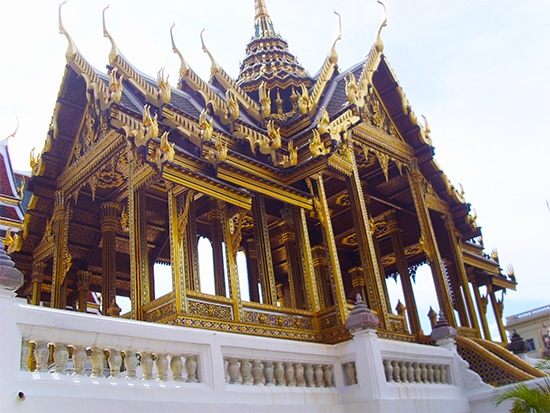 There are definitely other Wats (Wat Arun and Wat Mahathat) worth visiting but this is left to your discretion. But remember that these buildings and religious monuments and sacred places. Thus, visiting those means that you observe respectful behavior and the appropriate dress code. You are expected to wear shirts or tops with sleeves, long pants or long skirts, as well as close-toe shoes if you want to wander around the temple grounds. You need to remove your shoes if you want to enter the main shrine area . It will not be hard to see where they are.
Travel Suggestions: If you would like to see most of the sites in the Ko Ratanakosin district, one way to go about it is to go onboard the Chao Phraya Express, a ferry service that stops in several spots along the Chao Phraya River. Another option is to hire a longtail boat and enjoy a private tour around the river. Just make sure to not say 'yes' right away to the initial price that the boatman tells you as it is most likely an inflated price!
After getting a large dose of Thai history and culture by spending time within the Ko Ratanakosin area, it is time to experience the different side of Bangkok. Shopping in Bangkok is an incredible experience because Thai products including clothes, jewelry, and crafts are varied and relatively affordable. The city's shopping spots are attractions themselves because of their very lively ambience.
2. Chatuchak Market
This is the biggest street market in Southeast Asia. This massive market has everything your heart desires and some stuff that will still surprise you!  The only drawback is Chatuchak is a tourist hub, so if you are looking for a great bargain, it is hard to find it here as vendors are used to selling things at a premium price. Fortunately, there are other smaller and lesser known markets all over Bangkok, where you can find products that are sold at standard Southeast Asia prices. But don't shun Chatuchak completely. It is still a nice place to soak in the atmosphere and people watch. You can also dine in some eateries here that sell traditional Thai dishes.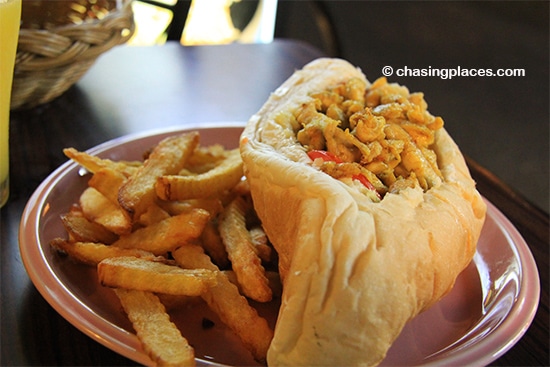 Travel Checklist: Do you have everything you need?
3. MBK 
If you are looking to experience the quintessential Bangkok shopping experience, head out to MBK. This is one of the most popular shopping centers in the city. And the average Thai locals come here to shop. From clothes, footwear to electronics, MBK sells them all. You can reach this mall by taking the Skytrain and getting off at National Stadium Station. If you feel like catching the latest Hollywood movie or seeking out more upscale international brands, you can easily walk over to the other more modern malls just close to MBK.
Other prominent shopping and dining spots to consider include:
Chinatown (also called Yaowarat)
Phahurat (the Indian district)
Siam Square – a modern commercial zone filled with shopping centers
Sukhumvit – the financial district of Bangkok and home to the highest concentration of 3-5 star hotels.
4.  Khao San Road
Bangkok's nightlife appeals to all senses and in some cases, is out of this world. As soon as you step into the city's most famous night spots, you feel that anything could happen as the evening progresses. The Thai culture has a high tolerance for prostitution, so some tourists may perceive some areas to be seedy.
Khao San Road is the famous backpacker road of Thailand. Here there is a hodgepodge of hostels, bars, restaurants, snack and t-shirt stalls. Khao San is the main road where these businesses thrive. But as the years went by, this road alone could not cater to the growing crowd. So the festivities and businesses have spilled over to parallel and opposite streets. There is no denying that the environment in Khao San is electrifying and it really appeals to the younger crowd. But not all travelers would be cheery about Khao San. If you long for a quieter place and a laidback evening, avoid Khao San.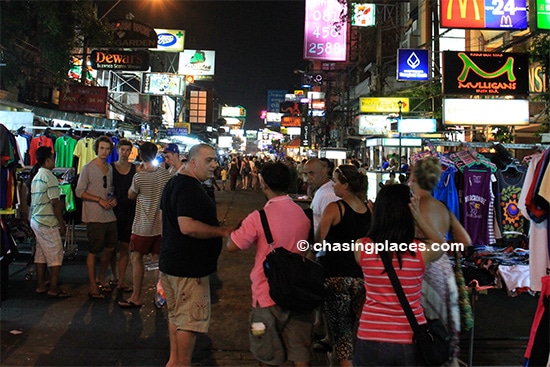 5. Lumphini Park
To escape the madness of Bangkok, and to breathe fresher air, make your way to Lumphini Park. Named after the birthplace of Buddha, the park aims to be a place of calm and serenity for urban dwellers and visitors.  Here, there is ample green space to enjoy and a large artificial lake to distract visitors from the concrete towers.  You can visit the park early in the morning or go for an early evening stroll before going back to your hotel.
How to find the cheapest rooms in Bangkok?
Bangkok is an excellent city for finding hotel bargains.  Due to the intense price war between leading hotel chains and also budget providers it's one of the best cities in Southeast Asia for finding sales online. By far the leading hotel provider in Bangkok is www.agoda.com, with the largest selection and great prices. To put it into perspective, at the time of writing Agoda had over 2000 different hotels/guesthouses to choose from.
Another option that we use all the time for our travels in Thailand is www.hotelscombined.com. Hotelscombined.com can save you serious coin over the course of a trip because you can quickly compare hotel/guesthouse room prices in less than a second. Some of our North American and European readers exclusively book their rooms with www.booking.com regardless of where they travel to because of their superb cancellation policies. At the time of writing www.booking.com still had over 1500 hotels/guesthouses to choose from which is still plenty of choice. To save you time, here are the:
Top Rated Properties in Bangkok
Based on Verified Guest Reviews
Important: Mobile Users must swipe from left to right to see entire table.
Criteria:
Properties rated based on 'overall' review scores from each respective website's verified guests.
Minimum of 50 verified guest reviews required to be considered eligible for comparison.
All star ratings and verified guest review scores are tallied at the time of writing, and therefore, are subject to change.