There is one main reason why thousands upon thousands of tourists go to great lengths to reach the small town of Kawaguchiko when they visit Japan; and this is none other than the spectacular Mt. Fuji. In fact, Lake Kawaguchiko is one of the famous Fuji Five Lake towns, which offer postcard-worthy views of Japan's most famous mountain. Kawaguchiko took its name from the large, gorgeous lake situated in its center.
The lake, though charming and beautiful in itself, has received heavy attention because of its amazing vistas of Mount Fuji. It is the natural mirror that reflects the image of the spectacular mountain. Lake Kawaguchi-ko lies in the northern foothills of Fuji's northern region. It is one of the most visited Fuji Five Lakes towns because of its easy accessibility from Tokyo, developed tourist infrastructure, and a nice range of accommodation choices.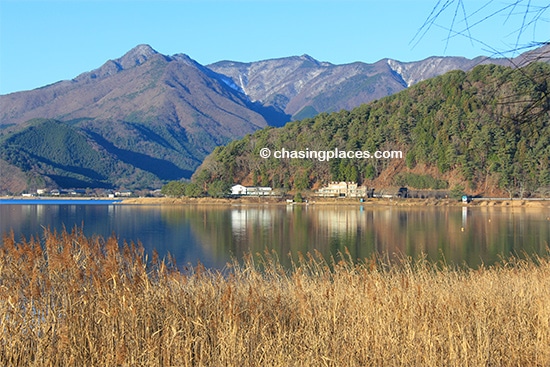 The Great Mount Fuji
Mount Fuji is indeed one sight you should not miss when visiting the progressive East Asian nation.  Over the years, the name of this mountain has become synonymous to Japan.  If you are wondering what makes Fuji different from other peaks, we could think up of a couple of compelling reasons. But at the heart of it all, there's one blatant truth that stood out when we saw the mountain for the first time – Mt Fuji's sheer size, seemingly proportional dimensions and near perfect cone is truly a magnificent site to behold! If Mother Nature could write poems, Mount Fuji would be her masterpiece. It is no wonder that nature's work of art, in turn, has inspired and became the muse for many poets and writers over the centuries. Because of its enormous size, the mountain can be viewed from multiple places, including on train rides to the capital Tokyo. But marveling at Mount Fuji from a lake that is almost comparable to its beauty is an incredible travel experience that we recommend to anyone.
In Search of the Perfect View
Now that we have established the breathtaking beauty of Mount Fuji, the other important thing for a traveler to know is that such a view is quite elusive. Like any high altitude attraction, Mt. Fuji is oftentimes covered from view because of thick clouds and mist.  Many tourists in the past, have felt disappointed for not being able to catch a glimpse of it. Thus, if this is really your main goal while visiting Japan, you need to plan the trip more carefully. Although it is not 100 percent guaranteed that if you choose the clearest time of the year, you will get to see Fuji and all its glory, visiting at the right time increases your chances.
It is said that the best time to see Mount Fuji is during spring and winter, when there is fewer clouds and moisture in the air. But arguably, the most iconic look of Fuji is when it features a snow-capped peak. The one tricky thing about visiting in winter, is that snowstorms can occur, which can be a big spoiler to your plans.  It is also important to note that the mountain is usually visible in the early morning and gets progressively covered by clouds.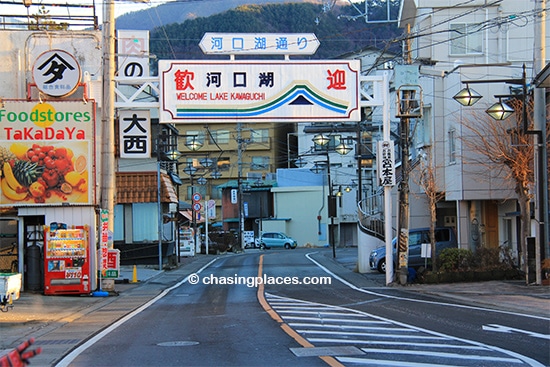 We decided to take a chance and made our way to Kawaguchiko in December using our Japan Rail pass from Tokyo. And true enough, our first day in town was not something to be happy about.  There was a snowstorm that started early in the morning and well into the night. Even though it melted when it touched the ground it completed occluded the view.  Like many before us, we were fearing the worst — that the great Mt. Fuji would be out of our reach.  But strangely, the owner of the guesthouse we were staying in was quite optimistic that the next day would be much better. Nobody would have guessed that after the bitter storm, the next day would be bright and sunny. But like a miracle, it was absolutely perfect. When we woke up at around 5:30 am, there was Fuji staring at us through our window.  We quickly put our winter clothes on, and walked (almost jogging) straight to the Kawaguchiko Lake area.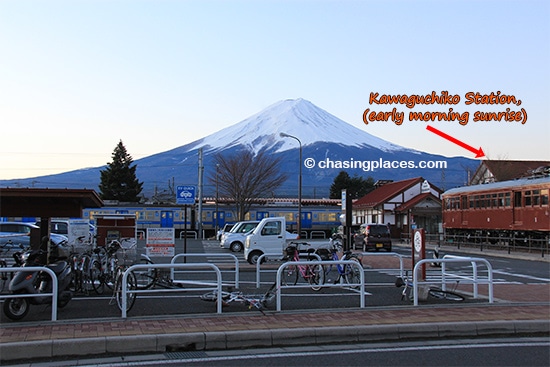 Travel Checklist: Do you have everything you need?
Should I Stay in Kawaguichiko Longer?
A number of tourists go to Lake Kawaguichiko on a day trip or stay overnight.  They rarely stay two days as they only want to catch the panorama of Mt. Fuji.  But here's an important tip; if you can spare the time, schedule a two night stay in Kawaguichiko. If you don't get to see the mountain on the first day, you still have the chance to see it on the next one.  It is, of course, still a risk, but it's a more calculated one.   Besides, Kawaguichiko is not a bad town to explore. It has all the charming old Japanese people and other attractions around town.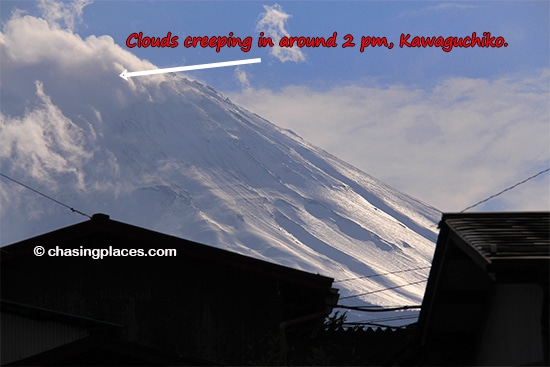 If you are visiting during the colder months, consider booking a place that has the famed Japanese onsen (hot tub). Onsens are quite relaxing and are perfect respite to the chilling weather.  The town's lake is scenic enough to walk around. On the northern side, there is a nice shop and garden complex.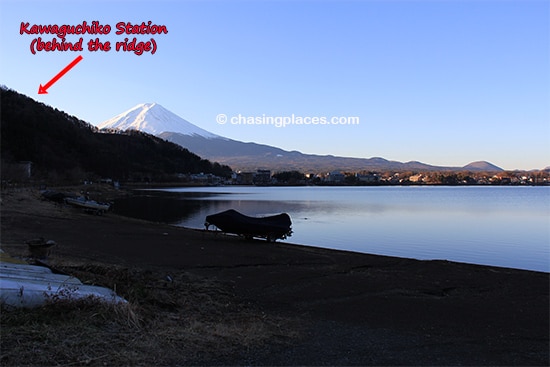 Dining in Kawaguichiko
If you are looking for midrange eateries in Kawaguchiko, there are few choices. Most of the restaurants and cafes in town are pricier than even the ones in the capital Tokyo. We noticed that they are family-friendly restaurants that cater to packaged tour group tourists. Aside from Japanese and western restaurants, Chinese eateries are also prevalent in town, possibly due to the large number of Chinese tourists visiting.  If you take the time, you will find some smaller cafes and a few local Japanese-style pubs that serve reasonably-priced meals. Seven Eleven and K-marts also sell pre-packaged microwave-friendly meals, which neatly indicate the calories for each meal.
Find the Best Hotel Deals in Kawaguchi-ko?
The best yet upscale hotels in Kawaguichiko are the ones that surround the lake area.  Expect to pay more for these hotels but they provide the most outstanding panoramas of the lake and Mt. Fuji. If you stay near the Lake it's also easy to access the major tourist attractions in town. For budget travelers, smaller boutique hotels and guesthouses are situated near the Kawaguchiko Station. Although you will need to walk at least 10 minutes to reach the lake, the cost of accommodation is significantly lower.
Guesthouses in Japan are cozy, clean and well managed. Some of them have onsens and lounges to make guests more comfortable. Throughout our entire trip in Japan we were very satisfied with the budget accommodation available.
Check room prices in Kawaguchi-ko using your favourite site: www.agoda.com, www.hotelscombined.com, and www.booking.com.
To save you time here are:
Top Rated Properties on Kawaguchiko, Mount Fuji Based on Verified Guest Reviews
Important: Mobile Users must swipe from left to right to see entire table. 
Properties rated based on 'overall' review scores from each respective website's verified guests.
Minimum of 50 verified guest reviews required to be considered eligible for comparison.
All star ratings and verified guest review scores are tallied at the time of writing, and therefore, are subject to change.
Where should you consider going after Lake Kawaguchiko and Mount Fuji?
During our trip we used our Japan Rail Passes and headed northeast to walk the ancient Nakasendo Trail.  This turned out to be an excellent and truly rewarding experience. Click here for a step-by step overview on how to get from Kawaguchiko to Magome, Tsumago and the Nakasendo Trail.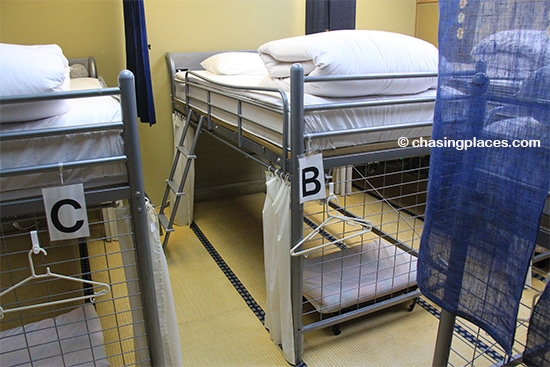 If you have any other questions regarding our experience in Kawaguchiko please feel free to comment below.  Safe travels!