Article Updated in January 2022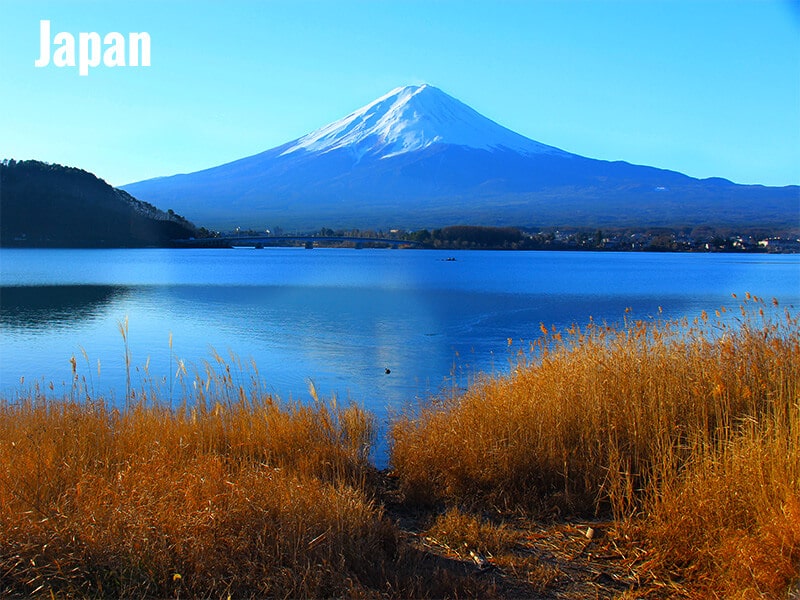 "Kawaguchiko" may sound unfamiliar to those who have never visited Japan before. But if you are planning on seeing Mount Fuji during your trip to Japan and you have a Japan Rail Pass then you should continue reading.
Kawaguchiko is one of the most convenient and breathtaking locations to view world-famous Mount Fuji.
There are many different locations to capture memorable photos of Fuji, but Kawaguchiko is one of the most accessible locations from Tokyo to capture water reflections as you take photos.
Kawaguchiko is the town and it surrounds Lake Kawaguchi, which is one of the renowned Fuji Five Lakes.
Typically, tourists try to head to the north shoreline of Lake Kawaguchi or book a room with a view to get the best vantage point of Mount Fuji.
Since a large number of tourists who visit Japan use the Japan Rail Pass, we figured that it would be convenient for our readers to know the cheapest way to get to Kawaguchiko using the rail pass from Tokyo based on our personal experience completing this journey.
Since Kawaguchiko is located within the region of the "Fuji Five Lakes" be prepared for top-notch scenery.
Here is a step-by-step guide on how to get from Tokyo to Kawaguchiko (Mount Fuji) by train using the Japan Rail Pass.
1. While in Tokyo, take the circular JR Yamanote Line or the horizontal JR Chuo to get to Shinjuku Station. 
Take note that you cannot use your Japan Rail Pass in all train lines in Tokyo. The JR Yamanote Line or the JR Chuo lines are both covered by the Japan Rail Pass.
Flash your Japan Rail Pass and use either one of these lines to get to Shinjuku Station (this component of your trip should be free of charge for rail pass holders).
Duration: of the trip:
Expect this to take up to a maximum of an hour if you are staying on the east side of Tokyo.
2. From Shinjuku Station, take another train to Otsuki Station. 
Shinjuku Station to Otsuki Station is the second segment of the train ride from  Tokyo to Kawaguchiko.
The train to Otsuki Station will typically be bound for Kofu or Matsumoto via platform #10 at
Shinjuku Station.
Otsuki station is just one of the stops along the way to one of these terminal destinations.
Trip Duration: Roughly 1 hour.
Cost: Free for Japan Rail Pass holders (1320 yen if you don't have a rail pass).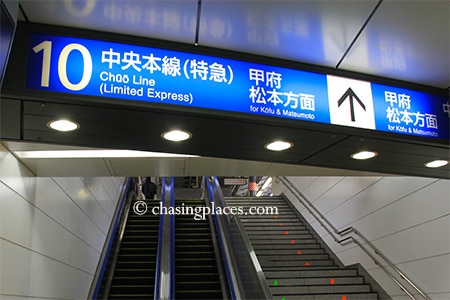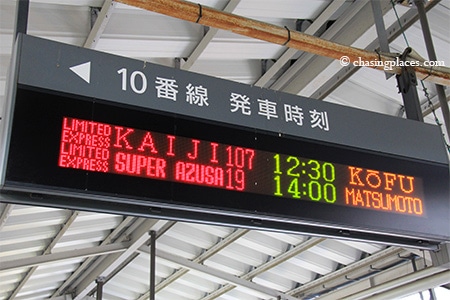 3.

Arrive at Otsuki Station, and then transfer to a private train that goes to Kawaguchiko. 
Take note that this private train ride is not covered by the JR Rail Pass.  Therefore, make sure that you have some extra cash on hand.
Purchase a ticket from the office at Otsuki Station for the Fujikyu Railway service and hop on the next departing train to Kawaguchiko.
Trip Duration: 45 – 60 minutes depending on the service available when you arrive.
Trip Cost: 1140 yen for the normal train (an additional 300 yen is charged for the faster train that takes 45 minutes (1440 yen total)).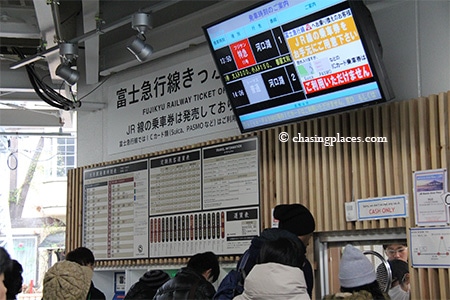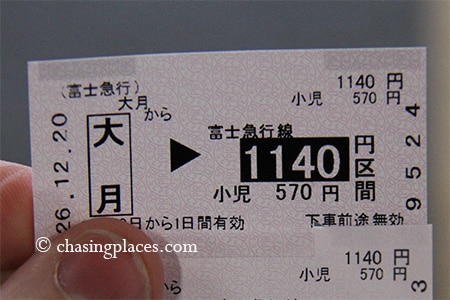 4.

Arrive at the Kawaguchiko Station.
From Kawaguchiko Station, Mount Fuji will be visible if it is clear outside. It is an amazing sight!
Travel Tip:
To get the best views you can either purchase a retro bus ticket or walk to the north shore of Lake Kawaguchi to get the best views of Mount Fuji. There are English signs throughout Kawaguchiko to assist you along the way.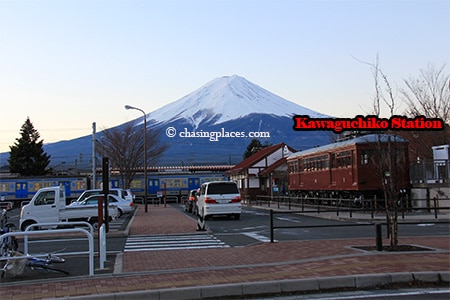 Since Mount Fuji is often covered by clouds we recommend that you spend at least one night in the area to maximize your chances of seeing it.
When we arrived the first day it was not visible due to cloud cover, but the next morning it was spectacular. To check out the hotels offering the best views of Fuji around Kawaguchi Lake click here.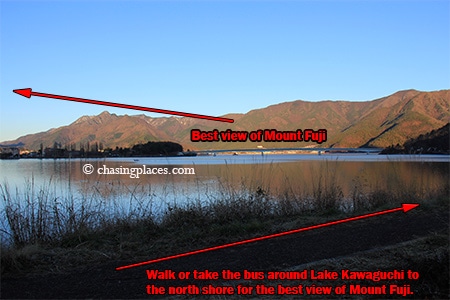 Travel Checklist: Do you have everything you need?
Where did we decide to stay in Kawaguchiko?
We had to conduct a bit of research before we determined where to stay in Kawaguchi-ko.  Since we were on a strict budget we couldn't afford some of the hotels with the nicest views from the Lake.
Therefore, staying near the train station became our priority. We eventually opted to stay at the Kawaguchi-ko Station Inn.  It turned out to be a super nice budget choice.  Very clean, quite low key with a common room in the basement.
It took us about 10-15 minutes to walk to the lake from this property and only about 1 minute from the train station.  At the time of writing it had an excellent score of 8.4/10 based on 503 verified customer reviews. We feel that is score is a very accurate representation of this property. If you want something a bit closer to the Lake, then please read the section below.
Like other hotels in Japan, Kawaguchi-ko Station Inn has a large hot bathing area called onsen. The onsen was a great treat and something that I didn't expect at a budget place to stay.
Find the Best Hotel Deals in Kawaguchi-ko, Mount Fuji Area
There are three hotel providers that we used when we were traveling throughout Japan and the Fuji region: www.agoda.com, www.hotelscombined.com and www.booking.com. All three of them offer a massive selection of rooms.
Many of our readers visiting Japan book exclusively with Agoda or Booking.com.  We have created links to their respective properties to save you some time:
Top Rated Properties on Kawaguchiko, Mount Fuji Based on Verified Guest Reviews
Important: Mobile Users must swipe from left to right to see the entire table. 
Properties rated based on 'overall' review scores from each respective website's verified guests.
Minimum of 50 verified guest reviews required to be considered eligible for comparison.
All star ratings and verified guest review scores are tallied at the time of writing, and therefore, are subject to change.
Flight Information – Getting to Mount Fuji From Tokyo
When we visited Fuji we first checked out Tokyo, and then made our way to Kawaguchiko using our Japan Rail Passes.
Most tourists that visit Fuji typically fly into Tokyo's Haneda International Airport or Tokyo's Narita International Airport.
These airports service flights from all over the world. Therefore, when you are trying to book your flight to Japan online these two airports should be considered if you're trying to find the cheapest flights.
What is the closest airport to Mount Fuji?
The closest airport to Mount Fuji is called Mt. Fuji Shizuoka Airport. Most international tourists haven't even heard about this airport, but according to our research, if you're flying into or out of Mt. Fuji Shizuoka Airport then there is a good chance you will get some great views of Mount Fuji.
At the time of writing, domestic flights to/from Sapporo, Fukuoka, Kagoshima, and Okinawa were available at Mt. Fuji Shizuoka Airport.
Some international flights also fly to/from Shizuoka Airport, but they are quite limited. At the time of writing, you could book a flight to Shizuoka from Seoul, Taipei, Shanghai, Wuhan, Ningbo, Nanjing and Hangzhou.
How can you find the cheapest flights to Mount Fuji or Tokyo?
I suggest using a price comparison site that will quickly give you a benchmark of the flight prices to get to Haneda, Narita or Shizuoka depending on your city of origin.
In our particular case we used BookingBuddy and Momondo for our flights to Japan. Be sure to check out both Haneda and Narita as prices can vary between airports. I have created links below to these price comparison pages to save you some time and money getting to Fuji:
COMPARE FLIGHT PRICES TO MOUNT FUJI (Tokyo) – Momondo
If you have found this article to be helpful, please share this to your fellow travelers on your favorite social platform. 
Follow us on Facebook and keep on chasing places!