Akihabara is one of those Tokyo neighbourhoods that I didn't want to miss seeing. Japan has captured the admiration and ardour of many people around the world due to its thriving comic and animation industries. Which geek has not heard of "Manga" the Japanese version of comic books, or the fearsome Son Goku of Dragon Ball Z?
While growing up, all the girls in my neighbourhood looked forward to every episode of "Sailor Moon", and at some point, all the youngsters could only talk about none other than "Pokémon".
If you have no idea what Anime is, then congratulations, you are most likely not a nerd, but perhaps, a popular jock way back in high school. Nevertheless, I never considered being called a geek a bad thing. So when I heard about the Anime district in Tokyo Japan, I immediately made a mental note to visit the place.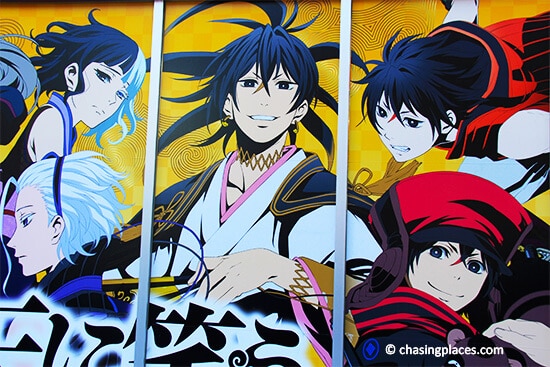 Akihabara is every Anime fans dream district. Once you step out of the train station and walk around the neighbourhood, you will definitely feel the upbeat and quirky ambience that Japan is known for.
If you are traveling with kids or teenagers, I'm sure they will find this area more interesting and exciting than even sites like the Imperial Palace or the Fish Market.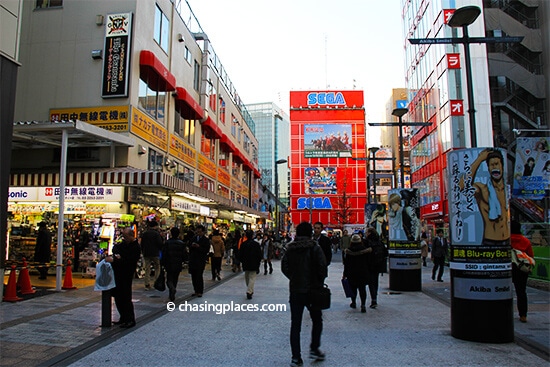 Our first stop was this huge department store just right next to Akihabara Station. I'm not sure whether the store is considered to be a mall, but it is definitely big. It mainly sells gadgets, electronics and toys.
Our guidebook did point out that Akihabara is the spot to go for purchasing the latest gadgets and electronics on the market. In fact, hundreds of electrical appliance and electronic shops populate the district especially within its western section.
This is the reason why Akihabara is also often referred to as "Akihabara Electric Town". However, if you're looking for more specific electronic components, automation and engineering tools, they may be harder to find especially if you can't speak Japanese. In such case, you may be better off looking up companies like RS Components online for a more comprehensive list.
Even if you do come to Akihabara without the intention of buying anything, I guarantee that it is still a very intriguing district to explore.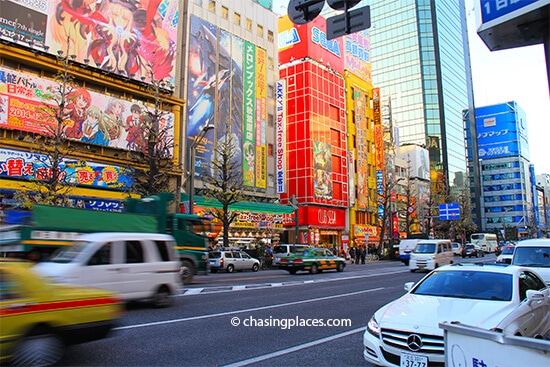 Arcade Mecca
The sight of Akihabara buildings decorated with gigantic pictures of famous Anime characters made me revisit my childhood memories. I found myself in the midst of blissful nostalgia with a smile permanently resting on my face as we walked through the streets.
Many of these buildings are electronic malls that feature Anime-themed shops and video arcades. Some of them are solely focused on arcade gaming, having entire floors occupied by various Anime-themed arcades and games like Galaga and Tekken, which were at the height of their popularity during the early 90's. Some of the most prominent high rises are operated by familiar companies like Taito and Sega.
Chūō-dōri is one of the key streets to wonder if you want to find these arcade malls.  The electronic and perky sounds that the video games were giving off radiated through the streets, adding to the energetic atmosphere of Akihabara.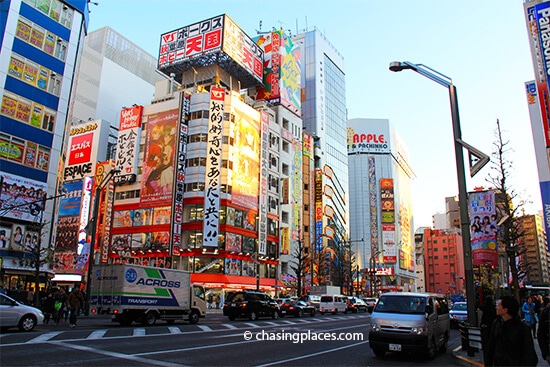 Travel Checklist: Do you have everything you need?
The Otaku Encounter
But Akihabara is not a copped out neighbourhood operating only to please eager tourists like me. Even without international attention, the place manages well as the Japanese youth are the true die-hard fans of the district and one true reason for its existence.
Akihabara is the hang out spot for young Japanese geeks known as otaku. I am not entirely sure whether this name has a negative connotation associated with it.  I, for one, am fascinated with the passion and dedication that otaku geeks exude towards their "hobby".
My encounter with otaku geeks happened while walking along one of the streets in Akihabara. I noticed a long line of eager-looking young men waiting anxiously for something. The peculiar thing about the entire scene was that they were neither lining up in front of a ticket booth nor at the entrance of the mall.
Instead, they were lining up on the side of a pedestrian street. "It must be something important," I whispered to my companion. I wanted to wait a little longer to see what the line was all about. A few minutes later, two people stood out at the beginning of the line with a box of Anime posters in hand.  This was quite a surprise, and a true cultural experience.
These men were lining up for a chance to take home a poster! Seeing that the posters were ready and the men were all lined up, you would think that the people in charge might as well start giving them out? But oh no! In true Japanese fashion, the people looked at their watches and waited for the "exact" scheduled time before giving out the posters.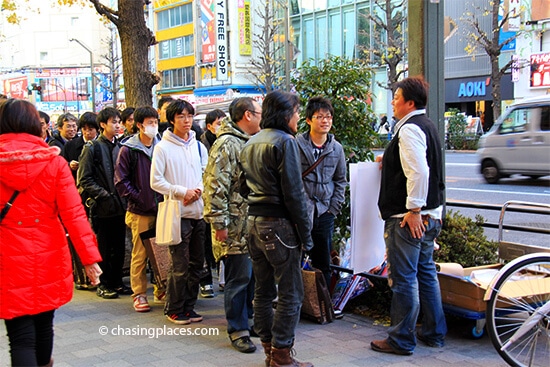 The Legend of the Cosplay
Akihabara used to be a place where street Cosplay regularly happened during anytime time of the week. Otaku would dawn their chosen Anime costumes, and come here to parade their look. We were looking for them during our visit to the district, but we didn't have any luck. We thought it was odd, so we went to the Tokyo Animation Center to investigate further.
Aside from being a big store itself, the centre is also dedicated to providing information about all the events centered on Japanese gaming and animation. When we went into the shop to ask about cosplayers, they told us that it was not the same as before because of an incident that occurred some years ago (2008).
Apparently, there was one madman who went on a rampage and stabbed young people in Akihabara. This horrible incident, was then perceived to be a product of the otaku culture, which some say promotes anti-social and compulsive behaviour. Ever since, a great number of quirky cosplayers have stayed away from the district.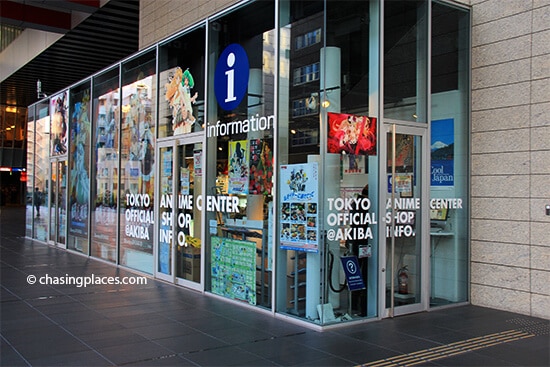 Some websites say that some cosplayers still show up on Sundays, although perhaps a much smaller number than before.  According to the people at the shop, cosplayers only show up during special events and occasions.
We were sad and disappointed to hear about this news. Nevertheless, when we were walking around electric town, we still saw a couple of people in Anime costumes. Most of them were promoters of the arcades or cafes.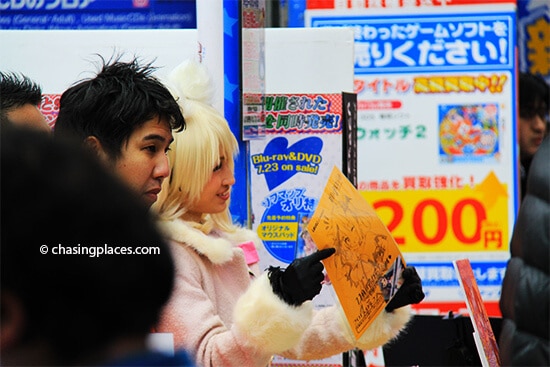 Maid Cafes
Speaking of cafes, Akihabara is home to very interesting ones. One that instantly caught my eye is Gundam Café. For those who have not heard of "Gundam" before, it used to be a very popular robot-themed series in the 90's.
The Gundam Café remains to be the most famous restaurants in the area. It's very close to Akihabara station, so it's hard to miss, not only for its location but because of the huge Gundam sign on the building facade.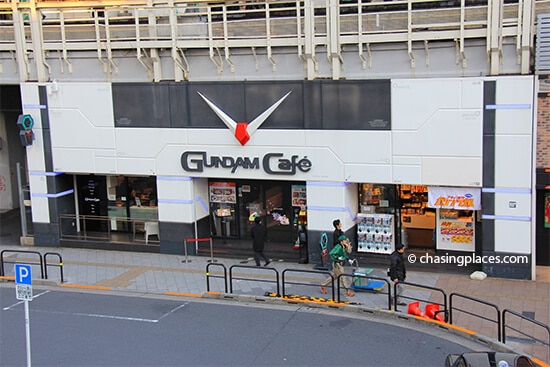 Another famous joint is the AKB48 Café, named after the female entertainment group widely famous in Japan. AKB48 has 48 members, and we were told that on some occasions, some group members have mini concerts at the building where the café is housed.
But if the actual girl band members are not around, the waitresses somehow fulfil the fans' (largely men) fantasies by dawning recognizable AKB48 costumes. The café is also attached to a gift store, which sells various AKB48 items.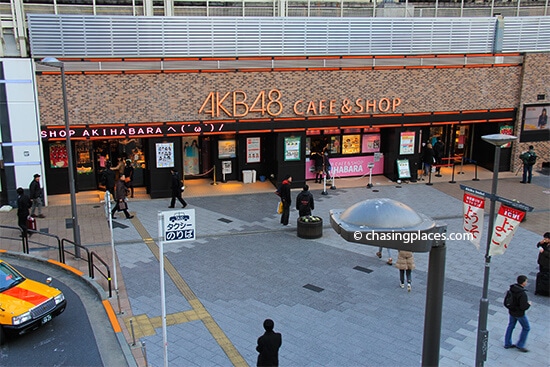 Akihabara is also the hub for "Maid Cafes", which has become a tourist attraction in itself.  The cafes employ young and attractive Japanese women who dress up in sexy French maid uniforms. These "maids" are trained to be extremely friendly and outgoing. Their normal duties include serving food and drinks to customers.
But if you are willing to shell out the cash, these women will go beyond customer service. You can talk, play cards with them and ask them to spoon-feed you. It is a bizarre concept that's a big hit among the otakus. If you want to get in a Maid Café, try to go during the week, as it becomes busy during weekends and you may have to wait in a long line to be served.
Where did we stay in Tokyo?
When we were booking our booking our room in Tokyo we were looking for something close to the public transport system, affordable clean and highly rated based on previous guest reviews. Eventually we decided to stay at Hotel Horidome Villa. We have no affiliation with this property, or any property in Tokyo.  Therefore, in an unbiased manner we can say that we had a pleasant stay at this property.  It was about a 7-8 minute walk to the rail lines, which was convenient.  True to Japanese form, the room was spotless, mind you quite small. The staff were super friendly and helpful. If you don't mind a small room this is a solid budget option for Tokyo if you have the rail pass. At the time of writing it had a very respectable score of 8.0/10 based on 1918 verified guest reviews.
How to find the cheapest rooms in Tokyo?
Technically, there are plenty of rooms in Tokyo to suit all budgets.  The city itself is known to be expensive in comparison to most cities around the world. We used three different sites before we finally decided where to stay: www.agoda.com, www.booking.com and www.hotelscombined.com. I have created links to their respective property lists below to save you some time:
Top Rated Properties on Tokyo Based on Verified Guest Reviews
Important: Mobile Users must swipe from left to right to see entire table.
Criteria:
Properties rated based on 'overall' review scores from each respective website's verified guests.
Minimum of 50 verified guest reviews required to be considered eligible for comparison.
All star ratings and verified guest review scores are tallied at the time of writing, and therefore, are subject to change.
Alternatively, you can quickly compare room prices in Tokyo using the search box below: