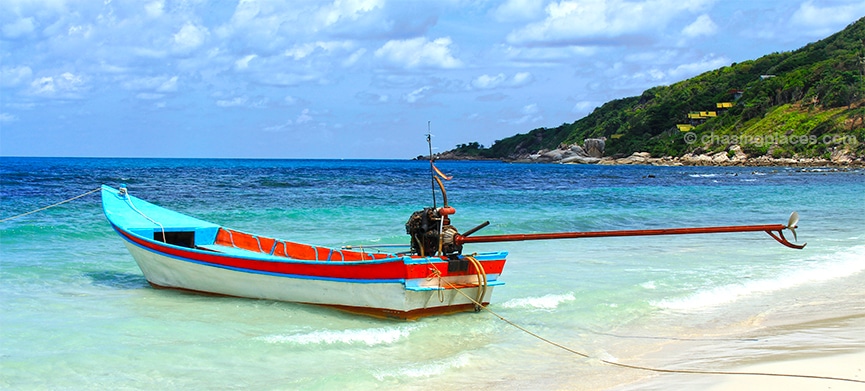 Located in the southern region of Thailand, the party island of  Koh Phangan is very much accessible to tourists coming from the Thai capital of Bangkok.  
This article offers a step-by-step guide on how to get from Bangkok to Koh Phangan.
Koh Phangan Overview
Koh Phangan is one of the famous tourist islands in Southern Thailand. It is particularly popular among younger tourists because of the "Full Moon Party". As the name suggests, every full moon, a massive party occurs on the main beach of the island named Haad Rin.
Hundreds of people come to drink alcohol and dance the night away.  Full moon parties are famously known to be wild and outrageously fun. It's no wonder, Koh Phangan is in the bucket list of most Southeast Asian backpackers.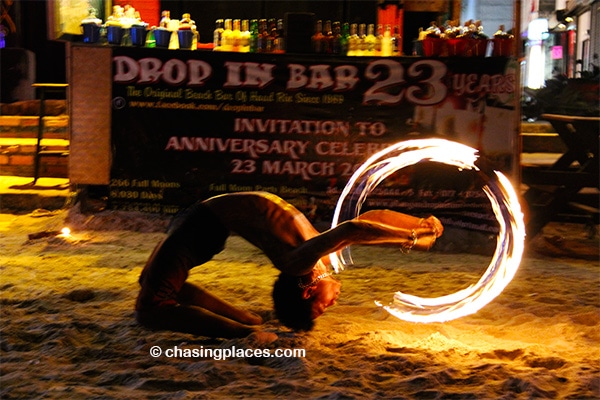 However, the full moon parties should not only be the reason to visit Koh Phangan. This Thai island is incredibly beautiful. It is home to thick vegetation, lush hills, serene coves, and hidden waterfalls. Food, accommodation, and general cost of living here are relatively affordable. 
After the overnight parties, the locals do a great job cleaning out the main beach. During the day, this off white sandy beach is more serene and laidback. This beach is incredibly long and wide and is a great complement to the aquamarine colored water.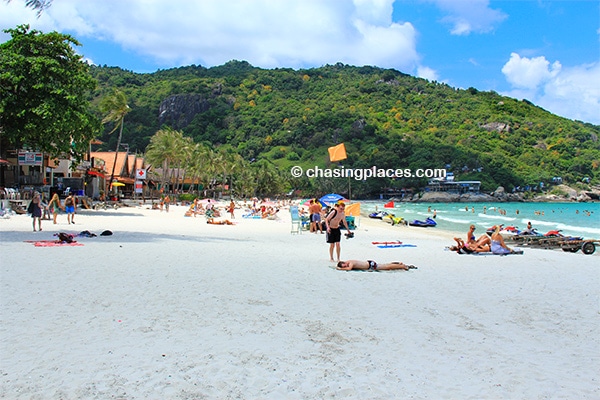 How to Get to Koh Phangan from Bangkok
Option 1: Fly to Koh Samui from Bangkok (Quickest Way)
Step 1: Take a flight from Bangkok to Koh Samui.
Koh Samui is an island  about 15 kilometers from Koh Phangan.  Thus, the airport on Koh Samui is the closest one to Phangan. Bangkok Airways operate regular flights between Bangkok and Koh Samui. 
Step 2: From Koh Samui International Airport, take a taxi to the Big Buddha Pier. 
Step 3: From Big Buddha Pier, take a ferry to Thong Sala Port Koh Phangan.
This ride takes about 50 minutes. The Big Buddha to Haad Rin ferry route is usually scheduled in the morning, starting from 9:30 am.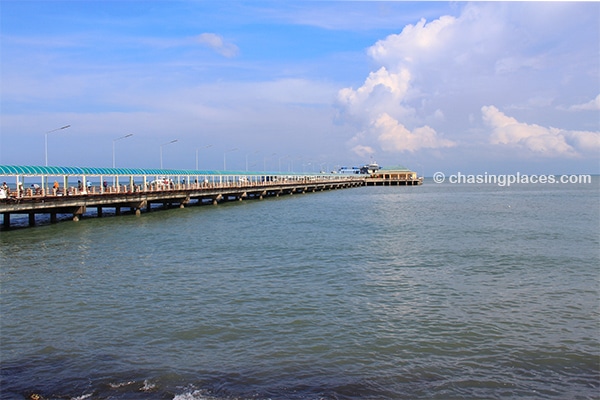 Option 2: Fly from Bangkok to Surat Thani (Cheaper than Flying to Koh Samui)
Step 1: Book a flight to Surat Thani.  Flights to Surat Thani usually leave from the Don Muang Airport.  Airasia and Nok Air are two airlines that facilitate this route.
Step 2: From the Surat Thani Airport, take a bus to  the Donsak Pier.
Phangan Tours and  Panthip Bus Co are some of the bus companies that offer this service. This bus ride takes about 1.5 hours. 
Step 3: From the Donsak Pier, get on a ferry to take you to Thong Sala Pier on Koh Phangan. This ferry ride takes about 2.5 hours. 
Take note that it is possible to book a ticket that includes all flight, bus and ferry transfer fees. This option can save you some money and offers more convenience. You don't have to buy bus and ferry tickets separately. You also have the option to buy a bus + ferry transfer ticket at the airport when you arrive. 
Option 3: Take a Night Train from Bangkok to Surat Thani (cheaper but longer journey)
Step 1: Book a night train ticket with an agent. 
Step 2: Go to Bangkok Railway Station (Hua Lamphong Train Station) and ride night train from Bangkok to Surat Thani.  The train is equipped with tables and a pull down bed. You can also choose seat classes that offer fan or air conditioner ventilation.  
Every day, there are 10 scheduled train departures from Bangkok to Surat Thani.
Step 3: Get off Surat Thani Railway Station in the town called Phunphin. Phunphin is about a 23- minute drive away from Surat Thani. 
Step 4: You can  take a bus to Surat Thani  from the railway station  on your own.
You can also get a company to arrange transport for you from the train station to a port, where a high speed ferry service is waiting to take you to Koh Phangan. 
Option 4: Take a Surat Thani bound Bus from Bangkok  (cheapest option)
Step 1: Book a bus ride from Bangkok to Surat Thani. 
You can book your ticket with any of the hostels and travel agents all around Bangkok. You can also buy a ticket that already covers the ferry ride from Surat Thani port to Haad Rin Koh Phangan. 
Lomprayah and Seatran are two private companies that offer combined bus + ferry tickets to Koh Phangan from Bangkok. 
Step 2:  Get on the bus. 
Buses bound to Surat Thani depart from Bangkok Southern (Sai Tai Mai) Bus Terminal.  There are some buses that may pick you up closer to your hotel but you have to confirm this with your ticket agent. 
The buses usually depart Bangkok at around 1 pm and arrive in Surat Thani at night.  This option may force you to stay overnight in Surat Thani as you will most likely miss the final boat to Koh Phangan.  
Aside from the regular night bus, there is also a sleeper bus from Bangkok to Surat Thani. This special bus comes with declining chairs and leaves the city at around 7pm. This bus travels overnight and arrives at Surat Thani in the morning. 
Step 3: From Surat Thani town, get on another bus/van to take you to Donsak Pier .  You can make the transfer from the Surat Thani Bus Station, where the Bangkok bus usually drops off passengers.  Some of the bus services that offer this route include Phangan Tours or Panthip Bus Co.
The entire journey by bus from Bangkok to Surat Thani pier is about  10 to 14 hours. The ferry ride from Surat Thani pier to Koh Phangan is about 2.5 hours
Night boat to Koh Phangan 
This refers to the boats that still operate and take passengers to Koh Phangan.  The night boat usually departs from Surat Thani at 11:00pm. It then arrives at Koh Phangan at around 06:00am.