Tokyo – the famous urban capital of Japan seems like a bit of a paradox. Despite its modern infrastructure, this city exudes an old soul. Buildings in Tokyo are not as high and clustered as the skyscrapers that you see in Hong Kong and Singapore.  But to make up for the height of its buildings, Tokyo is effortlessly stylish. Its city dwellers have understood the meaning of power dressing.  And if you are not well-dressed in Tokyo, especially during winter, you will easily stand out.   Nevertheless, people won't stare at you like you're at alien. No, Tokyo inhabitants have not forgotten their manners.  They may seemed to be always busy, but they are always polite and pleasant to talk to. The city may be overpopulated but it does not mean that it's not as squeaky clean as the rest of Japan. Train stations and public areas are impressively tidy and organized.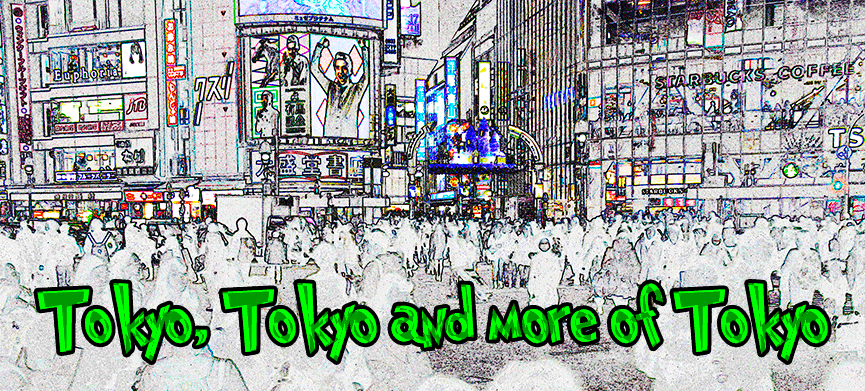 Tokyo is not just one gigantic city of cement and blocks as the shadow of its former self (the shogun capital) still looms. Amidst the city's futuristic vending machines and flashing neon lights, you will find quaint museums, exquisite temples and shrines as well as beautiful gardens and parks. It is a very diverse destination that caters to a wide range of travelers.  And although it has always been tagged as one of the most expensive cities in the world; transport costs are still reasonable, and medium range or boutique hotels, though smaller in space, are still available. Moreover, there are eateries that serve decent food without asking their customers to dig deep into their pockets. So do not be intimidated with what you hear about Tokyo. Sure, it has its ubiquitous upscale and trendy side, but everyone can find their own sweet spot in the Japanese capital.
It is easy to wander around Tokyo for several days without feeling bored and jaded. But if you only have a day or two in this Japanese capital, this is a sample itinerary that Chasing Places recommends for you.
Day 1 in Tokyo
During the Day
1. Get up early and make your way to the famous Tsukiji Fish Market at around 9am. This is one of the biggest and most impressive fish markets in Asia. The market is set up not just for individual shoppers. It is actually more of a wholesale market, where large orders of seafood are shipped and transported to different restaurants in the city.
2. Head out to the Akibara, the famous Anime district of Tokyo. This is the city's pop culture central, where people-watching is at its best! Unfortunately, regular cosplay (costume play) are not anymore conducted in the streets here. But you can still be amused by the number of anime-themed cafes and shops around, as well as, the strong presence of geeks called otaku, lining up for a poster or a ticket to an Anime show. Buildings in Akihabara light up magnificently with neon displays of various Anime characters. It is definitely a unique spot to just stroll around, and maybe buy a souvenir or two!
As the Night Falls
3. Experience Shibuya, the district famous for its pedestrian crossing! It's truly an incredible experience looking at the hundreds of people crossing the four streets of the Shibuya district. After crossing the streets yourself and getting lost in the crowd; look for a vantage point to watch the movement of the crowd from above.
4. If it's not too late, (train services stop at midnight) make your way to Shinjuku, the famous nightlife district of Tokyo. You will be mesmerized by the number of pubs, bars, karaoke spots, cafes and dining selections concentrated in this area. If you intend to drink or dine, the choices can be overwhelming. So if you have trouble picking one; just close our eyes and point to one, and it will most likely be a great spot!
Not enough time? You can always reserve going to Shinjuku the next night.
Day 2 in Tokyo
History, religion, and nature can be the central themes of your second day in Tokyo
During the Day
1. Visit the Imperial Palace grounds, home to the Tokugawa Shogunate's Castle. The castle is closed to the public for most of the year, but you can tour the palace grounds if you book on the Imperial Household Agency website ahead of time. But even without entering the castle, you can always enjoy the surrounding tranquil park and the Imperial Palace East Garden, which are open to the public at all times. Winter is not a bad time to walk around the park, despite the chilly weather. However, spring may be the most scenic as the cherry blossoms are in full bloom.
2. Take pictures of the romantic and scenic Nihombashi Bridge.
3. Make your way to Meiji-jingu Temple. This centuries old temple is considered to be the grandest Shinto Shrine in Tokyo. It was built in honor of Emperor Meiji and Empress Shoken.
4. As the sun sets, go to the 333-meter tall Tokyo Tower, whose architecture design is often compared to the Eiffel Tower. The Eiffel Tower of course, is much older and superior in design; but Tokyo Tower, with its brilliant orange lights, is not a bad sight to admire at night. You also have the option to go all the way up to its observation decks to get panoramic views of Tokyo. Nighttime viewing is highly recommended.
5. Cap off the night by partying at Shinjuku!
Travel Checklist: Do you have everything you need?
Other Tokyo Attractions:
If you want to see where the rich and famous shop, head out to the westernized Ginza neighborhood.
While you're traveling from one attraction to another, make sure to stop by the Tokyo Station, which you will most likely be doing, as it is the central station of the city. But we are not just talking about walking around its interior.  Make sure to go outside and take a look at the stations ornate domes, and red-brick façade.
Travel Tip: If you intend to explore Japan for at least seven days, grab yourself a Japan Railway Pass. This is the ground train network that serves all major destinations across the country, including several key areas in Tokyo. The good news, is the JR Pass is available to all tourists at a reasonable price. If you will purchase train tickets individually all throughout your stay, you will most likely end up paying about 30% to 50% more than just getting the JR Pass.
How to find the cheapest rooms in Tokyo?
It comes as no surprise that Tokyo is full of excellent accommodation choices that are clean, safe and suitable for all budgets. Therefore, it comes down to your personal preference for which site you would like to book with. During our experience booking and staying in Japan most of the large and reputable sites have similar prices. The three we used while we stayed in Tokyo and the rest of the country were: www.agoda.com, www.booking.com and www.hotelscombined.com.  All three are excellent sites and they receive favorable reviews from our readers.
To save you time:
Top Rated Properties on Tokyo Based on Verified Guest Reviews
Important: Mobile Users must swipe from left to right to see entire table.
Criteria:
Properties rated based on 'overall' review scores from each respective website's verified guests.
Minimum of 50 verified guest reviews required to be considered eligible for comparison.
All star ratings and verified guest review scores are tallied at the time of writing, and therefore, are subject to change.