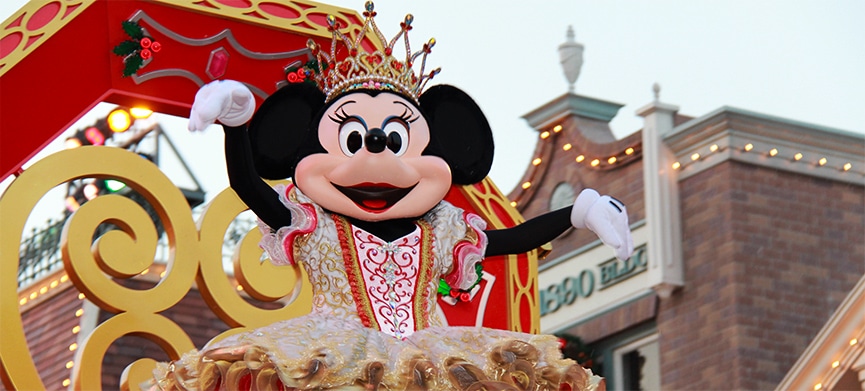 After Disney became a certified global brand in the 1930's, the company was smart enough to build the first Disneyland, in Anaheim California in July 1955. From then on, the theme park had become the dream destination of children not only in the United States but all around the world.
Ask a child where he or she wants to go, and the emphatic answer would be "Disneyland!" I was once one of those children.
At that time I couldn't exactly explain why Disneyland was my dream destination. But it's definitely not because I fantasized about being a princess. Perhaps, I was thinking that a place, which gives life to the fairytale characters I've learned to love, must be so wonderful.
But for someone who grew up in Southeast Asia; California and Orlando Florida, which became home to Walt Disney World Resort, were so far away. These cities were unreachable unless my parents were willing to spend thousands of dollars, which they were not. We didn't have that kind of money to spend for leisure.
And so the thought of setting foot on Disneyland soil remained just a dream.
Years passed and Disneyland decided to come to Asia. By the time Hong Kong Disneyland opened in 2005, I was already attending university. The opening made such a big buzz because children living on my side of the world now have easy access to one of the world's most popular theme parks. I remember being happy about the news.
But I was no longer a child and Disneyland was no longer a dream. I was becoming an adult, caught up with all the issues that come with the process of growing up.
At that stage of my life, it seemed impractical (ridiculous even) to even think about going to Hong Kong.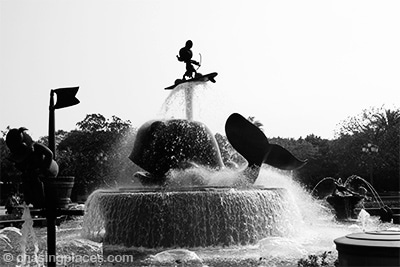 I was already married when I had the opportunity to visit Hong Kong.
Like we always do with any new place we visit, my husband and I spent quite a bit of time planning and discussing the Hongkong sites we should visit while keeping in mind our backpacker budget. It was at this point when I suddenly realized that I wanted to go to Disneyland, more than any other attraction Hong Kong has to offer.
The great desire to see this seemingly enchanting place came back, once I realized how close I am to it. Of course, my husband did not dare to argue with me on this one as he knows what's good for him and our relationship.
And so a little Asian girl's dream became a reality when I found myself at the entrance of Hong Kong Disneyland, marked by a Mickey Mouse fountain.
It was December.
The air was cool and the atmosphere was even more festive because Christmas was just around the corner. The entrance fee was pricey by Asian standards, but it was expected. While paying, my husband had an " I owe him big time" smirk on his face. He obviously thought he should get a lot of brownie points for bringing his wife – a fully grown, over-eager adult to Disneyland.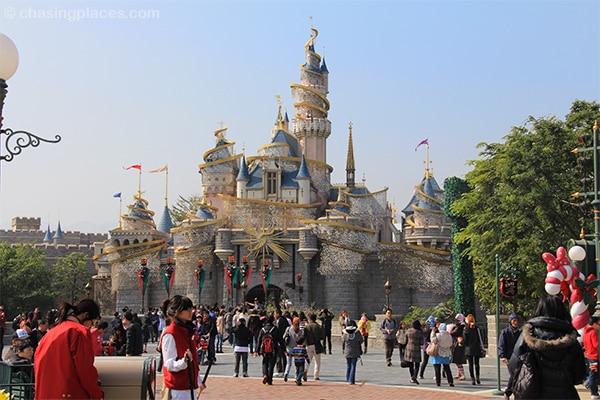 Disneyland Hong Kong covers a large land area and is divided into different sections. At the time of my visit, they had Fantasyland, Toy Story Land, Adventureland and Tomorrowland.
After my visit, two new sections were added: Grizzly Gulch and Mystic Point. The area near the main entrance is called Main Street, U.S.A
Each section follows a certain theme and has its own attractions, souvenir shops, snack bars and restaurants. Because of the park's massive size and the hundreds of visitors, it receives every day; it's quite difficult to experience all the attractions in one day.
But we could only spend one day here, so we examined the free map given to us, and decided which attractions to visit.
Essential Disneyland Hongkong Travel Tips: 
Make use of the free map they will give you.
Plan out how you are going to manage your time.
Prioritize the attractions according to your desire. Go first to the attraction that you like best, just in case you run out of time.
Tomorrowland
Tomorrowland, which is one of the nearest sections to the entrance, captured our attention first. As the name suggests, it adopts a futuristic theme and features attractions like Orbitron and UFO zone. Our first ride here was the Buzz Lightyear Astro Blasters. This involves sitting on a small train and using laser guns to shoot enemy targets.
It was a short ride but surprisingly fun. Then we hurriedly walked over to Space Mountain, an indoor roller coaster that gives riders the illusion of traveling into the deep dark space. This may not be the tallest and fastest roller coaster, but it's still incredibly thrilling because it was dark. I couldn't see anything except for twinkling stars and planet holograms.
Fantasyland
Fantasyland, together with Sleeping Beauty Castle, was very nice to look at and makes a gorgeous backdrop for photos. But we didn't spend so much time here as most of the rides cater to small children.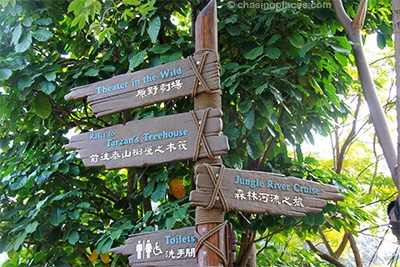 Travel Checklist: Do you have everything you need?
Toy Story Land
We then moved on to check out giant Woody and Toy Story Land. Attractions here include Slinky Dog Spin and the Toy Soldier Parachute Drop. We decided to go on the most exhilarating ride in this section, the RC Racer. This car themed ride takes you back and forth on a 27-meter high U-shaped coaster at a rapid speed. It's simply a heart-stopping ride.
Adventureland
The last section we visited was Adventure Land. Here, we visited the beautifully designed Tarzan's Treehouse. Around the tree house is an artificial river where guests can cruise around. While in this section,  we decided to go to "Theater in the Wild" to watch the Lion King show.
It was a great show featuring talented actors singing live and engaging the audience as much as possible. I enjoyed the show immensely even though I've watched the Lion King movie so many times.
Adventureland Visit Tips:
Disneyland Hong Kong switches their theatrical show after a period of time. During your visit, it may be a different show and not Lion King.
If you want to watch the show, look up the show times in advance. Come about 40 minutes early as you have to line up. The seats are on a first-come, first-served basis (unless you have a priority pass).
My Final Hongkong Disneyland Experience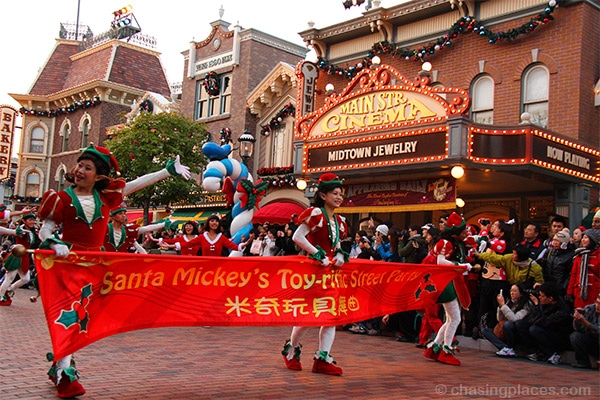 After the show, the sun was about to set and it was time to call it a day.
However, I begged my husband to stay a little longer in time for the Christmas parade that's scheduled to be held at Main Street, near the park's entrance.
So we waited on the side of Main Street, U.S.A with a big crowd (mostly kids and parents) until the Disney characters and performers showed up. They were all very energetic as they waved and danced to the beat of Christmas songs.
Out of the things I saw and experienced that day, this particular parade is the most memorable, as it really made me feel that I wasn't in just any theme park…I was at Disneyland!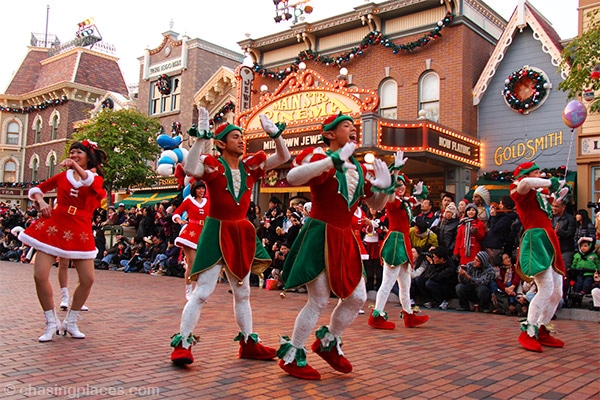 I realize that for some people, this whole theme park concept is just a cash cow for a large corporation. But my sentimentality about the past outweighs pragmatic reasoning.
The butterflies fluttering in my stomach and the smile on my face when Mickey and his gang paraded reminded me of the pure bliss of childhood.
I have forgotten this kind of happiness as most adults do when they have lived long enough in this complicated world. But that day in December, in magical Disneyland, I got to be a child all over again.
Finding Hotels near Disneyland
If you want to treat your family and be conveniently close to Disneyland Hong Kong, you can choose to stay at one of the nice hotels around Hongkong Disneyland. These hotels are highly rated and your stay here perfectly compliments your amazing Disneyland experience.
Some of the best hotels near Hongkong Disneyland include:
Going on a Budget? No Problem.
Hongkong can be an expensive city for accommodations. Luckily, the city has a wide variety of hotels that can suit a range of budget.
During our visit, we stayed at a budget hotel in Mongkok.  Getting to Disneyland from Mongkok is not a problem as you can get to Disneyland by using the Hong Kong Mass Transit Railway.
Hotel Tips for Hong Kong
Budget rooms in Hong Kong tend to be small. Therefore, don't expect spaciousness unless you are ready to shell out some serious cash.
Use a large room provider that has an ample number of rooms to compare between. Here are some that you might want to consider:
We used www.agoda.com during our most recent trip to Hong Kong. At the time of writing, they had nearly 700 different properties to choose from in the city!  Therefore, you should have no problem finding many choices in your budget range using this site.  Property list: Rooms in Hong Kong
Booking.com: If you're planning your trip to Hong Kong well in advance, then this is an ideal site to use. Our readers rave about www.booking.com because of their cancellation policies and awesome customer support. Booking a discounted, free-cancellation room can be a very practical strategy. Property list: Rooms in Hong Kong
Hotelscombined.com: If you want to save time and money, then simply compare room prices between the world's top sites at one time.  We use www.hotelscombined.com all the time, and in a city such as Hong Kong, it pays to compare prices first.  Compare room prices in Hong Kong
Article Last Updated January, 2019
Related Posts