Before I visited Valletta, I had ZERO knowledge about the city and I didn't know what to expect. But when I laid my eyes on Malta's capital, it was love at first 'travel' sight.
Okay, I may be a little dramatic, but the truth is…
Valletta may not be as famous as other European capitals like Paris or London, but it has all the things that can enchant an unknowing traveler. For one, the entire city (not just some parts)  is declared a UNESCO World Heritage Site. This is actually a rare feat that makes Valletta remarkably special.
Intrigued but not convinced? Let me further my case, here are:
8 compelling reasons why Valletta should be your next European trip destination: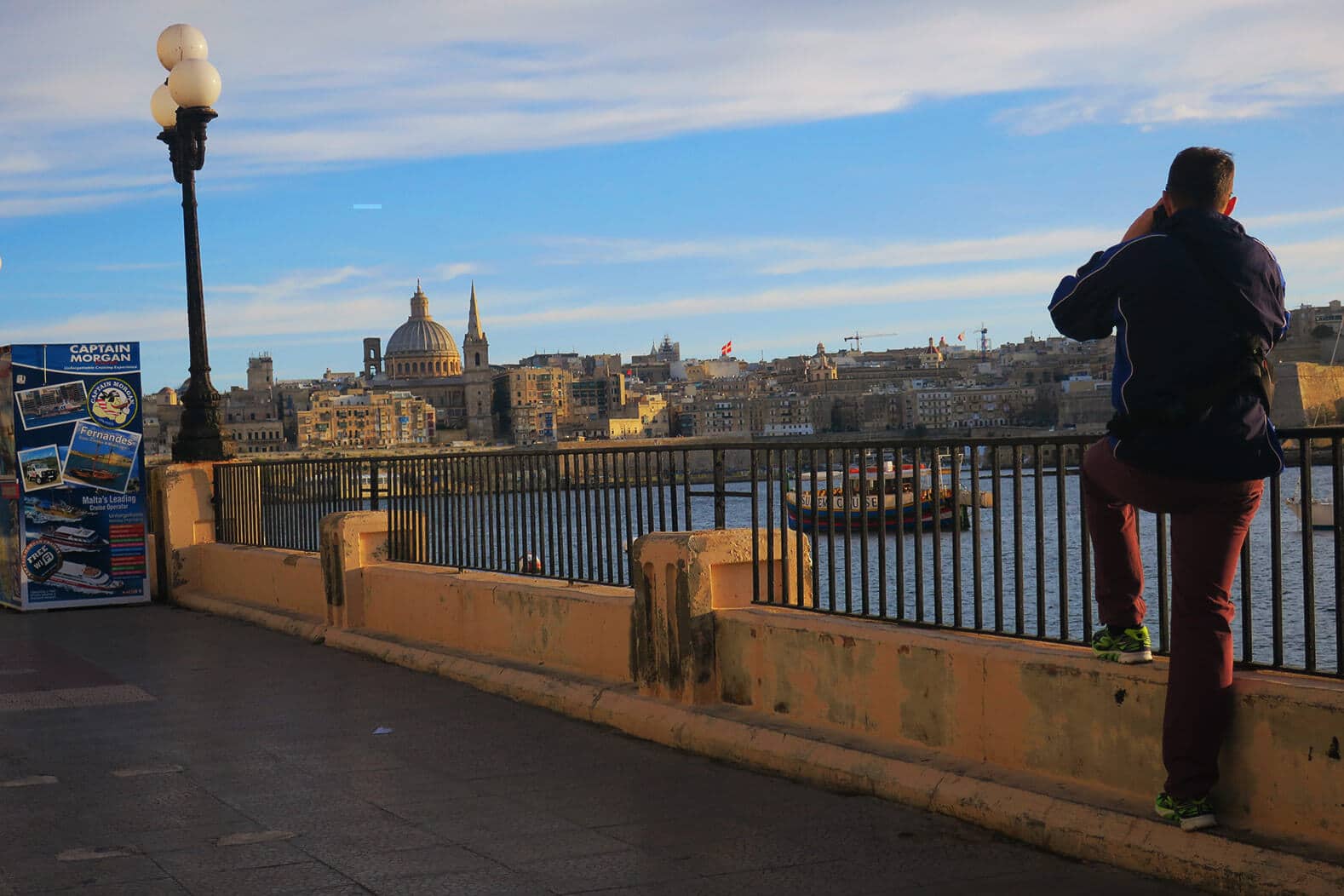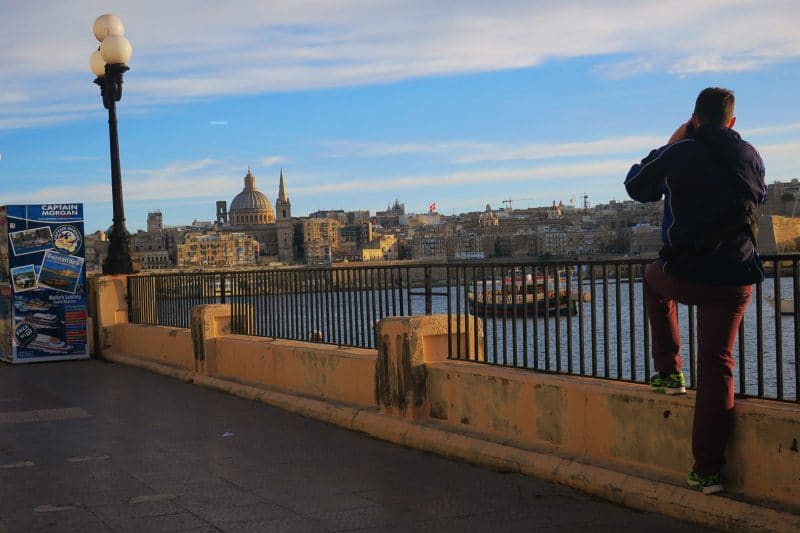 8. Valletta is a visual masterpiece, a heritage gem – it's drop-dead gorgeous!
To say that Valletta is beautiful is actually an understatement! Aside from the string of modern cafes and shops that cater to tourists, Valletta still generally looks old and rustic,oozing with charm.
When you see Valletta with your own eyes, it's hard to imagine that it's a working and breathing city, and not a huge open-air  museum.
Despite having some modern infrastructure, most of Valletta's Baroque architecture remains intact.
Its churches, museums, forts, and even streets were designed in unison, creating this beautiful Baroque backdrop that radiates the 16th century look and feel.
Valletta is a rare gem and UNESCO certainly agrees! In 2018, Valletta also earned the "European Capital of Culture" recognition.
If this is not enough reason to visit the capital of Malta, then read on.
7. Valletta is spectacularly located between two beautiful harbors.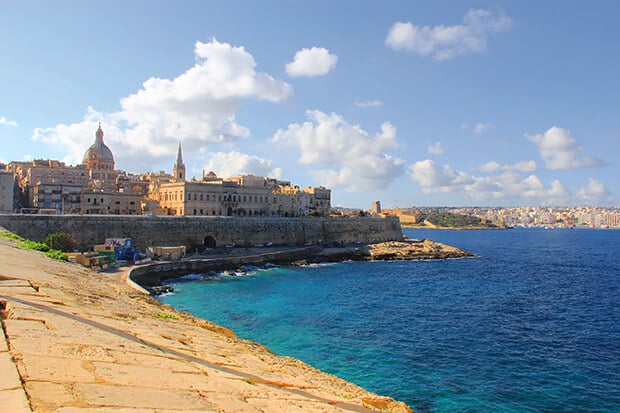 Valletta is not the only European city with impressive rustic architecture – there's Prague of Czech Republic, Budapest of Hungary and Bruge of Belgium among others.
But there's another thing that makes Valletta stand out, and that's its spectacular location.
The "Fortress City"  is located on the rocky peninsula of Mount Sceberras. It
rests between two deep harbors: Marsamxett and Grand Harbour.
Valletta rewards its visitors with amazing views of the two harbors, including the neighboring cities. The views of the Grand Harbor are especially breathtaking and photogenic. People come from all over  just to see them.
You will find the best views of the Grand Harbor from popular sites like the Upper and Lower Barrakka Gardens and Hastings Gardens.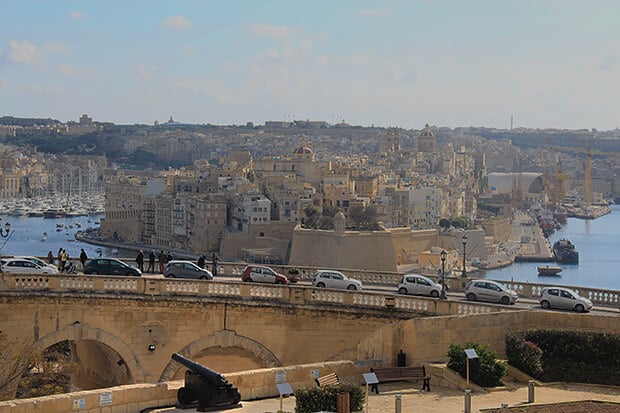 6. Valletta's history is dashing and legendary- it involves knights and their incredible bravery and achievement.
Valletta is not only romantic in looks, it also has a fairly "swoon-worthy" history.
Just like in Medieval-themed fiction books, the heroes of Valletta are "knights in  shining armor" – the Knights of the St. John Order to be exact!
After successfully defending Malta from an Ottoman Empire siege, the brave knights of St, John decided that it was time to settle down and build a fortress city. And so they began constructing Valletta in 1566.
Despite not having modern building equipment, the dashing knights were able to complete the city in about 15 years! They named it after their grand master, Jean Parisot de la Valette.
Apparently, the knights were not only good fighters but also excellent city administrators.
They made Valletta impenetrable (protected by two deep harbors) but also absolutely beautiful. Under their leadership, Valletta flourished; especially in arts and architecture.
Needless to say, the brave men of the St. John Order did a marvelous job!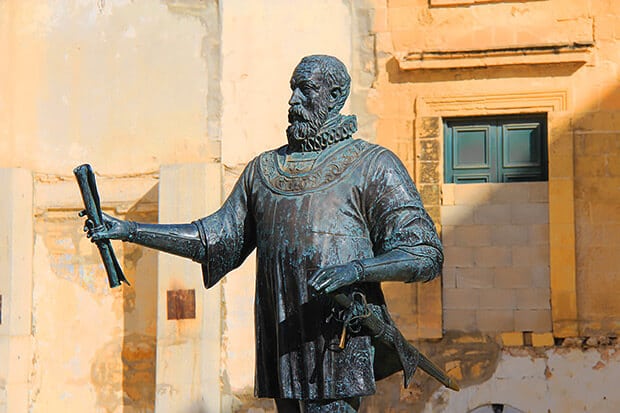 5. Valletta has great summers and mild winters!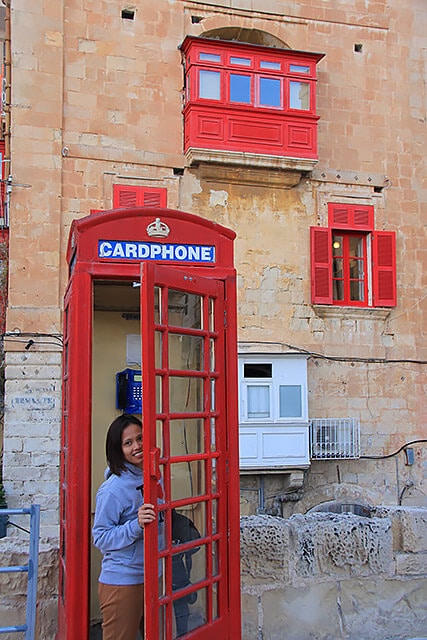 A lot of European cities have sunny summers with perfect temperatures, and Valletta is one of them. But come winter, Malta's capital has an edge over more popular cities like Paris, London, and Amsterdam.
Because Valletta (and Malta as a whole) sits on the Mediterranean, (South of Europe), its winter is milder than most of Europe.
In fact Valletta has the warmest winters out of all the European capitals. The city's average winter temperatures are around 16°C (61 °F) during the day and 10 °C (50 °F) at night.
I visited Malta and Valletta during December and the temperatures were tolerable for someone like me who lives in the tropics.  It wasn't too cold to enjoy the outdoors. And believe me, you would want to be outside while in Valletta.
Another advantage of visiting Valletta during the winter is that there are far fewer tourists. So if you feel like visiting Europe during the winter months, Valletta and Malta should be highly considered.
4. Valletta is one of the few places where balconies are a tourist attraction.
Gazing at balconies  is not your usual tourist activity, but when you're in Valletta, this is something you shouldn't miss doing.  
So what's special about the traditional Maltese balcony?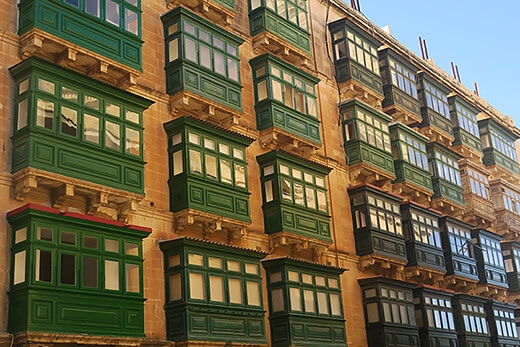 Balconies are a special part of the Maltese history and way of life. Putting up balconies in buildings and homes became popular in Valletta around the 17th century. During that time, the design of a balcony carries great significance. It can show how rich the owner is or what his political and religious views are.
Traditional Maltese balconies fall into two general categories. The first and older type has an open design made of mostly stones and cast iron. The second type is the closed wooden balcony, which looks more striking due to its color and design.
Many houses and buildings in Valletta have Maltese wooden balconies. Their sheer number, consistent design and vibrant colors make them so photogenic- very much Instagram-worthy!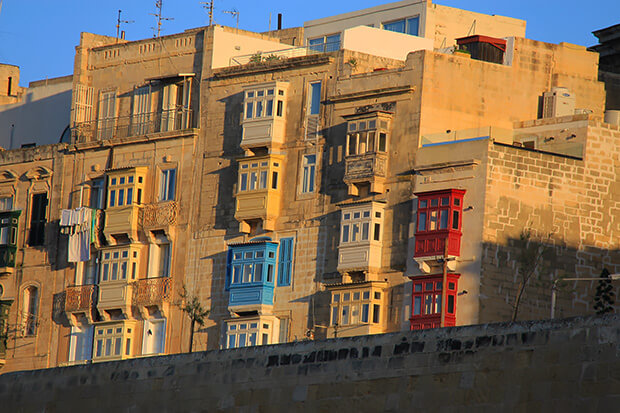 So when you're walking around Valletta, watch out for those balconies!
3. Valletta is so easy and convenient to explore.
Unlike historical cities like Paris and Rome, Valletta is small. In fact, you can just walk your way to all of the city's attractions if you really want to.  
Public bus services are available, but it's so much more fun to walk around Valletta.
You don't need to worry about vehicle traffic because the city is very pedestrian friendly. In fact it's  hard to find parking spaces in Valletta.
If you're staying in Sliema or Bormla (Three Cities), I highly recommend that you take the small ferry to Valletta. Aside from being  convenient, the boat ride is also very scenic!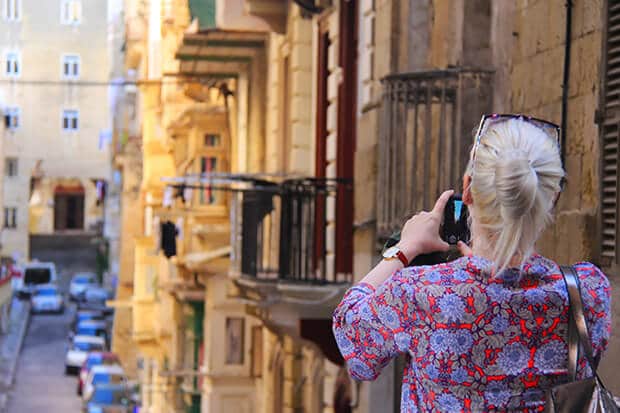 2. Getting lost in Valletta is what should tourists do.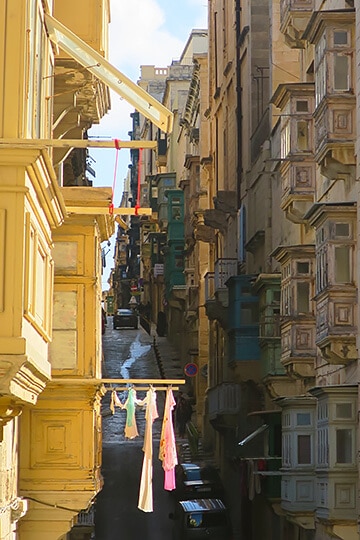 Getting lost while on a trip is usually not a pleasant experience, but not in Valletta!
If there's one  advice I can give you, it would be to get lost in Malta's capital.
This is not to say that Valletta does not have attractions worth seeing – there are museums, gardens and churches to check out.  But you can see them in one or two hours.
Spend your remaining hours in Valletta getting lost.  Walk through random streets, and they will bring you to delightful corners and charming houses.
1. Valletta is one of the most romantic cities on the planet (especially during the evening!)
Daytime is certainly busier in Valletta. Most of its visitors usually leave the city in the afternoon to go back to hotels in neighborhoods like Sliema and St. Julians.
But if you decide to stay a bit longer and wait for the sunset, Valletta will reveal its romantic side. It's  churches, piazzas, and statues are all subtlety lit up.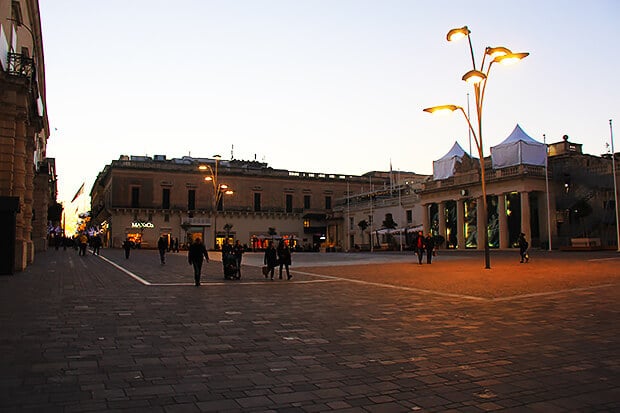 Grab dinner at one of the city's quaint candle-lit restaurants. Take a quiet stroll through its cobblestone streets. Enjoy the harbor views.  No one will rush you.
Valletta in the evening is as romantic as you can get.
Note: If you're scouting for a place and time to propose to "the one", consider Valletta at sunset. You can thank me later.