Pantai Tengah is an excellent place to stay on duty-free Langkawi Island in Malaysia.  It is ideal for tourists who want to enjoy close proximity to restaurants, bars, duty-free shops and the panoramic Langkawi Cable Car, without being bombarded with beach touts and pounding music.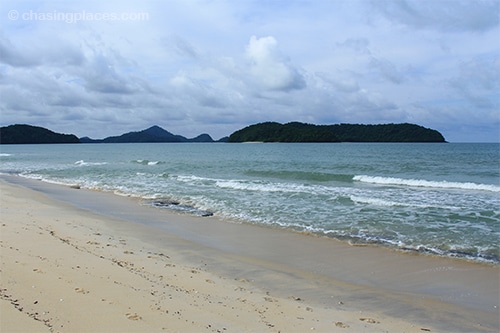 Chasing Places Beach Breakdown =
6.25
1- Worst Imaginable 2- Terrible  3- Very Poor  4- Poor  5- Average   6- Good  7- Very Good  8- Great  9- Extraordinary  10-Unmatchable
Beachscape: 7
There are some off-shore isles (Pulau Rebak Kecil, Pulau Rebak and Pulau Epor) located not far from the sand on Pantai Tengah.  During the daytime it's nice to just relax and gaze out at them, but their real appeal is best demonstrated once the sun starts to set. Pantai Tengah, and its busier neighbour, Pantai Cenang, both offer stunning sunsets that are sure to impress even the most experienced travelers.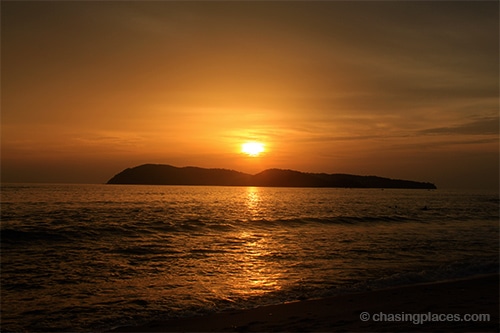 Sand Colour and Texture: 7
Since Pantai Tengah has a fairly steep decline as you walk from your resort to the water, most of the sand is fairly well protected from the effects of erosion.  This leaves the upper portion of the beach unpacked and ideal for beach walking. You will find that with every step you will sink into the sand, similar to Kuta in Bali and the Gold Coast in Australia. The sand colour and texture differ in different regions of the beach.  As you head to the southern end of the beach, the sand becomes more powdery and whiter.  The northern section of the beach has nice, larger yellow granules mixed in with some brown, golden and white sand.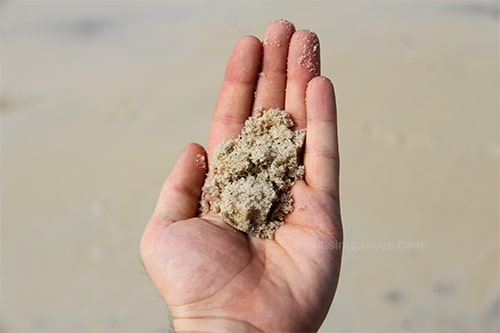 Cleanliness: 6
After staying on Pantai Tengah on multiple occasions, we have never really seen a huge issue with excess rubbish on the beach. Like many other beaches in Southeast Asia, you may see the odd plastic bottle here and there, but for the most part tourists visiting Pantai Tengah are quite responsible.
Water Transparency and Colour: 5
Pantai Tengah has average water based on Caribbean, Maldivian and Oceanic standards.  When the sun is overhead on a sunny day, the water has a light turquoise coloration, but the visibility is not great. The water depth is great for swimming, but according to locals and other travellers we have heard that it's not uncommon for jellyfish to occupy the waters off of Pantai Tengah.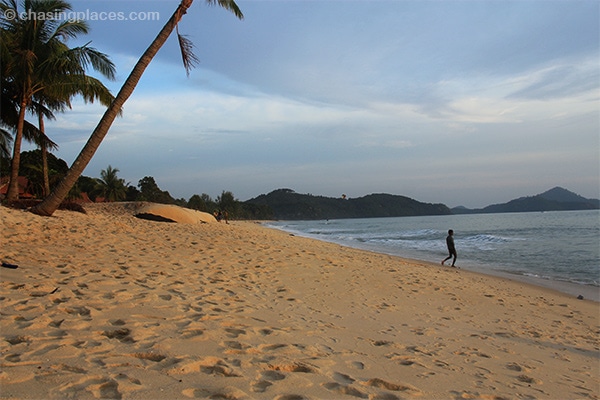 Travel Checklist: Do you have everything you need?
Additional Information about Pantai Tengah on Langkawi Island:
Accessibility
When you arrive at Langkawi Airport simply proceed to the exit area and arrange a taxi to Pantai Tengah. Taxis at the airport will not go by the meter because they have fixed fares to specific locations on the island.  Depending on where you choose to stay on Pantai Tengah, expect to pay anywhere from RM 20-25 ($6.00 – $7.60 US) for the taxi transfer.
Accommodation Choices
Pantai Tengah on Langkawi Island has a range of accommodation choices for tourists to choose from.  With some solid family options and some budget friendly options there is something for everyone (with the exception of high class tourists seeking 5-star amenities).  Keep in mind that if you choose to stay on the southernmost end of the beach you will require some form of transport to reach Pantai Cenang, unless you are up for walking. The northernmost portion of the beach is only moments away from Pantai Cenang and therefore quite convenient. Try one of the following sites if you're looking for a room on Tengah:
www.hotelscombined.com               www.agoda.com
Nightlife
Pantai Tengah is pretty mellow for the most part, so don't expect beach parties and pulsating disco music into the wee hours of the morning.  Some of the resorts and restaurants have cheap duty-free alcoholic drinks up for grabs.  There are a few bars and discos along the beach road to Pantai Tengah.  Our suggestion is to catch sunset on the beach and then if you are up for more excitement ask a few of the locals what the most happening venue is at the time.  You may find yourself heading over to Pantai Cenang in search of entertainment.
Restaurant Choices
Some of the budget accommodation choices on Pantai Tengah may not offer much in the way of selection, but the more upscale options should have something to please you.  Many tourists head over to adjacent Pantai Cenang because it has more restaurant choices imbedded between street shops and duty-free stores.
Watersports
Day tours can be arranged on Pantai Tengah to outlying islands.  On the beach itself, you can arrange to go jet skiing, para-sailing or banana boating.
Recommended for: Families, couples, and budget travelers.
Best Beach Features: Beachscape, Sand Colour and Texture
If you have any questions about our experience staying on Pantai Tengah (or Langkawi Island) please feel free to comment below or check out one of our related articles.