We eagerly planned our trip to Bantayan because of the many wonderful things that we heard about this island located west of the northern tip of Cebu Island.  In a proactive manner, we booked the trip six months before our planned arrival date to get great flight deals. We were expecting a trip to an island paradise highly praised for its white powdery sand beaches and palm tree-lined roads. Little did we know that a super typhoon would be brewing, and that the most powerful typhoon recorded in human history would hit the Visayas region of the Philippines. Typhoon Haiyan (locally called Yolanda), brought devastation to many of the nation's cities, towns and islands. Bantayan Island, was one of these unfortunate islands. Haiyan made landfall three weeks before our visit to Bantayan.  Because of this disastrous event, our supposedly relaxing trip became not quite what we initially expected.
Haiyan's Wrath Vs. Warm Hellos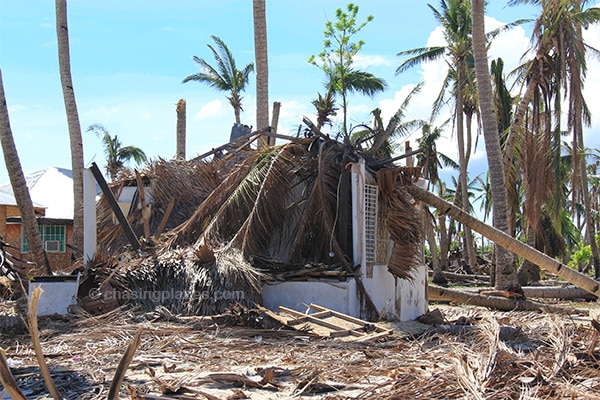 The journey to Bantayan from Cebu City, where our plane landed, was quite straightforward. We rode a bus for three hours and got on a ferry for 45 minutes. Even from afar, Bantayan looks absolutely stunning. The white sandy stretch stands out amidst the glistening sun and the lush vegetation in the background. The palm tree description is definitely true. The presence of these trees bestowed the coastline with a more tropical and secluded character. But a number of these charming trees were uprooted, while others were chopped midway as if a chainsaw had cut through them. We have heard of Haiyan's extraordinary wind velocity from various news agencies; but to see with our very own eyes what this super typhoon was capable of, is frankly, very chilling and saddening.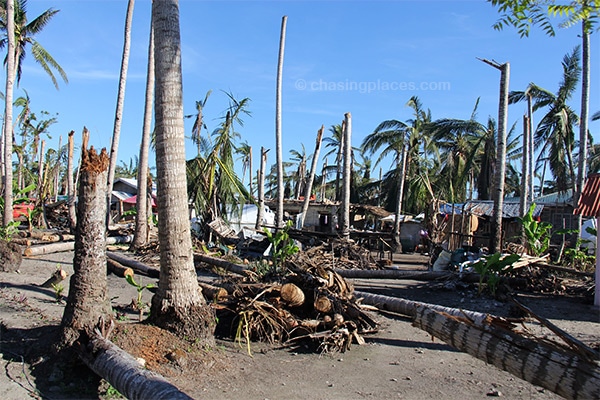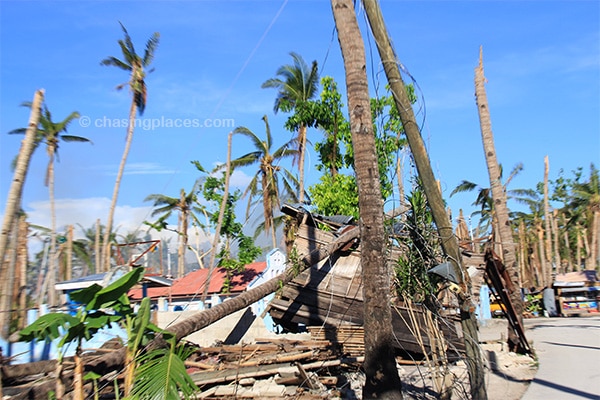 When our ferry docked at the island's port, it was noticeably not busy. We were greeted by some touts asking if we wanted a tour or a ride to our hotel. But they were not as aggressive as the ones we encountered before in other regions of the country. Since our resort was just a kilometre from the pier, we decided to walk. It was a great decision after all as we got the chance to walk through a small community sitting on the edge of Alice beach.  It was evident what Haiyan had done to the community. Wooden homes were completely destroyed, and the roofs of several houses were gone. And if you think buildings made of concrete or cement were spared, you're quite wrong. Most of them were severely damaged. But what astounded us more than the typhoon's destruction was the friendliness of the people. The locals we met during our walk to the resort were all full of smiles. We also noticed a significant number of little kids on the island. They seemed to be everywhere, giggling and running around. Most of them greeted us with a warm hello. It's fascinating how the locals seem to have kept a cheery disposition despite all the destruction surrounding them.
Empty Resorts, Gorgeous Beach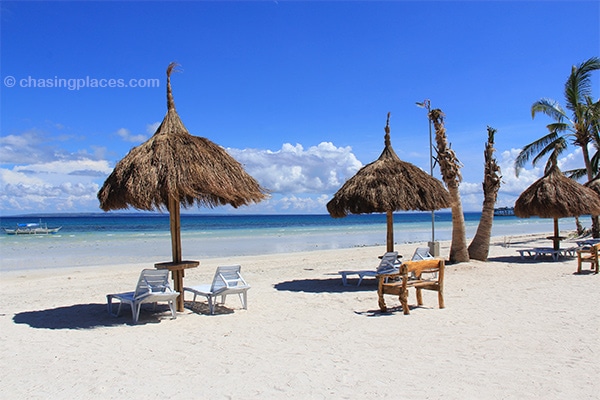 When we arrived at our resort, it was noticeable that there were only a few guests. The resort is composed of wooden one-room cottages that were simply furnished but very clean, and are only a few meters from Alice Beach. To say that the view of the beach from our porch was scenic is a definite understatement. It was perfect weather, the sky was painted blue with barely any clouds in the sky. And there was a kind of serenity looming around. It was very hard to believe that this was the very same place where eye of the storm hit.
According to the resort's staff, December is supposed to be their peak time. We assumed that most people cancelled their holiday on the island thinking that the resorts were not going to be operational. But based on what we saw, several resorts were open for business. There were was just no people there.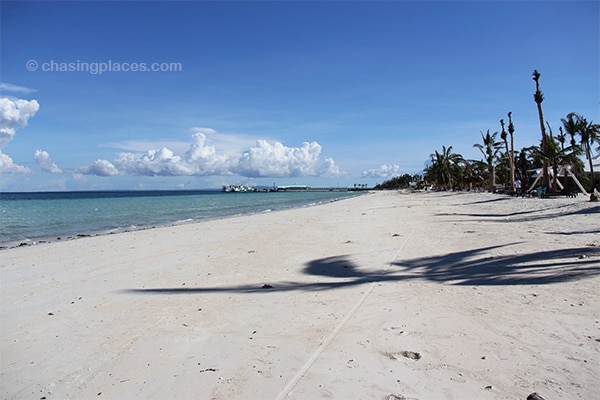 But even during peak time, we imagine that Bantayan Island does not become as busy as Bali or any of Thailand's resort towns, as it does not share the same international fame. So, if you're the type who likes the idea of being away from it all minus the huge beach crowd, then the island makes a great choice. When we strolled around during a sunny afternoon, we had the beach all to ourselves, except for some little kids making sand figures and some local fishermen drying their catch under the intense rays of the sun.
Although the beach front had some resorts, it was not as not nearly as built up as we had expected. The resorts are not lined up in a series. Instead, they are separated by either empty spaces, a row of palm trees or fishermen houses and shacks.  We like these elements because it reminded us that we were not in some resort in the Caribbean, but in the Philippines, where mass tourism has not yet come in full turn. The aquamarine water surrounding the beach closest to the pier is very clear and clean.  Compared to the beaches on Thailand's Koh Phi Phi Island and Railay Beach, you won't see an absurd amount of old boats and their black-smoke-blowing old engine's docked on the beach.
We spent the rest of the day taking pictures, and just enjoying the beach view. There was nothing much going on at the resort after sunset. There was a restaurant where you could order drinks and food until 10 pm. The restaurant also had what looked to be a band stage. We were informed that there's normally a band playing during December but not this year because of the typhoon.
Travel Checklist: Do you have everything you need?
Driving in the Dark and the Calm Before the Storm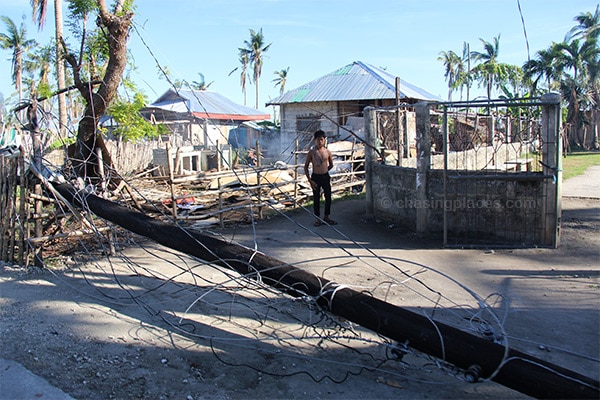 Bantayan does not have a normal electricity supply. The entire island runs on generators. We were not certain if it has always been that way or it has something to do with the calamity. Our resort posted their own power-out schedule. When we walked out to the main road from the entrance of the resort, it was pitch black. There were no street lights and homes are quite distant from one another. The nearest town to the beach (we were staying at) is Santa Fe, which is about 2 kilometers away.  We decided to rent an automatic scooter that we could use for 24 hours in order to explore the island. Santa Fe turned out to be the most touristy town on the island as it is home to the most number of bars and restaurants that cater to tourists.
When we dined at one of these restaurants, we saw the first Caucasians on the island hanging out at the restaurant's bar area. They were not tourists, but rather, volunteers of an international organization involved in a rebuilding project on the island.  We also met a lovely British lady who had made Bantayan her home for 10 years. She recounted her experience when the typhoon hit. According to her, when the typhoon made landfall, the rain poured and the wind hurled for 20 minutes. Then it was completely quiet and calm for several minutes. And just when they thought it was over, the worse came; and Haiyan's wind speed that reached almost 300 kilometers per hour caused complete havoc.  We could see the frightened look on her face as she was recounting the event. As I was sitting there listening to this lady, I realized that I could only imagine how the tragedy happened, but I will never really understand the horror and lost typhoon victims felt.  Stories like this make us feel more appreciative of what we have.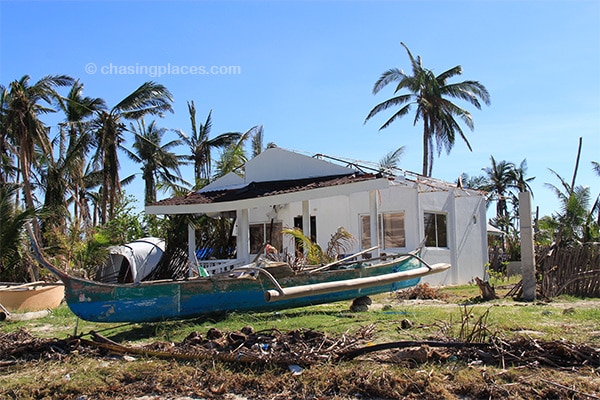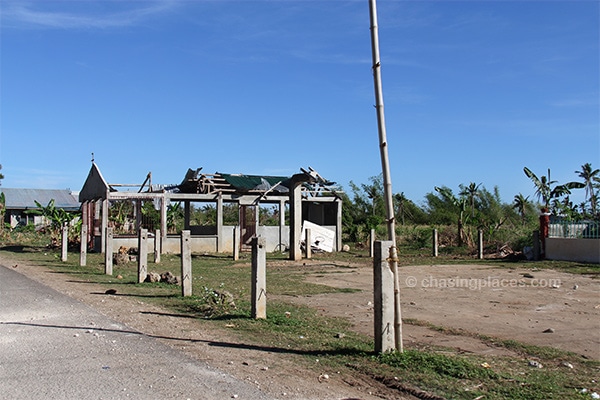 The Resilient Capital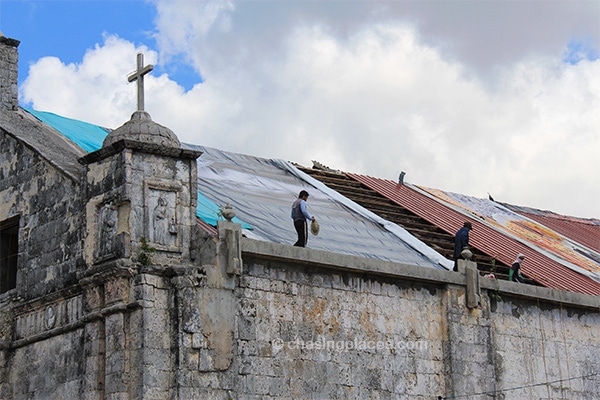 When we set out for our scooter tour of the entire island the next morning, we would learn more about the destruction Haiyan left on Bantayan. The island is made up of three municipalities, with the capital being Bantayan town. Since it is situated more inland, most of Bantayan town's infrastructure was left intact. It was a nice clean town decorated with a small plaza and a gorgeous old Baroque church that lost some of its elegant chandelier lights to the storm. There was no hotel or western style restaurant in sight in Bantayan town. There was an interesting market with a local restaurant that looked more like a cafeteria. There were a couple of bakeries surrounding the plaza that were teeming with locals. Bakeries are more lucrative in the town setting because bread products are cheap enough for people to purchase.
The Unselfish Victims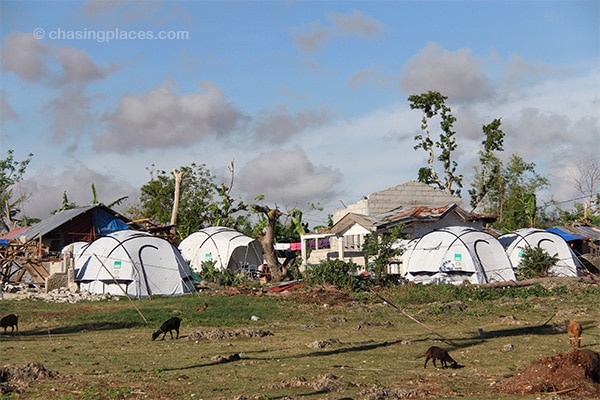 It was the countryside closest to the coast that experienced the wrath of Haiyan the most. While going through these rural communities with our trusty Honda scooter, we felt both sadness and admiration. A number of families were living in big tents, donated by organizations.  Some women were washing their clothes outside, but we figured that decent clean bathrooms were non-existent and that potable water was being rationed. It was clear that these people didn't have much in the first place. They had no furniture, no TV, and no computers. The clothes they were wearing appeared very old, dirty and disheveled. What they lived in before Haiyan were rickety shanties that were taken away from them. We couldn't help but notice the disturbingly excessive number of children from 7 years and under everywhere.  And despite the many schools we saw while exploring on the island, it was quite clear that many children were not attending them. Poverty was staring right at our face almost everywhere on Bantayan. There was no escaping it.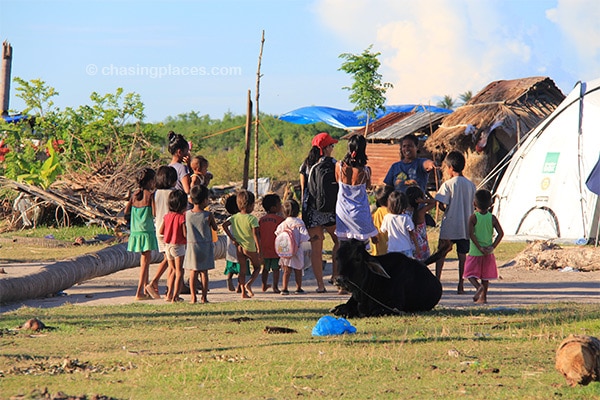 Before we came to the island, we decided to bring as many clothes as we could to give to those in need. It was sad that we only brought adult clothing when we realized that the kids on the island needed clothes the most. We were worried about the distribution part as there were stories about volunteers getting mugged for their supplies. Since there was not a lot of clothing, we contemplated giving them to families living in tents. As soon as I walked towards a community, several kids suddenly started to rush towards me. I almost panicked but when they got to a close proximity, they stopped and smiled. Some women greeted me and asked what my business was. I explained to them that there was some clothes that I wanted to give away to the people living in the tents. One lady answered, "That's us Ma'am.  We were advised not to stay in the tents if the sun gets too hot." It was so surprising to me that these women were quite calm and respectful. None of them showed selfish eagerness to swipe the clothes for themselves, nor were they arguing who gets to keep what. There was obviously not enough clothes for all of them but everyone was genuinely appreciative. They reacted as if I had given them expensive gifts. The truth is, they gave me back something more valuable. They thanked me with their words, their eyes, their smiles and their demeanor. It was the kind of appreciation that made me feel this unexplainable deeply rooted happiness.
Bantayan Rises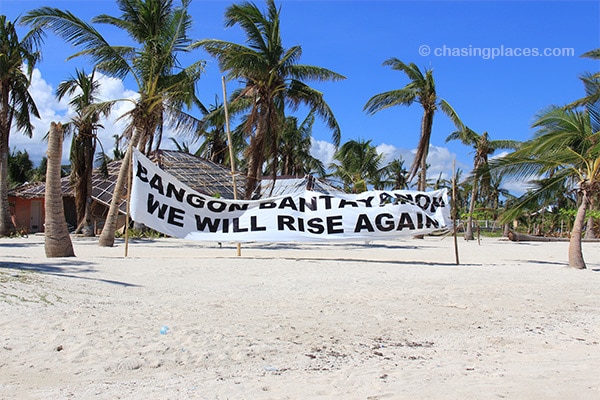 The experience we had on Bantayan will never be duplicated even if we visit again. We came to the island when it was trying to rebuild and recover from a disaster.  While there, we did not only find pleasure on the island's spectacular beaches. We were also witnesses to the positive outlook and the pleasant character of the Bantayan people amidst a huge disaster; and to the goodness of people from all around the world, who selflessly donated their time, resources and skills to help.  I remember the British lady commenting, "Bantayan was a beautiful island before the storm, and it will become beautiful again." For me, Haiyan might have hurled all its might at Bantayan, but the island, with all its imperfections, is still absolutely special.
In time, the infrastructure destroyed will be rebuilt, and I do agree with the banner that greeted us on the pier – "Bantayan will rise again." But I wish that the island will retain its simple, authentic and undeveloped self. I would love to see again the wild vegetation in between the basic resorts, and the fishermen's houses and their rustic boats. Perhaps, this is a selfish thought, but a travel destination like Bantayan is extremely rare to find, one that I want to hold on to for as long as I can.
For more information about the journey to Bantayan from Cebu City please click this link:
https://chasingplaces.com/how-to-get-to-bantayan-island-from-cebu-city/
For donation inquiries, please visit the following websites:
http://www.redcross.ca/donate/donate-online/donate-to-the-typhoon-haiyan-fund
http://www.worldvision.com.au/Issues/Emergencies/Current_Emergencies/Typhoon-Haiyan-Philippines.aspx?lpos=top_drop_1_TyphoonHaiyanAppeal
Accommodation Suggestions – Bantayan Island
If you're making all the effort to get to Bantayan Island, then I would suggest getting a place right on the beach.  By simply renting a moto you will have no problem seeing the interior of the island as well. Alice Beach is quite nice, so that's a good place to stay in my opinion.  Here are a few sites that might have the rooms you are looking for:
This is the largest room provider in Southeast Asia.  Therefore, it does have a wide selection of rooms even in the remote areas of the Philippines. Here is a link to their rooms in Cebu and the surrounding area (including Bantayan):
Although www.booking.com does not offer as many rooms in the Philippines as Agoda, they try to make up for it with excellent cancellation policies and customer service. If you're booking well in advance, it makes sense to book discounted, cancellation-free rooms. Here is a link to their rooms in this region of the Philippines:
This is our preferred price comparison site in Southeast Asia. Within seconds you can find the cheapest room from the world's top room sites.  This has saved us some serious cash (and time) during our trips to the Southern Philippines.  Here is a link to their price comparison search: