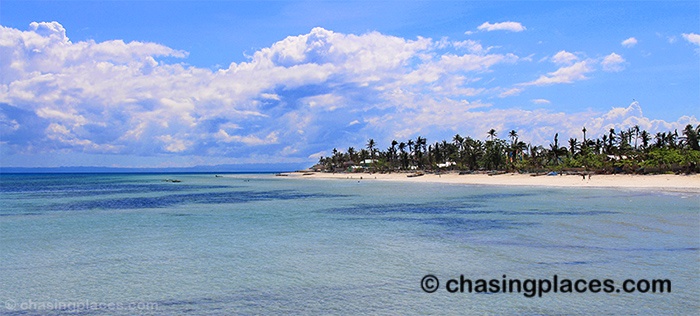 Are you headed to the Philippines in search of a gorgeous island? One trip that we highly recommend is flying into Cebu City and then heading northeast to the beautiful Bantayan Island.
Why Bantayan Island?
It's still not overcrowded with tourists and the island is full of extremely nice and welcoming locals. Throw in some powdery, undeveloped white sand beaches and stunning ocean views and you get the idea.
When you're already in Cebu City, you can easily get to  Bantayan Island using the bus and the ferry. 
Here is a step-by-step guide on how to get from Cebu City to Bantayan Island.
Step 1. Take a local bus, jeepney or a taxi to the Cebu North Bus Terminal. 
The price will differ depending on your point of origin, but a jeepney is usually the cheapest bet. Taking a taxi is the most straightforward way of getting to the North Bus Terminal. 
Some tourists want to head straight away to Bantayan Island after landing on the  Mactan Cebu International Airport.
This option may help you maximize your time on the island but take note that it's also going to be very exhausting as you're looking at around a 5-hour journey. 
But if you're hardcore, then there are definitely transport options available to Bantayan from the Mactan Cebu International Airport.
The cheapest way to get to the Cebu North Terminal from the airport is the MyBus Service. The kiosk for this bus service is just outside the airport, so you will need to walk out.  
MyBus costs only  25 pesos. Please keep in mind that the bus has a certain schedule. 
Another option is to take the Airport Yellow Taxi or the Grab Car Service. There should be a GrabCar booth with a representative who will help you secure a car through the app.
 The Airport Yellow Taxi is more expensive but it's always available. The fare to the North Terminal is around 300 to 500 pesos. 
Travel time from Mactan Cebu International Airport to Cebu City's North Bus Terminal is around 30 to 45 minutes, depending on traffic conditions.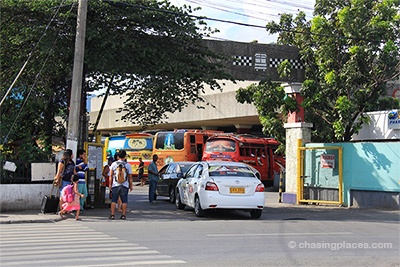 Step 2. Take a bus from Cebu's North Bus Terminal to Hagnaya Port (approximately 3.5 hours travel time).
This will cost 160 pesos ($3.62 US). The bus will stop to pick up passengers along the way, so don't expect a non-stop service. The bus will stop right at the Hagnaya Ferry Terminal.
If you don't want to take the public bus to Hagnaya Port, you can arrange a private transfer that will take you to Hagnaya Port. This option may be more attractive if you're traveling as a big group. 
Travel Checklist: Do you have everything you need?
Step 3.  Buy your ferry ticket at the Hagnaya Terminal.
This will cost around 180 pesos ($3.85 US) for an adult and ferries run hourly.  Aside from the ticket, you need to pay the 10 pesos terminal fee.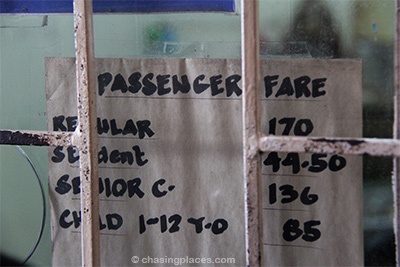 Step 4. Board the ferry to Bantayan Island (approximately 1 hour and a half travel time).  
Remember to keep your ferry ticket as it's going to be checked by an inspector on board.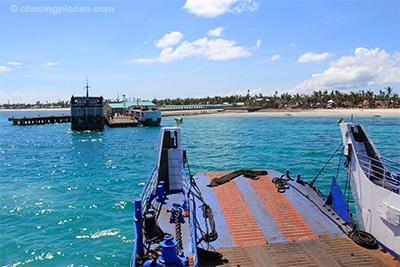 Step 5. Arrived at the Bantayan Island Port. 
Tourists to Bantayan Island are required to pay a 30 peso for the environmental fee.  This will be collected at the arrival gate of the port. 
To get to your hotel on Bantayan Island, you can take a tricycle (tuk-tuk) from the port.  You can also pre-arrange a private vehicle to pick you up from the port. 
Where to Stay on Bantayan Island?
Bantayan Island has a couple of stunning beaches that has nearby accommodation options. Many tourists tend to stay near the town of Santa Fe because of its tourist facilities and its gorgeous white beach.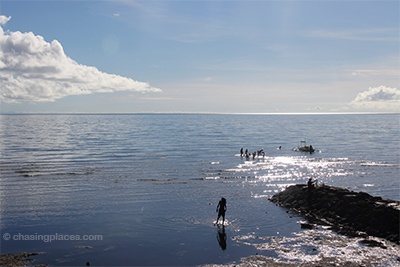 How to find the best rooms in Cebu and on Bantayan Island?
During our various trips in the Philippines we always find the following sites the most useful to find the cheapest rooms:
This is the largest accommodation site in the Philippines (including Cebu and Bantayan).  Therefore, it's a smart place to start your search.  I have created a link to Cebu which includes rooms on Bantayan:
Rooms in Cebu City and on Bantayan Island
This site is excellent if you're planning your trip well in advance.  Great cancellation policies and customer service. If you can find a cancellation-free room for a discounted price, it's the way to go! Here are links to their properties:
Rooms in Cebu City                  Rooms on Bantayan Island
If you want to compare room prices before booking in Cebu or on Bantayan then this site is ideal.  I have created relevant links below:
Compare Room Prices in Cebu    Compare Room Prices on Bantayan Island
It's highly recommended to book your Bantayan Island  hotel ahead of your intended travel dates. Although Bantayan may not be as popular as Boracay, it has fewer hotels and they can be farther apart. This means it's hard to shop around for hotels backpacker style.
Getting Around Bantayan Island
The island does not have a bus system. To get from one place to another, you can take a tricycle or a motorcycle.
It may be difficult to get around at night. You can't just wait at the road and hail someone. It's highly recommended that you rent a motorcycle to get around at any time you want.  Or you can arrange a tricycle driver to bring you around.
Article Updated: November 2019