For travelers, one important thing to know about Singapore is it can be an expensive city to travel in.
In fact,  frequent travelers to Southeast Asia find it hard not to compare Singapore to its 'cheaper' neighbors like Malaysia, Indonesia, and Thailand.

DO NOT  let the cost of Singapore discourage you from visiting.  The city actually caters to a wide range of travelers with different budgets.
If you wish to pamper yourself and stay in nice hotels in Singapore, you can definitely do that. But if you wish to do a budget or backpacking trip to Singapore, it is also very much possible to do it!
With proper planning and research, you don't need to spend a lot to enjoy Singapore and the wonderful things it offers.
Here are the top 7 ways on how to save while visiting in Singapore
1. Take advantage of Singapore's public transport system, but stay away from taxis if possible.
Singapore's public transports like buses and trains are very reliable. You don't have to take taxis to get to where you want as a tourist.
There is always a train station nearby main landmarks like the Marina Bay, Chinatown, and Little India.
Additional tips for using Singapore's public transport:
Get a map of the railway system (Singapore MRT system map) to determine the nearest station to the places you want to visit. Remember to check the timetable for each train station if you are out late because if you don't get on the last train for the night, you will end up paying for a taxi to go back to your hotel.
If you have a couple of days in Singapore, consider buying an EZ Card. This is a stored-value smart card that can be used on buses and the MRT. The fare deducted from an EZ Card for each journey is less than the cost of buying a single journey card.
If you use an EZ Card and travel during off-peak hours, the fare for your journey will be discounted.
Click here to get additional information about the EZ card and MRT ticketing.
2. Take the train from Changi Airport to your hotel.
Singapore's Changi Airport is not that close to the city center, and you will need to travel approximately 24 kilometers to reach your specific destination in the city center.
The fastest and cheapest way to commute from Changi Airport is to take the MRT. The train station is easily accessible on foot from both Terminal 2 and 3.
The airport trains are built to be luggage-friendly.  The only drawback is that the last westbound train to the city from Changi leaves at 11:18 pm. For more information about Changi Airport transport, click here.
3. Book your hotel at a central location.
If you want to spend less time and money commuting, the best way to do so is to book your hotel in a strategic location. For example right near an MRT station.
You will most likely need to walk to get to a few spots; but don't worry, Singapore's roads and streets are bicycle and pedestrian – friendly. Plus, it is a very safe city to explore on foot. Most Singaporeans walk whenever they can. You should too as it is healthy and it will keep you from spending unnecessarily.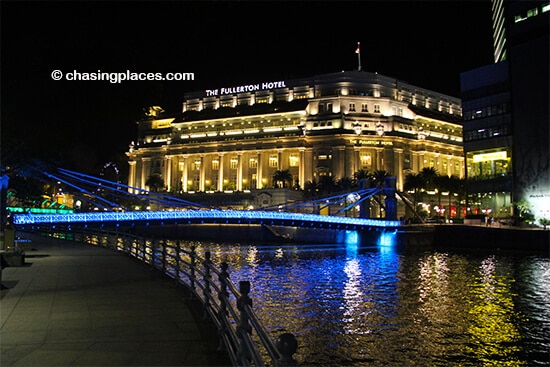 To get an idea on where to book your hotel, go to our article: Where is the Best Spot to Stay in Singapore.
[/fusion_text][/fusion_builder_column][/fusion_builder_row][/fusion_builder_container]
Travel Checklist: Do you have everything you need?