Article Last Updated 2019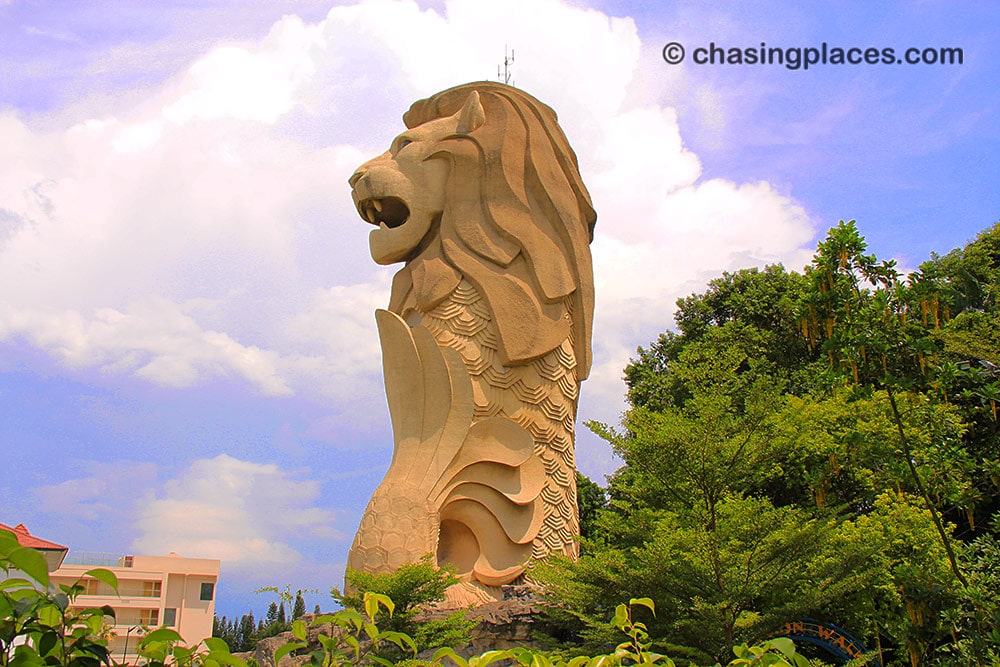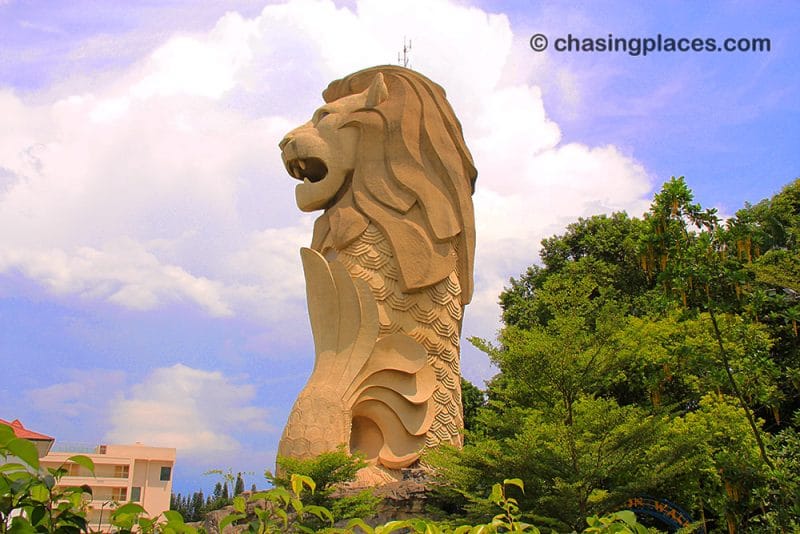 If you look at Sentosa Island today, you probably won't believe that Singapore's prized island resort was once a failed military fortress built by the British in the 1800's.
Good thing that the island did not remain that way, and Sentosa has now become one of the impressive modern products of that famous 'Singaporean ingenuity'.
These days, Sentosa is not only an added attraction for the millions of tourists visiting Singapore, but I would also like to think that the island has undergone a major face lift to benefit Singaporeans.
After all, everyone needs a quick and convenient respite from their busy urban lives.
If you find yourself in Singapore, consider dropping by Sentosa Island and stay at one of its world class resorts.
Sentosa  offers tons of attractions for different types of travelers. Although its crowning glory may be the Resorts World Theme Park and it may appear to be catering more to visiting families; single travelers can also find Sentosa fun and relaxing.
Come during the week and you will avoid cueing in long lines and fighting for a spot at the island's public transport connections.
Even though it is possible to visit Sentosa island by car, there's actually no need for that especially if you are a tourist in the city.
Singapore has one of the best and extensive public transport networks in the Asian region, so you can easily get to Sentosa using such means. Once you book your flight to Changi Airport, it's super convenient to reach Sentosa Island.
To help you further in your journey, here is Chasing Places' step-by-step guide on how to get to Sentosa Island via public transport:
Getting to Sentosa Island by MRT
Step 1. Take the Singapore MRT Service.
This train system serves all key areas in the city, and is arguably the fastest , cheapest and most convenient way to get to Sentosa Island.
All you need to do is find a metro map at the station and figure out which is the nearest station to your hotel.  From this station, make your way to Harbourfront Station on the North-East Line.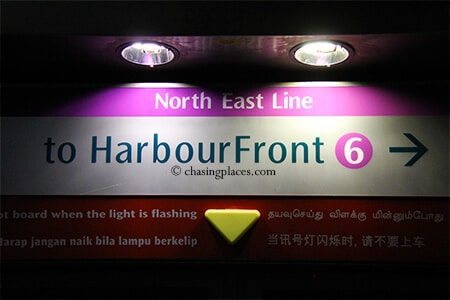 Step 2. From Harbourfront Station, enter VivoCity Mall.
The mall is actually attached to the station, so there is no real need to walk outside, just follow the signs that lead to the main mall area.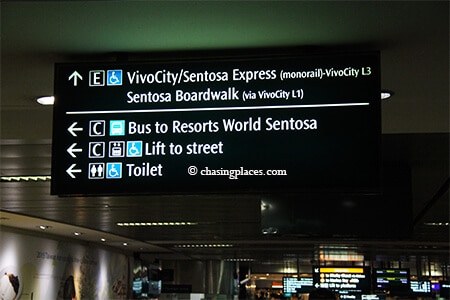 Step 3. Go to the third floor (Level 3) of VivoCity Mall.
You will reach the ticketing area and the entrance to the Sentosa Express Monorail Station, which is specifically in lobby L.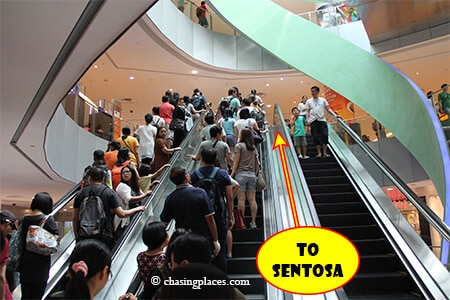 Step 4. Purchase a Sentosa Pass.
There are booths at the corner of the L Lobby that are dedicated to selling the Sentosa Pass.
The price is $4 Singaporean dollars per person – this covers your round trip journey and entrance to the island as well unlimited use of the Sentosa Express around the island for the day.
You may pay for the Sentosa Pass using cash, NETS and major credit cards (VISA, MasterCard, AMEX and JCB).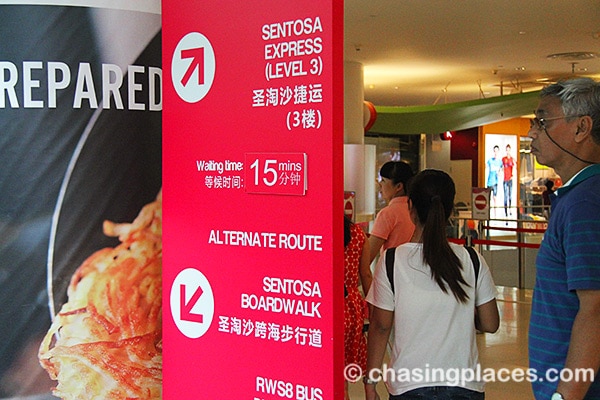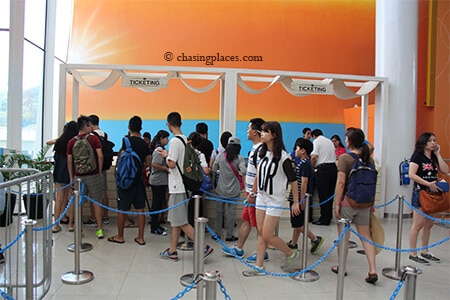 You can also pay for your entrance using the Singapore EZ-Link card. (the card system used for the MRT). All you have to do is go straight to the boarding gate and swipe your card through the machine to go through.
Take note: If you are traveling with your family or a group and are planning to experience the main attractions on the island, check for combination tickets, and you may get a better and more affordable deal.
Step 5. Board the Sentosa Express.
The Sentosa Express Monorail is open from 7 Am to 11:45 PM, and follows an operation interval of every 5-8 minutes.
It stops at four main stations, one being the Sentosa Express Station at VivoCity. The other succeeding stops include, Waterfront Station (where Resorts World Sentosa is located), Imbiah, and Beach Station.
Expect longer cues for getting on this train service during weekends and public holidays.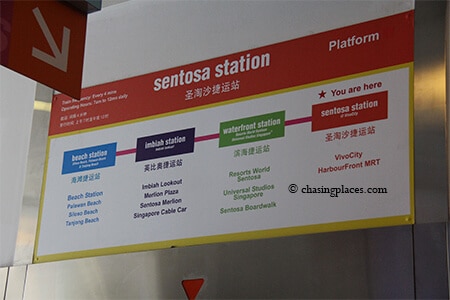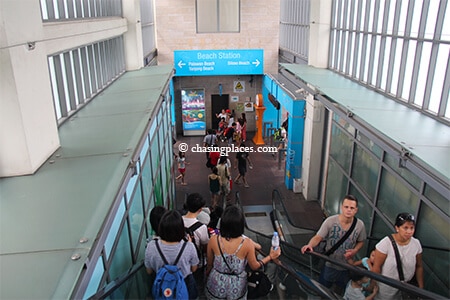 Travel Checklist: Do you have everything you need?
Getting to Sentosa via Cable Car
Do you wish to reach Sentosa the most thrilling and scenic way? Then consider taking the Cable Car service.
The Sentosa Cable Car Ride rewards passengers with a sweeping panorama of the island and its attractions, as well as Singapore's famous skyline and harbor.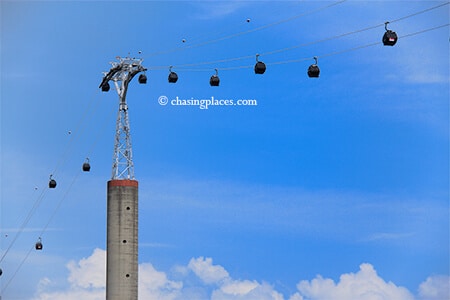 Here are the steps on how to get to Sentosa using the Cable Car:
Step 1. Make your way to HarbourFront MRT station.
Step 2. Take Exit B, labeled as Harbourfront Center.
Follow the signs that lead to the Harbourfront Tower II. The Singapore Cable Car Station is at the top of this tower.
Step 3. Don't forget to alight!
The cable car service stops at Imbiah Lookout, which itself is packed with attractions. A return ticket for this cable car experience is:
 $29 for adults
$18 for children between 3 to 12 years (amounts are in Singaporean dollars)
Operation Times: 8.45am – 10pm daily (Last boarding is at 9:30 pm)
Take note: This is the most expensive way to get to Sentosa Island from the city.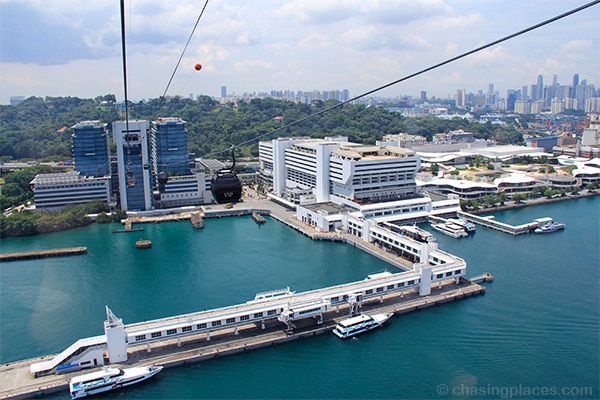 Getting to Sentosa Island by Taxi
You can take a taxi anywhere from Singapore to Sentosa Island. You also have the option to take the taxi from Harbourfront Station.
If you wish to access Sentosa by taxi or private car, you will still need to pay $2 to $7 per vehicle to enter. There is also application surcharges for taxis taking you out of the island.
Walking to Sentosa Island
You may think it is not possible, but walking to Sentosa from VivoCity can be done via the new Sentosa Boardwalk. Here are the steps:
Step 1. Alight from the HarbourFront MRT station.
Step 2. Head over to the waterfront promenade of the VivoCity Shopping Mall.
Step 3. Follow the boardwalk, which is equipped with two-way travellators, covered by a canopy. At some point, you will be walking parallel to the vehicular bridge that connects Sentosa to the main land.
Step 4. Enjoy the garden-themed trail.
Sentosa Boardwalk was built to provide a certain kind of feel and experience to hikers.   The trail features five tropical landscapes found in Singapore, and has lookout points that highlight the bay, the sunset and cruise liners coming into the harbor.
The boardwalk is open daily for 24 hours, but the ticket counter is only operational from 9:00 am to 10:00 pm.  Travellators operate from 7 am to 12 midnight daily.
Visitors are usually required pay $1 Singaporean dollar to use the Sentosa Boardwalk. But according to the official website, walk-in guests are granted free access to the Boardwalk until December 15, 2015 to promote this mode of 'healthy' transportation.
If you found this article useful, please 'share' it to benefit other travelers. 
Other Sentosa articles you may be interested in:
---
Accommodation Information – Singapore 
Staying on Sentosa Island
Once you arrive on Sentosa Island you will plenty of tourists carrying their luggage on the way to their hotel. Sentosa isn't huge, but it does have 14 hotels as of the time of writing.
Most of the hotels on Sentosa get rated quite well based on guest reviews.  The top choice of guests visiting Sentosa Island is Capella Singapore Hotel followed closely by W Singapore Sentosa Cove. This is based on verified guest review scores.
Where did we stay in Singapore?
We have been to Singapore over ten times.  During this trip, we decided to stay at Jayleen 1918 Hotel. We don't have a direct affiliation with this property and they haven't paid us anything to write about them.  Therefore, we can say in an unbiased manner that we actually enjoyed the place.
Jayleen 1918 is a cozy budget hotel conveniently located 200 meters from the Clarke Quay MRT Station. If you are booking a flight to Changi, then you can easily reach Clarke Quay using the MRT which is really cheap, especially during off-peak times.
The staff was friendly and the room was clean. Breakfast was good. At the time of writing it had a score of 7.4/10 based on 405 verified guest reviews.  If you are looking for a large spacious room then you will be better off shopping around.
How to book the cheapest room in Singapore?
Being proactive can save you some nice cash when it comes to booking a room in Singapore.  Do your research early and try to use large, reputable providers that offer a large selection of rooms in the area that you want to stay.
Singapore is obviously a pricey place to visit in terms of accommodation. Our readers usually go with www.agoda.com, www.booking.com or www.hotelscombined.com when they are visiting Singapore. I have created links to their respective property lists for Singapore to save you some time:
Top Rated Properties in Singapore Based on Verified Guest Reviews
Important: Mobile Users must swipe from left to right to see entire table.
Criteria:
Properties rated based on 'overall' review scores from each respective website's verified guests.
Minimum of 50 verified guest reviews required to be considered eligible for comparison.
All star ratings and verified guest review scores are tallied at the time of writing, and therefore, are subject to change.
Map of Singapore – Top Accommodation Choices
---
Flight Information – Singapore
What airport should you book your flight to, if you are visiting Singapore?
This is an easy answer – you should book your flight to Singapore Changi Airport. Changi is often considered one of the best-managed airports in the world. We have flown into Changi Airport at least 10 times and it tends to be clean, efficient and extremely well managed.
Can you use the MRT from Singapore Changi Airport to reach downtown Singapore?
We have used the MRT from Changi to various areas of Singapore before. Therefore, this is not a problem unless you arrive late after the MRT closes.
The last time we flew into Singapore we arrived at midnight and we missed it. Instead, we had to take one of their shuttle buses to Clarke Quay.
What is the cheapest way to get from Changi Airport to downtown Singapore?
By far the cheapest transport option from Changi to downtown Singapore is the MRT.  Expect to pay around $3 Sing dollars if you are heading near the Marina area.
Next cheapest are the shuttle buses – around $9 Sing dollars.  Taxis will run you about $30 Sing to get downtown.
What's the best way to get the cheapest flights to Singapore?
Singapore Changi Airport has many airlines that fly there.  Singapore Airlines, their national carrier, tends to be quite pricey but they boast one of the best safety ratings in the world.  Since flights to/from Singapore can get pricey, I would suggest using a price comparison site to save you time and money.
During our flights to/from Singapore we used two different sites for price comparison purposes: Momondo and BookingBuddy. We recently started using Momondo and they often seem to have the cheapest prices available. I have made a link below to both of these price comparison pages to save you some time and cash:
COMPARE FLIGHT PRICES TO SINGAPORE – Momondo