A former military island, Sentosa has emerged into a hub for leisure and entertainment in Singapore.  Aside from attracting tourists, Sentosa is also well-loved by locals who want to relax and enjoy their weekends and holidays. Sentosa Island is the perfect destination for visiting families as a number of its attractions cater to kids and parents. Outdoor lovers, groups of friends and couples will find some of the activities offered quite engaging, some even exhilarating. So regardless of your age, take time to visit Sentosa if you happen to be in Singapore as you most likely find something fun to do.
 To give you an idea of what you can expect, here is our list our fun things to do while on Sentosa:
1. Sentosa Merlion
According to legends, the Merlion (a creature that is half fish and half lion) is perceived to be the guardian of prosperity in Singapore, and the symbol of the country's highly celebrated port tradition. You will most likely see the original Merlion in the Marina Bay area. But Sentosa has an even bigger version of this iconic statue. With a height of 37 meters, the Sentosa Merlion is one of the main attractions on the island. Here, you will find the Gold Merlion Statues (Mercubs) that give out the limited edition Prosperity Coin. While here, you can ring the Prosperity Bell to gain positive energy and perhaps, good luck. But the main reason why anyone would climb to the top of the Sentosa Merlion is to capture the spectacular views at the mouth and crown of the statue.  Your effort of reaching these high parts will be rewarded with an amazing perspective of Singapore through the eyes of its guardian. If you happen to get hungry, the structure is equipped with a café and shop where you can grab snacks and drinks as well as souvenirs.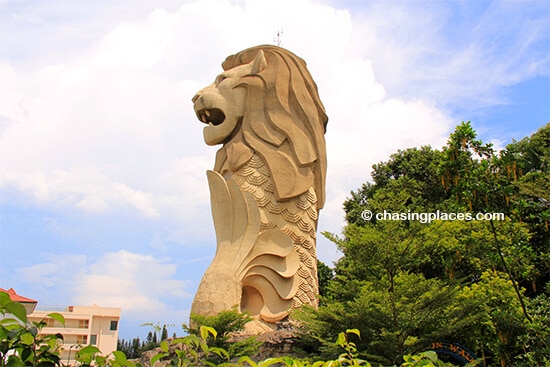 2. Megazip Adventure Park
Thrill seekers coming on Sentosa will find the Megazip Adventure Park very appealing.  This Adventure Park offers varied attractions but its crowning glory is definitely the MegaZip. This 3-wire zipline soars to 75 meters high and stretches to 450 meters long.  It brings you to a heart pounding speed of about 60 kilometers per hour.  MegaZip starts at the jungle canopy of Imbiah Hill and ends at Fox Finish Point. Another attraction to watch out for in the Adventure Park is the ClimbMax, which is claimed to be the premier high ropes adventure course in the country.  ClimbMax is all about navigating your way through Eucalyptus trees that can rise from 5 to 15 meters high.  The Northface is the third extreme adventure attraction at MegaZip adventure Park. This activity involves climbing a monstrous 16-meter wall, one of the highest in Singapore.  And finally, if you like the idea of bouncing high up in the air, then CrazyBounce and MegaBounce are the attractions to seek out.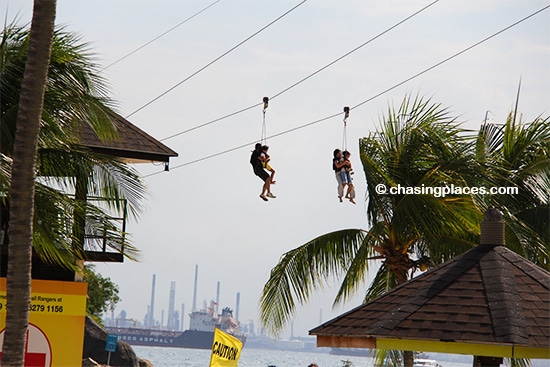 3. Wings of the Sea
 A number of tourists think that Sentosa is only a daytime destination. But if you decide to stay longer, Sentosa will enchant you with its outdoor night shows that have won numerous awards and accolades. Introducing, the Wings of the Sea, a multi-sensory water display and laser show, with the picturesque sea serving as its backdrop. This extravaganza also involves fire effects and musical accompaniment to lure the audience to imagine themselves in a wondrous magical journey.
The story of Wings of the Sea centers around the mystical pre-historic bird named Shahbaz who travels through beautiful and mysterious lands with his friends, Felix and Rachael. This is an adventure of finding true friendship, courage and a home.  Wings of the Sea is the world's only permanent night show, which infuses the latest multimedia effects, 3D projection mapping, water fountains, lasers and pyrotechnics.
4. Singapore Cable Car
The Cable Car Sky Network is one of the best ways to access Sentosa because it gives you the golden opportunity to soar high through the sky while enjoying one of the best panoramas of Singapore.
In June 2015, two new lines were unveiled, which bring passengers not only to Sentosa but also to the iconic Faber Peak of Singapore. On your way to the island, you may get lucky and see the dolphins showing off their skills at Resorts World Sentosa. The new Sentosa Line will take you to different key locations on the island such as Merlion Station, Imbiah Lookout Station and Siloso Point Station.  The Mount Faber Line on the other hand connects Mount Faber Station to HarbourFront Station and Sentosa Station at Imbiah Lookout.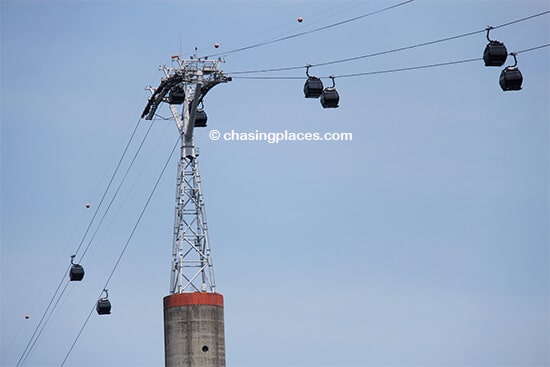 5. iFly Singapore
Have you always dreamt of skydiving but never got the opportunity? Then perhaps iFly Singapore can help you fulfill your dream with its state-of-the-art technology. This indoor skydiving attraction features the largest themed wind tunnel in the world today.  This wind tunnel is 16.5 feet wide and 56.6 feet tall and is enclosed by 18 foot-tall acrylic glass.
With iFly, you can experience what skydiving is like with a fraction of the usual cost for tandem jumps. It is the closest thing you will ever get to flying! The best thing about it is it's easier to do as you will be given plenty of support and guidance from qualified instructors. The fee also includes gear rental.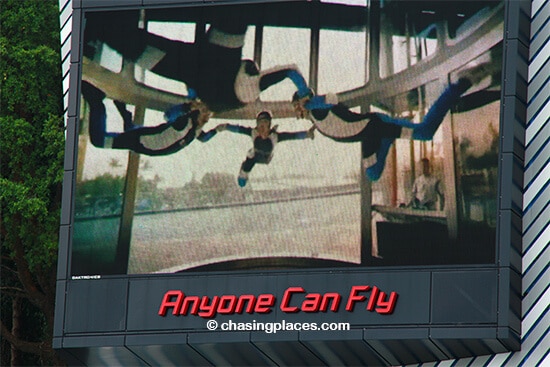 6. Skyline Luge Sentosa
The Skyline Luge was first invented in New Zealand, and has now made its way to Sentosa.  The Skyline Luge Sentosa is thus, the first of its kind in Southeast Asia. This attraction offers 2 unique rides, the Luge and Skyride.
Luge uses gravity to create an adrenaline pumping ride, fit and safe for people of all ages. The luge vehicle has a distinct steering and braking system that propels you to race down two trails – the Dragon Trail (688 meters long) and the Jungle trail (628 meters long).  The ride can be done during the day or you can make it even more thrilling by doing it at night. The Skyride, on the other hand, is a chairlift system that provides a bird's eye view of the famous Singapore Skyline, the South China Sea and Sentosa Island itself.
Travel Checklist: Do you have everything you need?
7. Madame Tussauds Singapore
Madame Tussauds has made a name for itself as a premier worldwide attraction. And Singapore's version of Madame Tussauds can be found on Sentosa Island. This version is all about the glitz, glamor and the party mood.  This tourist site features 8 well-themed interactive zones and a new ride called "Spirit of Singapore", which is actually the first Madame Tussaud's boat attraction that brings guests to a wonderful lush tropical garden.  Some of the popular zones include sports, music, film, and the A-list Party. This special zone adopts a glamorous party scene nestled on a gorgeous roof terrace which overlooks Singapore's dazzling skyline. So whatever happens, do not visit Madame Tussauds without bringing a decent camera, so you can pose all you want beside the wax versions of your favorite celebrities from Asia and beyond.
8. Gogreen Segway Eco Adventure
Sentosa's Gogreen Segway is one of the best ways to explore the island, and it is certainly the most unique!  Appropriately tagged as an eco-adventure, you won't feel any pollution-related guilt while going around the island on your very own Segway Personal Transporter, a self-balancing transportation device. If it's your first time to ride this form of transport, don't worry, as you can opt to ride it first around a circuit that can help you learn how to twist and turn. And throughout the journey, you will have an experienced trainer present to assist you.  But 'Segway' is a fun activity that's easy to master so leave your worry and anxiety behind and enjoy the ride!
The Segway Eco Adventure tour goes to some of the top sights on the island including the Dolphin Lagoon, the Merlion and the beaches of Sentosa. You can choose to go for a 30-minute, 60-minute or even a full 2.5 hour ride!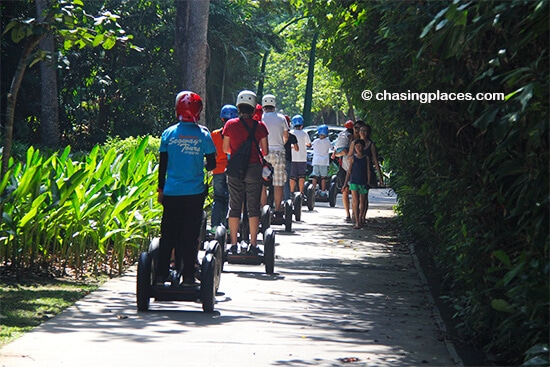 9. Universal Studios Singapore
Like Madame Tussauds, you can find Universal Studios all over the world. The Sentosa version of this famous Hollywood movie theme park is the first of its kind in Southeast Asia. The park not only opens your eyes to the world of the silver screen, but also offers you the chance to experience the fascinating world of the silver screen through a selection of rides, shows and attractions.  All these attractions are based on the studio's blockbuster films as well as television series. And the real treat is that Universal Studios Singapore distinguishes itself from other Universal Studio theme parks for opting to have 18 of its 24 rides specially designed for just Sentosa! While here, you can try out the Sesame Street Spaghetti Space Chase or the Jurassic Park Rapids Adventure™.  Walk to the renowned Hollywood Walk of Fame at the Hollywood zone, which is one of the seven film-based zones in the park. Step into a movie set situated in a mock-up New York cityscape and experience state-of-the-art special effects that will blow your mind! Other attractions to look forward to, include the heart-pounding TRANSFORMERS The Ride: The Ultimate 3D Battle and the Shrek 4-D Adventure.
10. Adventure Cove Waterpark
Sentosa Island can never be the ultimate entertainment and leisure destination in Singapore and in Southeast Asia without a full-fledged waterpark. And thus, they made the Adventure Cove Waterpark. This aquatic adventure park is perfect for people of all ages. It entices visitors with its exciting waterslides and rides, which include a hydro-magnetic coaster, the first in the region.  Adventure Cove has not one but 14 gorgeous habitats.  Examples of which are a tropical jungle and an enchanting grotto that houses sea creatures. Aside from going for a leisure tube ride down the Adventure River through various habitats, believe it or not, Adventure Cove also has its own coral reef: the Rainbow Reef, which is home to about 20, 000 fish and other marine life.  Guests can swim and snorkel around this coral reef to their heart's desire.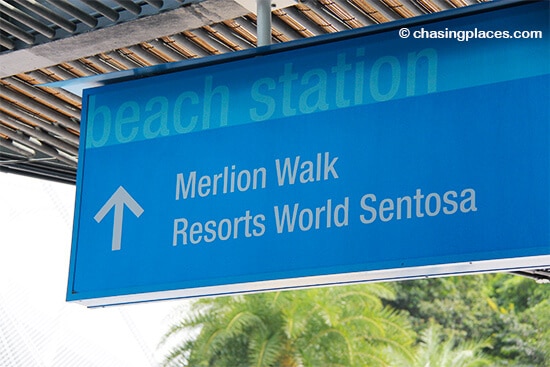 Where do we stay while in Singapore?
We have been to Singapore on multiple occasions. Typically, since the accommodation is super expensive we opt for budget to mid-range options. Here is a list of the places we have stayed at over the years with a brief description of each one.  Please keep in mind that none of these properties pay us directly for our opinions, enabling us to say what we truly thought of each property.
Jayleen 1918 Hotel – this is a solid budget hotel located right near the Clarke Quay MRT station. Ideally located, clean with a surprisingly impressive breakfast. If we have the budget we stay here in Singapore.  At the time of writing it had a score of 7.4/10 based on 394 verified guest reviews. I have stayed at this property 3 different times – overall I have been quite satisfied.
[email protected] Clarke Quay – I have stayed that this hostel on 3 different occasions. It's ideally located near both Clarke Quay and Boat Quay. It has 'buncs' with walls to block some of the sound in the hostel dorm areas.  A pretty well-managed property overall.  Excellent location for the value based on my experience in Singapore. At the time of writing it had a score of 7.7/10 based on 727 verified guest reviews.
Amrise Hotel – I stayed here during my first ever trip to Singapore.  It's in the Geylang district of the city.  One of the cheapest private rooms you will find, but it wasn't the best area and it could have been cleaner.
If you are looking for something a bit more comfortable, then I would suggest trying one of these popular and positively reviewed properties in Singapore:
Raffles Singapore – one of the most iconic hotels in all of Asia.  Colonial charm at its finest.  At the time of writing it had a superb score of 9.2/10 based on 470 verified guest reviews.
The Fullerton Hotel – perfectly located in the heart of stunning Marina Bay. This could be one of the nicest colonial buildings in all of Singapore.  Easy access to Boat Quay and Clarke Quay as well.  At the time of writing it had a score of 8.8/10 based on 1730 verified guest reviews.
How to find the cheapest rooms in Singapore (and Sentosa Island)?
Sentosa Island has a healthy range of top-notch hotels and resorts. Most of which receive excellent reviews from guests. The most popular booking site in Singapore is www.agoda.com, but many of our readers who travelling on a budget also like using www.hotelscombined.com to compare prices prior to booking. Another solid option is www.booking.com.  I have included links to their respective property lists for Singapore to save you some time:
Top-Rated Properties in Singapore Based on Verified Guest Reviews
Important: Mobile Users must swipe from left to right to see entire table.
Criteria:
Properties rated based on 'overall' review scores from each respective website's verified guests.
Minimum of 50 verified guest reviews required to be considered eligible for comparison.
All star ratings and verified guest review scores are tallied at the time of writing, and therefore, are subject to change.
Map of Singapore – Top Accommodation Choices
Based on verified guest Reviews