Often overlooked by many foreign and domestic tourists visiting Kuala Lumpur, Lake Titiwangsa Park is a refreshing and relatively unknown attraction which is literally minutes away by car from the Petronas Twin Towers. Most tourists that visit Kuala Lumpur book a room for only a few nights which leaves them just enough time to see the popular attractions such as Batu Caves, Chinatown (Petaling Street), and Jalan Alor.  Although these sites are worth a look, this of course, limits visitors from seeing the 'hidden secrets' and the little things that make Kuala Lumpur authentic from other developing cities. I consider Lake Titiwangsa Park to be one of those 'underappreciated' sites in Kuala Lumpur.
Highlights of Visiting Lake Titiwangsa Park, Kuala Lumpur
When I first arrived at Lake Titiwangsa Park in Kuala Lumpur, I was quite impressed with the overall layout of the place. The landscape work isn't super modern by any means, but it does have a very relaxing atmosphere and plenty of places that are suitable for a picnic. Since it was around 6:00 pm, I had roughly 1 hour to walk around before the sun had completely set. This turned out to be an ideal time to visit Titiwangsa Park for a few reasons. First off, the heat had already subsided, so it was quite pleasant with a gentle wind coming off the Lake. Also, it was ideal to see the downtown area during sunset with the warm rays striking the Petronas Towers. The transition from day to night at Lake Titiwangsa Park was very memorable.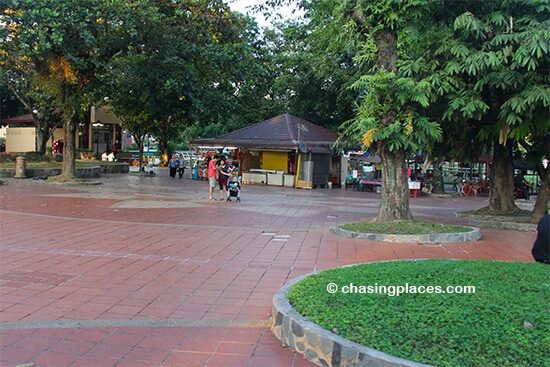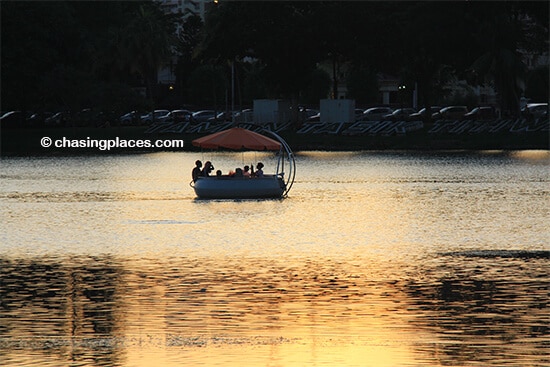 As the sun disappeared, Kuala Lumpur took on a whole different personality. The city lights provided strong contrast to the clear black sky that filled the background.  Again the Petronas Twin Towers and KL Tower took centre stage. Who would have known that Kuala Lumpur's skyline was so accessible after all?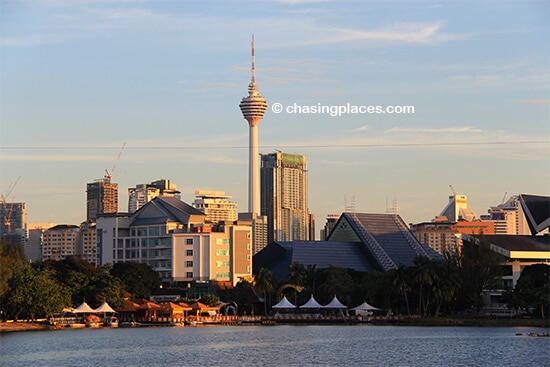 After a short walk around the Lake, I checked out a few different vantage points to identify the most ideal angle to photograph the downtown area of Kuala Lumpur. I was not only impressed with the view, but even more impressed by the clear water reflections that were visible on the surface of the water. Since Titiwangsa Lake is not overly large it tends to be quite calm most of the time. This makes the Lake ideal for 'water-reflection photography.' A greater concern in comparison to waves on the lake is the chance of a thunderstorm interrupting your photo session. During the late afternoon and early evening Kuala Lumpur is commonly lit up by powerful strikes of lighting. If you love photographing storms, then of course you won't be complaining. I personally recommend going to Lake Titiwangsa Park in the late afternoon which will allow you to enjoy the golden hour before sunset and also the impressive skyscrapers lit up afterwards.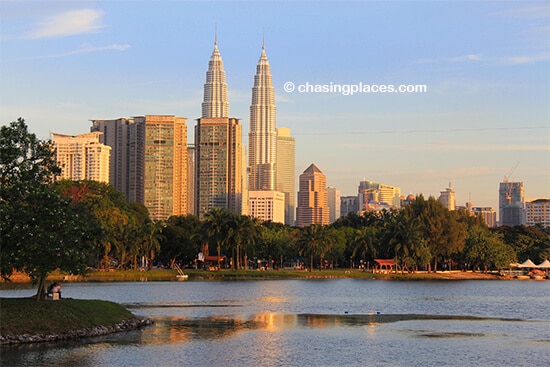 Travel Checklist: Do you have everything you need?
I also found the lack of commercialism quite refreshing at Lake Titiwangsa Park. There are a few local vendors selling Malaysian snacks and some beverages, but I didn't see Western cafes and the typical spread of tourist oriented restaurants. This makes it feel like an actual Malaysian park.  You will find, a satay restaurant serving up the traditional Malaysian recipe as well as a few seafood restaurants. It's safe to say that not enough tourists visit Lake Titiwangsa Park to sustain a wide range of restaurants.  Like I mentioned before, you will probably enjoy the park more if you plan for a picnic during sunset.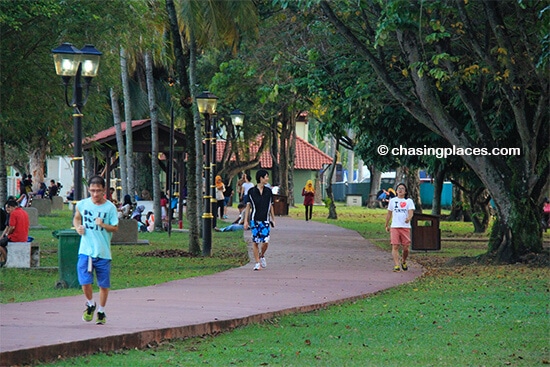 During my visit to Lake Titiwangsa, I found many locals leisurely walking around with their partners and other family members.  The odd person jogged on the path along the water.  I would also recommend running here if you are staying in the downtown area of the city. A morning run throughout this area would be a really nice break from the 'concrete core' of Kuala Lumpur.  If running isn't your thing bring along a Frisbee and find a shaded area to pass some time. Even better, bring a book and just relax in Lake Titiwangsa park as the sun disappears behind the impressive Towers of Kuala Lumpur.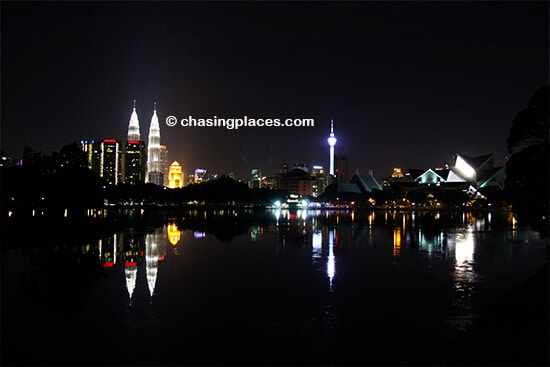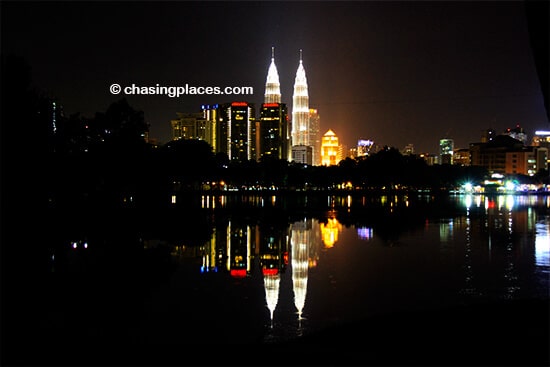 Accommodation Choices near Lake Titiwangsa Park, Kuala Lumpur
I would recommend staying downtown opposed to near Lake Titiwangsa Park, simply because there is much more to do in KL's famous Golden Triangle of tourist attractions. Technically, if you manage to bypass Kuala Lumpur's notorious rush hour traffic jams, getting to Lake Titiwangsa Park is a short and easy taxi ride (anywhere from 8 RM – 15 RM). Therefore, most hotels in Kuala Lumpur's city centre are in convenient range of Lake Titiwangsa Park. A nicely located hotel near KLCC that is also close enough to Lake Titiwangsa Park is G Tower Hotel.  At the time of writing it had an 8.5/10 review rating based on the reviews of over 4000 certified guests. The InterContinental Kuala Lumpur also is located in a convenient location to access both the downtown core of the city as well as Lake Titiwangsa Park. Similar to G Tower Hotel, at the time of writing, it had a fantastic guest review score of 8.5/10 (based on over 2000 guest reviews).
Where do we stay while in Kuala Lumpur?
We have spent a considerable amount of time in Kuala Lumpur.  Therefore, we know quite a bit about the reputation of many of the hotels in the city and whether they are located in favorable locations for tourists. It is important to note that we have no direct affiliation with these specific properties, therefore our opinions remain unbiased. Here is a list of the properties we have either seen or stayed at during our time in KL:
Pacific Regency Hotel Suites – we have stayed at this property about 3 times. It's definitely a favorite in KL because of the value you get for the money. Some of their rooms are massive for the price. Their newer rooms are affordable with sleek interiors.  This property is about a 10-minute walk to KLCC (the Petronas Towers), a 10-minute walk to Bukit Bintang and a 5-minute walk to the nearest monorail station.  This is probably our favorite hotel in Kuala Lumpur if you want quality without spending a fortune. At the time of writing it had a score of 8.0/10 based on 8510 verified guest reviews.
Concorde Hotel Kuala Lumpur – we have seen this property on multiple occasions.  It's located in an ideal spot downtown.  Quite close to the Pacific Regency, it's also about 10 minutes to KLCC and Bukit Bintang, and only 1 minute to the nearest monorail station. Also quite affordable.  The rooms are smaller than at the Pacific Regency, but the pool, excellent breakfast and great customer service make up for it. At the time of writing it had a score of 8.1/10 based on 5435 verified guest reviews.
Damas Suites and Residences Kuala Lumpur – this is a good bargain if you want to stay near the expat area of Mont Kiara.  Their rooms are massive for the price and they offered a nice breakfast during our stay there. At the time of writing it had a score of 7.3/10 based on 2237 verified guest reviews. They could work on their customer service a bit more to increase their review score.
Ascott Kuala Lumpur – if you want to stay right near KLCC this is one of the best choices.  It's about 100 meters from the Twin Towers. Like I mentioned before, this hotel is all about location and convenience in terms of avoiding KL jams. At the time of writing it had a score of 8.4/10 based on 1155 verified guest reviews.
How to find the cheapest rooms in Kuala Lumpur?
We typically use one of these three sites when we are trying to find a room in Kuala Lumpur: www.agoda.com, www.booking.com or www.hotelscombined.com. To save you time:
Top Rated Properties in Kuala Lumpur
Based on Verified Guest Reviews
Important: Mobile Users must swipe from left to right to see entire table.
 Criteria:
Properties rated based on 'overall' review scores from each respective website's verified guests.
Minimum of 50 verified guest reviews required to be considered eligible for comparison.
All star ratings and verified guest review scores are tallied at the time of writing, and therefore, are subject to change.
Alternatively, you can immediately compare room prices in KL using the search box below:
Regardless of where you choose to stay while visiting Kuala Lumpur we wish you a safe and enjoyable time.