Langkawi is continuously growing and becoming one of the most sought after island getaways in Malaysia for both international and domestic tourists alike.  This stems from many different factors.  One of which is definitely the wide selection of things to do on the island. Unlike tiny islands, Langkawi has a healthy mix of duty-free shopping, nice public beaches, and quite a few ecotourism attractions.  Throw in picture perfect sunsets, top-notch cable car rides, and impressive waterfalls and you start to get the idea. Langkawi is one of our favourite Malaysian isles because it's convenient, affordable and relatively laidback despite its growing popularity. What many tourists don't know is that Langkawi also has some of the most exclusive resorts in all of Southeast Asia. These are balanced by budget guesthouses and boutique hotels.  If you are going to Langkawi we hope that this accommodation overview will help make it easier for you to find the right hotel that suits your personal preferences. Our main goal is to provide you with reputable suggestions and opinions based on the combination of our own personal experiences visiting Langkawi and the guest reviews found on the top hotel booking site in Southeast Asia.
Top Luxury Resorts on Langkawi Island:
The Datai Langkawi is without question, one of, if not the best luxury resort on Langkawi Island – and maybe even Malaysia for that matter. The selling points for the Datai are definitely its isolated position on the north corner of Langkawi. Therefore, it's ideal for relaxation and pampering, but you don't stay at the Datai if you want a 'wild' beach scene.  A couple of other things that you might find interesting about this resort is the fact that it is very close to Temerun Falls and it has one of the nicest new golf courses in the world – 'The Els Club – Teluk Datai'.
If you also want to celebrate your 'honeymoon' for instance, then another spectacular luxury resort on Langkawi Island is Four Seasons Langkawi. Prominently located on arguably Langkawi's nicest beach – Tanjung Rhu. We have been on Tanjung Rhu beach on many occasions.  If you want to stare out at stunning limestone karts while enjoying a serene beach environment, then this is a no-brainer. With the smallest room at 68 m2 expect plenty of space to relax and rejuvenate.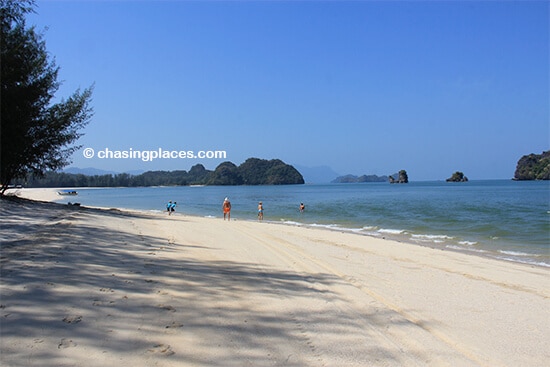 Budget Tip: If you don't have the budget to book a room here, you can also book a room at nearby Labu Labi Residence Resort. This is also on Tanjung Rhu Beach and receives fantastic reviews, but it's a fraction of the price.
Best combination of Price and Best Beach Location:
If the top luxury resorts on Langkawi are a bit too expensive for your budget, no need to worry.  There are other options out there.
Excellent service, beachfront location, positive guest reviews and convenient airport access are a hard benchmarks to meet for any resort.  Fortunately, on Langkawi Island there are two accommodation choices that fulfil this criteria. Both Casa Del Mar and Meritus Pelangi Beach Resort and Spa are located right on the 'quiet end' of the most popular beach on Langkawi Island – Pantai Cenang.  Therefore, you will have no worries about accessing the beach. Also, if you haven't already heard – the sunsets on Pantai Cenang are world class.  Both of these establishments are also less than a 15 minute drive away from the international airport.  As of the time of writing Casa Del Mar had a guest review score of 9.3/10 whereas Meritus Pelangi Beach Resort and Spa was rated 8.2/10 based on just short of 3000 guest reviews. Either one of these choices will place you close enough to the beach action, but still far enough away to relax when you want to.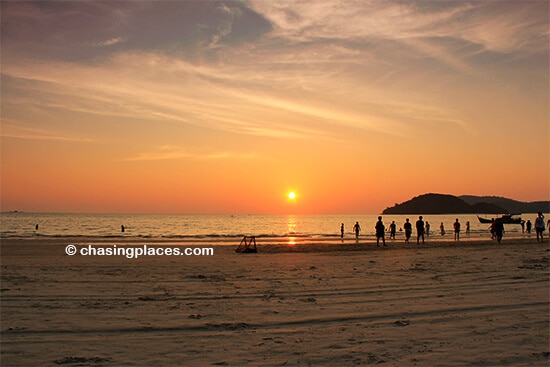 Travel Checklist: Do you have everything you need?
Top Choices for Rest and Relaxation Langkawi:
Ambong Ambong Langkawi Rainforest Retreat and Vivanta by Taj – Rebak Island Resort are both ideal for domestic and international tourists that just want to slow down and relax for a few days. Ambong Ambong Langkawi Rainforest Retreat gets superb reviews for its unique location, surrounding wildlife and warm service. Vivanta by Taj – Rebak Island Resort was formerly known as Rebak Island Resort.  As the name suggests it is a short boat ride away from Langkawi. This will get you away from the horns and distractions on the main Island and enable you to put your feet up for a while.
Additional Hotel Choices on Langkawi that Consistently Receive Positive Reviews
Five Star Choices
The Danna Langkawi Hotel – close to the airport on a private beach. Rated 9.0/10 on based over 500 guest reviews.
Tanjung Rhu Resort – located on arguably the nicest beach on Langkawi Island.  Rated 8.7/10 based on over 550 guest reviews.
Budget Options
Best Seven Motel – it's in Kuah (so great for duty-free shopping). Rated 8.6/10 based on over 180 guest reviews.
Tomato Hotel Langkawi – centrally located on Pantai Cenang with a 7.9/10 rating for under 30 USD/night.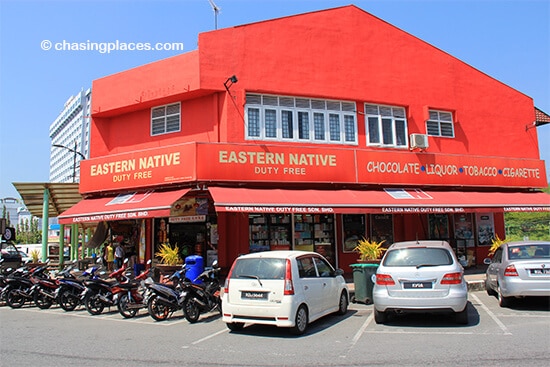 If you have any additional questions regarding areas to stay in Langkawi please feel free to comment below. Also, don't hesitate to access our ever-growing list of informative articles about Langkawi and other places in Malaysia – here.