When tourists hear about Langkawi Island, the first thing that often comes to mind is duty free shopping and world class resorts. With Malaysia having some of the heaviest taxes on alcohol in the world, it comes as no surprise that domestic and foreign tourists seek refuge in Langkawi to enjoy their cold beer and refreshing cocktails at rock bottom prices. Tour operators on the island also offer the usual mix of island hopping tours and water sport activities.  If you are like me and guided tours aren't your thing, then I would recommend renting a motorcycle and exploring the Jewel of Kedah at your own pace. During a recent visit I decided to do just that.
                                                                           First Impression of Temerun Falls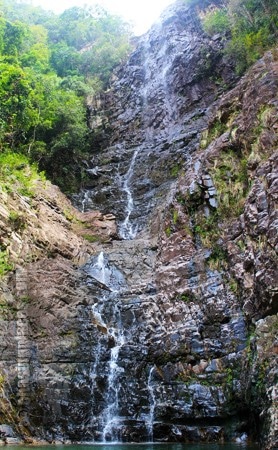 After renting a moto from a roadside stand in Pantai Cenang for 30 RM (approximately 10 USD), I headed to the northwestern corner of the island to a set of waterfalls that I saw the previous night on some postcards and travel brochures. I purposely didn't invest much time reading about reviews of the location other than learning its name – "Temerun Falls." I arrived with no preconceptions about what to expect.  I had no idea of whether it would be loaded with tourists, nor did I know whether the walk to the falls would be far off of the access road.  When I parked my moto and began to follow the signs to the falls I could see a very steep rock face in the distance. A few minutes later, after walking over a small ridge I was pleasantly surprised with a beautiful pool at the base of a very steep waterfall.  Although the flow of water coming over the falls was low it appeared as though it could be quite powerful after a rainstorm.
Swimming in Temerun Falls
Gazing up at the peak of the waterfall from the chilling eroded pool below was a rejuvenating experience. The water was extremely clear and the temperature proved to be very refreshing.  Initially, it was difficult to judge how deep the water was.  Since it was so clear the only way to be certain was to swim out and attempt to touch the rocky floor.  In certain places the water depth exceeded seven feet; therefore children should be supervised if they wish to swim.  Swimming towards the sprinkling water was a worthwhile experience. Even though the water coming over the ledge above was sparse, there was enough near the steep wall to get a cold shower.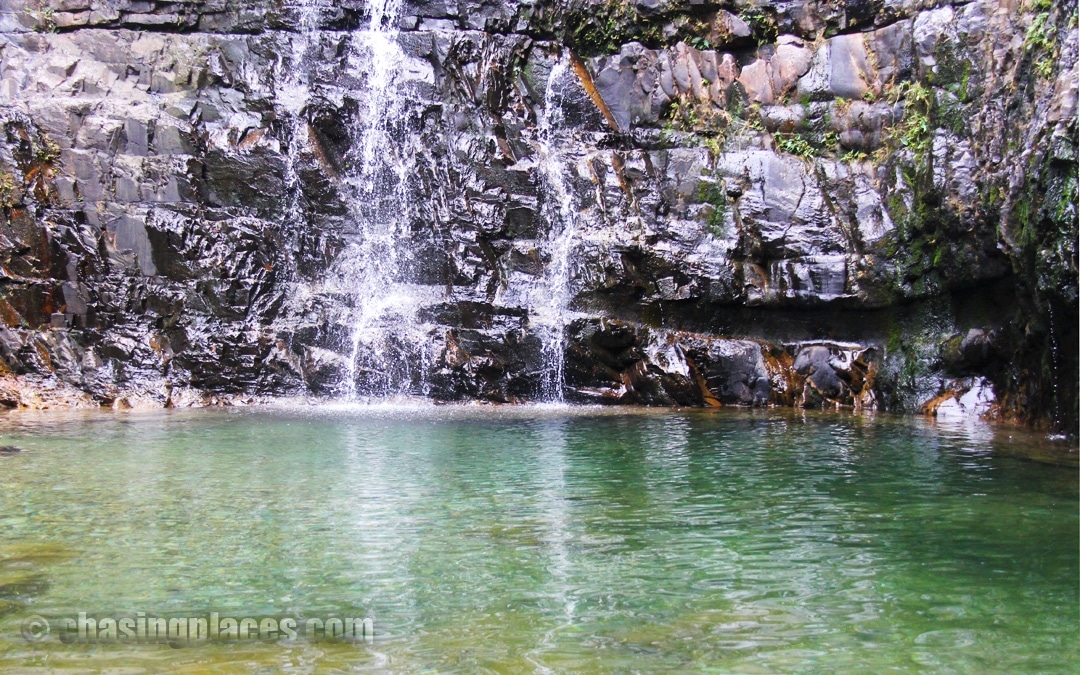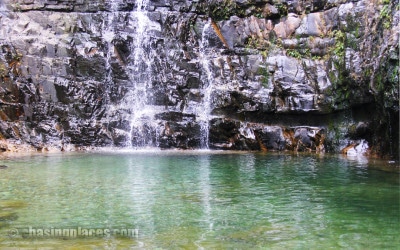 Travel Checklist: Do you have everything you need?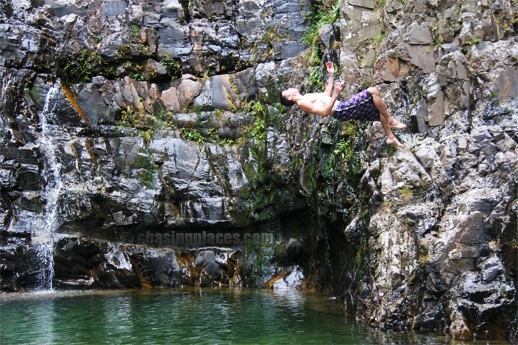 Jumping into the Pool at Temerun Falls
After sampling the depth of the water in relevant places, I decided to take a few jumps off of some rocky outcrops into the deeper regions of the pool.  A more courageous climber put on an acrobatic performance as he completed multiple jumps and flips from rocks much higher up. Being an experienced rock climber, he made it look easy navigating his way to different push-off sites.  He and I both agreed that transitioning from the warm humid air into the chilling water below was a must-try experience for those visiting Temerun Falls on Langkawi Island.
Temerun Tips
I was very surprised by how accessible the Falls were from the main road.  In less than five minutes even sedentary tourists can reach the main pool. The walk in and out can also be interesting because there are some banana-loving furry friends waiting to greet you. It was also nice that no parking fee was collected during my visit. I suggest that you try to visit the falls right after sunrise or directly before sunset in order to have the swimming area and the falls all to yourself.  The road network on Langkawi Island is fairly straightforward; therefore a basic map should be enough to get you there from your hotel in Pantai Cenang in 30 minutes without any issues.
Where did we stay while on Langkawi?
We have been to Langkawi on multiple occasions. Here is a summary of the ones we have stayed at. Please keep in mind that we do not have a direct affiliation with any of these specific properties:
The Cottage Langkawi – a small, clean guesthouse.  Pretty well managed and only about 5 minutes from Pantai Cenang (beach).
Easy Hotel – a small hotel which is conveniently located about 200 meters from Pantai Cenang (beach).  Large rooms for the price.
Casa Idaman Motel Langkawi – a nice new property located near Cenang Beach (5 minutes).  We stayed here during our last visit to Langkawi.  No complaints!
Adina Drive in Motel Langkawi – also close to Pantai Cenang.  They have large rooms and a pool, so great for group bookings.
How to find Langkawi's room bargains?
I suggest using a large room provider that offers many room choices which are supported by verified guest reviews. An example includes: www.agoda.com.  Alternatively, you might want to try this highly effective price comparison site which has saved us bundles of cash over the years. Here are links to their respective rooms on Langkawi Island:
Rooms on Langkawi – www.agoda.com