The Malaysian island of Langkawi may be known for its beaches and its duty free status when it comes to alcohol and tobacco, but the island is also endowed with other marvelous natural attractions, and one of them is Seven Wells Waterfalls. As one of the three major waterfalls, the other two being Temerun falls and Durian falls, Seven Wells is probably the most visited, mainly due to its accessibility and proximity to Langkawi cable car. Seven Wells is known as Telega Tujuh in Bahasa Malaysia.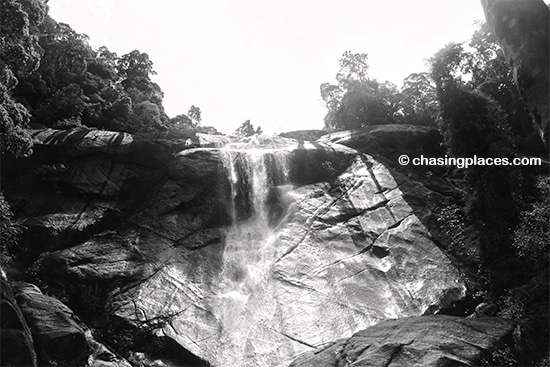 Getting to Seven Wells
Seven Wells is located near Telaga Harbor and the Oriental Village. It is just a few minutes by car passed Pantai Kok. There are clearly marked signs on the road to guide you to Seven Wells. You can easily hire a taxi to bring to the falls from any major area in Langkawi. There are no other public transport options to the falls.
One popular thing that tourists do for transport on the island is to rent a car or motorcycle. The rental fees are relatively cheap and the roads are often not too chaotic, so it is an easy driving experience.  One important prerequisite for renting a car or moto is a driver's license. The rental shops will accept driver's licenses issued by your country of origin.
The entrance to the Seven Wells is marked by a small car park. You can park your vehicle there for a minimal fee of RM2 for cars and RM1 for motorcycles.
Experiencing Seven Wells
As travelers, we absolutely adore waterfalls, so we made it a point to dedicate some time to see this attraction. After parking, we made our way to the small commercial village near the entrance of the falls. This complex has a number of small restaurants and shops, and a good place to get some snacks before proceeding to the falls.
To reach the falls, we walked up a steep road that led to a set of cemented steps. Following these steps eventually brought us to the base of the falls. The local management did a good job in building the steps as they are easy to navigate. But don't be deceived by the convenient path. It's a far enough walk up to the waterfalls to surely make you huff and puff.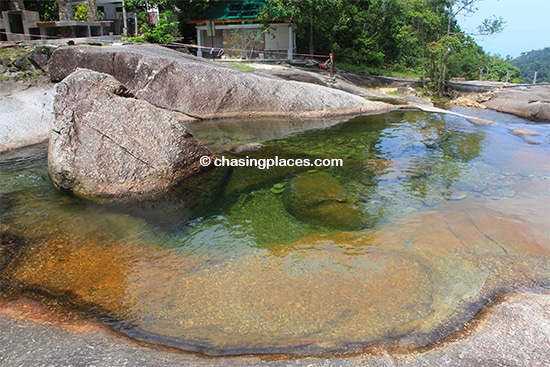 However, we were not the least bit disappointed when we reached the bottom section of the falls. Seven Wells does not feature a big cascade of water like Temerun, it's actually a set of seven small cascades that flow through smooth rocks and into seven small holes that resemble kiddie pools. The large boulders where the spring water goes into are so smooth that it is almost possible to slide down into the lower pools. I say "almost" because we tried to do it and it was undoubtedly fun – but it still hurt my poor bum!
During your visit, you may see people attempting to 'slide down' but be warned that it is fairly risky, and if you lose your balance you might hit the nearby rocks.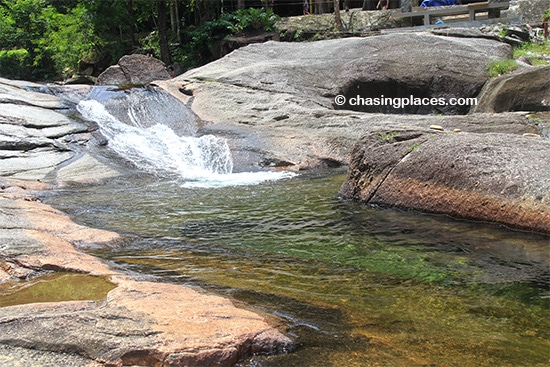 Ideally, the more water travelling down the walls, the better the experience. During our visit in the month of August, there was a decent amount of water cascading.  The water was very refreshing on the body and there was some kind of serene atmosphere that enveloped the area.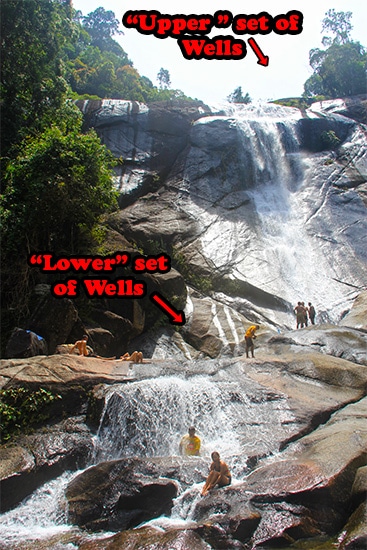 Seven Wells has actually two sections. You can access its upper section by continuing to climb the more than 600 steps beside the base of the falls. Some tourists surely opt not to go up as it can get tiring. But if you do have the energy, I definitely recommend that you continue on.
When we reached the top portion of the falls, we were greeted by higher cascades boasting stronger water currents. And even though we opted not to swim anymore, we couldn't resist taking as many photos as we could. You see, one other reason why Seven Wells makes a fantastic attraction is its gorgeous vista. While on the top section of the falls, we were immediately captivated by the scenery that unfolded before our eyes- we feasted on the sight of the lush forest, Burau Bay and Pantai Kok.   While just sitting on one of the boulders, listening to the rush of the water and looking at the wonderful landscape, I felt a certain kind of peace and contentment. We were lucky that there were few tourists at the falls that morning, which made our visit a more serene experience.
Travel Checklist: Do you have everything you need?
Reminder:
There have been reported tourist accidents at the top section of the Seven Wells. Apparently, there were some visitors who ignored the warning signs and still went over the barrier to the very top of the falls. The rocks can get slippery in this area and thus, these people fell.  Moral of the story: Always follow the warning signs people!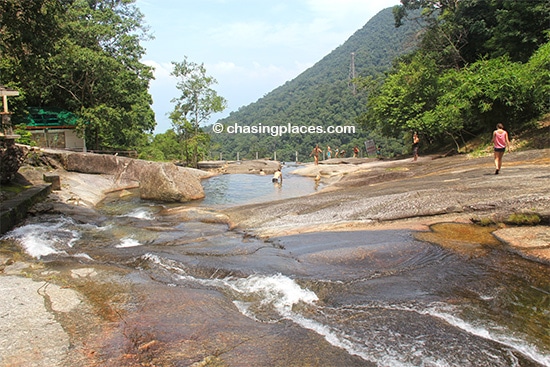 Additional Information:
Seven Wells is a serene spot, but it does have the potential to get busy, especially during peak season in December (Christmas), February (Chinese New Year) and August (Hari Raya Celebration). Try to come early in the morning to avoid the crowd.
The main sections of Seven Wells do not have toilet and changing room facilities; but there are toilets at the small commercial village at the entrance to the falls. Do not expect the toilets to be up to the western standards in terms of cleanliness and sanitation.  The small village also offers restaurants and shops for visitors.
Before you make your way to Seven Wells, make sure to wear or bring some swimwear because when you see the pools, it's hard to resist not dipping in.
How to find the cheapest room on Langkawi Island?
If you are heading to Langkawi, then try to get a room near Pantai Cenang, Pantai Tengah or Pantai Kok.  These beach areas have plenty of taxis and tourist shops renting motos and other vehicles. Seven Wells is quite accessible from these areas especially in the early morning when most tourists are still asleep.
The most popular booking site on Langkawi Island (and Malaysia in general) is www.agoda.com with a wide selection and solid prices. We tend to use either Agoda or www.hotelscombined.com. Hotelscombined is the ultimate site if you wish to compare hotel/guesthouse prices prior to booking which has saved us some serious cash over the years while visiting Langkawi. 
If you have any additional questions about Seven Wells or Langkawi Island, please feel free to comment below.