A Dinner Invitation
When I accepted a dinner invitation from a friend to dine at the KL Tower's Atmosphere 360, I was filled with excitement.  Atmosphere 360 may sound like a 3D sci-fi movie, but it's actually the name of the highest revolving restaurant in the Malaysian city of Kuala Lumpur.  Atmosphere 360 serves buffet meals including lunch and tea. According to my generous friend, it is the best buffet she has ever had. So, you can just imagine my excitement when she said these words. Truth is, the idea of unlimited food thrills me more than many other things.
Atmosphere 360 is the crowning glory of the KL Tower, locally called Menara KL. This 421-meter high structure was built to become a telecommunications tower. And it is, in fact, the 7th tallest of its kind in the world. But aside from its more technical purpose, the tower has also been transformed into a premier tourist attraction. The smart management equipped it with many other attractions that are designed to entice the hordes of tourists visiting Kuala Lumpur.
We booked a package deal offered at that time by the Menara KL tourism management. This deal allowed us to visit the Coral Aquarium as well as the Observation Deck, before we proceed to the much-awaited dinner buffet extravaganza.
Excellent Panorama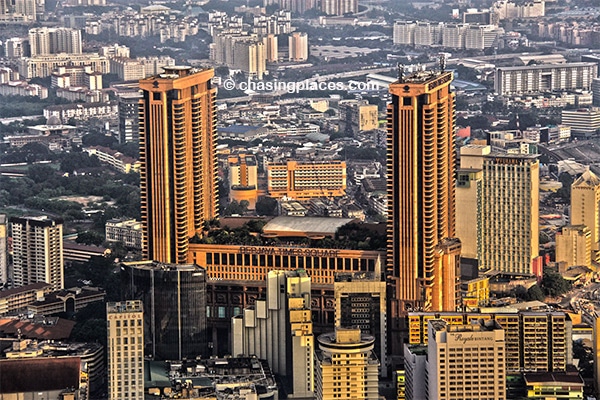 The Observation Deck is about 276 meters above the ground.  Although, it is not on the highest section of the tower, it still boasts impressive 360 panoramic views of the city. The deck follows a circular layout with massive transparent windows to maximize viewing. On a clear day, this view is a photographer's dream come true. If you're still not familiar with KL, you should know that its downtown area is modern and well-developed, filled banks, corporations, hotels and malls dominating the skyline. It is indeed a spectacular urban jungle, whose panoramas are even more impressive when viewed from the Observation Deck. Although not as high as the iconic Petronas Towers, Menara KL still commands excellent views because it stands on a hill. We spent about 25 minutes on the Observation Deck and just enjoyed the view of the city while the sun was on the horizon, getting ready for the sunset. Spending some time at the Observation Deck was a good idea since we came a bit early for dinner. The revolving restaurant does not open its doors until 6:30 pm.
A Quick Stop at the Aquarium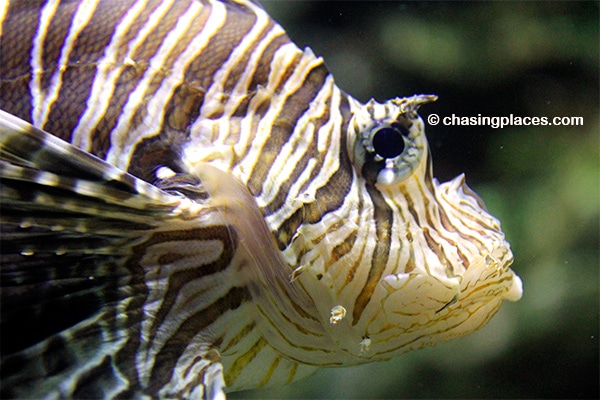 We also visited the Blue Coral Aquarium, which is one of the tourist attractions around the KL Tower area.  I have to say that this aquarium is unexpectedly small and mediocre. You only need less than 15 minutes to go around the aquarium and see everything you need to. The best thing about Blue Coral is the variety of marine animals you can see here. However, I must confess that I felt bad for the fish and marine creatures that are squeezed into small tanks.  For 18 ringgit per adult head, this may be too steep of a price for those who have already seen grander and more impressive aquariums.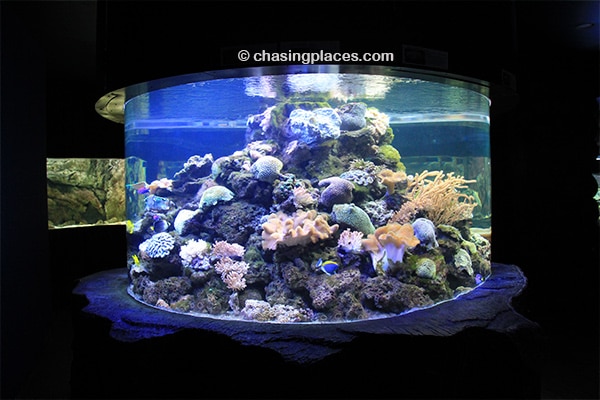 Travel Checklist: Do you have everything you need?
Other Attractions
While waiting for dinner, we also ventured through the mini-Cultural Village located on the roof of the multi-story car park.  The village covers a small area, and features a wooden bridge and four traditional Malay houses. It has also some chairs and tables for people to sit on.  If the weather is nice you can take great photos of this open-air area as it also overlooks the city center.
There are other KL Tower attractions that we have not tried, but may interest visitors, especially families. Some of these attractions include the KL Animal Zone, the sophisticated computer arcade called the F1 Stimulator Zone, and the XD Theater, which features a 6D motion simulated ride that aims to induce thrill and excitement.
Dinner is Served!!!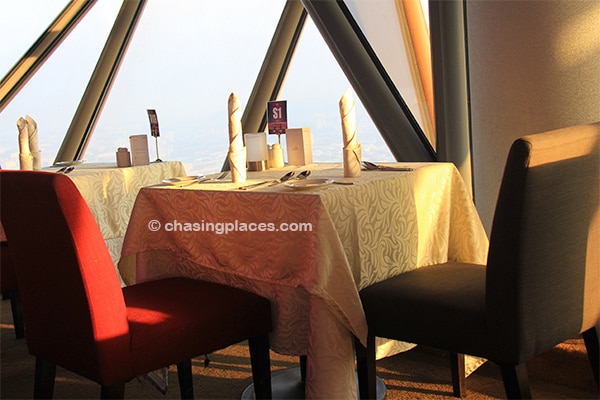 By 6:30 pm, we made our way to Atmosphere 360, which is one floor above the Observation Deck. This revolving restaurant did not disappoint. Just like the Observation Deck, the restaurant has a saucer-layout with huge windows serving as walls. While elegantly designed, the restaurant has a cozy and intimate feel about it. The staff were friendly, polite and were properly trained. When we arrived, we were ushered to our seats right away. A server came to our table to explain which drinks were included in the buffet deal.
Some people may like the daytime view of Kuala Lumpur from the revolving restaurant, but I particularly liked it when the sun had already set, and the brilliant lights were illuminating from the city buildings. The highlight of the view is, of course, the Petronas Twin Towers, which are like glittering jewels in the night. It was very difficult to resist the urge to take photos of ourselves with the Petronas Towers in the background, while preparing to devour one of the biggest meals I will ever had in my lifetime.
I immediately discovered that my friend was not exaggerating when she made the bold claim about Atmosphere 360's buffet. It was a feast fit for a king and a queen!  There were different types of salads, and loads of appetizers to start with.  Seafood, which is arguably the most expensive to buy in the city, was abundant. I helped myself to some crabs, big tiger prawns, mussels, scallops, and oysters, but this was just the beginning. Because Malaysian cuisine is a mix of 3 major cultural influences, the buffet featured dishes representative of Chinese, Malay and Indian cuisines.
There were assorted dumplings, chicken and beef satay and Indian masala dishes. There were also enough vegetable dishes to make a vegetarian smile. But my favorite was the salmon dish. I'm not kidding when I say that it was absolutely divine! And just when I thought my stomach could not possibly accommodate anymore, the dessert selection successfully tempted my weak consciousness. I may attempt to make this experience sound poetic to hide the fact that what I ate was pure gluttony.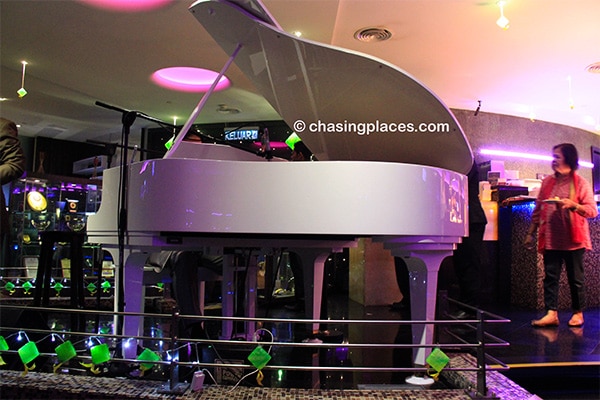 For those who chose to be healthy, the buffet had different sorts of fruits for diners to try. Some of which were tropical fruits, which are only found in the Southeast Asian region. But (and this is a big BUT), if patrons want to indulge their sweet cravings, there is a range of ice cream, cakes, cupcakes, and other baked goods that satisfactorily fulfill this desire.
But I gave myself a break from thinking about excessive calories that night. As a result of my obsession for seafood, I think I created my very own aquarium in my stomach. But I was happy.  Diners were not only put into a good mood because of the food; but also because of the live music courtesy of two talented musicians. One of them was handling the ever sexy saxophone while the other one was making sweet music with the piano. And of course, it was also a lovely evening because of good company.
So if you are around KL and would like to treat yourself to a fine meal, consider Atmosphere 360. The price is quite steep but the experience, I dare say, is worth it. But even if you don't intend to dine, consider visiting the KL Tower to get excellent views of the city.
Tourist Trap Alert
I have had many good things to say about the KL Tower, but it is unfortunate that such a premier attraction is not devoid of scams. Beware of the taxi stands in the area, as they ask for grossly overpriced rates, even the one that reads "budget taxi". The taxi drivers at this stand do not only go by meter, but they also charge three or four times the real rate. Uninformed tourists continually use this stand, without knowing that they are being duped. I hope that the management will do something about it.
Don't support this practice! Arrange your own transport to and from the tower, or walk down the hill to the main road to catch an honest taxi.
A better idea would be to book a hotel in Kuala Lumpur's Golden Triangle which pretty much eliminates the need for a taxi in the first place.  Click here to find a hotel in close proximity to KL's tourist sites including KL Tower.
For more details about the ticket prices for the Aquarium, Atmosphere 360 and the Observation Deck, check out Menara KL's official website. The tower is specifically on No 2. Jalan Punchak off Jalan P. Ramlee.  It is within the city center in a forested zone called Bukit Nanas. You can take a taxi from anywhere in the city to the tower.
Where have we stayed in Kuala Lumpur?
We have stayed at multiple different hotels in Kuala Lumpur.  We are not directly affiliated with any one of them. Here are two of the better ones:
Pacific Regency Hotel Suites (Rated 8.0/10 based on 8777 verified guest reviews at the time of writing).  We loved our stays here.  Only a ten minute walk to the Petronas Towers and 10 minutes from Bukit Bintang.  Some of the largest rooms that we have ever seen for the price.  We would highly recommend this property.
Concorde Hotel Kuala Lumpur (Rated 8.1/10 based on 5758 verified guest reviews at the time of writing). Very popular with business travellers due to its great location and reasonably prices. Some of their rooms are not too big, but for the price, location and solid breakfast it's a good deal.  Very close to the monorail (public transport line).
Want to find the cheapest room in Kuala Lumpur?
Kuala Lumpur is still one of those cities that if you do your homework and book well in advance you can find awesome hotel deals. There are many room providers out there, but we tend to use one of these three if we are booking rooms in KL or the rest of Malaysia: www.agoda.com, www.booking.com and www.hotelscombined.com. The leading accommodation site in Malaysia is Agoda, so if you want solid prices and the largest selection, they've got it. Many of our European and North American readers like www.booking.com because of their excellent cancellation policies and customer service. Therefore, it's ideal for planning a trip well in advance. If you want to shop around before selecting your room then www.hotelscombined.com is perfect in Malaysia. Our "backpacking" readers save some serious cash with Hotelscombined. To save you some time, here is a list of their properties in Kuala Lumpur:
Top Rated Properties in Kuala Lumpur
Based on Verified Guest Reviews
Important: Mobile Users must swipe from left to right to see entire table.
 Criteria:
Properties rated based on 'overall' review scores from each respective website's verified guests.
Minimum of 50 verified guest reviews required to be considered eligible for comparison.
All star ratings and verified guest review scores are tallied at the time of writing, and therefore, are subject to change.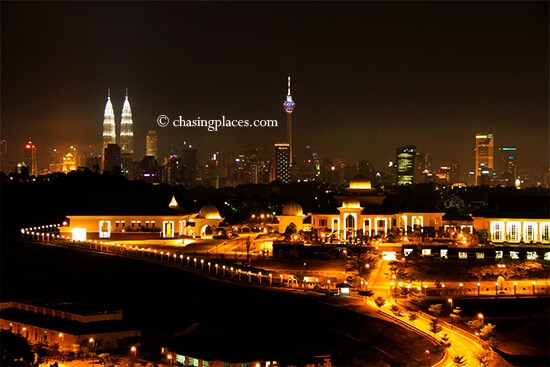 Feel free to check out our extensive range of other articles about travelling in Malaysia. We wish you a safe and enjoyable trip to Kuala Lumpur!
Alternatively, you can use the search box below to find the cheapest rooms: