Often overshadowed by Singapore and Bangkok, Kuala Lumpur is a world class city that often doesn't get the international recognition that it deserves. Why do we say this? Well, for one, Kuala Lumpur still remains a cultural melting pot despite the rapid development going on throughout the city. If you look in any direction you will see multiple cranes pulling up heavy construction materials as top-notch condominiums and sleek new hotels are built.  But as this continuous drive towards becoming a developed nation continues, the people in the city still carry on with their distinct cultural roots. When you get a chance to visit the city, it won't take you long to notice locals wearing traditional attire to work on a daily basis.  The cuisine in Kuala Lumpur is also delicious, affordable, and of course, traditionally spicy.
Bangkok might have a wilder nightlife and Singapore might be more tailored for the rich and famous, but Kuala Lumpur strikes a nice balance between the two. The Towers in Kuala Lumpur provide a good example of this. Even if you have visited some of the nicest buildings in the world, Kuala Lumpur's Petronas Twin Towers and KL Tower (Menara KL) are sure to impress. It's quite rare to find a city that has two grandiose landmarks such as these so close to one another (10-15 minute walk).
Here is a guide to help you capture the true architectural wonder of the Petronas Twin Towers and the KL Tower (Menara KL) in Kuala Lumpur through the use of some of our photos.
Taking Photos of the Petronas Twin Towers and KL Tower from the Ground
When you finally arrive at the Petronas Twin Towers by car in the heart of Kuala Lumpur, you will notice a long rectangular fountain directly in front of the Towers.  This is the key photo-taking spot for tourists visiting the city. It is very common for tourists to spend over an hour trying to get a perfect picture of the towers in the background. If you have a timer on your camera or and adjustable LCD screen it can make it easier to take photos with the upward shooting angle.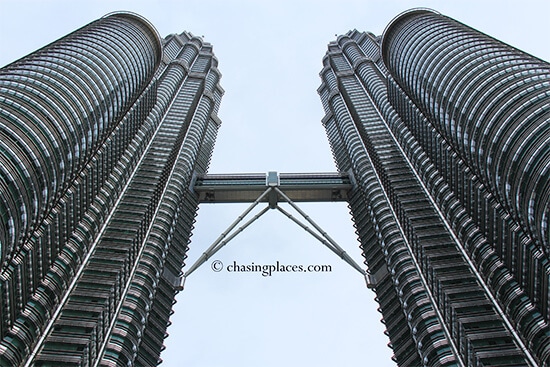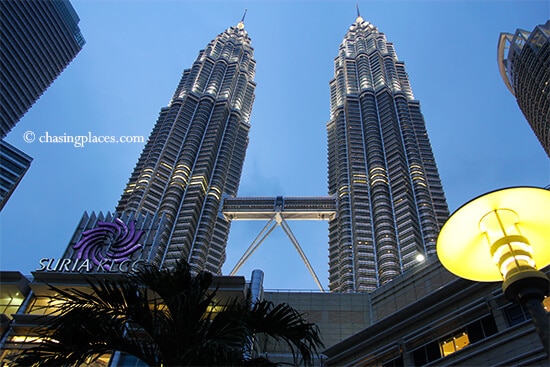 Another popular alternative spot for taking photos of the Petronas Twin Towers is within KLCC Park. Here, you will find a splash pool for kids and a small bridge that serves as an excellent photo spot. We recommend that you allocate at least 2 hours to seeing the Petronas Twin Towers, otherwise you photos will be rushed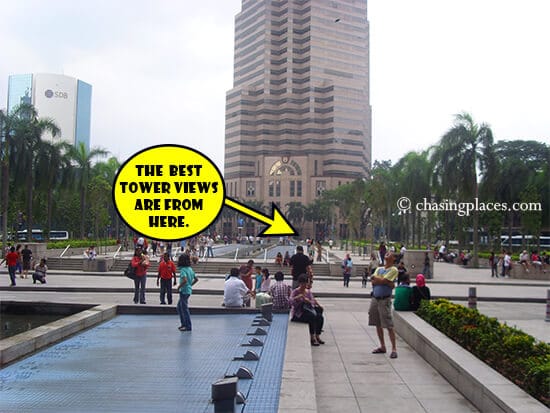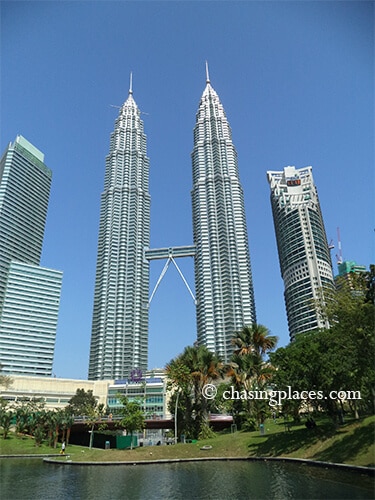 Since KL Tower is located on top of a hill it is much harder to photograph on ground, unless you travel up to its base or go up another building in the area.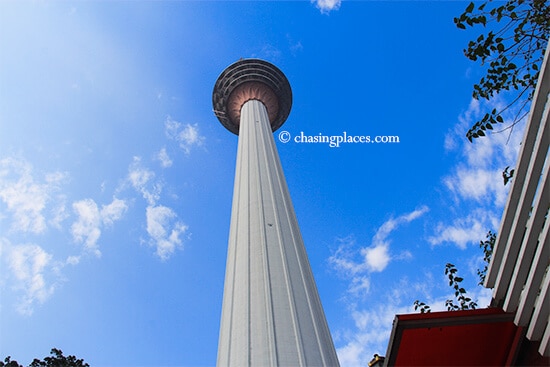 Travel Checklist: Do you have everything you need?
Taking Photos of the Petronas Twin Towers and KL Tower from Hotels and other Buildings
Developers are continuously trying to obtain legal rights to the "million-dollar views" in Kuala Lumpur. So where should you stay to get an unobstructed view of the Petronas Twin Towers? Well, as of the moment Trader's Hotel by Shangri-La is definitely one of the top choices to stay in Kuala Lumpur because it has simply breathtaking views of the Towers. Another hotel that we have stayed at that has great views of the Petronas Twin Towers is the Pullman Kuala Lumpur. The Prince is farther away than Trader's but offers cheaper rooms.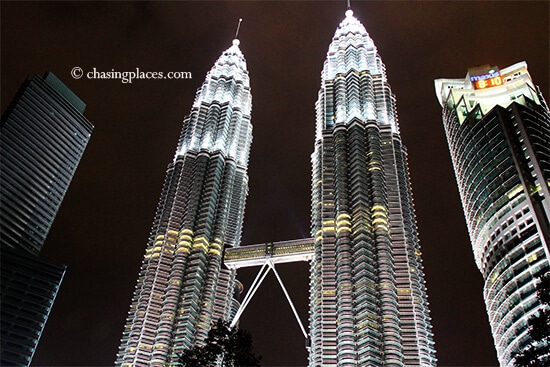 An excellent choice for capturing up-close views of KL Tower is the Pacific Regency Hotel Suites.  Aside from some of the best room rates in the city, it also has a sleek sky bar that has awesome views of the city.
Our favorite view of the Petronas Towers and KL Tower is undoubtedly from Heli Lounge Bar.  With no walls and a complete 360 degree view of Kuala Lumpur, this is definitely one of the most underrated places to visit in the city. Take note, a strict dress code is enforced after 9 pm.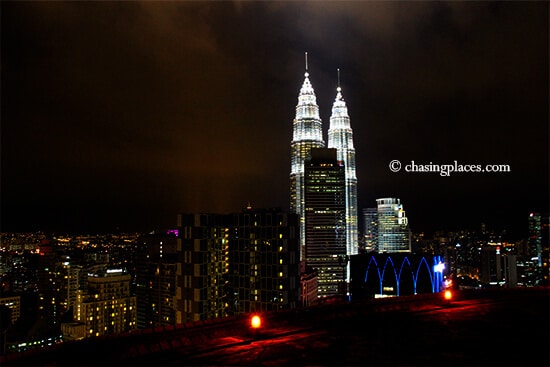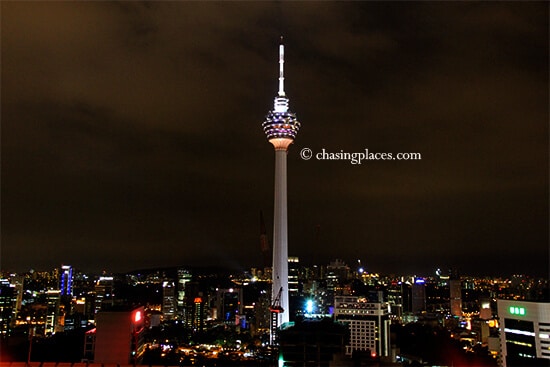 Taking Photos of the Petronas Twin Towers from KL Tower
KL Tower has a superb revolving restaurant with excellent panoramic views of Kuala Lumpur and the Petronas Twin Towers. If you don't want to eat there, just simply buy a ticket to the viewing platform instead.  You won't be disappointed.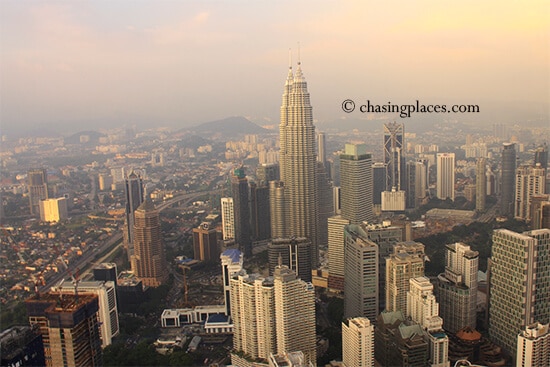 Additional Tips
We feel that the best time to take photos of the Petronas Twin Towers and KL Tower is late afternoon and during the evening.  The light beautifully reflects off of the Twin Towers during sunset. Then, after sunset the Towers take on a whole different personality as they are charmingly lit up.
Where did we stay in Kuala Lumpur?
Although we have stayed at multiple hotels in Kuala Lumpur, we haven't stayed at them all! Here are a few that we have stayed at that we were happy with.  Take note that we don't have a direct affiliation with any of these properties:
Concorde Hotel Kuala Lumpur – very popular in downtown KL.  Well priced, and in an ideal location.  Known for their breakfasts.
Pacific Regency Hotel Suites Kuala Lumpur – one of the best hotel bargains we have ever seen.  Massive rooms for the price. Ideally located with nice views of the city.  This is our favourite place in KL.
Pullman Kuala Lumpur City Centre Hotel and Residences Hotel – ideally located beside Pavilion – one of the nicest malls in KL.  About 15 minutes by foot to KLCC and 10 minutes to Bukit Bintang.
How to find the cheapest room in Kuala Lumpur?
We have stayed all over Kuala Lumpur.  Each and every time we visit we get the best prices with one of the following three sites: www.agoda.com, www.booking.com and www.hotelscombined.com. I have created links to their respective property lists for Kuala Lumpur to save you some time:
Top Rated Properties in Kuala Lumpur based on Verified Guest Reviews
Important: Mobile Users must swipe from left to right to see entire table.
Criteria:
Properties rated based on 'overall' review scores from each respective website's verified guests.
Minimum of 50 verified guest reviews required to be considered eligible for comparison.
All star ratings and verified guest review scores are tallied at the time of writing, and therefore, are subject to change.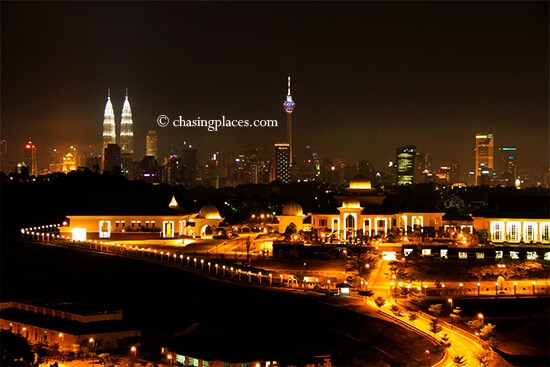 Feel free to check out our extensive range of other articles about travelling in Malaysia. We wish you a safe and enjoyable trip to Kuala Lumpur!