It takes very little effort to figure out why Koh Phi Phi is regarded as one of the most famous islands in Thailand (and maybe even the world). Superb limestone kart scenery is definitely one of the major highlights while visiting Koh Phi Phi. World-class diving and snorkelling excursions are also a must-try.  Come evening, electrifying "fire performances' take centre stage with tourists from all over the world staring in awe at the local talent.
The interesting thing about visiting and staying on Koh Phi Phi, however, is that it takes some careful planning to find an accommodation choice that will suit your budget and personal preferences. In the past, Koh Phi Phi was primarily a backpacker destination with a surplus of budget options to choose from. Now, post-Tsunami Koh Phi Phi offers more upscale options than ever before with still a healthy range of budget options.  Despite this, many of the accommodation choices on Koh Phi Phi tend to get just average reviews from guests due to issues with cleanliness, proximity to loud beach music and street noise. Therefore, if you plan to visit Koh Phi Phi, then we have decided to help you find a hotel, guesthouse, or resort that receives fantastic reviews based on the combination of our experience visiting the island and the guest reviews on the top hotel booking site in Thailand. Take note that none of these hotels pay us for our opinions.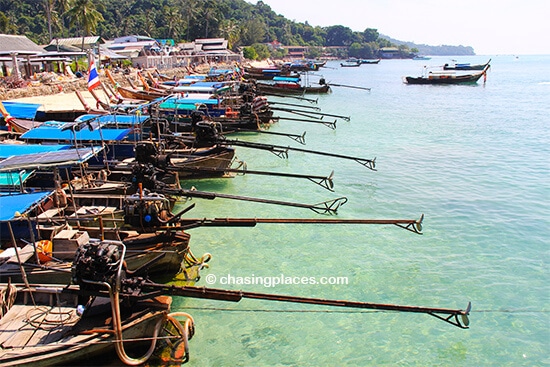 Here is our summary of the Top Hotels on Koh Phi Phi based on the following categories:
Far removed from Koh Phi Phi's busiest beaches, Phi Phi Island Village Beach Resort has managed to maintain a fantastic 8.7/10 score based on over 1700 verified guest reviews. This makes it the top rated accommodation choice out of Koh Phi Phi's 150 or so hotels, guesthouses and resorts at the time of writing.  This is recommended for honeymooners or those seeking a more relaxing getaway.  Since this resort has an awesome private beach and luxurious private Thai bungalows, there will be no need to worry about the annoying, 'pulsating' music that visitors complain about on Koh Phi Phi's busier beaches.
Top Combination of Location and Price on Koh Phi Phi: Phi Phi Banyan Villa Hotel
It's really challenging for any hotel on Koh Phi Phi to receive a review score above 7.5/10 due to high tourist demands and the high volume of tourists staying only for a night or two.  Phi Phi Banyan Villa Hotel is literally located minutes away from Phi Phi's ferry terminal, making it ideally located for tourists who want access Koh Phi Phi's prized beaches – Ton Sai Bay and Ao Lo Dalam.  Aside from its ideal location, guests tend to give excellent reviews for the fitness facilities at Phi Phi Banyan Villa Hotel.  Therefore, if Koh Phi Phi's beaches are too busy for a daily jog, there will be no need to worry. All of their rooms come with breakfast included for well under $100 USD per night for much of the year, making this a solid choice if you are heading to Koh Phi Phi in the future. At the time of writing Phi Phi Banyan Villa Hotel had a review score of 7.8/10 based on over 2400 verified guest reviews.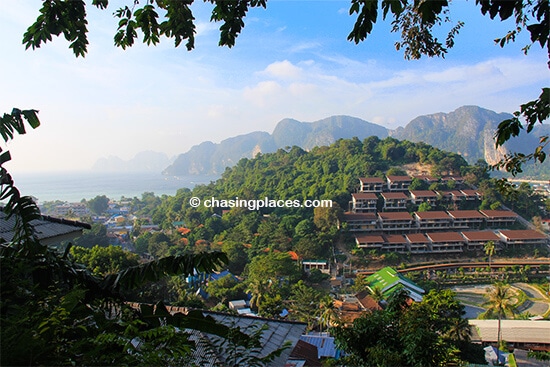 Travel Checklist: Do you have everything you need?
Koh Phi Phi is loaded with budget accommodation choices.  However, the problem is that most of them receive negative reviews.  Since they are in such high demand during high season, they literally sell out without much effort. Unfortunately, this can lead to issues with maintenance, cleanliness, service, and so on. A very affordable guesthouse that manages to get good reviews is Kitty Guesthouse.  Since it is located in a laidback area on Koh Phi Phi expect a chilled out backpacker vibe. Fan rooms can be booked for under $15 USD and air-con rooms for under $20 USD at the time of writing.  Not bad for one of Southeast Asia's most popular islands.
Slightly more expensive, but ideal for "beachfront" views Dee Dee Beach House consistently receives solid reviews from guests. Directly located on one of Koh Phi Phi's most famous bay's – Ao Lo Dalam this small hotel is perfect for couples who want to share a room opposed to staying in a hostel with dorm rooms.  Based on our extensive experience travelling in Southeast Asia this location-price combination is hard to find.  As of the time of writing Dee Dee Beach House had a review score of 7.6/10 with a standard air-con room going for under $30 USD. Based, on its location, it is strongly suggested to book well in advance here.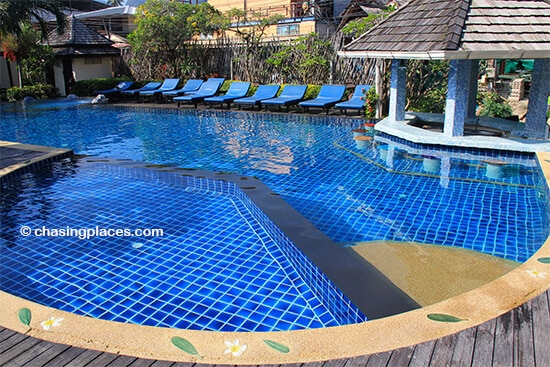 Additional Recommended Hotels, Resorts, and Guesthouses on Koh Phi Phi
At Chasing Places we understand that tourists have a wide range of personal preferences.  Therefore, here are some additional accommodation choices on Koh Phi Phi that consistently receive positive guest reviews:
Luxury Hotels and Resorts
Zeavola Hotel – One of the highest rated hotels on Koh Phi Phi. Located on a quiet beach with a review score of 8.7/10 based on over 400 verified guest reviews.
Holiday Inn Resort Phi Phi Island – Recommended for families.  At the time of writing it had a review score of 8.4/10 based on over 1300 verified guest reviews.
Mid-Range Hotels and Resorts
Phi Phi The Beach Resort – Located on a beautiful beach.  Rooms come with breakfast. At the time of writing it had a review score of 8.3/10 based on over 2700 verified guest reviews.
Mama Beach Residence – Ideally located with nice sea views.  Rated 8.3/10 at the time of writing based on over 1300 verified guest reviews.
Top Rated Properties on Koh Phi Phi 
Based on Verified Guest Reviews
Important: Mobile Users must swipe from left to right to see entire table. 
Properties rated based on 'overall' review scores from each respective website's verified guests.
Minimum of 50 verified guest reviews required to be considered eligible for comparison.
All star ratings and verified guest review scores are tallied at the time of writing, and therefore, are subject to change.
Accommodation Map of Koh Phi Phi: Top Rated Properties
Regardless of when you visit Koh Phi Phi, we hope that you have an enjoyable stay.  In the meantime, feel free to check out our ever-growing list of articles about Koh Phi Phi and Thailand.