The huge Resorts World Hotel and Theme Park, which also encompasses the Universal Studios complex, may arguably be the crowning glory of Sentosa Island; but there are other reasons why visitors to Singapore would absolutely love a visit to this former British military island. And one of these reasons is Sentosa's beaches.
Before I get into detail about these sandy stretches, let me just put it out there that despite Singapore being an island, it was never blessed with natural sandy beaches.  But I guess at some point, the government of this admirable Southeast Asia country did not let this fact stop them from being creative. I could only imagine one of them saying in a boardroom meeting during the discussion of the impending development of Sentosa Island, "If we don't have a beach, we'll make not one, but three!"
And today, we see that this vision has transformed into reality. Sentosa Island has three, fairly nice, albeit artificial beaches. The fact that the developers needed to take a huge amount of sand from somewhere to create the Sentosa beaches, did not deter the locals from loving their newfound beaches.  And I understood how they feel. The beaches are not bad at all. They made the seascape as appealing as it could be, adding attractions to the beaches and giving each one a unique character.  The sandy areas are clean and well-maintained, as expected. Perhaps, the only thing that they couldn't change is the water.  Some blogs and travel sites will comment on how the water appears unclear, if not, murky at times. This is understandable as there is steady traffic of ships passing through the straits and coastal area around Singapore.  Still, I saw a good number of people swimming, so bathing in Sentosa may go down to just preference on the part of the guests.
So without further ado, here is a detailed description of each beach on Sentosa. Hopefully, this will help you decide which sandy stretch is perfect for you and your holiday expectations.
1. Siloso Beach
Siloso is the first beach that you will see once you alight at the Beach Station of the Sentosa Express Monorail Service. Since it is the closest beach to the main transport services on the island, it is arguably, the most consistently visited.  Siloso is the most commercially-appealing beach in Sentosa. Aside from the usual beach facilities, Silioso also offers a wide range of water sports and activities like rollerblading, cycling, kayaking and skim-boarding and of course, volleyball. It also features a charming beach promenade filled with restaurants, shops, and the coolest themed bars and clubs on Sentosa.
If you would like to spend the night on Sentosa while enjoying sweeping views of the sea, this beach makes an excellent choice as it is home to the rustic Siloso Beach Resort. Just a couple of steps from the beach front, this eco resort is set in a lush and carefully-manicured landscape and offers rooms overlooking the South China Sea.  It also houses a spring water landscape pool that measures 95 meters, making it the largest of its kind in the country
Most of the biggest beach-oriented events and parties on Sentosa are held on Siloso, because unlike other beaches that closes at 7 pm, Siloso stays open until midnight, giving beach bums and revelers time to really party it up while on Sentosa.  So if you like an electrifying beach atmosphere and you want to get the greatest opportunity to mingle with locals, expats and tourists, Siloso is definitely the perfect sandy stretch for you!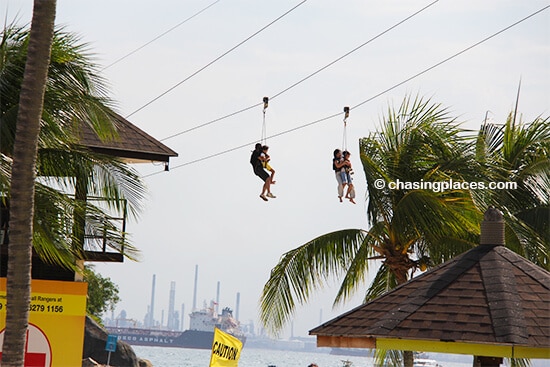 2. Palawan Beach
If you walk west of Siloso, you will find the second Sentosa beach called Palawan. Upon first glance at this beach, I knew right away this must be the most family-friendly beach on the island.  Palawan is long and wide, and is mostly likely built that way to cater to families with children. It features a suspension bridge that allows visitors to cross over to a spot, claimed as the Southernmost Point of Continental Asia (the closest point to the Equator in Asia).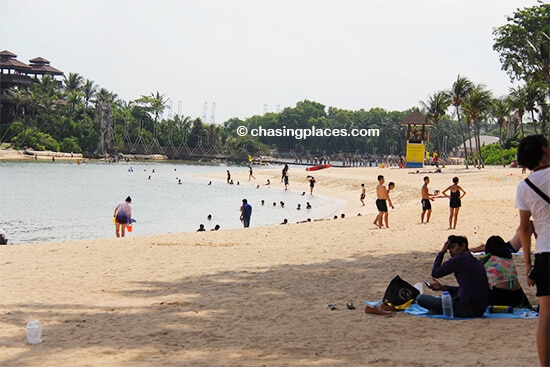 Expect the largest crowd on this beach during weekends and public holidays. But if you have kids traveling with you, they will surely enjoy hanging around with little people their age, as well as the mascot Captain Palawan.
If you are apprehensive about having your children bathe in the sea water, Sentosa has an exciting alternative, which is the pool complex and kid's club officially named Port of Lost Wonder (POLW). POLW is built right on the beach and features not only pools but intricately designed slides and fountains to make up a fun water-play area. The complex is also equipped with islet-style picnic areas, as well as eateries, shops, and a few convenience stores.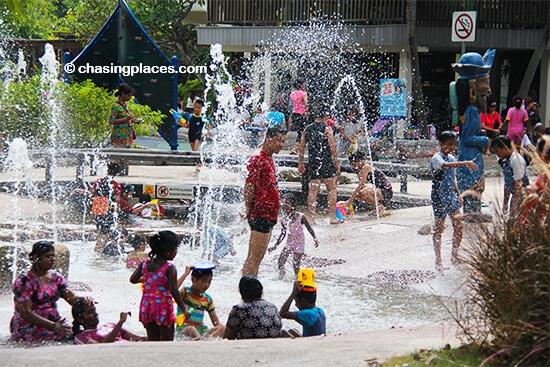 Although the entrance to Palawan Beach is free, access to the Port of Lost Wonders requires an entrance fee.  What amuses me about POLW is that some of its pools are strategically placed close to the road adjacent to the beach. So if you happen to pass by this complex with your kids, there is no way they will fail to notice the laughter and screams of other kids already inside. And when this happens, chances are your kids will use all their might to drag you to the ticket entrance.
Palawan Beach is the place to be if you want a fun, wet day with your children on Sentosa. The two closest hotels/resorts to Palawan Beach are Capella Singapore Hotel and Amara Sanctuary Resort.  Both of which receive excellent reviews from guests.
Travel Checklist: Do you have everything you need?
 3. Tanjong Beach
Tanjong Beach is my favorite beach on Sentosa because of its serene atmosphere and cool vibe. This is the quietest beach on Sentosa, and this likely has something to do with it being the furthest from the 'Beach Station' stop on the Sentosa Express Monorail Line.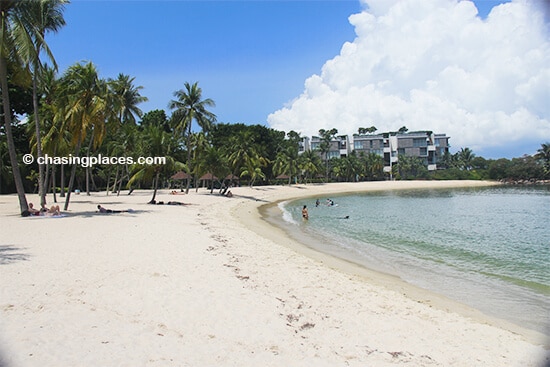 When I was researching about Tanjong, some blogs called it the sexiest beach on Sentosa. But before you worry about not having that a swimsuit model body for this beach, the 'sexiest' comment have more to do with how people dress while on Tanjong.   A number of westerners are drawn to Tanjong's serenity and they have no hesitation to wear their brightest and skimpiest bikinis/swimsuits. But since Singapore is still an Asian city, some locals do not see this practice as the absolute norm. And hence, the 'sexy' description. Tanjong Beach is also equipped with a couple of beach volleyball nets and portable courts, so expect to see a lot of bikini-clad suntanned individuals jumping around and diving. Some of the games are quite entertaining to watch.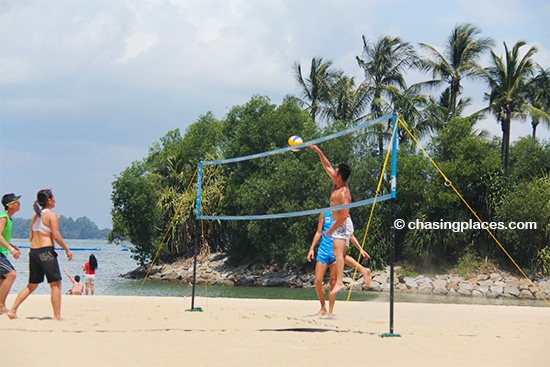 Tanjong Beach is home to the low-key Tanjong Beach Club, which has become a favorite among foreigners and expats, who love partying under the sun. The club is composed of a cool-looking bar, a small pool with a DJ area, as well as a group of cozy tables and beach lounges. It regularly organizes events and parties during weekends. Tanjong Beach Club is located at the far end of the beach, but it is hard to miss due to the club music. But since this rocking beach club is located near the entrance to the beach, you can still find the serenity you crave for along the other sections of the beach.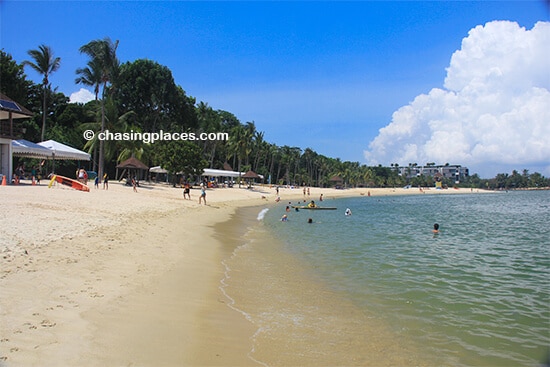 The closest hotel/resort to Tanjong Beach is The Singapore Resort and Spa Sentosa Managed by Accor. Technically this resort is nicely tucked away between Palawan and Tanjong beach on Sentosa Island.
Where did we stay in Singapore?
We have visited Singapore on multiple occasions and stayed all over the places.  During this trip, we stayed at Jayleen 1918 Hotel. We are not directly affiliated with this property. Therefore, in an unbiased manner, we can say that we enjoyed our stay.  Super friendly staff and a nice clean room, albeit a bit small. The breakfast was also pretty good.  It's nicely located only about 200 meters from the Clarke Quay MRT Station. At the time of writing it had a score of 7.4/10 based on 405 verified guest reviews. If you're looking for a big spacious room, then shop around.
How to get the cheapest room in 'expensive' Singapore?
Singapore is a very expensive city.  Therefore, try to complete your research early and identify an area that you want to stay. Once that's done try using a large booking provider such as www.agoda.com, www.booking.com, or www.hotelscombined.com. I have created links to their respective property lists for Singapore to save you some time:
Top Rated Properties in Singapore Based on Verified Guest Reviews
Important: Mobile Users must swipe from left to right to see entire table.
Criteria:
Properties rated based on 'overall' review scores from each respective website's verified guests.
Minimum of 50 verified guest reviews required to be considered eligible for comparison.
All star ratings and verified guest review scores are tallied at the time of writing, and therefore, are subject to change.
Map of Singapore – Top Accommodation Choices
Based on verified guest Reviews