When it comes to finding the liveliest nightlife spot in Osaka, most locals would most probably mention the Minami District of the city.  When the sun sets and darkness takes over, Minami becomes a destination that is hard to beat, mainly due to the fact that is home to the most electrifying neighborhoods in Osaka.  Once you are in Minami, you really don't need to go anywhere for the night. You will have best choices of restaurants the city has to offer, not to mention the top entertainment and party spots in town.  But as mentioned, Minami is composed of a couple of nightlife scenes. Luckily, these spots are closely located to each other, making it possible to explore all of them on foot. So let Chasing Places be your guide as we show you how to navigate around the flashiest and coolest neighborhoods of Osaka's famed Minami District.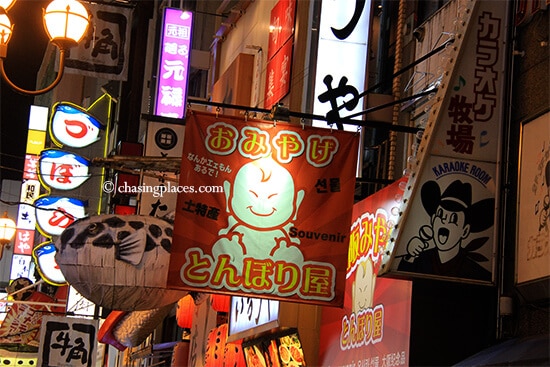 1. Find your Way to Minami
You may start your walking adventure by reaching the Namba Metro Station, which is the closest station to Dotonbori. If you have not heard of Dotonbori before, then you will be glad to know that this is one of the liveliest nightlife spots in Minami, and Osaka as a whole.  Here you will find a dizzying array of food, shopping and entertainment establishments.
2. Orient yourself with the Dotonbori Neighborhood by Finding the Famous Canal
Dotonbori is mainly characterized by two landmarks, which are Dotombori-gawa and Dotombori Arcade.  Dotombori-gawa is the famous canal that runs through the Minami district.  The 'tourist' focal point of the canal is marked by the Ebishu-bashi Bridge.  This bridge has become a very major, if not iconic, structure in Japan.  Stand in the middle of the bridge, and take a good look at both ends. You will see the soaring buildings as well as some of the largest and brightest giant advertising billboards in Osaka.  Fix your gaze to the northern part of the bridge and you will eventually see the equally famous Glico running- man billboard.
(Learn more about the Dotonbori neighborhood by clicking here)
3. Explore the Arcade
Before crossing the canal through the Ebishu-bashi Bridge, make sure to take the time to walk around the Dotonbori Arcade, which sits on the southern bank of the canal, northeast of Namba Station. This large arcade houses an incredible number of cafes, shops, eateries, and recreational facilities that appeal most potently to visiting families. Although it is so easy to get lost in Dotombori Arcade and to forget about the rest of the district, do find the strength to get out and walk further.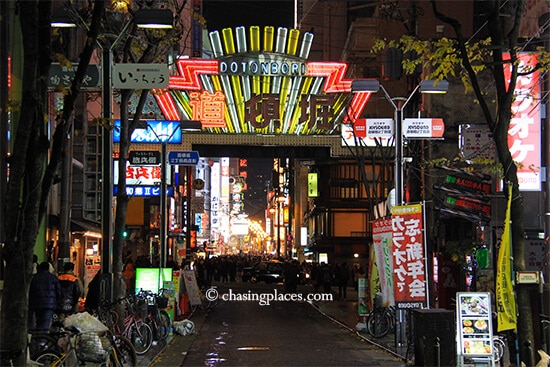 4. Head North to Shinsaibashi-suji Arcade
After crossing the Ebishu-bashi Bridge and walking further, you will be on your way to Shinsaibashi-suji Arcade. Like its southern counterpart, Shinsaibashi-suji is like a neon-like crazed maze that leads you to what may seem like thousands of crammed commercial establishments.  On a busy weekend night, expect the crowd to be thick, but sure enough, the number of people adds to the excitement and electricity in the air. Don't worry, Japanese folks are not rowdy and always polite. It is a great place to people-watch.  You will most likely encounter the corky side of the country when you see some personalities with flashy outfits and outrageous colorful hair. But everybody acts cool and normal, which makes people-watching all the more fascinating.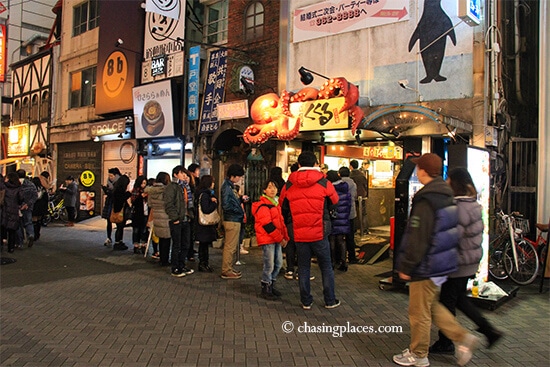 Travel Checklist: Do you have everything you need?
5. From Shinsaibashi-suji Arcade, head out west to Amerika-mura
Amerika-mura, which means American Village is an enclave of pubs, cafes and shops that attract the youth of Osaka. Supposedly, this is also 'the' neighborhood of love hotels that want to remain hidden from public sight.
The intriguing name of this neighborhood was derived from 'American oriented' shops that were established here after World War II.  Some of the typical items sold in such shops are American t-shirts and lighters (Zippos). Amerika-mura is a great spot to find small and quirky bars and pubs that mainly cater to locals and expats, instead of tourists. Thus, coming here gives you more chances of chatting and mingling with people who live in Osaka.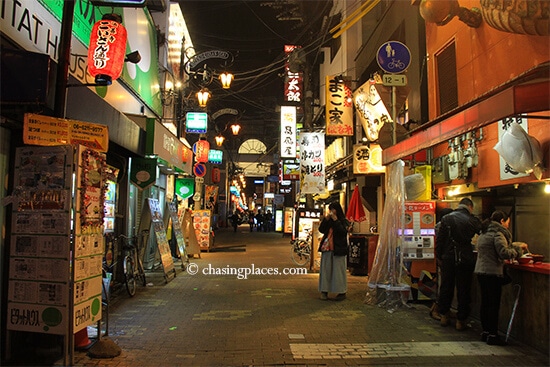 The Amerika-mura and Shinsaibashi neighborhoods sit parallel to each other and are practically attached.  This makes it difficult to tell which exact place you're in once there. But if you are looking a good place to drink and party, it really does not matter as bars and pubs are everywhere. Most of them are located in the basement and second floors of the buildings, and have signs written completely in Japanese. This actually makes it hard to gauge whether a certain establishment is a club, karaoke bar, or a pub if you don't go inside. If you are not easily intimidated by the signs, then you can always open the door to take a peek of what's inside.  Once in a while, you will see places with English signs, which suggest they could be an Irish or British pub.  The good thing about getting into these types of pubs is you will get a more mixed crowd of Japanese and expats, a potent ingredient for a memorable night of partying.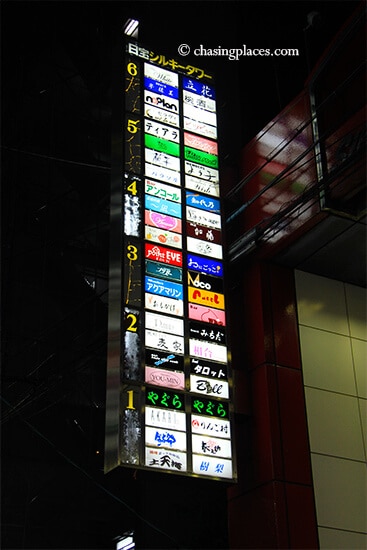 6. Going Home
Trains in Osaka usually stop operation before midnight. So unless you are planning to take a cab, make sure to remember the Cinderella rule. Violating it may not turn you into a pumpkin, but you will have to dole out some serious cash to the notoriously expensive Japanese taxis.  To catch the metro, you can either walk back to the Namba Station or go for the closer metro station of Shinsaibashi.
Where should you stay?
To avoid the needless headaches and expensive taxi fees try to find a hotel in Osaka that is close to the extensive public transport network located throughout the city. Hotels around Namba Station are a popular choice for tourists due to its centralized location.  Two of the most highly rated hotels around Namba Station are The St. Regis Osaka Hotel and Swissotel Nankai Osaka Hotel.
Where did we stay in Osaka?
During our time in Osaka we were on a pretty strict budget.  Therefore, we wanted to stay somewhere affordable, yet close to a public transport line. Eventually we decided to stay at Hotel Raizan North. We don't have a direct affiliation with this property, or any in Osaka.  Therefore, we can honestly say that we had a nice stay at this property. It isn't overly fancy or anything, but it was clean and affordable when we stayed there. Also, it was only 100 meters from the closest public transport station which was an added bonus.  At the time of writing it had a score of 7.8/10 based on 347 verified guest reviews. Some of their rooms have shared bathrooms only, therefore be sure to double check before you make any final decisions.
How to get the cheapest room in Osaka?
Unlike, Tokyo, "bargain" room hunters will be much more successful in Osaka, with a healthy range of budget options available. I suggest trying one of these large hotel providers: www.agoda.com, www.booking.com, www.hotelscombined.com.  Agoda has the largest selection, but www.booking.com is still competitive due to their excellent cancellation policies.  Many of our readers who travel on strict budgets book through hotelscombined.com because of their ability to compare hotel prices very efficiently. I have created links below to their respective property lists for Osaka to save you some time:
Top Rated Properties in Osaka Based on Verified Guest Reviews
Important: Mobile Users must swipe from left to right to see entire table.
Criteria:
Properties rated based on 'overall' review scores from each respective website's verified guests.
Minimum of 50 verified guest reviews required to be considered eligible for comparison.
All star ratings and verified guest review scores are tallied at the time of writing, and therefore, are subject to change.
You can also use the Search Box below to compare prices of different hotel booking platforms
Regardless of where you decide to stay while in Osaka, we hope that you have a safe and enjoyable experience.