Though it does not boast impressive temples and golden pagodas like Kyoto and Nara, Osaka distinguishes itself as a fun and exciting Japanese city and worthy travel destination, mainly because of its swinging nightlife.
During the day, the city's industrial side is more apparent, with millions of its inhabitants flocking to offices, factories and work places to slave away the day. And as we observed, the Japanese take their work duties and obligations very seriously, and they are probably some of the most hardworking people we have ever seen. But when the sun sets in Osaka, and work is officially over, many city dwellers choose not to rush back to their homes to console their tired feet. Instead, Osaka folks let their hair down, throw their stress out the window and chug their well-deserved drinks at the city's liveliest nightlife spots; giving a whole other meaning to the saying 'work hard, play hard'.
Of course, the locals are not the only ones invited to this extravaganza, hundreds of tourists from all over are also lured to the city's bustling streets, brightened up by hundreds of neon lights. So if you know  you're going to be in Osaka, maybe waiting for your flight somewhere else, (like we were), Chasing Places strongly recommends that you spend at least a night in the city. And once you do, you will appreciate this other side of Japan that makes this country truly unique.
In the Pursuit of a Good Time
It was New Year's Eve and we wanted to celebrate with a bang. Having heard of Osaka's wild nightlife, we immediately made plans to visit the exact neighborhoods that earned the city this reputation. We soon found out that the district to be in is Dotonbori (sometimes called Dotombori), located in the Osaka Minami area. This district is characterized by two main spots, the Dotonbori Arcade and the canal named Dotonbori-gawa.  Once we got there, it was honestly quite hard to really pinpoint the start and end of 'Dotonbori'. It was a sprawling district that seemed to have made extensions to adjacent neighborhoods.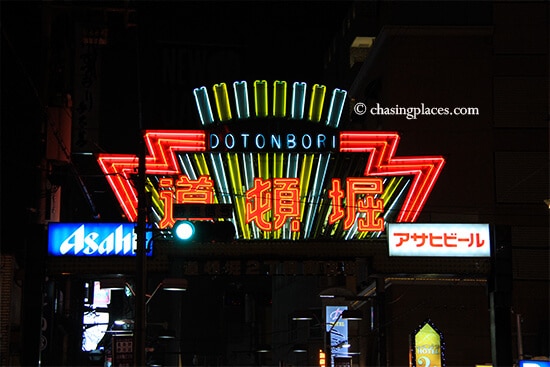 We used Dotonbori-gawa, which flows through the district, as a means to orient ourselves with the place. But it was not easy especially with the dizzying number of restaurants and bars that unfolded before our eyes. Being in Dotonbori is like being in the middle of an explosion of senses. Because of the large number of businesses that had to make their signs flashier and their music louder, this region transforms into an electrifying site at night. Every establishment was trying to get our attention using either bright neon lights, giant hanging mascots, thick smoke coming from open kitchen or workers wearing colored hair and quirky outfits.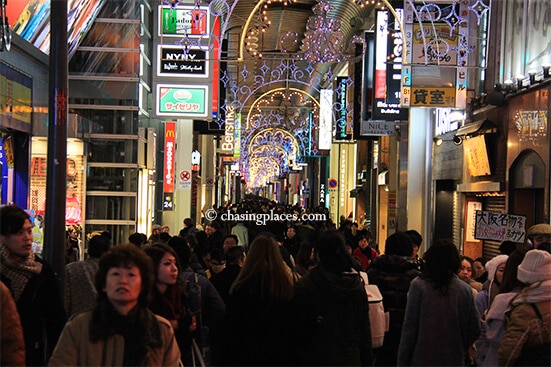 We expected a big crowd New Year's Eve, but it still felt almost surreal to see the large number of people walking around in Dotonbori that night. Fortunately, the district was pleasantly big enough to accommodate such a crowd.  We were still able to walk comfortably without bumping into strangers' random body parts.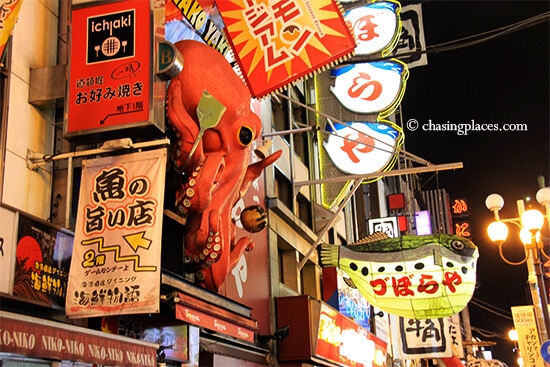 Osaka is known for its culinary scene and its inhabitants' love for it. That's why it is not surprising that the main attractions in Dotonbori is the huge selection of restaurants, most of which, offer seafood dishes as their specialty.   Some of the restaurants in the arcade have become sightseeing attractions not only for their food, but for their humongous comical signs. As we walked through the arcade, our eyes were soon called to attention by a giant dragon, a crab, a squid, and a funny-looking pufferfish and many of others.  These signs added character to the place and were definitely evidence of that famous Japanese quirkiness.  At least we noticed that these 'signs' were working on visiting families with small kids, as there were lots of them dining at the Dotonbori Arcade.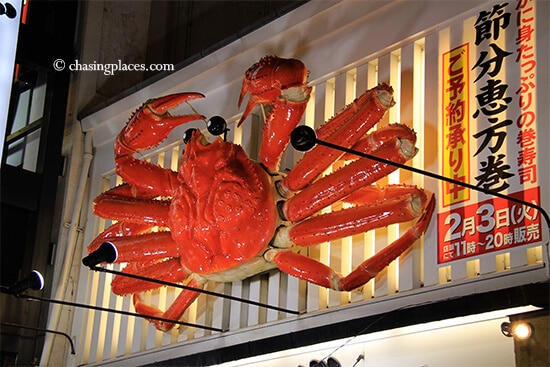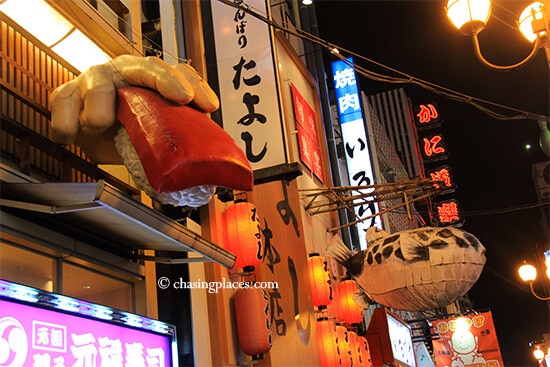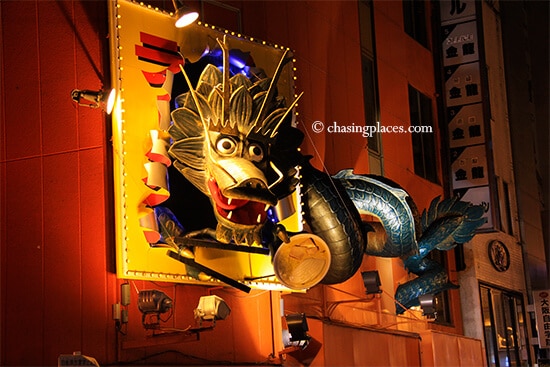 Travel Checklist: Do you have everything you need?
Getting to Dotonbori and Crossing the Dorombori-gawa
The nearest Metro Station to Dotonbori is Namba. But Nipponbashi Station which serves the Sakai-suji and Sennichimae lines is also quite nearby.
We chose to get off from Namba Station and found our way to the famous bridge called Ebisu-bashi, which goes across the Dorombori-gawa Canal. This bridge has become a favorite spot among tourists who like to take photos of brightly-lit buildings on each side of the canal and the gigantic neon signs that adorn them.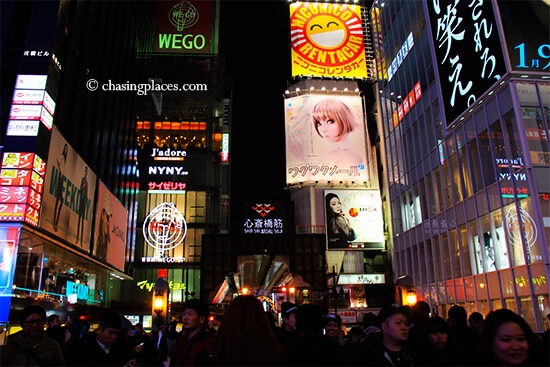 New Year's Celebration
As mentioned, the Dotonbori neighborhood is sprawling and is composed of interconnected streets and neighborhoods that have their own selection of restaurants, shops, bars and stalls.  We originally wanted to follow this walking tour recommended by one of the guidebooks, but it was really hard to locate the area as English street signs were nowhere to be found. Using the canal as our guide, we decided to go north of Dotonbori to seek out another popular neighborhood called Amerika-Mura. Although walking around the Minami area is pleasant, we wanted to settle in a bar to welcome the New Year. It was difficult to determine which neighborhood is considered 'Amerika-Mura'.  We also passed by so many pubs and bars along the way that it was hard to choose.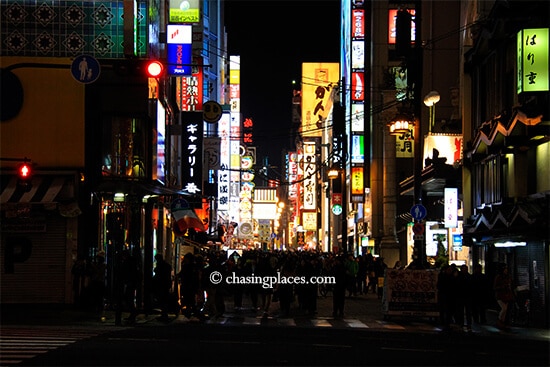 With all the Japanese neon signs beckoning us to come in, and knowing very little Japanese, we decided to go into a pub, which had an English name. The pub had two floors with a small rectangular floor plan. The limited space on the first floor was dominated mostly by a bar. It was so small that it was hard not be distracted every time someone opened the door. Osaka's rental prices are expensive and it is quite common to have a pub this size in Japan.  But the bar was cool and cozy nonetheless.  Its size somehow made people more pleasant and friendlier. As the clock struck near midnight, the pub was swinging with party revelers raising their drinks up in the air and shouting the countdown. It was certainly a great atmosphere with a mixed, but lively crowd of Japanese and foreigners. And I bet that on that special night, most pubs in the area were in high spirits. After all, Osaka knows how to party the night away!
Where did we stay in Osaka?
We wanted an affordable place to stay and something close to the train lines in Osaka.  Eventually we decided to stay at Hotel Raizan North. Since we don't have a direct affiliation with this property, in an honest manner we can say that we enjoyed our time there.  Similar to most places in Japan, it was clean and efficiently managed. It's ideally located within a few minutes walk to the nearest public transport station.  Some of their bathrooms are shared, so that might not suit everyone. It was well priced and fulfilled our needs.  At the time of writing it had a score of 7.8/10 based on 378 verified guest reviews.
How to get the cheapest rooms in Osaka?
Hotels can get expensive in Osaka so be sure to shop around. In general, it's best to use a large booking site like www.agoda.com, www.booking.com or www.hotelscombined.com to fully access the wide selection of rooms in Osaka. Try to get a room as close to the public transit system as possible like we did, as this will save you some serious cash. Here are links to their respective properties for Osaka to save you some time:
Top Rated Properties in Osaka Based on Verified Guest Reviews
Important: Mobile Users must swipe from left to right to see entire table.
Criteria:
Properties rated based on 'overall' review scores from each respective website's verified guests.
Minimum of 50 verified guest reviews required to be considered eligible for comparison.
All star ratings and verified guest review scores are tallied at the time of writing, and therefore, are subject to change.
You can also use the Hotelscombined Search Box below to compare prices across different booking platforms:
Compare Room Prices in Osaka – www.hotelscombined.com
Feel free to comment below if you have any questions about our time in Osaka.  Safe travels!