Bustling markets, narrow streets and delicious hawker food immediately come to mind when I hear the word "Chinatown." Before, I visited Singapore's Chinatown I wondered if this super clean and organized city would dare to have a district so distinct from the rest?
Conveniently accessible from my hotel in Clark Quay via MRT, Singapore's Chinatown immediately gave me the impression that it is the cleanest one that I have ever seen. If you have yet to visit Singapore, but have managed to find time to read up on the city, it is regarded as one of the cleanest cities (and countries) in the world.  I often find that this is a hot topic of discussion for tourists. Is it as clean as people say?  Can you chew gum?  Can you eat on the MRT?  You get the idea.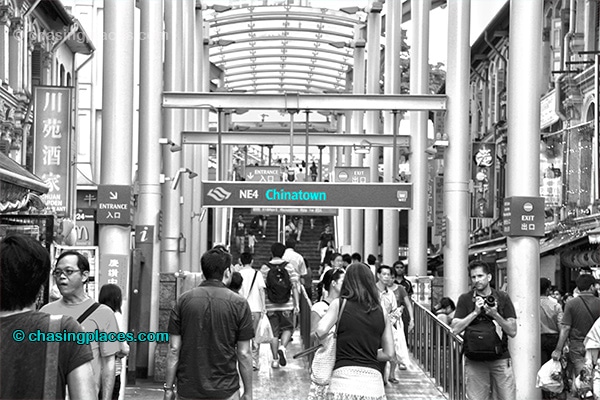 Although Chinatown in Singapore is clean compared to others that I have visited, there still is some noticeable rubbish here and there, but definitely nothing to fret about. I particularly liked the noticeable contrast between the historical buildings making up Chinatown and the super modern high rises that hover in the background. If you have the time, I would recommend trying to capture the transition from the past to present on camera if you happen to be in Chinatown.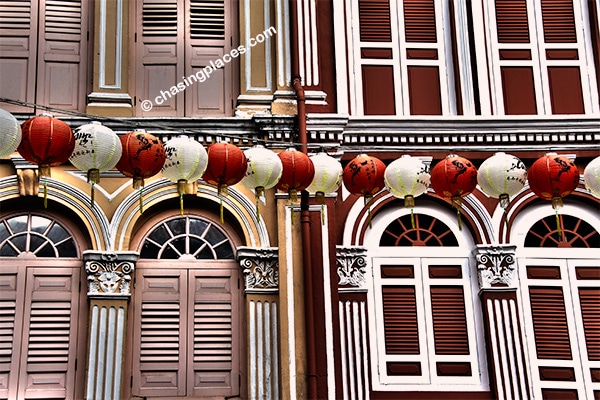 Many of the boutique hotels and guesthouses in the district are nicely preserved with charming colour combinations and shutters to make you feel like you are travelling back in time.
After walking around Chinatown for 3-4 hours, I began to take note of the things I truly adore about this type of setting. One definitely has to be people watching. It's one of those rewarding activities that's absolutely free, yet very interesting.  Chinatown in Singapore is an ideal location to observe how wealthy and budget tourists, local hawker stall workers, and flocks of children and teenagers all come together to create a truly unique atmosphere.  Tourists who appear to have no intention of buying things are suddenly bartering over two dollar key chains and counterfeit t-shirts. Children are seen pulling on mommy and daddy seeing if they can get some tasty street-side snacks. Hawkers try to hawk squid balls to tourists. Yeah, this is Chinatown.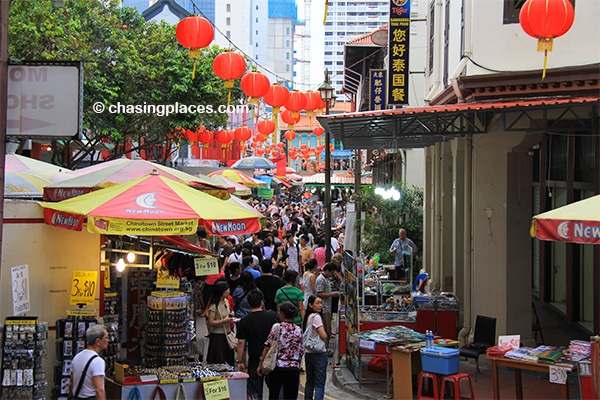 I also couldn't help but notice the broad array of tiny shops and restaurants that are somehow jammed into many of the streets in the district.  Many Western cities are unfortunately burdened by so many by-laws and red tape that it is next to impossible to create such a crammed, energetic ambiance like the one that can be experienced in Singapore's Chinatown.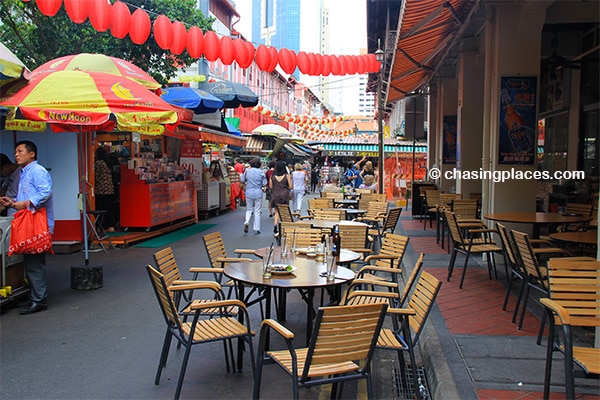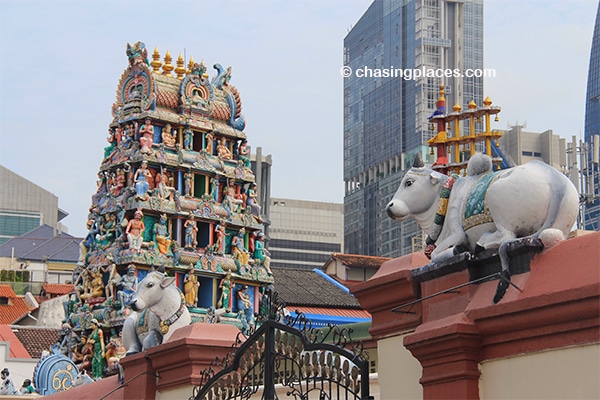 As I passed one shop after another, I looked up only to see a striking temple in the distance.  Maybe the reason why it remains so memorable is the fact that it is a Hindu Temple located right in the heart of Chinatown? Later research that evening revealed, that I was staring at Sri Mariamman Temple – the oldest Hindu temple in Singapore.  Since it was originally built in 1823, I am sure that you can only imagine the contrast created between the temple and the skyscrapers of Singapore's central business district looming behind it. I thought its colours were very vivid and the sacred cow sculptures were a strong reminder of Hinduism.  If you are lucky enough, try to catch the Thimithi Festival held every year at Sri Mariamman Temple.  Worshippers walk over burning coals along South Bridge Road which is directly in front of the temple.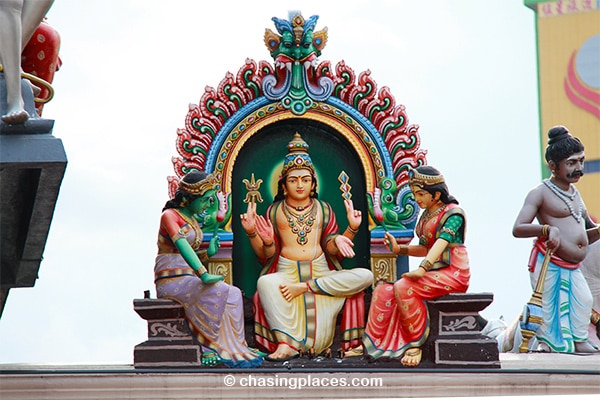 Travel Checklist: Do you have everything you need?
I also decided to make some comparisons between it and the others that I have seen before. Without question it is the cleanest that I have ever seen. One thing that I couldn't help but notice was that the level of restoration work may have been too thorough. In other words, it felt a bit synthetic at times with some streets covered with artificial "rain protectors" and so forth. This doesn't take away from the fact that there is still beautiful architecture and world class temples to check out. It has the hawker food, the atmospheric Chinese lanterns, the beer stalls and all the tiny trinkets that tourists love to buy. Although, I didn't buy too much, I can honestly say that Chinatown is definitely a worthwhile site to check out while in Singapore, especially for those who want to see modernity clash with historic architecture and customs.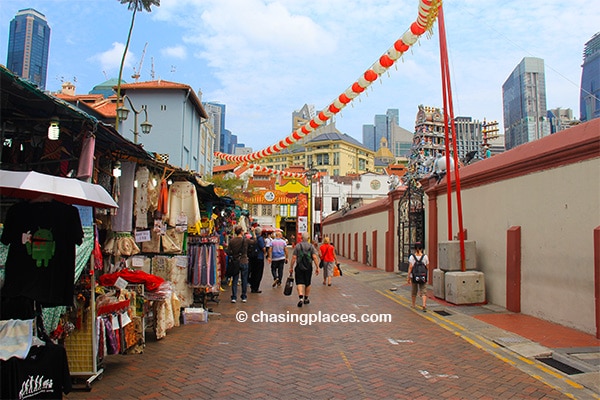 How to find the cheapest rooms in Singapore?
Chinatown is located in a super convenient location and can be easily accessed using MRT.  I would recommend booking a room in Clarke Quay, right in Chinatown, or along South Bridge Road to decrease your travel time.
Once you know the location where you would like to stay, the next question is what site should be used to find your room? Well, technically there are some solid accommodation providers out there such as www.agoda.com, www.hotelscombined.com and www.booking.com. Agoda is the site we typically use when we visit Singapore.  Booking.com has a similar selection to Agoda, but many of our readers like their favourable cancellation policies. On busy weekends or when demand is high, we use Hotelscombined because of their excellent price-comparison searches prior to booking. All three of these options should be able to provide you with more than enough choice when staying in Singapore.
Top Rated Properties in Singapore Based on Verified Guest Reviews
Important: Mobile Users must swipe from left to right to see entire table.
Criteria:
Properties rated based on 'overall' review scores from each respective website's verified guests.
Minimum of 50 verified guest reviews required to be considered eligible for comparison.
All star ratings and verified guest review scores are tallied at the time of writing, and therefore, are subject to change.
Map of Singapore – Top Accommodation Choices
Based on verified guest Reviews
If you have any questions or your own opinions to share about Chinatown in Singapore, please feel free to comment below.  Safe travels!