Singapore is one of those cities that tends to leave a lasting impression. To be honest, during all of my travels I don't know if I can think of a single city that gets such polar reviews from its visitors. It's hard to ignore Singapore's undeniably beautiful harbour area. An area that looks purposely planned for celebrity romance and allure. But of course, this ambiance comes with a price and that is where the reviews from visitors start to conflict one another.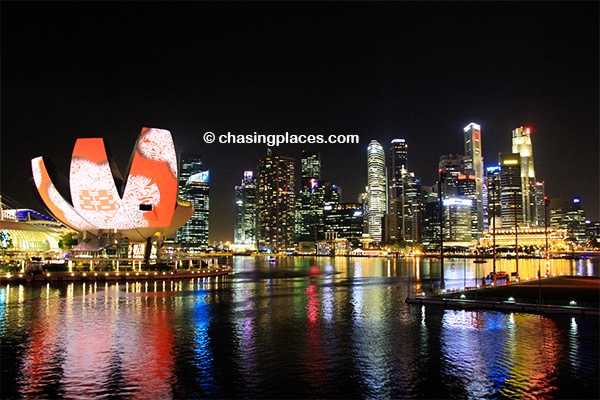 After visiting on multiple occasions, I consider myself a fan of the city. I am by no means a luxurious traveller. As long as the place I am staying in is safe and clean, then I tend to be quite happy. So how can a budget tourist such as me enjoy a city that is regarded by many to be one of the most expensive in the world?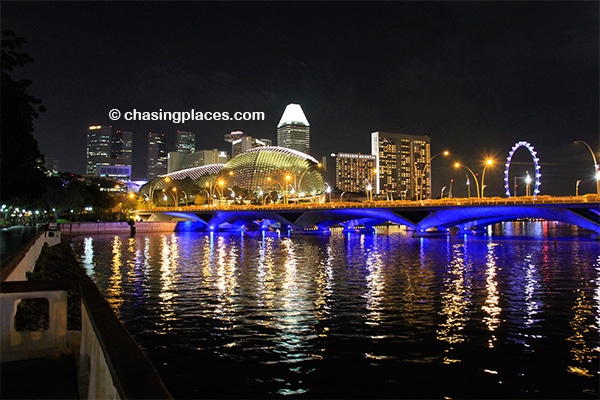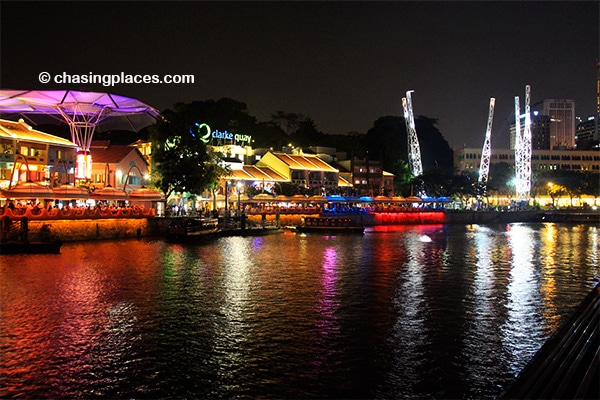 A first glimpse at Singapore sparks many to assume you need to spend $300 a night at one of Singapore's spectacular hotels to enjoy the city. With a bit of additional research, I found some great budget hotel options around Clarke Quay that are literally a five minute walk from the Merlion and the waterfront area. More research revealed that there are hawker stalls serving up excellent and affordable traditional dishes behind Boat Quay. The point I am trying to make here is that Singapore can indeed be explored on a budget in a comfortable manner, but it takes some research. Throw in Singapore's seamless, affordable and efficient MRT network into the mix and you start to get the idea.
Sentosa Island, China Town, Little India, the Singapore Zoo (and the Night Safari) are just a few of the places to check out while in the city. Depending on your budget you may prefer to focus on Little India and China Town to soak up the culture of the city without emptying your wallet. Believe it or not, my most memorable experience of Singapore didn't cost a penny.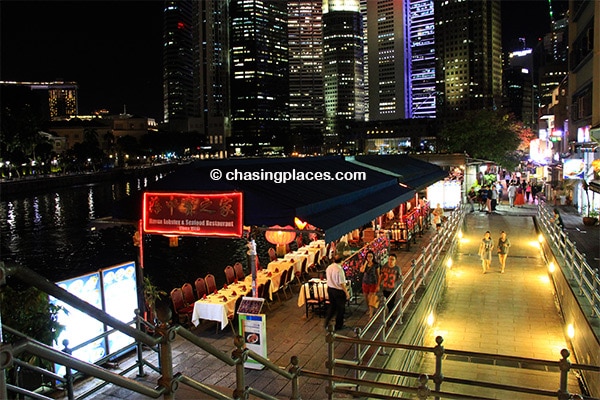 Whenever I visit Singapore I always try to strategically book my room on Bridge St. which is conveniently located near Clarke Quay (and the Clarke Quay MRT Station), Boat Quay and the harbour front area. During my most recent visit, I finally got the opportunity to grab my camera at night in order to capture photos of the world famous skyline that everyone talks about.
I started my evening walk by heading from Bridge St. over to Clarke Quay. For those of you who may be unfamiliar, Clarke Quay is one of the busiest night life spots in Singapore. Rocking live bands and sleek restaurants line the water as tourists and locals discuss everything under the moon. From here, I quickly made the short jaunt over to Boat Quay. Boat Quay does slightly resemble Clarke Quay, however, it offers more in terms of romantic restaurants and less in terms of intense partying. Seafood lovers also tend to love Boat Quay due to the healthy selection of fresh lobsters and crabs waiting to be prepared according to the your cooking preference.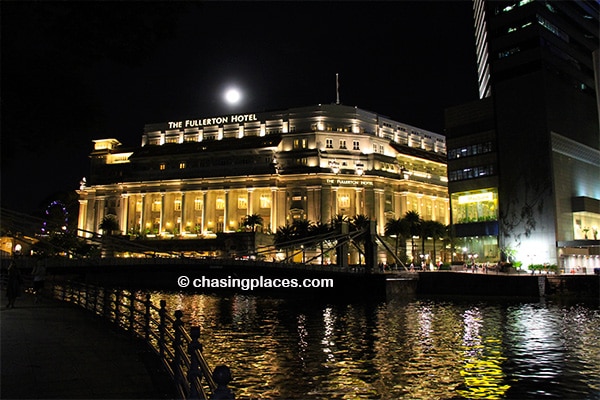 Up to this point, I was already quite satisfied with what I had seen. But then, as I walked closer to the marina area I couldn't help but notice the Fullerton Hotel at the southernmost end of Boat Quay. It was perfectly illuminated and it reflected beautifully on the water before me. After a few photos to capture the colonial charm of the hotel, I continued south towards the ever-striking Marina Bay Sands. During my previous trips to Singapore, I managed to take up to one hundred photos of Marina Bay Sands, but this would be my first opportunity to take photos of it at night. Now, with the Esplanade and the Marina Mandarin Singapore to my left, Marina Bay Sands in front and the spectacular Singapore skyline to my rear, I couldn't help but contemplate whether I had ever seen a more memorable city setting than this during my previous travels? I honestly don't think I have.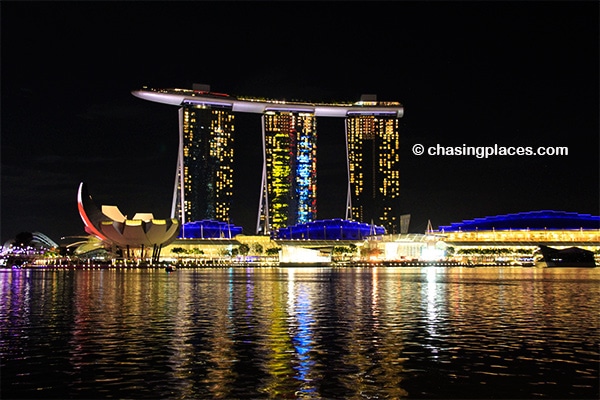 Travel Checklist: Do you have everything you need?
The travel gods must have been watching over me because the very night that I chose to do a night walk in Singapore the city also had a light festival going on. The hardest part of the walk was trying to capture various angles of the buildings and water reflections. To get a different perspective, I walked right by Marina Bay Sands all the way until I was across from the Flower Dome (part of Gardens by the Bay).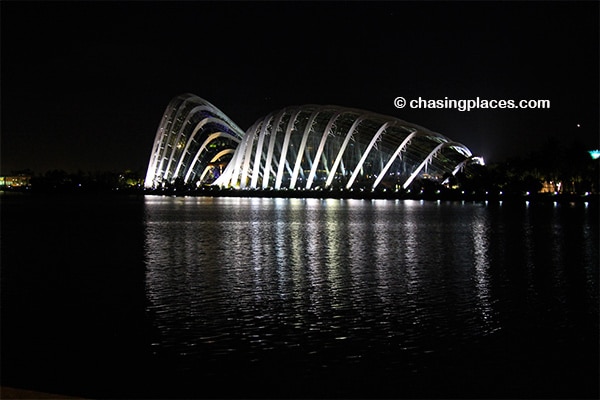 Looking back at the Singapore skyline felt somewhat surreal from this area. Just so many different architectural wonders were worthy of attention. It seemed so far removed from the hustle and bustle of many Southeast Asian cities. No horns, no market calamity and certainly no rubbish for the entire walk. Singapore may at times be appropriately described as an urban playground for the rich and famous, but that night I felt immersed in its ambiance without spending a penny. Who says Singapore can't be seen on a tight budget?
To make it more convenient for our readers I have organized the available hotels and guesthouses in the prime waterfront area of Singapore according to location with a few suggestions based on my experiences in the city.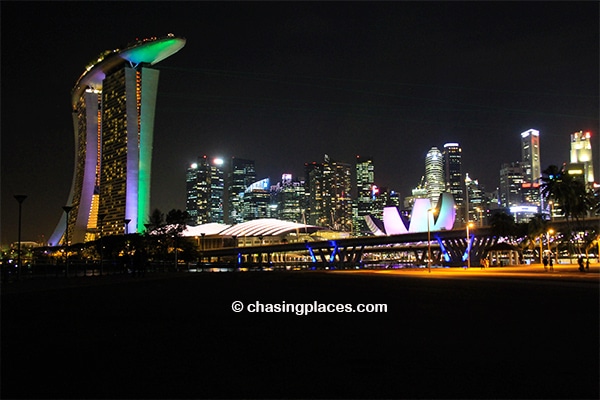 Where did we stay in Singapore?
We stayed at Jayleen 1918 Hotel. We don't have a direct affiliation with this property. Therefore, we can provide information about it in an unbiased manner. First of all, we really liked its location.  It's about 200 meters away from Clarke Quay MRT and walking distance to Marina Bay. For the price, the breakfast is quite extensive in comparison to typical continental choices.  The room was small but very clean.  At the time of writing it had a score of 7.4/10 based on over 400 verified guest reviews. We would recommend this property if you want an affordable, well-located room in Singapore.
Want to find the best room prices in Singapore?
We would suggest trying these sites: www.agoda.com, www.booking.com and www.hotelscombined.com.  They are all reputable choices.  I have created links to their respective properties lists to save you some time:
Top Rated Properties in Singapore Based on Verified Guest Reviews
Important: Mobile Users must swipe from left to right to see entire table.
Criteria:
Properties rated based on 'overall' review scores from each respective website's verified guests.
Minimum of 50 verified guest reviews required to be considered eligible for comparison.
All star ratings and verified guest review scores are tallied at the time of writing, and therefore, are subject to change.
Map of Singapore – Top Accommodation Choices
Based on verified guest Reviews
Regardless of where you choose to stay in Singapore, be sure to have a great time and don't forget to take your camera out for a night stroll!
Read More About Visiting Singapore