Both Kuala Lumpur (known as KL for short) and Singapore are excellent cities to visit while travelling in Southeast Asia. Since they aren't too far from one another, many tourists fly into Kuala Lumpur and then head south to Singapore as part of the same holiday. This article is intended to help you get from Kuala Lumpur to Singapore.
I have lived in Kuala Lumpur for many years and I have been to Singapore countless times. So I would like to share the smartest and fastest ways to get to Singapore from Kuala Lumpur based on my personal experience completing this trip.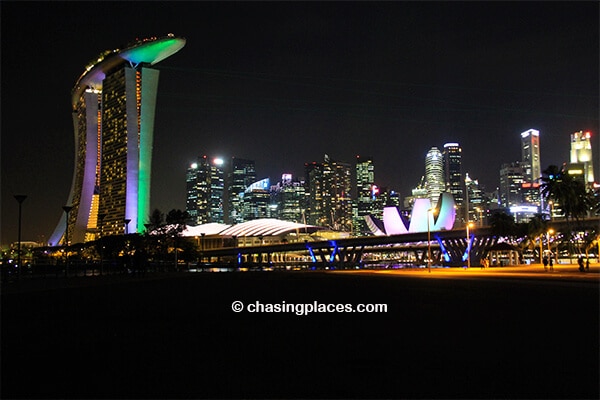 Flying:
Taking a flight from Kuala Lumpur to Singapore remains to be the fastest route if you only consider the flight time.  From Kuala Lumpur International Airport, you only need 30 minutes in the air to reach Singapore's Changi Airport.  But if you are flying, consider the waiting time at the airport before the flight (including check-in, baggage drop, security checks and the risk of having your flight delayed). Also consider that KLIA is an hour drive from Kuala Lumpur. If you take a fast train called KL Express, it takes about 30 minutes to reach KLIA from KL Sentral.
Taking the Train:
I won't take too much time to discuss this route as this is by far, the most time-consuming way to reach Singapore from Kuala Lumpur. Unless you really like train rides or you are on a super tight budget, I wouldn't suggest taking the train between Kuala Lumpur and Singapore.   
Taking the Bus:
This route is what I will discuss extensively in this article as this is often the best way to reach Singapore from Kuala Lumpur based on my experience.
Travel Checklist: Do you have everything you need?
Here is an overview of the trip:
Take a train at KL Sentral (Kuala Lumpur) —–  then take a bus at TBS Station (Kuala Lumpur)—- Arrive in Singapore —- then take the MRT in SG to your specific destination.
Here are the steps in getting from Kuala Lumpur to Singapore, the most straightforward way:
Take a taxi or uber/grab to KL Sentral. KL Sentral is the main station in Kuala Lumpur. All drivers should be able to find it with no problem. From KL Sentral, take the train to Terminal Bersepadu Selatan or TBS located in Bandar Tasik Selatan. TBS is the main bus station for buses going south of Kuala Lumpur.  This is a new bus terminal that has departure gates similar to an airport.
To reach TBS Bus Station, choose between taking the KTM Komuter Line or the KL Transit.
The Difference:
KTM Komuter Line is the blue line that serves multiple stops in Kuala Lumpur and neighboring towns. It is the cheaper but slower train ride. If you decide to take the KTM Komuter, take the Rawang Gadut Line, and ride the train that is going towards Sungai Gadut.
The fare is only 1 Ringgit, and there are 4 stops.
KL Transit is a newer train line that goes all the way to Kuala Lumpur International Airport (KLIA). This line is faster and more reliable, but it is more expensive.  TBS Station is only one stop from KL Sentral. Thus, the train journey time takes approximately 7 minutes.
My opinion: Unless you are really on a tight budget, I suggest you take the KL Transit as it is more reliable.  KTM trains tend to break down from time to time, although they have added some newer train cars recently.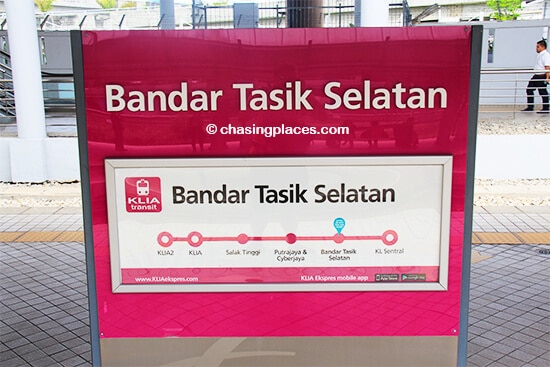 2. Arrive at TBS Station. From the KL Transit Station called Bandar Tasik Selatan, you just need to walk across the pedestrian bridge to get to the main building of the TBS Bus Station. The walkway is quite obvious to spot, and you should have no problem seeing the large TBS station on your right as the train approaches.
3. Make your way to the bus ticket area. There are many companies that operate buses going to Singapore on a daily basis.  These buses follow different departure times, but there should be one leaving almost every hour.  This is the advantage of going to TBS because you have many options in terms of buses and schedules to choose from.
4. Your bus will probably make 3 stops along the way: 1 toilet break, exiting Malaysia, entering Singapore.  The immigration process can be very quick, or very slow depending on your arrival time at the border. Our quickest time through the immigration process was 15 minutes, and the longest was 1.5 hours.
5.Arrive in Singapore.  Buses in KL DO NOT arrive at a single bus station in Singapore. Each company has their own arrival point. So before you buy from a company, take note of where their arrival point is. If it isn't near your hotel or guesthouse, research in advance the nearest train station to the arrival point. We typically choose a reputable bus company that we know drops off near where we plan to stay, or near an MRT station in Singapore.
During our experience, the bus ride from Kuala Lumpur to Singapore can take anywhere from 4 hours and 45 minutes to 6 hours depending on the company you travel with and the traffic along the way.
Tips:  Please Read as they are  IMPORTANT:
I usually choose a bus company based on their arrival point. Pick an arrival point in Singapore that is close to an MRT station so you don't have to take a taxi.
Usually, queues for purchasing bus tickets at TBS are not overly long, and there are plenty of seats. However, if you are planning on leaving during long weekends or important holidays in KL, then you should purchase your ticket in well in advance. There are companies that sell tickets online, but not too many. You can also go to TBS before your departure date to purchase your ticket.
There are alternative bus companies that pick passengers from different neighborhoods in Kuala Lumpur. If you choose to go with these companies then you don't have to go to TBS. However, because you are leaving from Kuala Lumpur your journey time will be longer as the bus will have to go through city traffic, which is usually hectic especially during rush hour from 4-7 pm daily.  TBS is strategically located outside the city center, so leaving from there frees you from going through a traffic jam in KL. Something to really think about depending on your departure time!
In recent years, I preferred using a bus company called Aeroline, which picks up passengers from the Corus Hotel, which is just walking distance from the Petronas Towers in downtown KL. I used Aeroline because they have great service standards and they are very reliable. We also tend to stay at a hotel near the Petronas Towers which makes their departure location ideal for us (and most tourists visiting the city). Aeroline's buses have comfortable seats and offer entertainment onboard. My trips with them have always been comfortable. The bus ride is more expensive but for me, it's still worth it. I usually book a return ticket with them in advance. Their arrival and departure point in Singapore is at ViVo City, which is right next to the Harbourfront train station.  
Top Rated Properties in Singapore Based on Verified Guest Reviews
Important: Mobile Users must swipe from left to right to see entire table.
Criteria:
Properties rated based on 'overall' review scores from each respective website's verified guests.
Minimum of 50 verified guest reviews required to be considered eligible for comparison.
All star ratings and verified guest review scores are tallied at the time of writing, and therefore, are subject to change.
Map of Singapore with Top Accommodation Choices
Read More Articles on Singapore