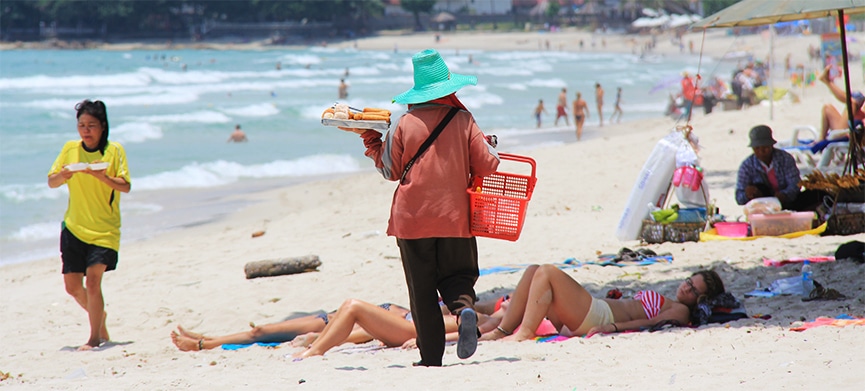 Koh Samui is one of the most popular islands in the Gulf of Thailand. Compared to its neighboring island Koh Pha Ngan, Samui is like the older more mature and composed sister.   While guesthouses and backpackers dominate Koh Phangan, Koh Samui attract more families, honeymooners, luxury resorts and mid-range hotels.  A holiday in Koh Samui is all about relaxing on the beach, pampering yourself with spa amenities, and spending quality time with the family. Yes, Koh Samui, like other Thai holiday spots, has a vibrant enough nightlife scene, but it does not get as wild and crazy as Koh Pha Ngan.
Koh Samui can be reached from many parts of Thailand. Thanks to the superb efficiency and organization of the country's tourism industry. Travel agencies will try to convince you to leave the travel arrangements to them. BUT A WORD OF WARNING, you will most probably end up paying more. There have also been stories that travel agencies tend to book tourists to the oldest and cheapest buses, which can break down at any point. Some tourists have experienced being drop in the middle of nowhere, with no choice but to pay for another vehicle to take them to their intended destination.
If you already paid an agency for a long route (example: Bangkok to Surathani), you can out yourself in a situation where you have to tolerate bad service and connection. But if you make the research and plan the journey on your own, you will have more flexibility as well as control of your money and time. You will also avoid falling into tourist traps.
The most direct and convenient way to Koh Samui is from the town of Surathani.  Surathani is the capital of a Thai province of the same name. Because of its location, which is near the edge of the mainland, it is a favored getaway to the southern Thai Gulf islands.
Unless you are taking a flight from Surathani to Koh Samui Airport, the journey from Surathani  to the island can still take a couple of hours.  This Chasing Places guide is focused on travellers who intend to fly into Surathani Airport, although there are other ways to get to the town, such as taking the train from Bangkok to Phun Phin train station, which is about 15 kilometers from Surathani town.
A general view of the journey:
Surathani Airport – Bus Terminal  – Don Sak Pier (to get on a ferry) – Koh Samui
Provided that you will arrive in Surathani early enough to catch the bus, here are the stops to follow:
1. Fly to the Surathani International Airport. The airport facilitates flights from Bangkok as well as other international destinations. Check their website to see the available flights: http://www.suratthaniairport.com/
2. After passing immigration, look out for the desks of companies that offer a combined bus and ferry service to Koh Samui. Each company has their own timetable of buses and ferries. Some companies go to all three islands, Koh Samui, Koh Phangan and Koh Tao. The last regular ferry departs at around 6:00 pm.
3. The company, with whom you book your tickets, will arrange for a minivan to take you to their bus station. From here, you will then travel by bus to reach Donsak Pier, where most ferries leave from. Donsak is about 70 kilometers from the main town, which means the travel time to get here is around 1 hour.
            Companies:
            Phantip: http://www.phantiptravel.com/purchase
            Seatran: http://www.seatranferry.com/
            Raja Ferry: http://www.kohsamui-info.com/transportation/rajaferry.html 
            Songserm: http://www.kohsamui-info.com/transportation/songserm.html
Travel time from Dongsak to Koh Samui is around 2.5 hours. There are also express boats that go from Surat Thani mainland to Koh Samui. The travel time takes only 45 minutes but the cost is way higher.
Lomprayah: http://www.lomprayah.com/
Most ferries arrive at the Nathon port in Koh Samui Island. Raja Ferry goes to Limpanoi pier, which is on the western side of Koh Samui
4. You can also make your way to your chosen bus station by taking a taxi or a songthaew.  Songtheaws are huge open-back SUV trucks used as public transport. The open back has two long bench seats on each side. Songthaew drivers usually wait for the seats to be filled before leaving. If you don't want to wait, you can pay them a set price.
The golden rule for budget traveling: "Squeaky wheels get the grease!" In other words: If you notice other travelers looking for transport, open your mouth and start asking if they're going to same way. This is a great way to meet new people and share the cost of a songthaew. It's definitely a "win win" situation.
Travel Checklist: Do you have everything you need?
PLAN B:
1. If your flight to Surathani Airport arrives late at night, you have the choice to get the slow overnight ferry to Koh Samui (which takes 6-7 hours and leaves from Bandon) or stay the night in town. The safer and more convenient choice is just to spend the night in Surathani town and leave in the morning.
2. Before you try to find a place to stay in town, make sure to purchase the bus and ferry ticket for the next day.
3. You may purchase the ticket at the company counters at the airport or take a taxi to the bus station.
4. Choose a lodging location where public transport to the bus station is accessible.
5. Get up early and get a songthaew or tuk tuk to take you to your chosen bus station. Make sure to be there at least an hour before the bus leaves. You don't want to be stuck in Surathani for another day.
Tips:
When you arrive at the Donsak pier, be vigilant and ask to be assisted to the right ferry.  Pack lightly and use durable luggage or backpacks. Your main backpack or luggage should only carry clothes and no valuable items.  Once you get on the ferry, the staff will pile all huge bags on the open deck, to give room for passengers to move. They will not handle your bags with care! So you should use a separate small bag that carries all your valuables and keep it safe with you at all times. There have been reports of stolen items on ferries. Thieves tend to make their move when passengers are sleeping or preoccupied during the ferry journey.  To make your journey more convenient, plan to book a room at a hotel that is in a convenient spot opposed to one outside the city where buses do not pick up tourists in the early morning.
Want to find the best room in Surathani and/or Koh Samui?
Whether you are trying to find a room in Surathani, on Koh Samui or any of the Thai Isles for that matter, I would suggest using Thailand's most popular booking site: www.agoda.com.  We have travelled to Thailand about 10 times over the last three years and we have been consistently satisfied with Agoda's prices and selection. To save you some time I have created links to Surathani and Koh Samui below:
Hotels in Surathani with www.agoda.com 
Hotels on Koh Samui with www.agoda.com
Another solid cost cutting option for finding and booking rooms in Thailand is using www.hotelscombined.com. We use www.hotelscombined.com to compare prices prior to booking our room.  Koh Samui has a pile of rooms to choose from so this might be a good place to start your search.
To save you some time I have created links to Surathani and Koh Samui below:
Hotels in Surathani with www.hotelscombined.com
Hotels on Koh Samui with www.hotelscombined.com
If you happen to have more questions about our trip to Thailand feel free to comment below!