If you find yourself in the Malaysian capital of Kuala Lumpur (KL), and wish for a brief escape from the ultra-urban environment and very humid weather; Cameron Highlands makes a perfect getaway destination.
Situated in the northwest section of the Pahang State of Malaysia, Cameron Highlands was an important hill station during the British colonial times. These days, it's a popular holiday spot especially for jaded city dwellers of KL.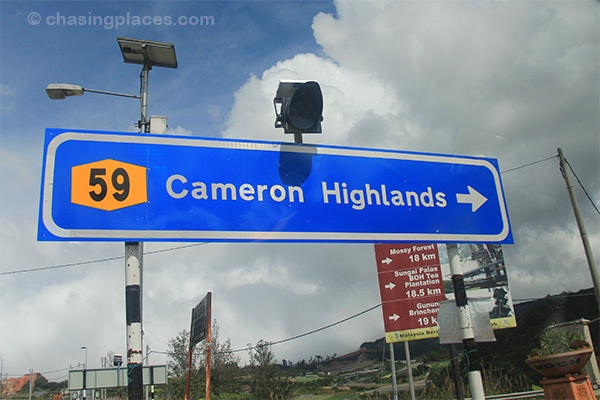 Cameron Highland's Cool Temperature 
Cameron Highland has become a favorite holiday destination among Kuala Lumpur residents not only for its proximity, but for its cool weather.
Because it is about 1500 meters above sea level and situated on the Titiwangsa Range; Cameron Highlands enjoys a colder and less humid climate compared to KL. During our November visit, the day temperature was around 20°C.  By early evening, the temperature dropped to 16°C and eventually went down as the night progressed.
Exploring Cameron Highlands on the Weekend
The opportunity to explore Cameron arose when a friend invited us to go for a short weekend trip. So with two cars and 9 people, we made our way to the historic hill station. We left the city at 9:30 am, thinking that it was early enough.
We thought wrong.
Nobody anticipated that the drive would take more than 5 hours. There are a couple roads one can take to reach Cameron. One of them is Old Tapah Road – the route most public buses use. This route is very windy with plenty of blind turns.  We decided to take the Simpang Pulai route via Ipoh. We had to pay a 20 Ringgit toll, but it was worth it because the road is more straightforward, making it less dangerous to drive on.
We finally reached our destination at around 3 pm, after stopping somewhere for lunch and getting a little bit lost.
Cameron Highland's  Main Towns
The towns of Brinchang and Tanah Rata have the greatest number of accommodation choices.   Even though Tanah Rata has more developed infrastructure and facilities, we pre-arranged to stay at an apartment in the more rustic Brinchang. The apartment unit was large enough to accommodate 9 people.
The Culture and the Market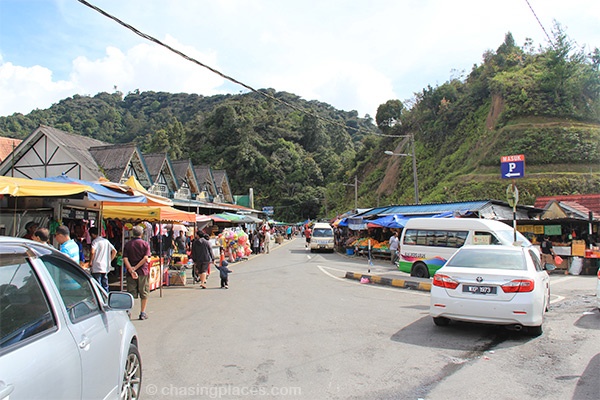 Surrounded by lush hills, Cameron Highlands has very few high rise buildings. Structures tend not to be flashy and the Malay culture is very evident. Green vegetable patches are commonly seen near residences and very old 1920's Land Rovers seemed to be the primary mode of transport.
Walking through the Brinchang market was fascinating and fun. The market occupies a narrow strip with wooden stalls lined up on both sides.
Strawberries, honey, and tea are the main goods produced in Cameron Highlands. Naturally, the market is full of these products and their variations.  Their prices are considerably cheaper than in Kuala Lumpur.
My favorite is definitely the chocolate covered strawberries on a stick. I found the vendors really nice. I could tell that they're good friends with their fellow vendors.  They didn't seem to take competition very seriously. Some of them were giggling upon the sight of Caucasian tourists. One of the lady vendors repeatedly called my companion handsome to get his attention. This marketing ploy worked quite well.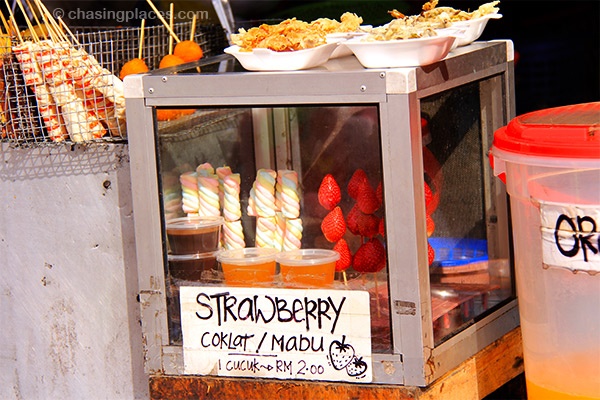 Travel Checklist: Do you have everything you need?
Visiting a Tea Plantation on Cameron Highlands and other Things to do
There are many ways to experience Cameron Highlands.  Tourists can go for a jungle trek, visit waterfalls and tour farms or just relax at one of the hospitable hotels in the region.
Some of the notable farms that welcome visitors include:
Ee Feng Gu Farm
Kea Farm
Butterfly farm
Lavender complex
But the undisputed highlight of my visit was definitely the Boh Sungai Tea Plantation.
To reach the Plantation's Sungai Palas Tea Centre, we had to drive on this very tricky and weaving one lane road. A very skilled and smart driver is needed to pull this one off. Luckily we had one.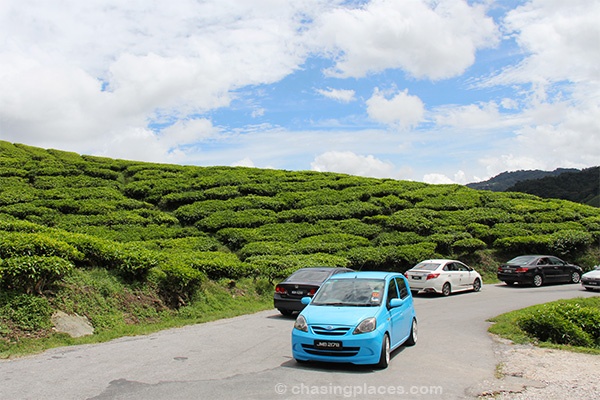 So what's so special about the Boh Sungai Tea Plantation and Tea Center?
The answer lies in its spectacular evergreen hilly scenery. It is truly a feast for the eyes!
The Visitor Center is also equipped with a spacious café, a tourist shop, and an audio-visual room for those interested in the history of the company that established the plantation.
The Tea Center even offers free guided tea factory tours. Unfortunately, we didn't make it on time for the tour, but the view of the tea plantation landscape was well worth the visit here.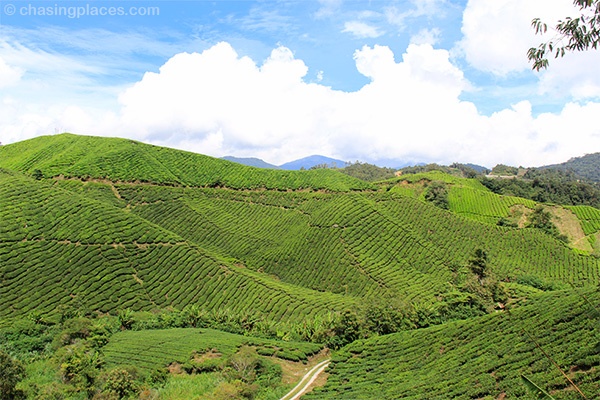 I can't believe that such a vast amount of land was dedicated to tea leaf planting. It was fascinating to learn about its long history, the passion people have for it, and the amount of work put into producing a plantation.
It's safe to say that I didn't really understand the hype around drinking tea. But after the visit to Boh Tea Plantation, I will never look at a cup of tea the same way again. I even enjoyed tasting a type of tea at the visitor's café.
Why Cameron Highlands is on My Favorite Travel List
After a short trip to the Cameron Highlands, I realized that a one night stay is not enough. There are just so many things to see and do.
Some of my travel companions had the opportunity to walk around the village and some of the sloping terraces. They absolutely love it. As for me, my favorite moment in Cameron Highlands was when I was sitting on the balcony of the apartment in Brinchang overlooking the countryside during the late afternoon.
It was just so peaceful, but not entirely quiet. I could hear the stream flowing down below and the humming of birds and insects. It was so refreshing to be out of the city; to see more hills and trees than cars and skyscrapers, and to breathe fresh air complemented by a comfortable climate.
Cameron Highlands provided me with the scenery and atmosphere to relax and calm my mind; to think and reflect. Sitting on the balcony and waiting for the sunset, my travel companions and I didn't talk much, but we had smiles on our faces.
Nightlife in Cameron Highlands
Brinchang and the other towns in the Highlands for that matter, do not offer a pulsating nightlife scene, except for some restaurants that open until 10 pm.  Thus, the place can get boring for night owls. But because I was with a group of cool people; the night in our huge rented apartment in Cameron Highlands, turned out to be a memorable night full of laughter, interesting stories, singing and a game of taboo, (which I arguably dominated.) It was a perfect time and setting to learn a little bit more about the people I decided to take a trip with.
So note to future visitors to Cameron Highlands: Unless you desire a quiet and cold evening for yourself, travel to Cameron Highlands, with family and friends. It's always a good idea to warm your hearts with human companionship during that cold Cameron night.
And if there's one thing this short weekend getaway to Cameron Highlands reminded me of, it would be one of my favorite movie quotes – "A place is only as good as the people in it."
Where did we stay in Cameron Highlands?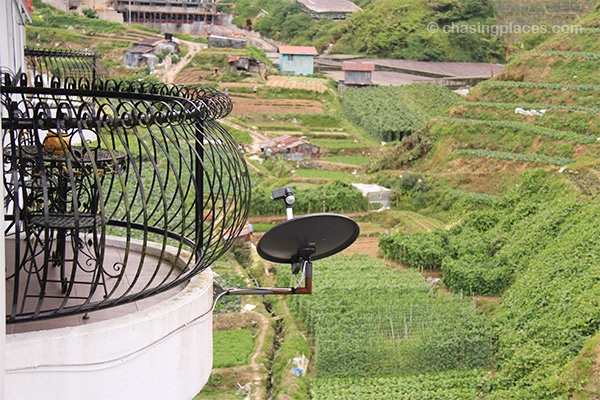 During our trip to Cameron Highlands we wanted to stay as close to the public market in Brinchang as possible.  The property we stayed at has since changed ownership, but that doesn't mean there aren't other solid options in the area.
Many of the hillside apartments in Brinchang look quite similar.  Therefore, it comes down to the way they are managed.  I would suggest checking out the most highly rated places based on verified guest reviews before you book.  At the time of writing these were the most positively reviewed properties:
How to find the best room in Cameron Highlands? Suggestions.
Instead of just booking a random place to stay in the Brinchang area it's best to look at a map and find out exactly where you would like to stay.
Cameron Highlands is spread out, therefore if your seeking a remote, quiet place, versus one that's convenient and close to service amenities then your selection would vary greatly. I suggest using one of these three large accommodation providers to find competitive prices and enough selection to suit your preferences.
We used www.agoda.com for our reservation in Brinchang. Since it's the largest room site in Southeast Asia it had plenty of selection.  At the time of writing they offered over 150 different properties in Cameron Highlands.  Here is a link to their property list:
This site is perfect if you're planning your trip to Cameron Highlands well in advance. The bonus of using www.booking.com is that they offer many cancellation-free rooms at solid prices. Therefore, you can secure qualities rooms without any added risk.  Here is a link to their properties in Cameron Highlands:
This is our favourite price comparison site for rooms around the world (including Malaysia). Within seconds you can compare prices and find the best deals. Why jump from site to site when they're already included here?  Below is a link to their effective price comparison feature:
Related Posts
Article Last Updated in May, 2018