If you have spent so much time enjoying the sandy stretches on Ko Phi Phi, then maybe it's time to do something different? One of the many things to do while on this gorgeous Thai Isle is to hike up to Phi Phi Viewpoint.  This particular activity involves lots of sweating, blood pumping, and did we mention climbing up 1000 feet?  Yes, the trip can be grueling depending on your hiking experience; but believe us when we deliver this cliché line: It's all worth it!
There is no place on the island that can give you the most photogenic view of Ko Phi Phi Don, with its towering limestone karsts,  its distinct isthmus that splits the island into two, and the shimmering emerald colored Andaman Sea.  You can even get to see the smaller Ko Phi Phi Leh in the distance from Phi Phi viewpoint.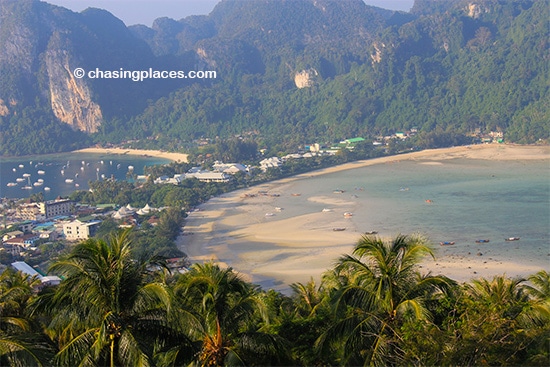 Phi Phi viewpoint actually consists of more than one lookout spot. After getting to the first and most popular spot, there are two others to consider visiting.
Getting to the Viewpoint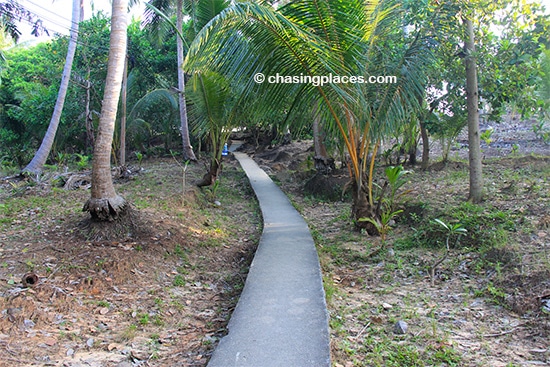 You can reach Phi Phi viewpoint by walking towards the dam area.  There is a path just opposite to the road where the Phi Phi Dream Resort is located.  Take that path and follow the sign to avoid getting lost. Before you get to your destination, expect to go up myriads of steep steps and navigate through narrow winding paths; but never lose sight of what you came for in the first place. Who knows Phi Phi viewpoint may inspire you to go for higher and longer treks in the future. It would be a great travel story to tell!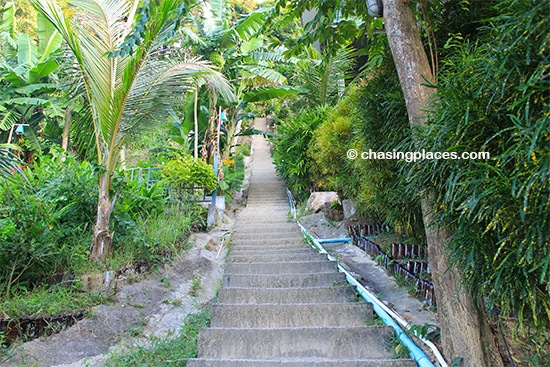 Travel Checklist: Do you have everything you need?
Tips
As you may have already guessed, Ko Phi Phi is a tropical island that gets a lot of sunny and humid days. So the best time to make your way up to the Viewpoint is during early morning or late afternoon, before that dramatic sunset. Early in the morning the sky tends to be clearer because there is less moisture in the air.
Bring your choice of sun protection and plenty of water to avoid dehydration.  You can also bring some snacks, just be a responsible traveler and bring back your rubbish with you! Also, be respectful of the locals living near Phi Phi viewpoint. Please refrain from drinking alcohol while at Phi Phi viewpoint due to the religious beliefs of the property owners.
Make sure you have cash with you as there cash as there is an entrance fee of 20 Baht (subject to change).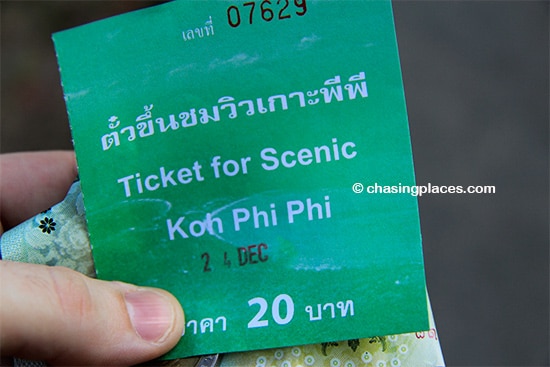 Finally, whatever happens, don't forget to bring a good camera to capture the panorama. But don't just see the beauty of Ko Phi Phi through the lens. Take the time to really look at it with your eyes and to enjoy the serenity of nature on top of the hill. Only then, can you say that you have experienced Ko Phi Phi viewpoint.
How to find the cheapest rooms on Koh Phi Phi?
Koh Phi Phi is loaded with accommodation options.  Everything from low budget to 5 star amenities.  The problem is the top places to stay get filled up quickly leaving shabby rooms near the party areas vacant during busy nights.  Avoid this by booking early (we learnt our lesson the hard way – with pulsating music keeping us up until 3 a.m.. The best site for booking rooms on Koh Phi Phi is www.agoda.com (the largest booking site in Thailand). If Agoda isn't your top choice then consider www.hotelscombined.com. We use their price comparisons all the time to find the cheapest rooms in Thailand (and all over the world). To save you time, here are the:
Top Rated Properties on Koh Phi Phi 
Based on Verified Guest Reviews
Important: Mobile Users must swipe from left to right to see entire table. 
Properties rated based on 'overall' review scores from each respective website's verified guests.
Minimum of 50 verified guest reviews required to be considered eligible for comparison.
All star ratings and verified guest review scores are tallied at the time of writing, and therefore, are subject to change.
Accommodation Map of Koh Phi Phi: Top Rated Properties
You can also compare hotel prices by different providers by using the Search Box below: