First Impressions of Colombo
I expected Colombo to be bustling and beautifully chaotic; and in some parts especially in the port area, it was. But as my travel companion commented, it is not the same as Mumbai, India. Indeed, travelers in the past, have been tempted to draw a comparison between the two neighboring South Asian countries.
The busiest section of the city is (not surprisingly) the center, referred to as Colombo Fort.  Here, the main roads converge and they are made busy by dozens of agile tuk tuks (three wheeled taxis) whipping around the bigger vehicles in hopes of getting a passenger.  And because there are way too many tuk tuks than potential passengers, the result is far from smooth traffic flow. The roads may be busy, but the commuters on the road did not give out a very impatient and hurried vibe which I usually get from larger city dwellers. Perhaps it is the calm continence that their main religion (Buddhism) is teaching, or the fact that Sri Lanka is still an island; but the people in Colombo were much more relaxed than their urban environment would predispose them to be.  Sure, it is as colorful and cultural as India; with women wearing multicolored sarees and the smell of curry everywhere. But as I see it, Colombo, and the rest of Sri Lanka has its own identity, plays its very own mellow groove, which I, of course, eagerly wanted to dance to.
Finding a Suitable Driver
Colombo is a big enough city that it is hard to get around without any kind of transport. It is also quite hot and humid that it will surely make you feel uncomfortable walking around the city for hours, even in the morning. But we attempted to walk around the busy port area anyway. And sure enough, not only did the heat and humidity eventually get to us, but also the thick dark smog given off by various vehicles paid its toll.
To see all of Colombo's most notable spots; we came up with an ingenious plan.  We decided to hail a few tuk tuk drivers to ask them if they could take us around the city for 3 hours. We were quite particular with the driver we wanted. We wanted someone with decent English, and who seemed friendly and fair. We  encountered this religious Sinhalese driver named Yunis, who was willing to do it for a fair price. He knew the city quite well and he freely suggested sites we could visit. It did not seem like it was the first time he had to tour around tourists (so it was not an ingenious plan after all).   We already had a list of Colombo attractions we read about and picked his brain about them.  Soon enough, we came up with an itinerary with the most convenient route.  This was the point when our tuk tuk adventure around Colombo began.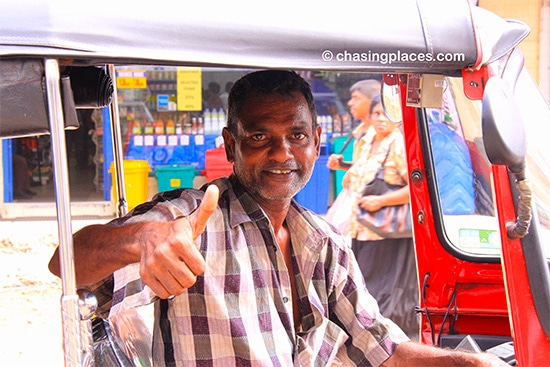 Must – See Attractions in Colombo
Pettah 
At the east end of Colombo Fort is the neighborhood of Pettah, where the city's most bustling markets are located. Since our hotel was near this spot, we headed out to Pettah first, particularly the Manning Market. The market was supposed to be one of those "open concept" street types, but we only saw a few stalls selling fruits and vegetables. We later found out that the main market is typically closed on Sunday.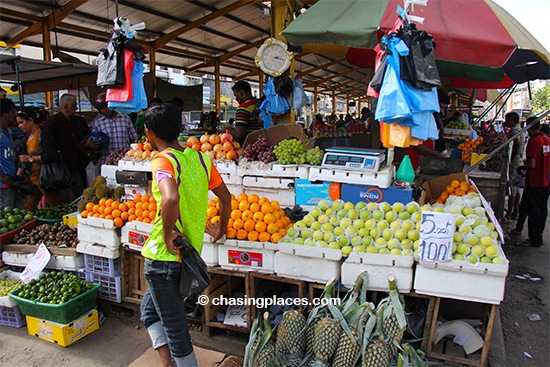 Slave Island and the Buddhist Temple
Our driver took us for a ride to Slave Island. Though this neighborhood has always been called this name, it is not actually an island, but instead, a part of the main land. According to history books, the area was surrounded by water before.  It also earned its name because this was where slaves were kept during the Dutch Colonial era.  Like the Fort Area, Slave Island is one of the oldest districts in the city.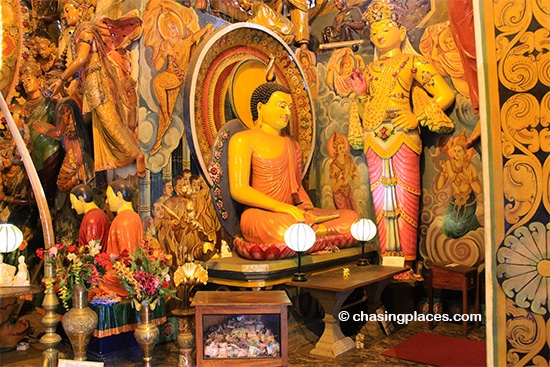 Yunis (the driver) highly recommended that we should stop by the Gangaramaya Buddhist Temple; and so we did.  He got off his tuk tuk and brought us all the way to the entrance. He then continued to walk with us around the grand temple. We could see the enthusiasm and pride in Yunis as he showed us around. It was obvious that he was a devout Buddhist, as most Sinhalese people are. Gangaramaya turned out to be a delightful surprise. It was very interesting to learn the tremendous number of precious items and treasures housed in the temple. Apparently most of them were gifts from political figures, rich personalities and devotees. The temple is equipped with a museum and a library. During our visit, a section was blocked off from the public because the head monk supposedly was having an important meeting with other influential figures.  The security around this area was fairly strict.
Cinnamon Gardens and its Town Hall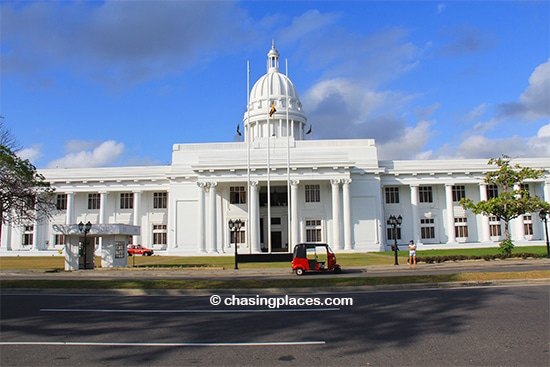 After the temple stop, we then continued on to Cinnamon Gardens. In this neighborhood, there isn't really any particular attraction; but some tourists come here for the atmosphere. While most of Colombo is rustic and old, you can say that the Cinnamon Gardens is the face of the modernization and growing wealth in Sri Lanka after the civil war. The district is evidently more upscale. Our driver had to stop at some point so we could take a photo of the Old Town Hall, which locals fondly refer to as the "White House" because of its striking similarity to the home of the U.S. President in Washington D.C. Just across this magnificent building is the well-landscaped Viharamadhevi Park.  The Cinnamon Gardens neighborhood is also the home of the National Museum.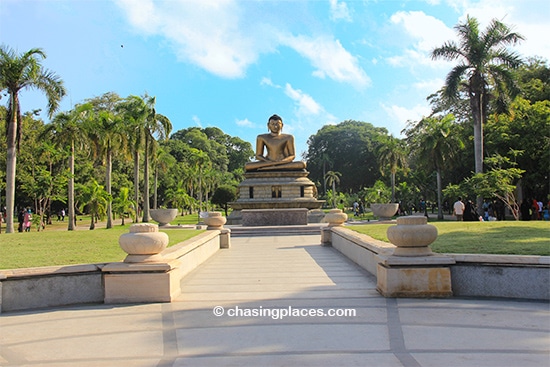 Travel Checklist: Do you have everything you need?
The Fort Area
Colombo's Fort area is a tourist hub and the historic heart where you can find the old colonial-era structures in the city. Thus, it only made sense to head out there at some point.  There are many attractions in the Fort like the Old Galle Buck Lighthouse and the clock tower, but perhaps the most notable of them all is the Old Dutch Hospital. We told the driver that this was our last stop and that he could leave us here to fend for ourselves. Technically, the fort area was close to our hotel, and so you could say, that we did a distorted full loop.
I was expecting to see an old preserved hospital turned into a dignified museum, but I was quite surprised. The Old Dutch Hospital's structure and sections still remain intact; but I did not see any preserved hospital beds, emergency rooms or clinic wards. Instead, the building was turned into a chic commercial complex filled with fancy boutiques and what probably were, the most luxurious restaurants in Colombo.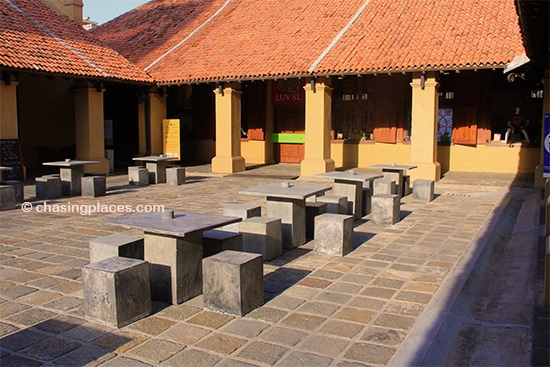 By the time we were done exploring the complex and sat down for some refreshments, it was already late in the afternoon, and sunset was just around the corner.  So after a much needed, yet quick rest, we walked just about a kilometer to the coastal spot known as Galle Face Green.  I did not know why it was originally called this but it's a wide spacious spot, with some patches of grass, facing the sea. During our visit it was filled with locals walking around and buying snacks from hawker stands. And though it was arguably busy, there was something wonderfully serene and beautiful about seeing the sun bid the day goodbye at Galle Face Green. It was truly a fitting ending to a tuk tuk adventure around Colombo.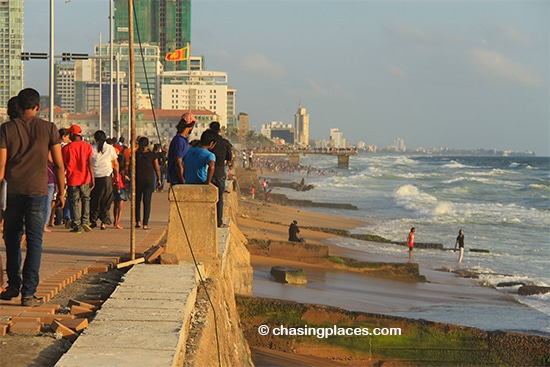 If you are heading to Colombo anytime soon, I would recommend getting accommodation near the Galle Face Green to capture the sunset if your budget can allow for it. Some of the city's nicest hotels  are in the vicinity of Galle Face Green, but budget options tend to be dispersed all over Colombo.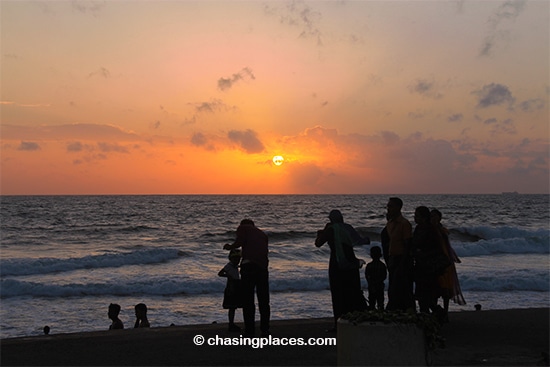 Where Did We Stay in Colombo?
During our visit to Colombo, we decided to stay at Port View City Hotel. This boutique hotel is the perfect choice for us because it fits our budget and it is only  a 20-minute walk away to the Colombo Train Station. Since commuting around busy Colombo can be headache during peak hours, we wanted a place close to the station to minimize the risk of missing our train connections. Port View City Hotel is a clean and well-managed property. At the time of writing, Port View had a score of 7.4/10 based on 208 verified guest reviews on Agoda.com, a huge hotel provider, well-known particularly in Asia. 
How to find the best hotel deals in Colombo?
Colombo doesn't have the largest selection of rooms (considering that it's the capital of Sri Lanka).  Therefore, try a large booking provider otherwise you might waste your time.  We used three different sites while staying in Colombo and the rest of Sri Lanka: www.agoda.com, www.booking.com and www.hotelscombined.com. We found Hotelscombined particularly useful because of their price comparison searches prior to booking. If you can get a room in the vicinity of the Galle Face Green it's a nice area of the city.
To save you time, here are the:
Top Rated Properties in Colombo
Based on Verified Guest Reviews
Important: Mobile Users must swipe from left to right to see entire table.
Criteria:
Properties rated based on 'overall' review scores from each respective website's verified guests.
Minimum of 50 verified guest reviews required to be considered eligible for comparison.
All star ratings and verified guest review scores are tallied at the time of writing, and therefore, are subject to change.