Travelers who are booking a flight to Sri Lanka usually land at Bandaranaike Airport. Bandaranaike is a regular-looking and decently sized airport that is not hard to navigate. As soon as our plane arrived, we breezed through immigration and into the lobby area with no complications. Below is a step-by-step guide on how to get from the international airport to Colombo.
1. Choose your mode of transport.
As other airports, Bandaranaike Airport is equipped with airport car service desks that provide transfers to hotels in the Colombo area. The rate is around Rs 3000 – 4000. You should also expect to see some men, presumably taxi drivers, offering their independent services once you step out of the airport arrival area. Their asking rate is anywhere from Rs 2000 – 3000 to get to Colombo. It is also possible to ask them to take you to Negombo or even Galle.
Average Rate: 
Negombo – Rs 1500
Galle – Rs 5000
Although there is a dedicated taxi desk with set prices, you can also encounter taxi drivers who are willing to negotiate the costs.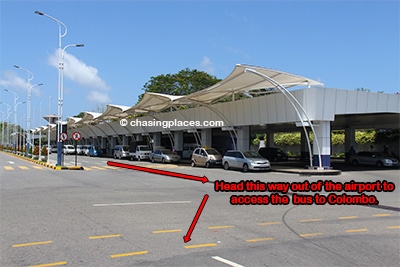 2. If you want to take public transport, then take the bus service that goes to Colombo Fort Station- the main train station in the city.
You may read in some guidebooks that there is a free shuttle that takes passengers outside the arrival area to where buses heading to Colombo are parked. However, in our experience, we were able to take the local bus that goes directly to Colombo Fort station just by walking a few meters outside the airport.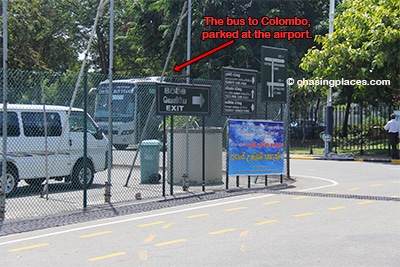 The bus is hard to miss as it is conspicuously parked with taxis and has a sign on top of its windshield that reads "Colombo Fort." You will also see a flow of passengers getting on it with their luggage.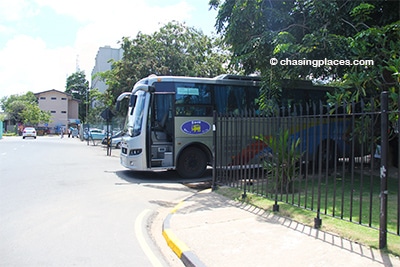 3. Pay your fare.
Once you're settled in your seat, a person (also referred to as bus conductor) will walk through the isle to take the fare. We paid 250 rupees for two people. This rate is very cheap given the number of kilometers the bus has to cover.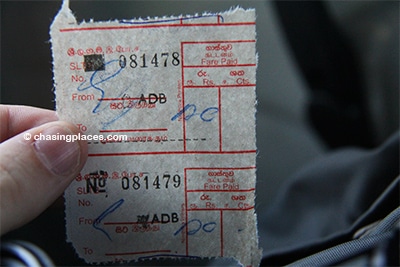 In the past, public buses from the airport took almost two hours to reach Colombo. But because the new Colombo-Katunayake Highway is now opened, the journey is significantly shortened to less than an hour.
Once we got dropped off in Colombo we got a quick ride over to our hotel with our luggage and we were good to go.
Travel Checklist: Do you have everything you need?
Getting from the Colombo Area to Bandaranaike Airport
1. To take the public bus to reach Bandaranaike Airport, make your way to the Bastian Mawatha station. This bus service leaves every 15 minutes starting at 6 am up until 9 pm.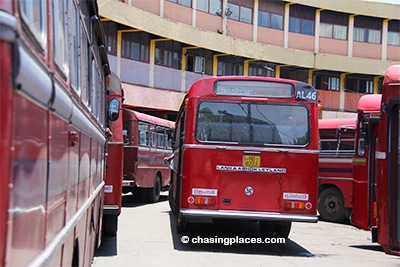 2. You can reach Bastian Mawatha by taking a tuk tuk or taxi. All drivers should know where this station is. If they say they don't, don't attempt to show them, as it may end badly.
3. Once you arrive at the bus station, it is somewhat difficult to find the correct bus heading to the airport. We managed to quickly find it by asking a few locals who kindly directed us to the correct bus.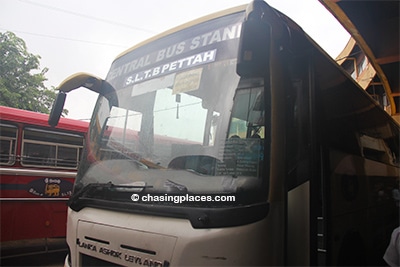 Where did we stay in Colombo?
While we were researching for rooms in Colombo we found it quite challenging to find 'cheap' budget options that were rated favorably by past guests.  Our main priorities were conserving our budget and finding something close to the train station for connections to cities such as Kandy and Galle. Eventually, we decided to book at Port View City Hotel. We have no direct affiliation with this property or any property in Sri Lanka. Therefore, our opinion is an unbiased one. Overall, the place itself was a well-managed property.  Our room was spacious, clean and everything worked well (television, air conditioning, etc.). The road it was located on was a bit busy for our liking though.  Quite challenging to cross the street at night. It took us about 20 minutes to walk to the train station. At the time of writing is had a score of 7.4/10 based on 208 verified guest reviews. We consider this to be a fairly accurate representation of this property based on our experience there.
I would recommend staying near the Galle Face Green if you're budget can allow for it. We felt that this was a much nicer part of the city to stay in.  Here are a few favorably reviewed properties near the Galle Face Green based on our experience and research:
Cinnamon Grand Colombo (rated 8.4/10) 
Taj Samudra Colombo (rated 8.1/10)
How to find good hotel deals in Colombo?
Finding affordable, safe and clean rooms in Colombo is not a particularly easy endeavor.  Therefore, to save valuable time and effort we recommend using the world's top hotel comparison site.  Within seconds you will have the best selection of rooms in Colombo based on the prices of leading providers around the world. If you always book with www.agoda.com or www.booking.com they are also solid options in Colombo, with Agoda having slightly more rooms to choose from.  All of these sites are quite reputable, therefore they are a good place to start your search. To save you some time, I have included links below to their respective properties in Colombo:
Top Rated Properties in Colombo
Based on Verified Guest Reviews
Important: Mobile Users must swipe from left to right to see entire table.
Criteria:
Properties rated based on 'overall' review scores from each respective website's verified guests.
Minimum of 50 verified guest reviews required to be considered eligible for comparison.
All star ratings and verified guest review scores are tallied at the time of writing, and therefore, are subject to change.
Flight Information – Getting to Colombo
What is the closest airport to Colombo?
The closest airport to Colombo is Bandaranaike International Airport (airport code = CMB). It's around 34 km's from Colombo's city center.
Do major airlines fly to Bandaranaike International Airport?
The answer is yes.  Emirates, Etihad, American Airlines and a solid range of other airlines service Colombo from destinations all over the world. Therefore, if you book your flight using a price comparison site that bundles codeshare flights, you should have no problem finding a flight to Colombo from your city of origin.
How can you find the cheapest flights to Colombo?
Colombo (Bandaranaike International Airport (airport code = CMB) is not the biggest airport hub when compared to London or Hong Kong for instance. Therefore, the smartest strategy for finding the cheapest prices is starting off with a price comparison site and then narrowing down your search from there.
In our particular case, we used BookingBuddy for our trip to Colombo. It saved us quite a bit of time because it allowed us to search up to 8 different sites at the same time.  Here is a link if you want to get a feel for the prices to Colombo from your city of origin:
COMPARE FLIGHT PRICES TO COLOMBO – BookingBuddy
How many terminals are located at Colombo International Airport?
There are three terminals at Bandaranaike International Airport. 
Terminal #1: International Flights
Terminal #2: Under construction in 2017.
Terminal #3: Domestic Flights
If you have any questions or comments regarding our connections to/from the airport please feel free to share below.