Unawatuna is arguably the most popular beach town in the southern region of Sri Lanka. About 6 kilometers from the famous fort city of Galle, this coastal community is popular among day trippers and domestic tourists who are looking for a quick beach getaway.
There have been some complaints that Unawatuna Bay is not quite as impressive as before the Tsunami due to the recent development very near the shoreline. In the Lonely Planet guide book, the writer correspondent ranted about how big concrete buildings were distastefully built on the upper sandy portion of the beach.   However, during our conversation with some locals, they are saying that the beach's upper sandy portion had to be blocked by concrete structures due to the high rate of erosion.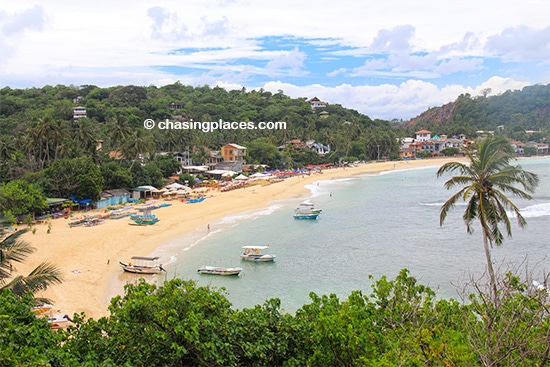 Despite this confusing issue, Unawatuna remains to be a very attractive beach. Its western side  still has ample sand to enjoy; and this sand feels powdery and exudes that lovely off-white/honey color. It is well complemented by the surrounding clear blue water that shimmers like liquid jewels under the heat of the sun (sorry I get poetic when I see a beautiful beach).  Although the current is stronger along some parts of the beach, the main bay does not generate large enough waves to be a real surfing spot.  But it is however, a rather pleasant beach to swim, especially because it gets immediately deeper if you go a few meters from shore.
Unawatuna has earned the reputation of being a party beach. Indeed, there are enough bars in the area to make this claim highly plausible. However, during our visit in September, it was surprisingly mellow, which led us to believe that the 'wild parties' only happen during the peak season, which according to locals, is around November to January.
The beach is equipped with chairs and umbrellas, and of course they are not for free. But if you buy something from a beachfront restaurant, you can sit on one of their beach chairs, which is not a bad deal. Aside from the umbrellas, there are barely any shaded spots on the beach. Now and then, you will see some local women walking around selling sarongs. Some of them are as cheap as 200 rupees, but they are not the best quality.
Make sure you will buy something if you ask these women to come over. I learned this lesson the hard way when I examined the sarongs for a few minutes and ended up not buying anything. I was given the most disapproving and disappointed look I have ever received while traveling. It was, to say the least, awkward!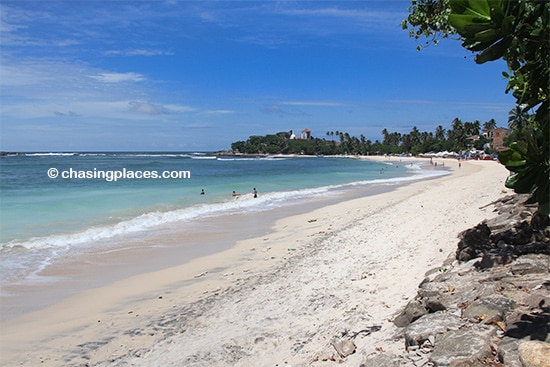 Jungle Beach
Jungle Beach has sort of become a legendary spot for revelers who make their way here Wednesday night for a DJ party by the beach.  As the name suggests, the beach is actually a small bay surrounded by a thick forest, about 3 kilometers from the main Unawatuna beach. But Jungle Beach is not only an evening destination. In fact, the waters around it, offer excellent snorkeling opportunities. And because this bay is sheltered by strong currents and waves, it is also an ideal spot for swimming.  Jungle Beach can be accessed by boat or a tuk tuk can also bring you to the entrance of the beach but you have to do a bit of walking.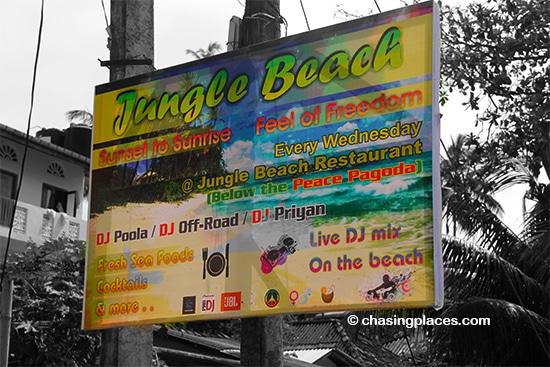 In our case, we decided to walk the entire 3 kilometers from the main narrow strip and through the forested and rocky path.  We did not find it hard to reach the beach because there are plenty of signs in Unawatuna that guide visitors. Once you get off the paved road and into the jungle, you just need to follow a well-marked path, and you will soon arrive at this lovely bay. If you have no intention of mingling with the party crowd, hike to Jungle Beach in the morning when the sunlight is not too strong and piercing. It is actually a very serene place that gives you the feeling of isolation.
Travel Checklist: Do you have everything you need?
How to Get to Unawatuna from Galle
You will find Unawatuna on Route A3 Galle, which is also referred to as Matara main road. Most visitors access the town from Galle Fort. But you will most likely be charged an inflated price if you hire a tuk tuk (three wheeled taxi) within the fortified town.  In our case, we went to the market place and bus terminal area just across the fortified walls. Here, we found a line-up of tuk tuk drivers. The initial price the drivers wanted to charge us was 400-500 rupees. Of course, you can always haggle to bring it down to 300.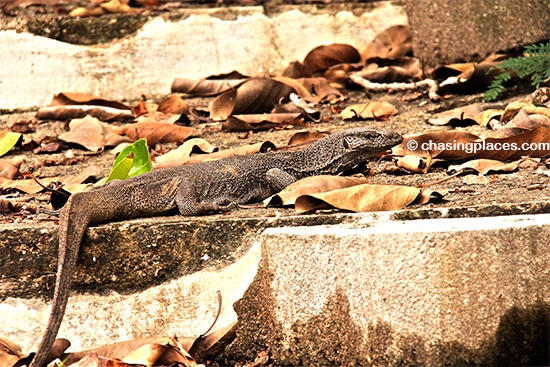 Finding the Cheapest Rooms in Unawatuna
Inform the tuk tuk driver that you would like to go to the beach area where there are guesthouses and hotels. The drivers usually know enough English to understand what you mean. Some of them will attempt to bring their passengers to a specific lodging facility so they can get some kind of commission. If you do not like this idea, you can simply walk out onto the main narrow road that leads to the coastline. As mentioned, resorts, guesthouses and hotels are clustered around the bay area, so you won't have any trouble finding and choosing a place to stay.
However, this task may not be so simple and straightforward if you come during the peak season. During busier times, it is better to book hotels online and ahead of time to secure a room for the night. During our visit in September; it was fairly quiet, so we had the luxury to ask around for a nice place and negotiate the price with the manager.
Based on what we saw, the guesthouses offer spacious and clean rooms; but their standard rooms do not usually come with air conditioners. You have to pay a lot more to get a room that has one. Unawatuna receives  a constant fresh breeze from the sea so a night without air conditioning is tolerable for a lot of travelers.
Mosquitoes are apparently rampant and vicious in Unawatuna. Most guesthouses do not have bug screens attached to their windows, but they do have mosquito nets covering their beds. But just to make sure, bring mosquito repellant to avoid scratching the whole time.  I know I did.
There are two large hotel sites that we used during our trip to Sri Lanka: www.agoda.com and www.hotelscombined.com. It might be best to compare their prices prior to booking.
Getting Around Unawatuna
Unawatuna is a small enough that you can get around on foot without any issues.  If you need to go somewhere farther like the Dutch Fortress in Galle or the Hikkaduwa area, you can always ask a tuk tuk to bring you. You can even arrange with the driver to tour you around for the entire day, but make sure you have the idea of the usual price for this to if you don't want to get ripped off.
Activities to Enjoy
Unawatuna Bay is surrounded by coral reefs and is teeming with fish and seashells. It is a great place to snorkel but there are times the current can be too strong for inexperienced snorkelers. You can rent snorkeling equipment from a shop or a guesthouse. Some guesthouses like the one we stayed at lend them out for free. If there are snorkeling opportunities, scuba diving is most likely also viable. You can easily spot a few diving shops along the beach. They are quite friendly and easy to approach.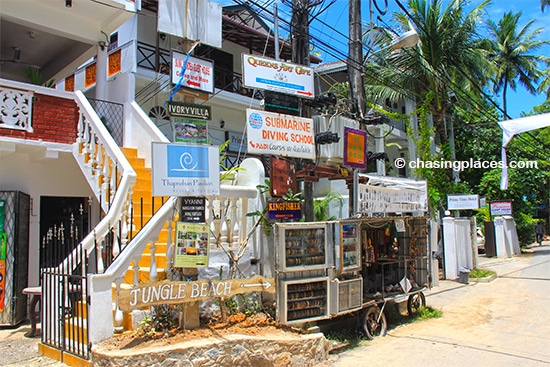 Swimming conditions in Unawatuna Bay are generally fine especially if you stay near the shore. Sometimes the current is strong so be cautious if travelling with children. Some people usually swim from the middle section of the beach all the way to the rock islands. If you get lucky, you may even see a giant sea turtle swimming alongside you!
Beach bums prefer to just stay on the beach and tan all day, but if you get bored you can walk along the sandy stretch, all the way to the Buddhist shrine on a rocky promontory at the end of the beach. The shrine is not big but the Buddha statue is quite photogenic. Excellent aerial views of Unawatuna Beach can be captured here.
Dining Experience
Most of the resorts in Unawatuna maintain their own restaurants. Western dishes are generally pricier than others. Most restaurants will charge an average of 8-12 US dollars for a typical western meal that includes meat, French fries and salad. We found that the cheapest dishes on the menu are curries, but we had no complaints as they were usually delicious.
You can readily buy alcohol from the beachfront bars and restaurants. But in a warm afternoon, a fresh yellow king coconut may be your best companion.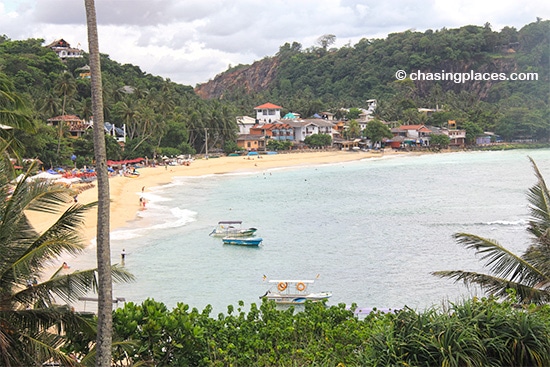 Last Reminder:
The main Unawatuna town does not have ATMs, so make sure that you bring enough cash to last during the duration of your stay. Based on our travel experience, compared to other parts of Sri Lanka, Unawatuna accommodation and dining prices are higher due to international tourism.
Final Words
Overall, our two-night stay at Unawatuna turned out to be quite satisfying and a worthwhile experience. Staying on the coast and enjoying the beach scenery and vibe  for a couple of days provided nice balance to a trip that involved exploring ancient towns and the lush hill country. Unawatuna's Bay beauty is undeniable; but because of its popularity and convenient location, it has all the potential to bring in the crowd. Fortunately for frontier travelers, there are always more quiet, less developed beach spots along the vast expanse of Sri Lanka's southern coast.