Souk Madinat Jumeirah is one of the top things to see in Dubai.
Why?
Madinat Jumeirah is the whole package, a new development full of delightful surprises. It is meant to look like a traditional Arabic village but with modern and posh flair.
The complex sits on an artificial island. It is made of clustered buildings which serve as hotels, villas, and restaurants. It features a very attractive outdoor area, surrounded by an elaborate man-made canal network – perfect for sightseeing and relaxation.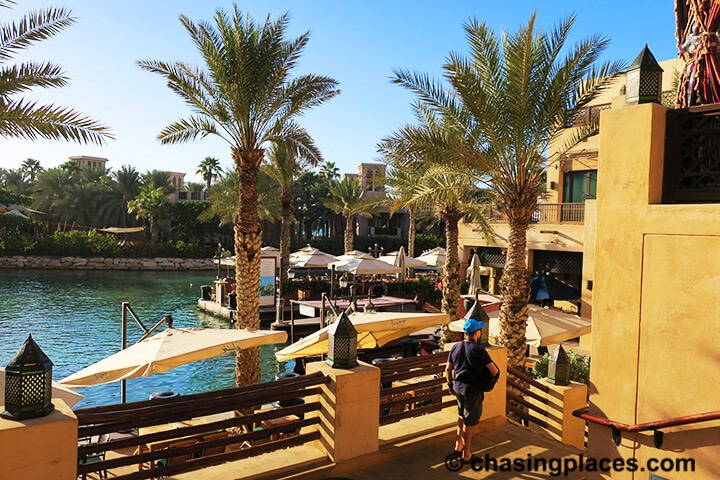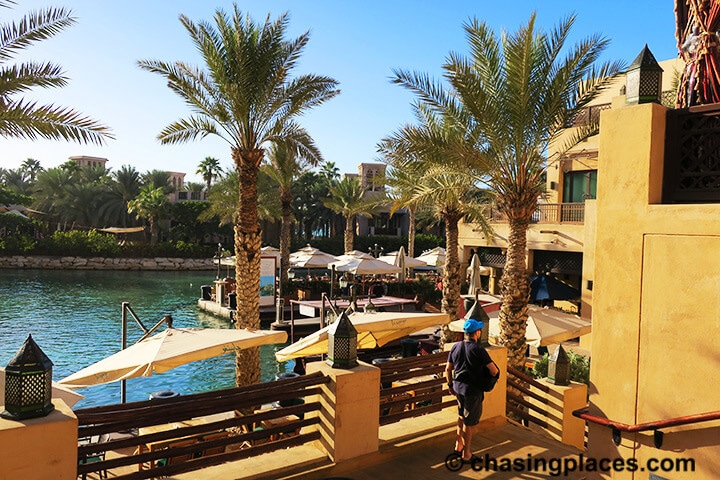 Here are the steps to getting Madinat Jumeirah, Dubai Using Public Transport
Locality Orientation: Souk Madinat Jumeirah, as the name suggests, is located in the Jumeirah neighborhood of Dubai.
Perhaps this is one of the least populated places in Dubai so they decided not to build a Dubai Metro in the area?  Thus, to get to Souk Madinat Jumeirah, you may have to take a taxi or Uber to get there.
Step 1: Take the Dubai Metro and get off at the Mall of the Emirates Station.
The Mall of the Emirates Station is 32nd Station on the Red Line of the Dubai Metro Network. This is the closest Dubai Metro Station to Madinat Jumeirah.
Perhaps you could also explore the Mall of the Emirates before making your way to Madinat Jumeirah as suggested in our sample Dubai itinerary.
Step 2. From the Mall of the Emirates station, take a taxi to Souk Madinat Jumeirah.
The distance between Souk Madinat and Mall of the Emirates is only 2.8 kilometers. Thus, the taxi ride will only last around 6 minutes and won't cost too much.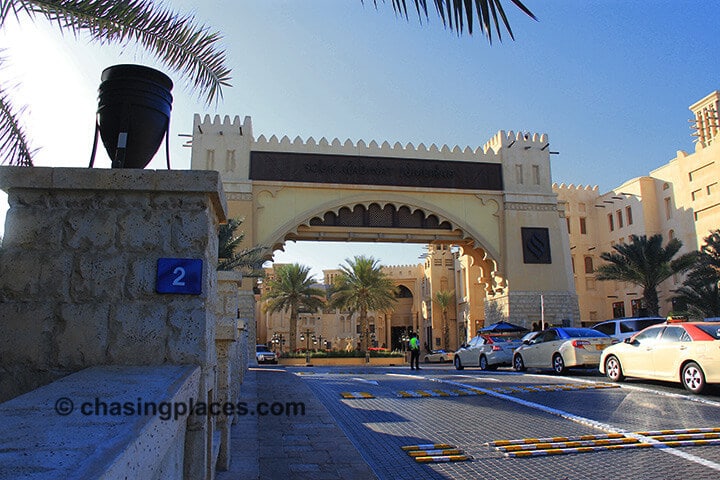 In our particular case, we actually walked all the way from the Mall of the Emirates Station to Souk Madinat Jumeirah. The weather was beautiful and we wanted to get some exercise.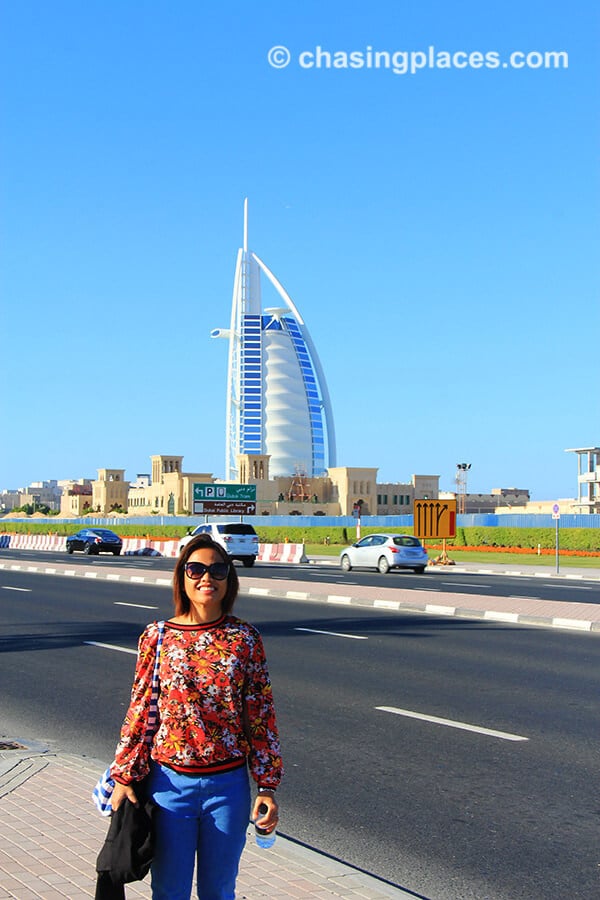 Taxis are easy to get from the Mall of the Emirates to Madinat Jumeirah.  The driver will take you right at the entrance of the souk complex.
Travel Tip: Taking the BIG BUS DUBAI TOUR
Another way to get to  Madinat Jumeirah is to go on a BIG BUS DUBAI TOUR. A number of Dubai tourists find this tour very convenient because it allows them to visit several main attractions in Dubai all in one day.
Passengers of the BIG BUS Dubai can sit on the open-top  second deck of this two-decker bus and get great views of Dubai while going to one attraction after another.
I've tried a BIG BUS tour before, and it was a wonderful experience. I highly recommend to tourists who find it more difficult to commute (elderly and family) or those whose time in Dubai is quite limited.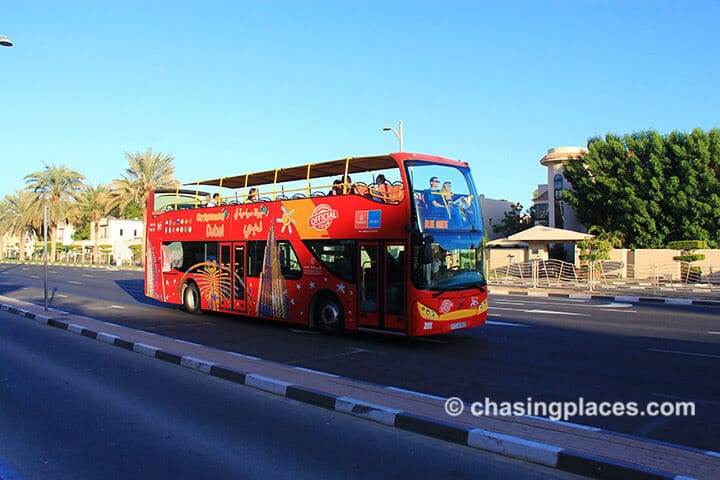 How to Use BIG BUS Dubai?
BIG BUS DUBAI is a hop-on, hop-off bus tour service that also comes with a tour guide. You have the choice to stay on the bus as it momentarily stops at every major site in Dubai.
With your BIG BUS ticket, you can also get off at any stop and take your time exploring. When you're ready to go,  you can just wait for the next BIG BUS on a designated stop.
Each attraction on the BIG BUS tour route has a designated stop area. You usually get on the bus in the same area where you got off.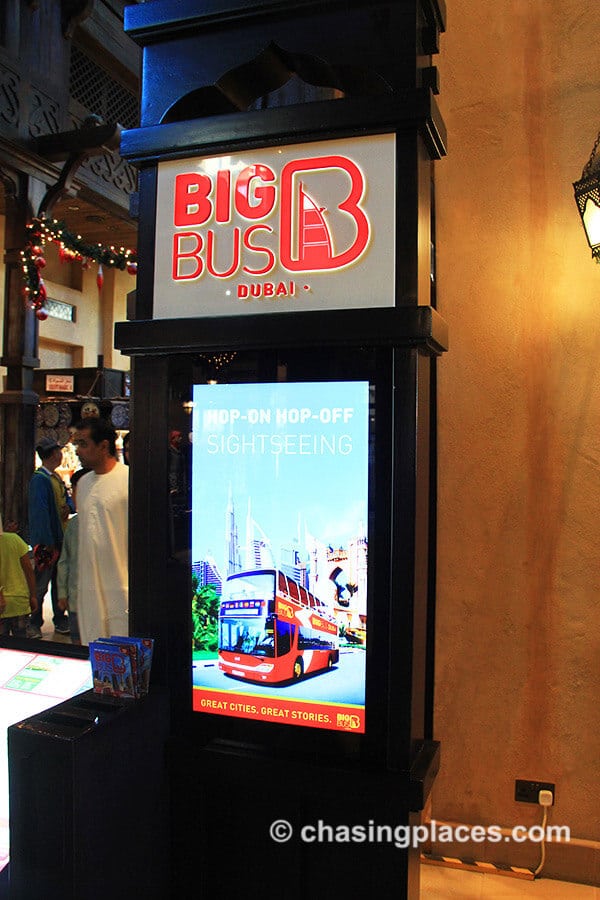 What's Inside Madinat Jumeirah
The interior section of Madinat Jumeirah consists of a covered souk. It infuses traditional souk design, but the modern touches are undeniable. Inside, you will find covered alleyways designed with stone flooring and large wooden beams that lead to various shops.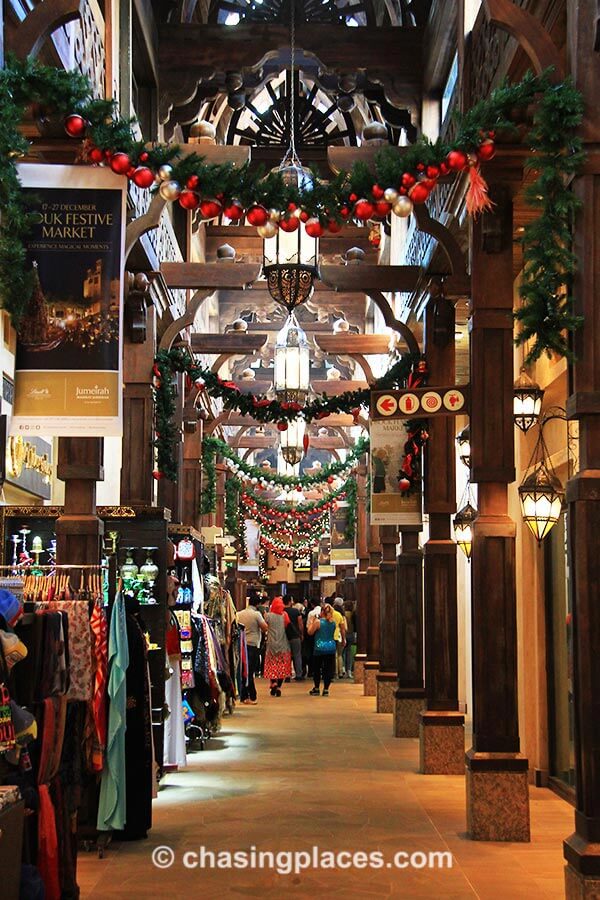 These shops mostly sell goods and items famous in Dubai and can be brought home as souvenirs and gifts. Souk Madinat Jumeirah was definitely constructed with tourism in mind.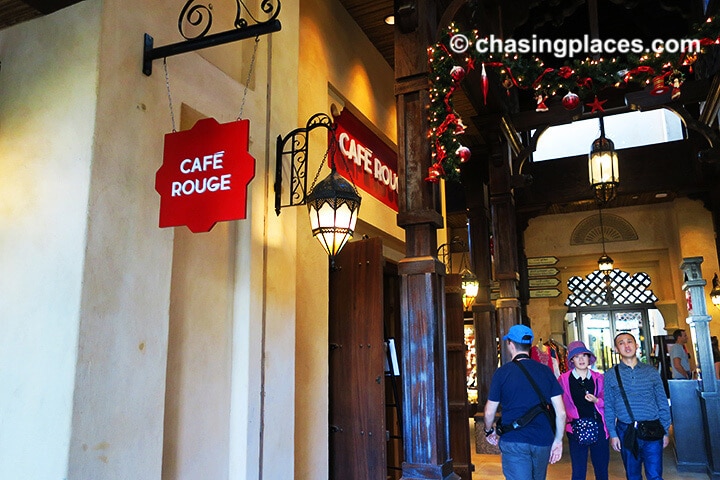 Although there are more traditional souks in Dubai, shopping in Madinat Jumeirah is a different experience. It is more relaxing, less crowded and of course more luxurious. The fully air-conditioned interior of Madinat Jumeirah is well maintained and is it also equipped with restaurants and cafes to ensure that guests have a relaxing shopping experience.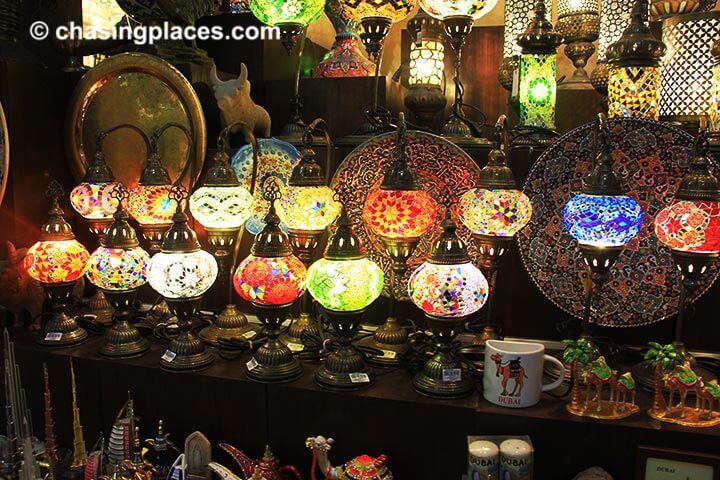 Travel Checklist: Do you have everything you need?
Outdoor Area of Madinat Jumeirah
The outdoor section of Madinat Jumeirah is arguably more impressive than its interior.
Once you reach the outdoor portion of the complex, you will see the water promenade. To your back, you will find beautiful buildings, all sand-colored and some of which are designed to look like watchtowers.  When I saw this lovely layout, I couldn't help but be pleasantly surprised and impressed.
The outdoor section is filled with charming and quite elegant restaurants and cafes, most of which are equipped with their own outdoor patios or balconies for al fresco dining. And I don't blame anyone who chooses to dine outside at these restaurants, the views that I saw are simply breathtaking!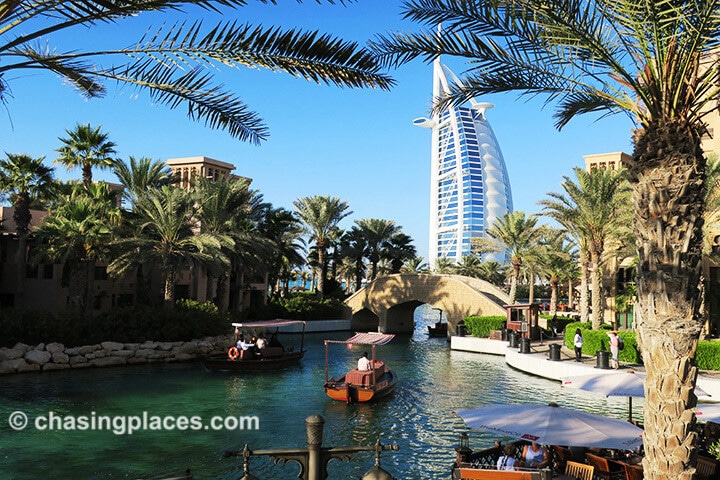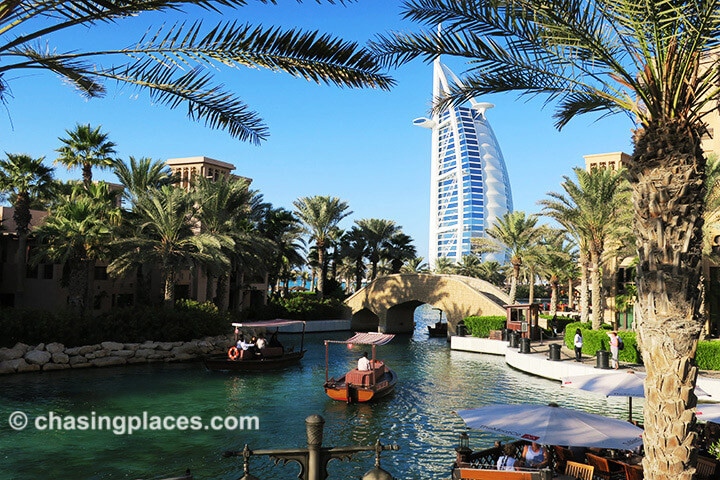 The most prized structure you can see from Madinat Jumeirah is the super sleek Burj Al Arab – one of the most well-known luxury hotels in the world. The Burj Al – Arab is an iconic Dubai hotel 'skyscraper' that has been synonymous with the city's luxurious lifestyle.  There are several vantage points from Madinat Jumeirah that offer photogenic views of the Burj Al-Arab. You just need to pick a spot to take a selfie or a group photo. It is also a practical idea to book a room to stay a night right at this hotel.
Although newly constructed, the buildings of Madinat Jumeirah were designed to showcase traditional Arabic architecture. The walls are painted with a light sandy hue, that is well-complemented by the blue waters occupying the canal.
The man-made canal network is carefully designed and well-maintained. To fully enjoy the views, you can opt for canal boat tour around this network aboard the traditional Dubai boat called abra.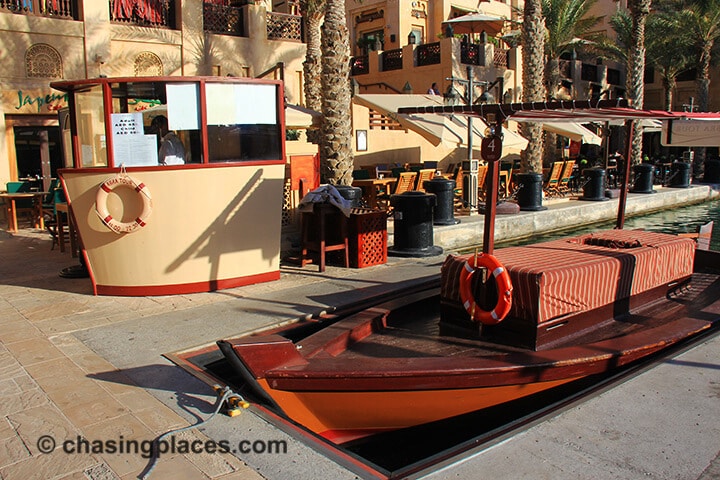 Even photos of Souk Madinat Jumeirah and its outdoor area do not give justice to how fantastic-looking this Dubai attraction truly is!
If you have any additional questions about how to get to Souk Madinat Jumeirah feel free to send us an email or just comment below.
Top Rated Hotels in Dubai Based on Verified Guest Reviews
Read More Articles on Traveling Dubai to Help you Plan your Trip