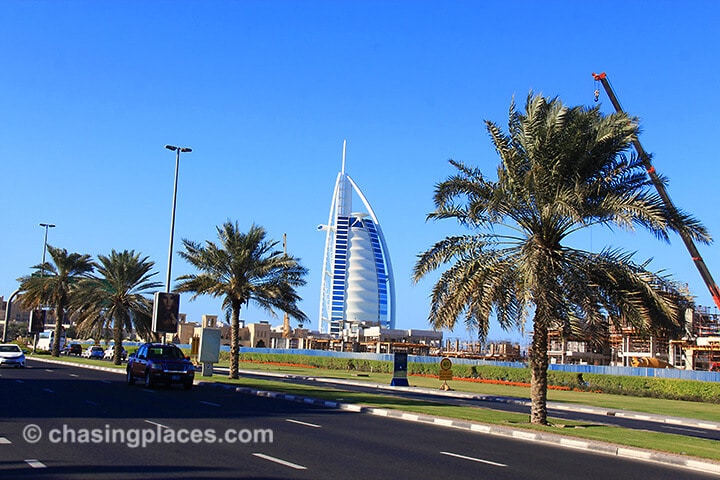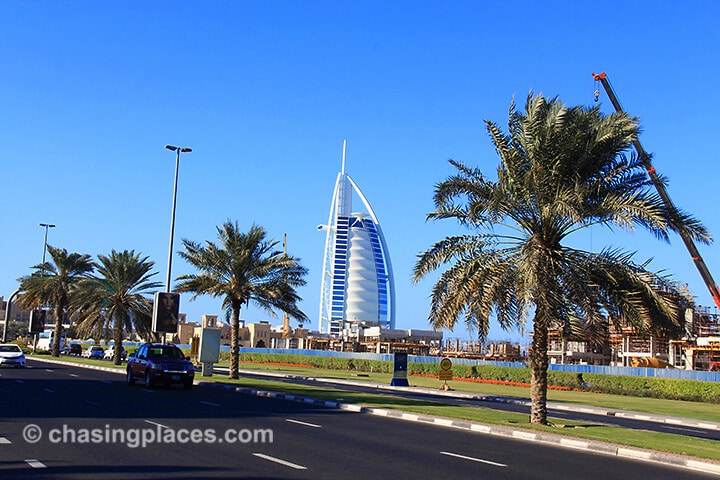 It may have been a silly travel plan at that moment, but we wanted to get amazing views of the Burj Al Arab during our visit to Dubai.
Aside from the Burj Khalifa, the Burj Al Arab is one of the must-see tourist attractions in Dubai.  Though not as tall as the Burj Khalifa, the Burj Al Arab takes the title of the third tallest hotel in the world.  Translated as  "Tower of Arabs in English,  this building is known for its distinct design that can charm and captivate any visitor to Dubai.
Our plan to enter Burj Al Arab was spoiled!
Our initial plan is to walk to Al Arab and get as close to it as possible. But all we saw was a seemingly long entrance way with a gigantic gate that successfully keeps nosy tourists like me out!
Not everyone has the budget to stay at the Burj Al Arab, and the fact is that you can't just walk into the hotel compound to admire it up close and personal.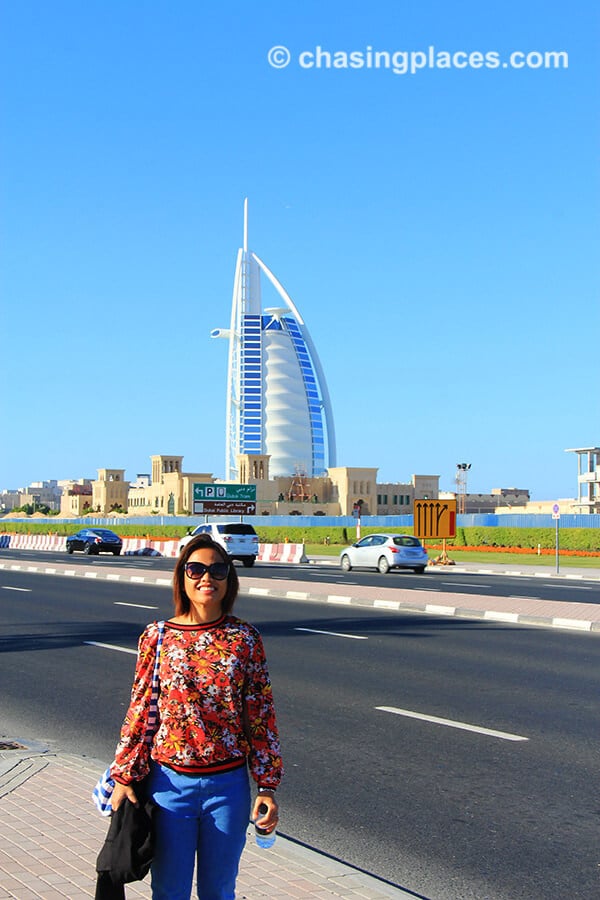 We were disappointed.
From the road that provides access to the hotel, it is impossible to get a good view of Burj Al Arab. But we later realized that if you're not going to be a guest at this hotel, then it's better to admire its magnificence from afar. And we had plenty of opportunities to do just that!
Based on our travel experience, here are the top three places where you can get a perfect view of the Burj Al Arab Hotel in Dubai:
1. From Sunset Beach
One of most pleasant surprises I encountered when visiting Dubai is its beautiful beaches. I never thought that a Middle Eastern city would have such a nice coast. During our visit to Dubai, we made it a point to spend time on a beach.
Although there are a string of beaches along the coast of Dubai's Jumeirah neighborhood, I believe we decided to hang out at one of the best ones – Sunset Beach.  
As the name suggests, this beach is the perfect spot to watch the romantic Middle Eastern sunset. But aside from the sun saying goodbye to the day, another thing to look forward to while on Sunset Beach is the perfect view of Burj Al Arab.
Sunset Beach sits on the same coast as the Burj Al Arab Jumeirah, and is in fact, the closest beach to the highly exclusive hotel.  
Burj Al Arab standing proud with the sunset glow is just beautiful.
2. From Madinat Jumeirah
If you want to get a closer look at the Burj Al Arab while sipping coffee or having a nice meal al fresco style – then head out to Madinat Jumeirah.
Madinat Jumeirah is a shopping, dining and leisure complex that sits on an artificial island. is actually a Dubai main tourist attraction on its own. The interior of the complex functions as a modern-day souk (Arabian market).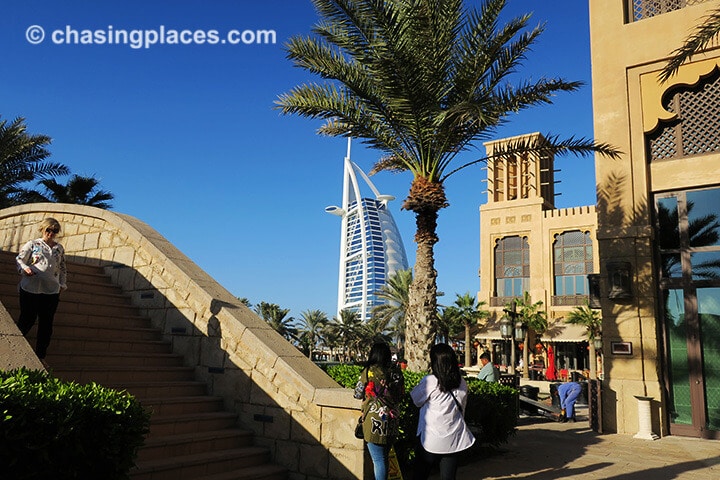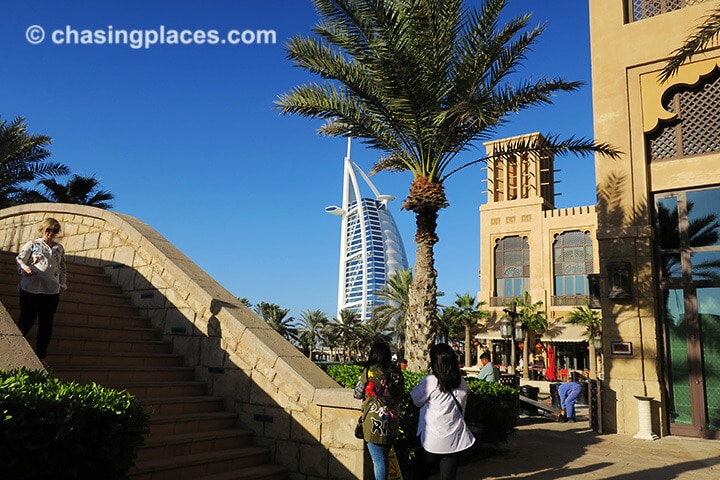 Because it sits on the Persian Gulf coast, Madinat Jumeirah offers so it offers an outstanding up close view of  Burj Al Arab. The outdoor section of Madinat Jumeirah is filled with restaurants with outdoor balconies and patios. Order a drink, a snack and snap As many gorgeous photos of the Burj Al Arab with no one stopping you.
Within the Madinat Jumeirah complex lies three grand hotels along with several summerhouses So if you don't want to stay at Burj Al Arab, these hotels make great alternatives. Access to the complex is through  Al Safooh Street, Jumeirah.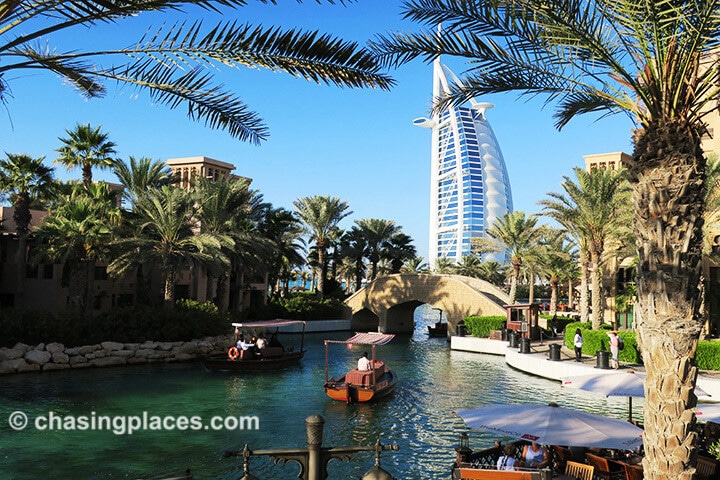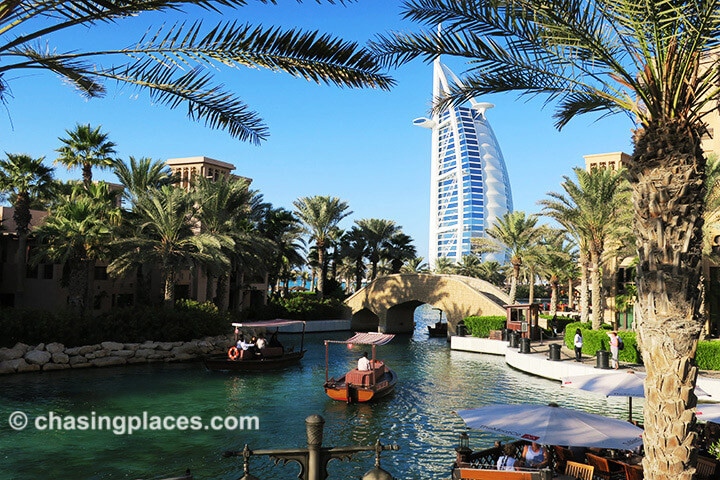 3. From the Sea on a Cruise
Cruising is actually one of the main things to do while in Dubai. Several cruises start from Dubai Marina, and passengers have the choice to go during the day or night, and on which boat.
In our case, we decided to take the night cruise on the  Dubai Public Ferry. During the cruise, the ferry intentionally did not go too far from the coast so that passengers can get a good look at Dubai's iconic buildings along Jumeirah and Dubai Downtown. One of the most visible structure is, of course, the immaculate  Burj Al Arab.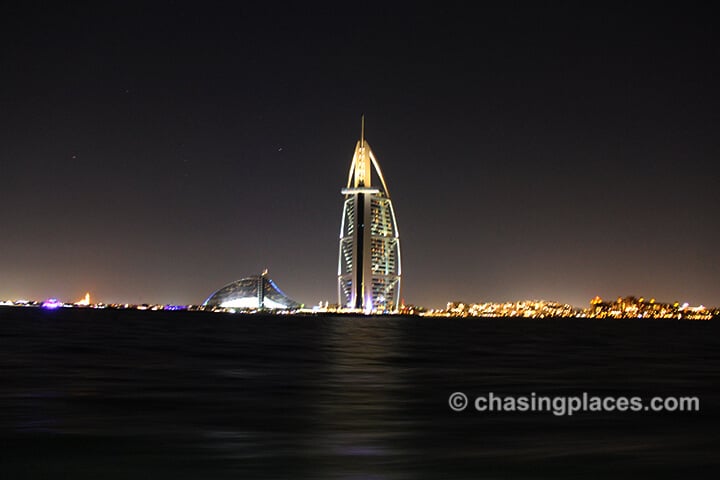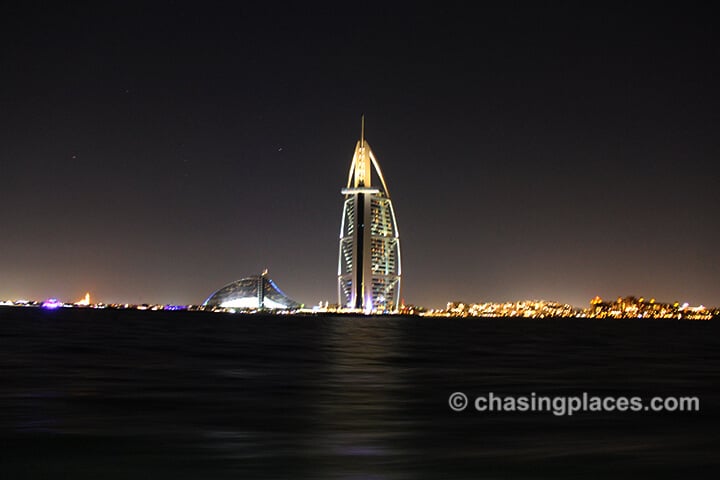 I think one of the reasons they decided to make Burj Al Arab shaped like a sailboat so that it can easily capture the attention of anyone at sea approaching Dubai. Burj Al Arab's position allows it to be like a  beacon, calling out to voyagers in the water, and telling them that they have reached the city of dreams.
Yes, I have a tendency to romanticize these things, but I was glad that I took the night cruise and have enjoyed Burj Al Arab all glamorously it up in the dark. This experience definitely gave me a different perspective of the so-called 7-star hotel.
The video of our Dubai Marina Cruise Experience. Worth checking out!
Travel Checklist: Do you have everything you need?
Travel Tip for Dubai Marina Cruise
Dubai Public Ferry is not the only cruise/boat service in Dubai that offers views of the  Burj Al Arab from the water. There are other companies that offer slightly different experiences. You just need to choose the best one for you!
What makes the Burj Al Arab Jumeirah so special?
The Burj Al Arab's shape is unique. With a mostly pristine white facade, it is meant to look like a huge sail in the distance. It stands on a man-made island, which is actually a section of reclaimed land.   
The building is 321 meters tall and faces the sparkling Arabian Gulf.
The Burj Al Arab is a truly an iconic symbol of Dubai not only because of its design but because of what it is.  The Burj Al Arab is considered by many, as one of the most luxurious hotels in the entire world and it symbolizes Dubai's continuous willingness to innovate!
Guests staying at the hotel are treated like royalty.  The hotel's interiors are very extravagant and each room (all suites) is decorated with the finest details.  The hotel offers chauffeur-driven Rolls Royce cars, personal butlers, helicopter trips and access to a private beach. The Burj Al Arab also has a famous underwater aquarium restaurant called Al Mahara that is run by the award-winning chef Nathan Outlaw.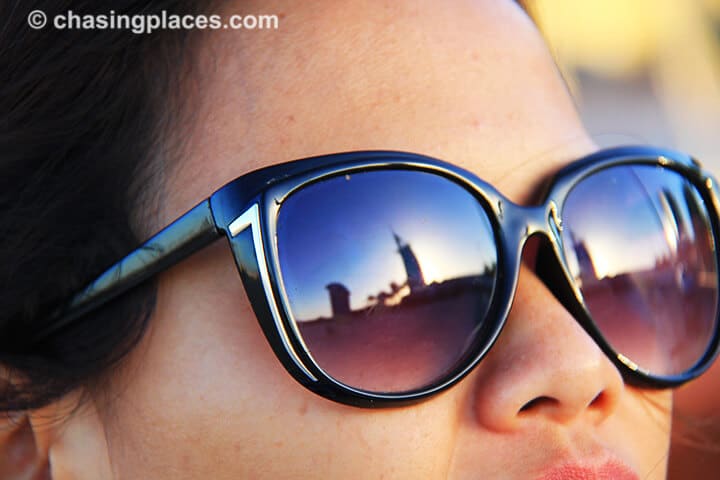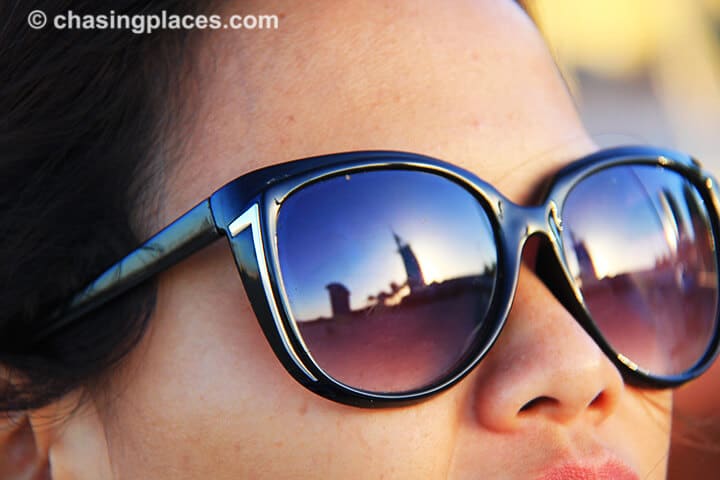 Would you like to see Burj Al Arab up close? Tell me what you think…