Dubai has always been perceived as a luxurious destination. Indeed, the city's tourism marketing efforts are focused on drawing in the rich and famous who want to experience a luxurious Dubai holiday.
However, what many people do not know is that it is possible to go on a budget trip to Dubai. The city does have hotels and tourist facilities that suit the budget of mid-range travellers.
So the good news is you don't have to drain your life savings or college fund to enjoy Dubai!
Why do I know this?
Because I thought the same thing about Dubai when my partner suggested that we should visit the so-called "luxurious" city of Dubai. I was worried about the cost of the trip. But when we finally got into planning and researching about traveling in Dubai, we found out something rather interesting:
Anyone can visit Dubai on a mid-range budget!
Fortunately for you, you don't have to go through all the trouble of researching for hours and going through multiple travel blogs.
Here at Chasing Places, we will share Dubai travel tips that can help you find accommodation, see the best attractions, and remain within your ideal budget.  
Some useful article links:
Here are the 6 useful travel tips on how to plan a budget trip to Dubai:
6. Use the Dubai Metro Train System Wisely.
This tip is very crucial if you want to save money while visiting Dubai. Dubai Metro finished construction in 2009 and it made a whole lot of difference in terms of alleviating the growing traffic issues in the city. Now you can access major attractions and avoid the jams!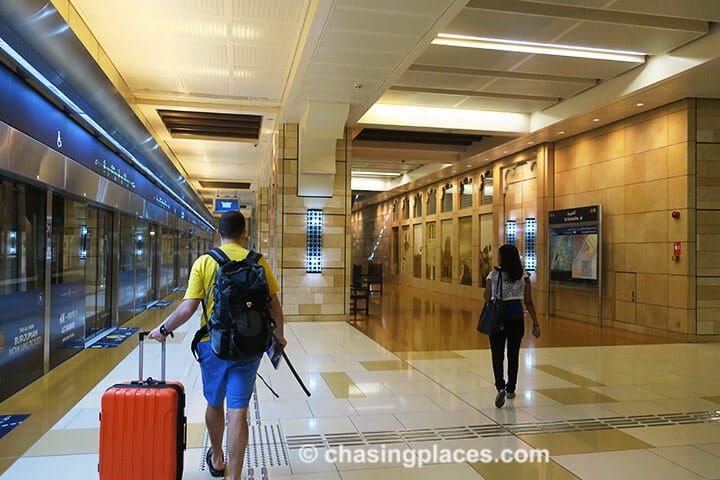 Although Dubai's taxi services are relatively cheap considering other expenses within the city, taking the Dubai Metro will save you some money as well as some time.
Most of Dubai attractions are within walking distance to a Dubai Metro Station, so you don't have to worry about taking a taxi everywhere.  
Notable Dubai Attractions:
Gold Souk

Dubai Mall and Burj Khalifa

Bur Dubai

Mall of the Emirates

Dubai Marina
In addition, you can take the Dubai Metro from Dubai International Airport right into the heart of downtown.
Read More Facts About Taking the Dubai Metro
Dubai Metro uses a contactless card system to monitor fare payment. You just need to go up to a machine to buy a single journey or return ticket for your desired destination.
There are different types of card tickets you can buy:
The Red Card is the most basic one. You can reload the card for up to 10 trips. You can also top up the red card to get a day pass.  A 'day pass' means you can use the card for unlimited trips all throughout the day.
One red card can be loaded up to 5 day passes.
The Silver Nol Card –  This is the top-up card that is suitable for residents and for tourists who plan to stay longer in Dubai.  When you use the Silver Nol Card, the fares for trips are less than the red card.
You will need a Silver Nol Card if you plan on taking the bus from Dubai to Abu Dhabi.
The Gold Nol Card – the top up card suitable for residents and tourists who would like to travel in the gold class section of the Dubai Metro Train.
5. Book a hotel outside the downtown core but close enough to the Dubai Metro.
Just like any other mega city, hotels in the downtown core of Dubai charge more on average. If you want to save some money, you don't have to book a hotel right next to the Burj Khalifa. You just need a hotel close enough to a Dubai Metro Station. This not only makes your trip more affordable but also much more efficient.
How did we save time and money by staying near a metro station?
In our case, we chose to stay at the Ibis One Central Hotel in the Financial District.  This hotel is not far from the heart of the city, which is where the Burj Khalifa and Dubai Mall are located.  
We just needed to take the Dubai Metro from the World Trade Center Station to the Burj Khalifa/Dubai Mall station. The walk to the station was about 3 minutes, and the ride on the metro was about 10 minutes. It was easy and convenient.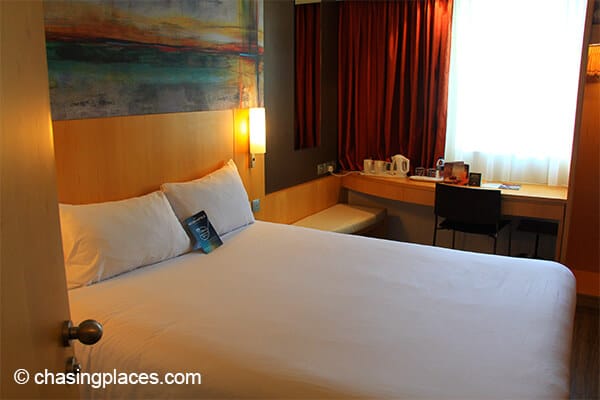 4. Instead of booking a tour, plan a good itinerary and get to the attractions on your own.
I will admit that sightseeing tours are rather convenient because you don't have to plan anything. All you need is to show up and the tour guide will bring you to interesting sites.
But the reality is, tours can cost way more than just getting to your desired Dubai attractions using public transport.
With the help of the Dubai Metro, you can get to amazing Dubai attractions like the Burj Khalifa, Dubai Marina, the Gold Souq and the Al Fahidi Historic District by just taking the train and walking.
If you visit at the right time of the year (November to February), Dubai is a great walking city with wide sidewalks, amazing cityscapes as well as beautiful seaside vistas and gardens.
To help you come up with your own trip itinerary, here is our sample one and multiple-day itineraries. You can check out 20 amazing things to do in Dubai for FREE!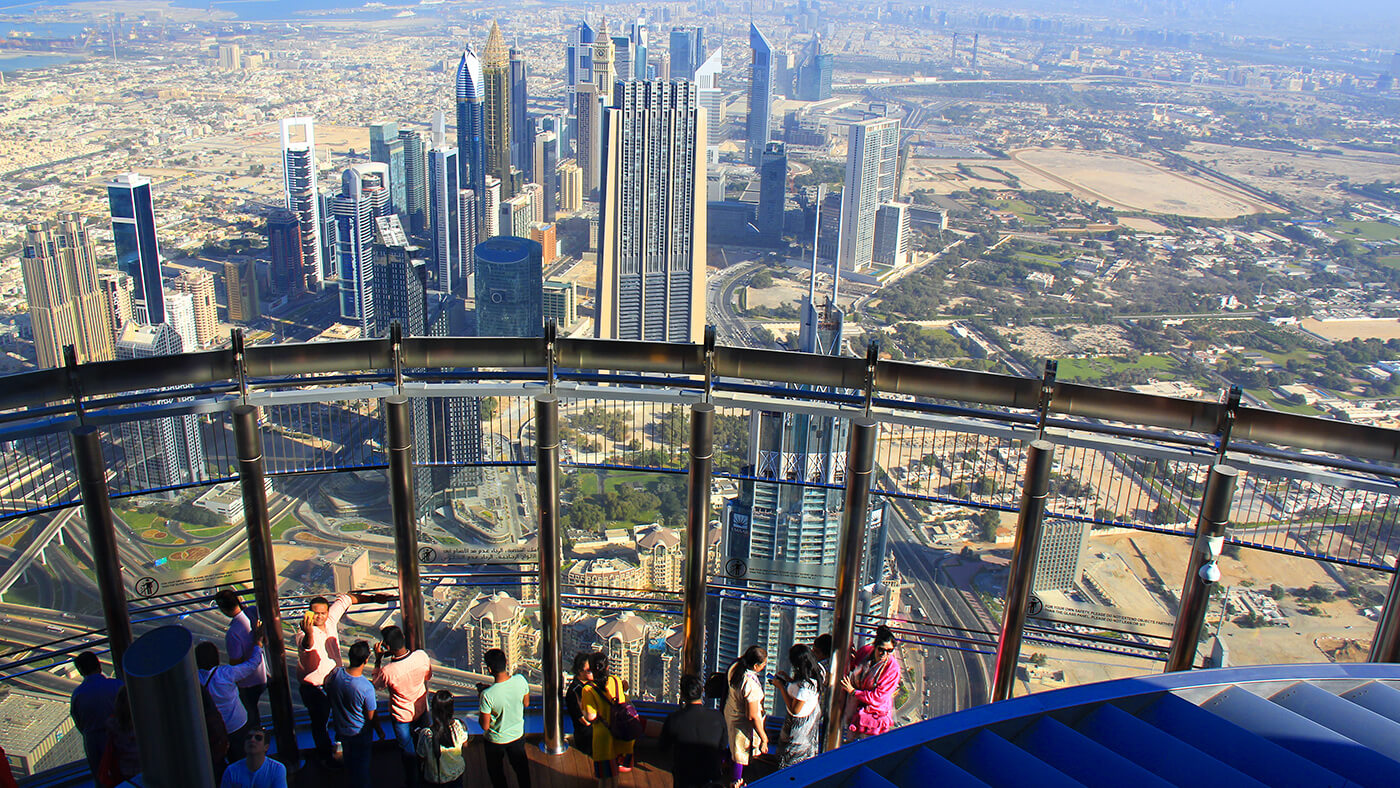 3. Eat at local restaurants instead of international chains.
Dubai has a great restaurant scene. Regional and international dishes are offered. If you want to save money, stay away from international restaurant chains like Applebees and coffee shops like Tim Hortons and Starbucks. You will find their menus more expensive than the original chains in North America.
As a general rule, the farther restaurants are from the city center, the cheaper they get. Eating at hotels will also make your trip way more expensive.
Dine at Indian and Lebanese restaurants and fast food chains. There are many Indian restaurants in the older neighborhoods of Dubai  – Deira and Bur Dubai.
As for fast food, I know what you are thinking? Fast food is not good for you. I wouldn't recommend western fast food chains either like McDonald's and Burger King.
What surprised me in Dubai is that the Arabic fast food-looking restaurants actually serve good meals that people regularly consume. Lebanese restaurants in Dubai that serve bread or rice, a large portion of meat (chicken/lamb/beef) and a side salad are common and affordable.
A budget lunch costs around 15  – 30 Dirhams (4 – 8 USD) and a budget dinner around 22 – 40 Dirhams (6-11 USD).
For a decent, reasonably priced small meal, you can't go wrong with buying a shawarma. Shawarma shops are everywhere. A regular shawarma costs about 7-8 Dirhams (2 USD).
You can also check out local grocery stores to get salads, fruits, and bread to just eat at public parks or in your hotel room.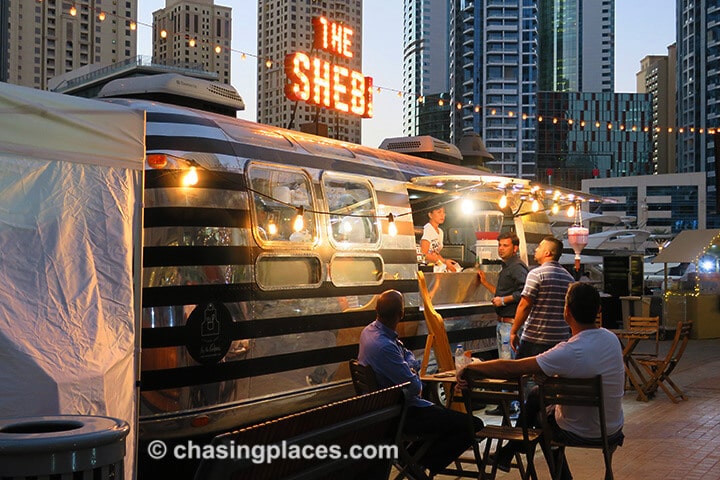 Another important thing to remember is that the meal portions in Dubai are huge. If you're not a big eater, you can share a meal with somebody else!
2. Resist your alcohol craving.
Dubai is a Muslim city and strict alcohol laws are strictly implemented. You can buy alcohol at licensed clubs and bars inside hotels. These are the only places in Dubai you can legally drink at as a tourist. But drinking something that is prohibited to the majority of the residents comes with a hefty price.
A beer can cost from 25 – 36 Dirhams (7 – 10 USD), and sometimes even more. Thus, abstinence from alcohol during your visit to Dubai should be good for your budget.
1. Buy gifts and souvenirs from souks (local markets) than malls.
If you must buy some small trinkets and souvenirs as a reminder of your time in Dubai, buy it from local souks rather than from luxury shopping malls. Here is a list of the top souks/markets in Dubai.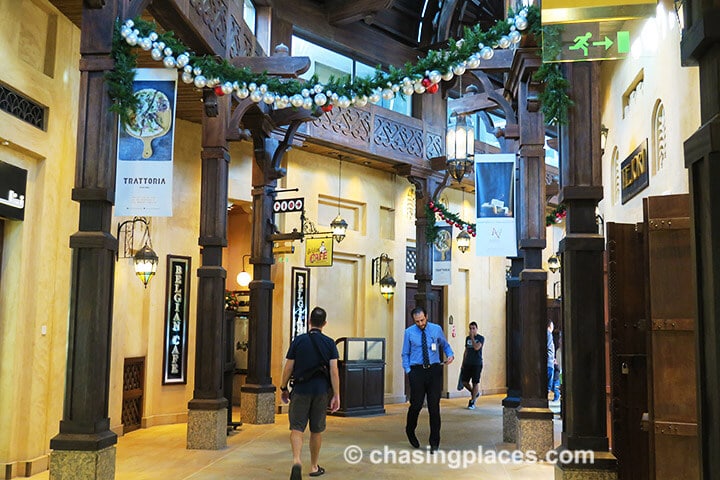 If you follow all these essential tips, you will surely save a lot of cash and stay on budget while enjoying your trip to Dubai.
Travel Checklist: Do you have everything you need?
When traveling Dubai, determine your budget and when you're going to splurge
During our visit to Dubai, we didn't travel really, really cheaply. We wanted to enjoy our travel experience as much as we could so we made conscious budget choices so we would have enough money to spend on experiences that we knew we would love.
For instance:
We stayed at a

decent but not luxurious hotel

so we would have enough cash to go up the

Burj Khalifa – an experience we highly recommend

.

We used the Dubai Metro and walked as much as we could to really witness Dubai's road network and its neighborhoods.  This choice ensured that we had enough money

to go for a Dubai Marina Cruise.

We did not buy expensive souvenirs and we dined at reasonably priced eateries. But, on our last night, we dined at a nice Afghani restaurant overlooking

Dubai Marina

.
So in the end, we still had a fantastic time in Dubai without completely breaking the bank.
When it comes to traveling on a budget, our advice is for you to determine and set your priorities and budget; and then make the necessary compromises so you can have the travel experiences you truly enjoy, value and cherish!
Top Rated Hotels in Dubai Based on Verified Guest Reviews
Read More Articles on Traveling Dubai