Souk (also spelled souq) is a word in Arabic which basically means "market". Maybe it's just me, but I like the sound of 'souk' to refer to the markets found in Dubai and the Middle East in general. Souk sounds so much more exotic and appropriate.  
Traditional souks in Dubai are very much different from modern markets found in North America or even the street markets in Southeast Asia. The difference lies in their 'Arabian Nights' vibe and feel.  Vendors tend to wear the traditional Arab long suits; stores are small and square-shaped; the hot bright makes its presence known; and the ground, while paved, is dry and sandy.
When it comes to prominent attractions typically promoted to tourists in Dubai, souks takes a backseat behind tall skyscrapers, fancy malls, luxurious hotels and gigantic themed parks.
But I insist that visiting souks in Dubai is an exceptional experience.
It's a refreshing change from the polished concrete walls and elegant lifestyle that Dubai is better known for. These traditional Arabian markets are an integral part of Dubai's culture and diverse society.
So if ever you're thinking of visiting Dubai, I highly recommend exploring one, two or even all of them.
While some markets tend to be categorized to sell wet or dry goods, Dubai's traditional souks are specialized, which gives them more identity and distinction.
So let's get down and dirty and check out the top  must-visit souks/markets that Dubai has to offer.
1. Visit Gold Souk 
The Gold souk is the most extravagant souk in Dubai. But it's not extravagant because it has fancy architecture and storefronts.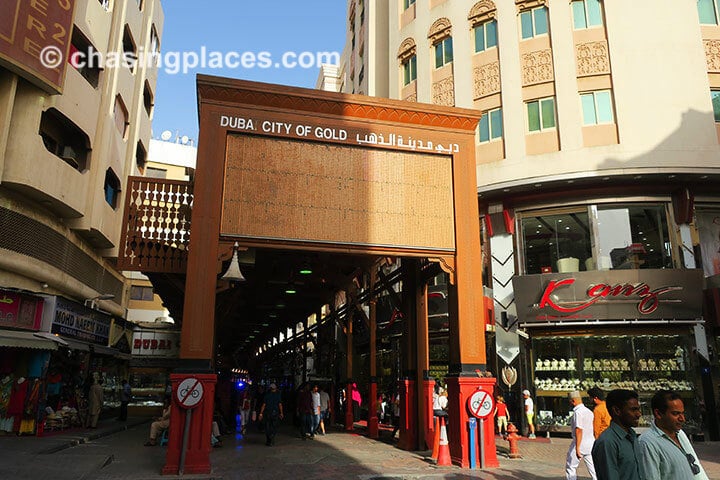 The Gold Souk looks more rustic and traditional. It is made up of a covered arcade with a large wooden gate.  It's hard to miss! Inside, you will see an array of small shops, all of which selling jewelry made mostly of gold. There are also pieces made of diamonds, silver, platinum and other precious stones.
These shops look plain, small, and simple. But their most prominent (and most important) feature is their huge display windows that show off, what perhaps could be the grandest gold jewelry collection that you will ever see in your lifetime!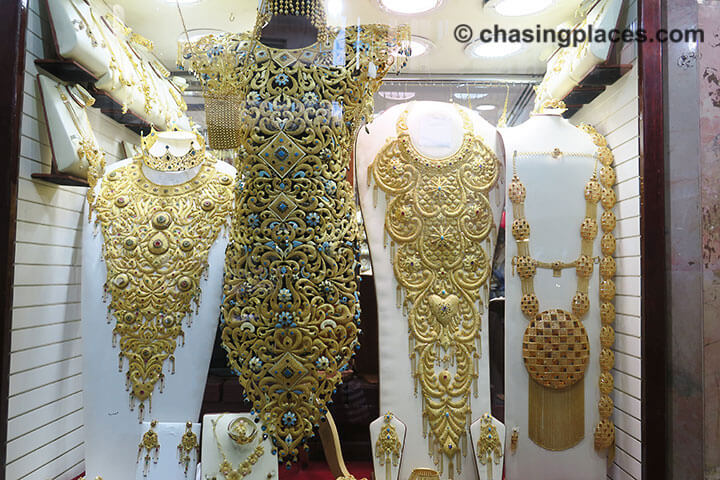 I'm not sure how many of the heavy pieces are actually sold within a day; but during my visit, all the tourists who were only window shopping were actually loving the experience.  I couldn't help taking photos myself.
It's almost unbelievable that millions worth of jewelry pieces that should belong to museums and fashionable, tightly guarded shops in Hollywood or London are all in full display through large yet very ordinary windows.
But this is Dubai – home to one of the world's largest gold markets. It also observes strict Islamic laws, which means no one will dare to steal anything less they don't value their hands!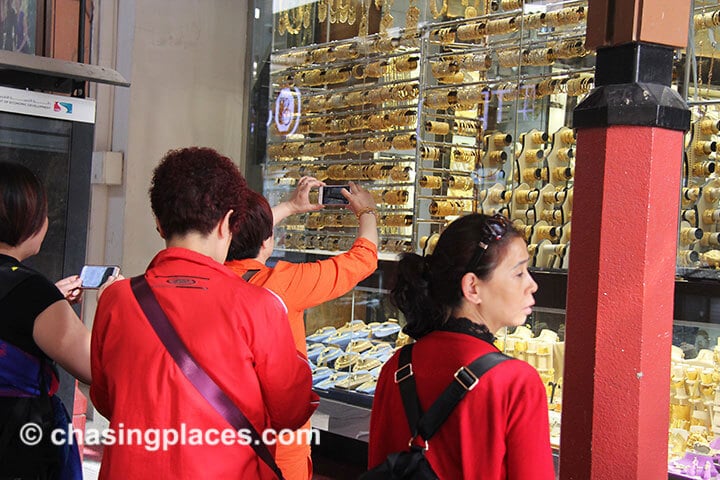 The realization that a market of this nature is hard to find anywhere in the world makes the experience of strolling and browsing through the Gold Souk truly epic!
Where is Dubai's Gold Souk?
The Gold Souk is located at 54 Al Khor Street, Deira. It is near the Gold Center Building. The Deira neighborhood is served by both the Red and Green Line of the Dubai Metro.  Here is a more detailed description on how to get to the Gold Souk using the Dubai Metro.
Opening Times: 10 am to 1 pm ( Saturday to Thursday)
4 pm to 10 pm (Friday)
2. Visit Perfume Souk
Once you walk out of the Gold Souk, then continue walking through Sikkat Al Khalil Street towards Al Soor Street. When you turn left you will stumble upon the less obvious Perfume Souk.
The Perfume Souk is a little difficult to notice because it's not covered and compact like the Gold Souk.  This souk is actually a collection of small shops spread out along a street or two. The appearance of the shops is a bit underwhelming in comparison to the Gold Souq. But what makes the Perfume Souk special is what they are selling!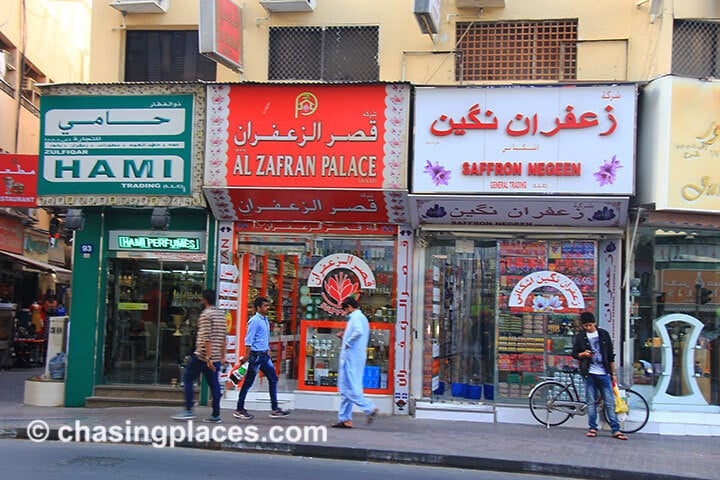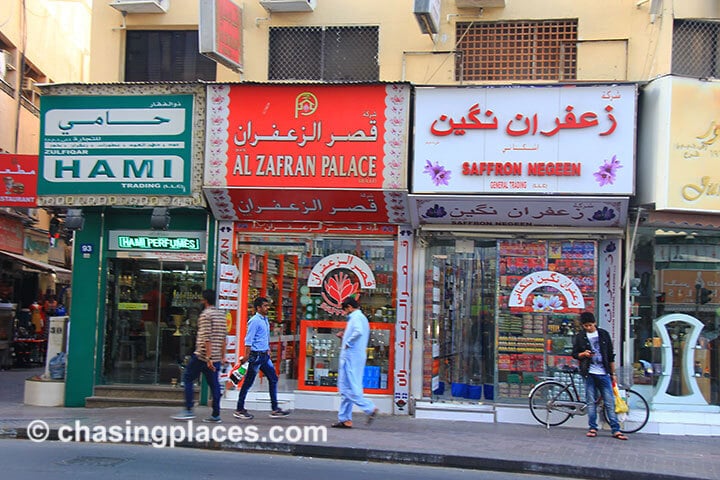 The traditional perfume sold in Dubai is called "atars".  Atars do not have the alcohol component in them like western-made perfumes. I think it has something to do with Muslims not being allowed to place alcohol on their skin.  Atars are oil-based and very fragrant. The best scents are the ones that contain 'dihn oud', which comes from agarwood, extracted from the Aquilaria tree, which usually grows in the Southeast Asian region.
Wander in some shops and sample some perfume.  Vendors are up for bargaining so don't hesitate to haggle to the best of your ability. It's part of the experience! You can mix and match your perfumes to create your own unique scent.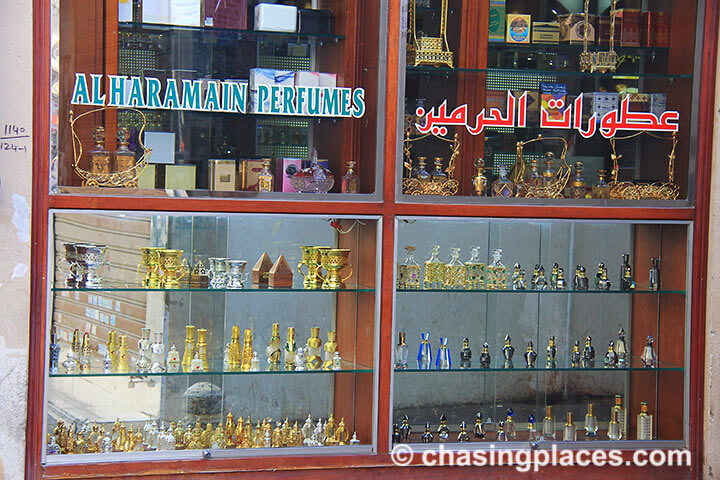 Where is Dubai's Perfume Souk?
The Perfume Souk is on Sikkat al Khail and Al Soor street in Deira.
Opening Times: About 10 am to 10 pm (Saturday to Thursday)
4 pm to 10 pm (Friday) Take note: Individual shops may have different opening times.
3. Visit Spice Souk
Just a few minutes away from the Deira Old Souk abra station, the Spice Souk exudes an exciting "Aladdin-ish" atmosphere. While walking through the streets that encompass the souk, I envisioned the 'street rat' Aladdin running, trying to get away from the palace guards.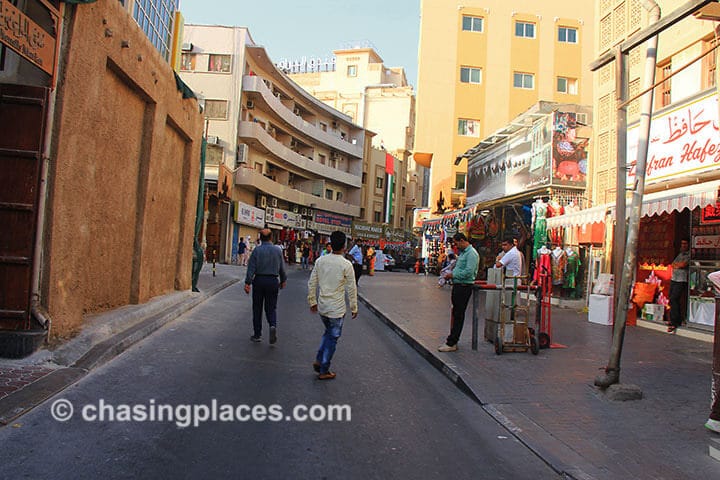 Unlike the Gold Souk and Perfume Souk which are mainly composed of shops; the Spice Souk is mostly made up of stalls and collections of sacks containing various aromatic spices, herbs, dried fruits, and nuts.
The main market is covered but the vendors' goods spill through the neighboring narrow lanes. Because of this, it's not very clear where the market begins and ends.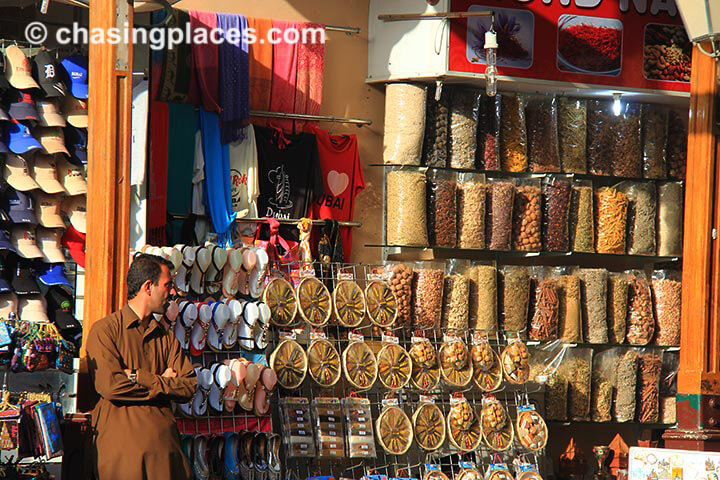 Due to its proximity to Dubai Creek (which is famous for trading goods), shops within the Spice Souk tend to sell other items like shisha (water pipes) and household goods.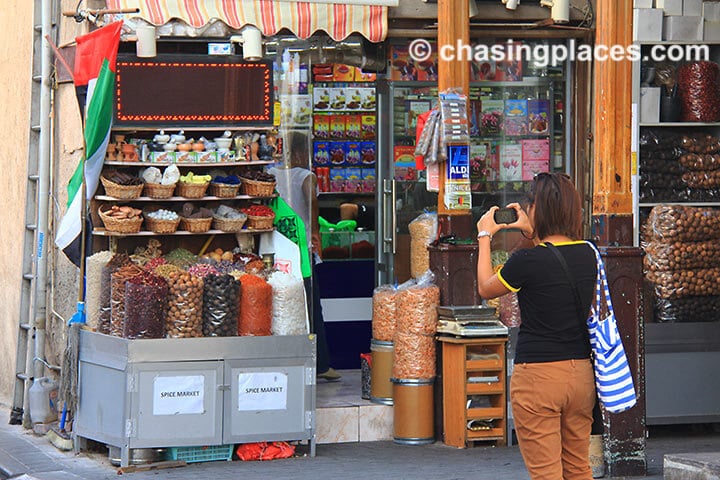 Where is Dubai's Spice Souk?
The Spice Souk is between Baniyas Road, Al Ras Road and Al Abra Street within the historic Deira neighborhood of Dubai.
Opening Times: About 9 am to 10 pm (Saturday to Thursday)
4 pm to 10 pm (Friday)
4. Visit Grand Souk Deira
Grand Souk Deira is often mistaken or grouped together with Spike Souk but it is actually a separate market on its own even though it is so close to the Spice Souk.
While the Spice Souk is the collective name for the alleyways that have shops and stalls that sell various spices, the Grand Souk Deira is a covered street with a distinct wooden entrance. According to travel resources, this souk used to be the historic Al Souk al Kabeer, which means "The Big Souk" in Arabic. It was renovated and given a new name – the Grand Souk Deira.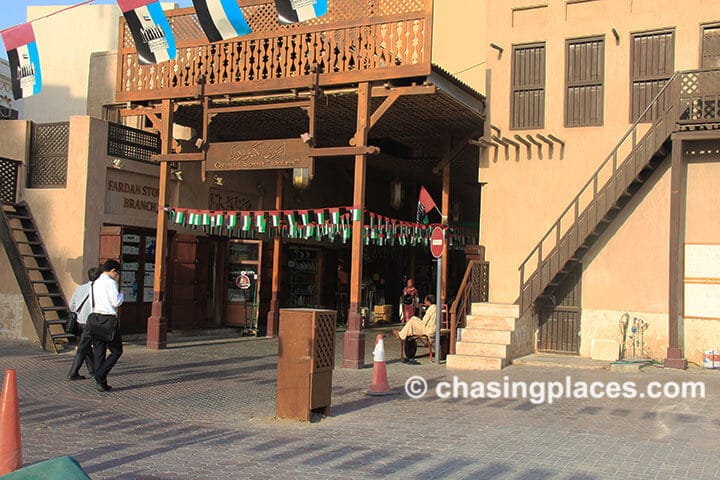 Once you enter this souk, you will see similar-looking shops lined up on both sides. They designed with traditional stones to preserve its long history and Arabian feel.
Shops at Grand Souk Deira mainly sells household goods, souvenirs, and toys. Expect to encounter touts that will try to sell you knock off designer bags and pashmina.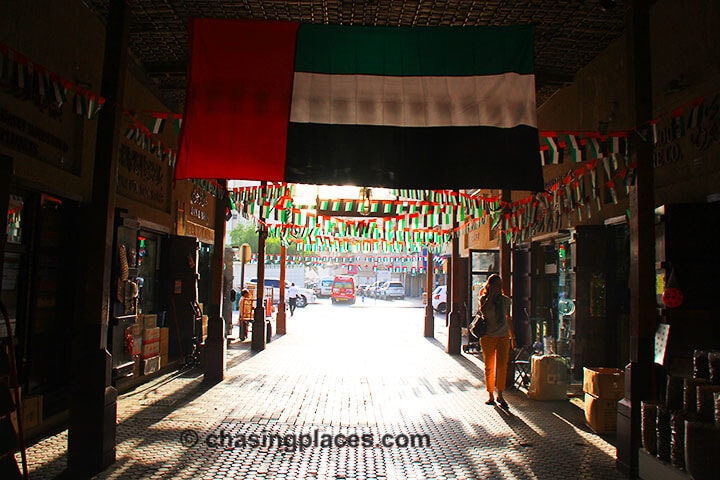 Where is Grand Souk Deira?
Grand Souk Deira is in Al Ras neighborhood,  on Sikkat Al Khail Road close to the Spice Souk area. Look for the huge wooden entrance with the sign on top.
Opening Times: About 9 am to 10 pm (Saturday to Thursday)
4 pm to 10 pm (Friday)
Travel Tip: The best things about the four souks mentioned are that they are within walking distance from each other, so you can definitely visit all three of them in one go! How convenient is that?
5. Visit Bur Dubai Old Souk/Textile Souq
Hop on an abra at the Deira Old Souk station and make your way to the Bur Dubai neighborhood just across the Dubai Creek.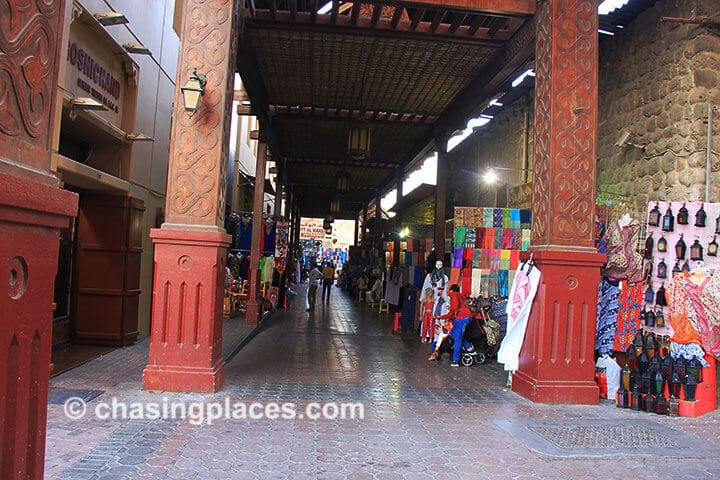 Once you get off the station, you only need to walk a few minutes to come across the fascinating Bur Dubai Souk.  This covered souk is a little bit more modern looking than the other souks, but it still has a rustic feel to it.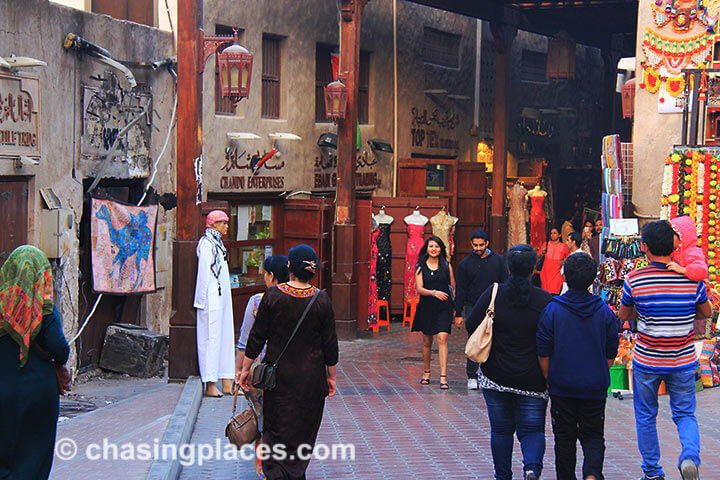 One thing that stands out about the Bur Dubai Souk is that it's really colorful. At the wooden entrance, your eyes will immediately be captivated by the different cloths, pillows and various textiles showing off their bright colors.  
Inside the Bur Dubai Souk is a section known as Textile Souk, where you can find a great collection of fabrics – cotton, silk, satin etc. The location of the Textile Souk is the main reason why its name is commonly interchangeable with Bur Dubai Old Souk.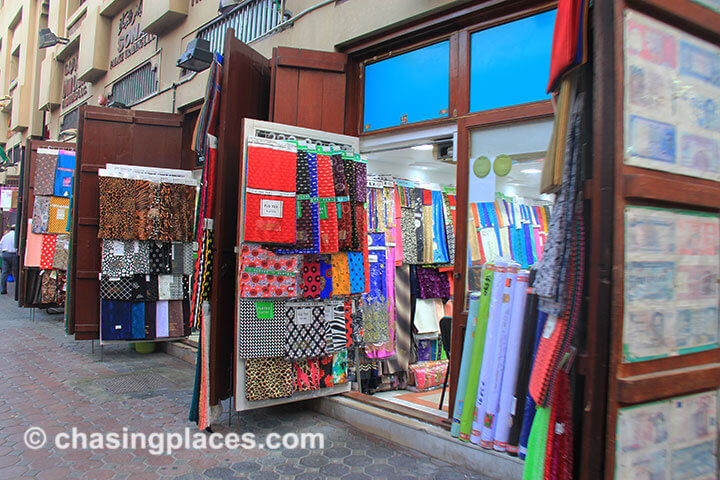 Based on the items sold here, it's immediately clear that this souk has a heavy Indian influence. This is not surprising as Bur Dubai is a neighborhood widely populated by Indian immigrants.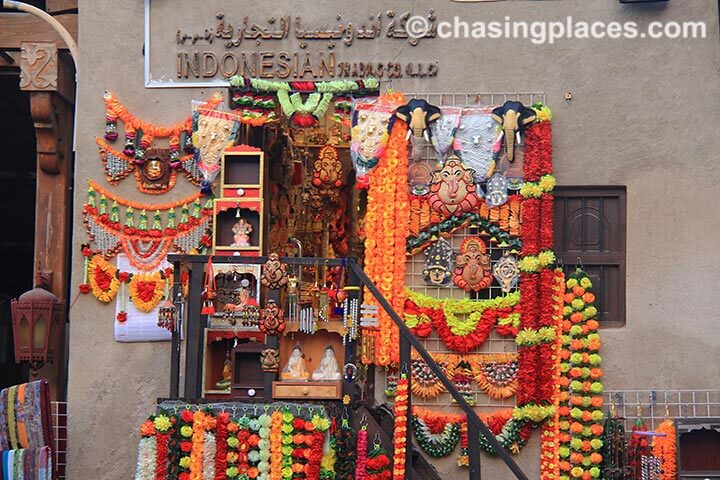 Where is Bur Dubai's Old Souk?
Bur Dubai Old Souk or Textile Souk is between the Bur Dubai waterfront and Ali bin Talib Street.
Opening times:
10: 00 am to 10: 00 pm (Saturday to Thursday)
4:00 pm to 10:00 pm (Friday)
That last two souks in the list are not exactly traditional ones. However, they are two of the most popular in Dubai. So if you like a more relaxed feel and more modern and posh design, then consider visiting these two:
6. Visit Souk Madinat Jumeirah
The next souk is the last in the dark horse in the group as it is not as old as the others on the list. However, Chasing Places will throw this souk in the mix for tourists who want to have a souk experience that is more relaxed and glamorous.
Souk Madinat Jumeirah may be relatively new but its main market section follows a traditional souk design. The souk section of this massive complex uses wooden arcs, glass-tinted Arabian lamps and stone floors. It's numerous narrow alleyways lead from one shop or stall to another, like a delightful shopping maze.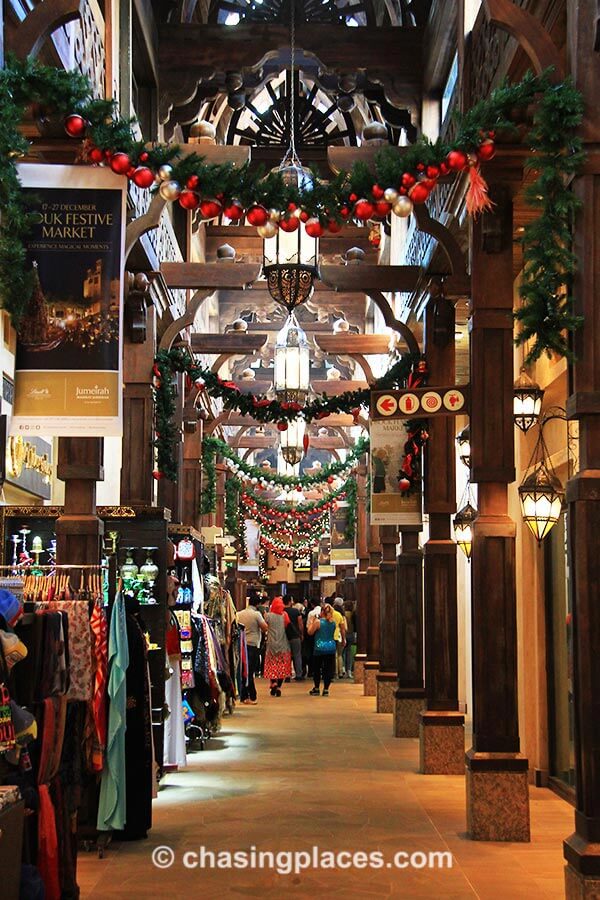 Souk Madinat Jumeirah is popular among tourists because it offers a more relaxed shopping experience. It merges luxury, modernity and the Arabian souk tradition. Items sold here have set prices, so haggling/bargaining does not happen here. But it's still a great place to pick up some beautiful souvenir items or just to get lost in a 'window shopping' experience.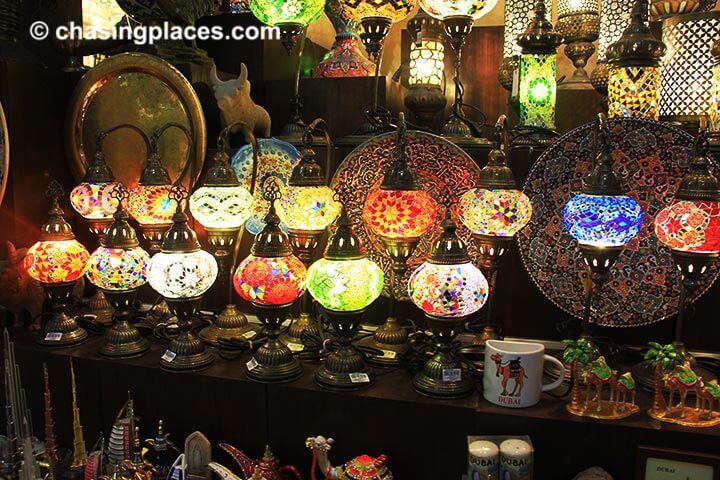 After shopping, head out to the complex' stunning outdoor area. You will find numerous cafés and restaurants that are all exquisitely designed and inspired by Arabian architecture.
Madinat Jumeirah's outdoor area is surrounded by winding waterways adorned by small lovely bridges.  Visitors can go for a traditional abra ride tour. The 20-minute boat tour leaves from the Souk Madinat waterfront close to the Left Bar bar. The patios and balconies of cafes and restaurants also offer fantastic views of the famous Burj Al Arab in the distance.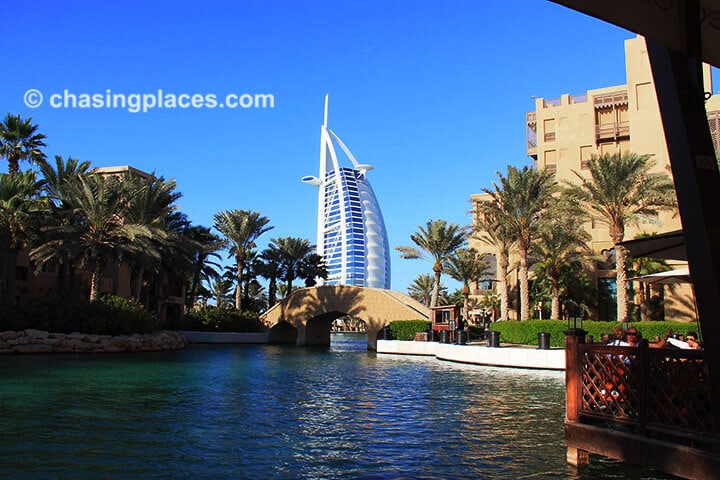 Travel Tip: The outdoor area of Souk Madinat Jumeirah is a perfect place to dine or just to get tea or coffee while enjoying the view.
But if you're on a strict budget, you can just walk around the outdoor area and take photos. Just make sure to ask waiters of establishments first before you decide to wander around their patios or balconies.
Where is Souk Madinat Jumeirah?
Madinat Jumeirah is along Al Surfouh Road, and is close to Burj Al Arab, Sunset Beach and the Mall of the Emirates.
You can walk from Madinat Jumeirah to Burj Al Arab. But if you don't feel like walking in the heat, you can easily hail a taxi. They are quite close to each other.
Opening Times:
10:00 am to 11:00 pm Daily
Travel Checklist: Do you have everything you need?
7. Souk Al Bahar
This souk is perhaps the most accessible out of all the ones on the list. Souk Al Bahar is conveniently located just across Dubai Mall and the Dubai Fountain.  If you're already in downtown Dubai and walking about Dubai Mall, then  Souk Al Bahar is just a few minutes walk away.  There is a little bridge that connects the souk to the outdoor grounds of Dubai Mall.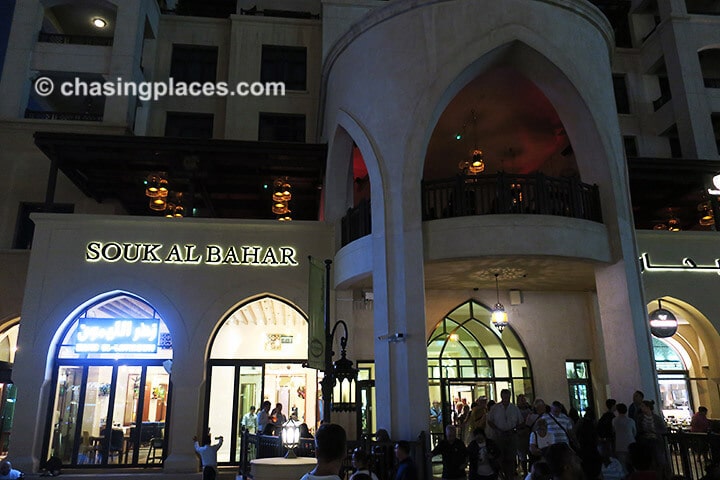 Just like Souk Madinat Jumeirah, Souk Al Bahar is inspired by Arabian architecture, so it has its Arabian feel while looking very sleek and posh. Shops in Souk Al Bahar are high end; they sell jewelry, Middle Eastern traditional clothes, perfumes, and souvenirs. The souk also a variety of beautifully designed cafes and restaurants.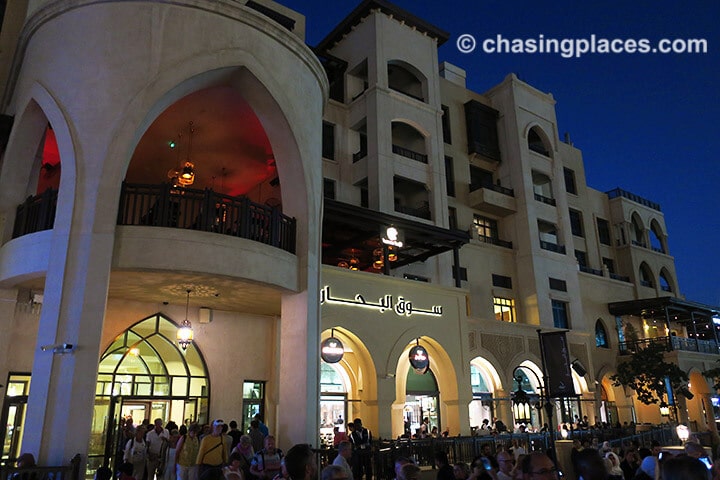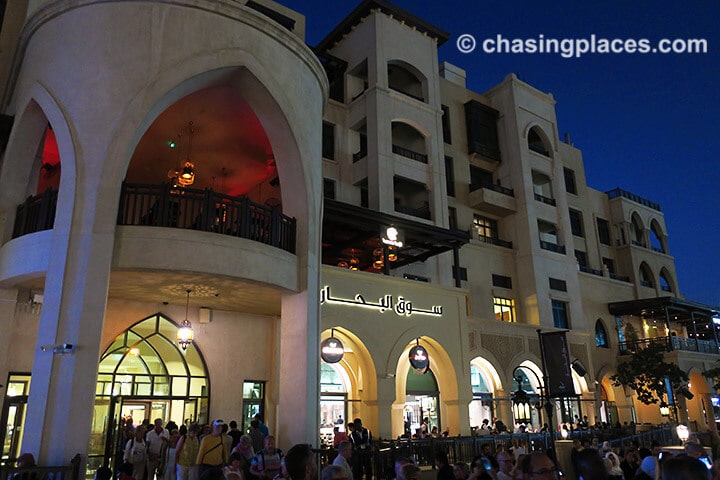 And even if you are not interested in buying, feel free to just walk around and enjoy window shopping.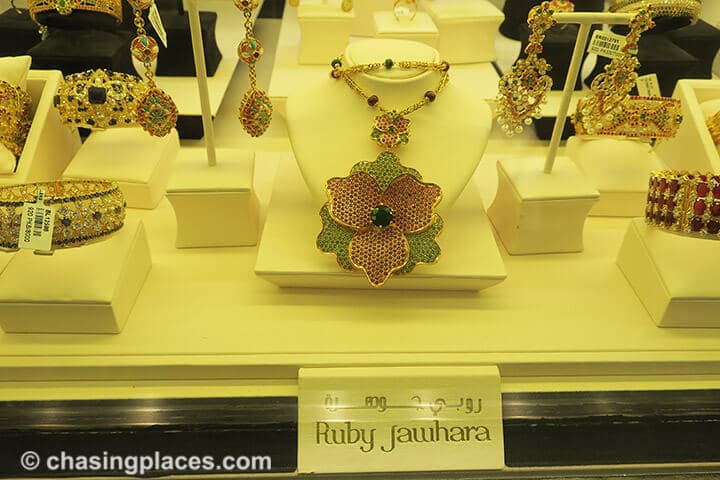 Travel Tip: On the top floor of Souk Al-Bahr, you will find a  bridge that offers a magnificent view of the Burj Khalifa up close.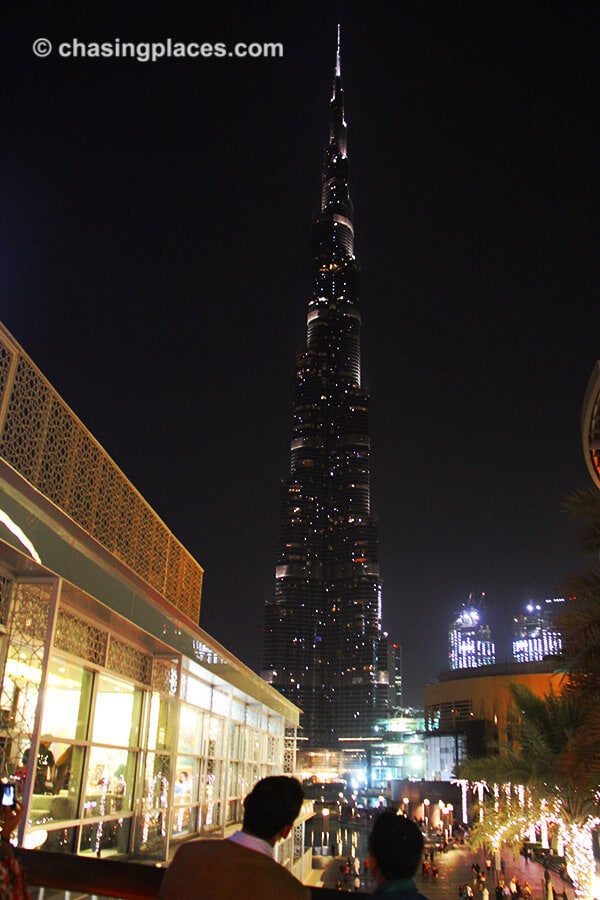 Where is Souk Al Bahar?
Souk Al Bahar is in Downtown Dubai, along Sheikh Mohammed bin Rashid Boulevard. It faces the Dubai Fountain and Dubai Mall.
Opening Times: 10 am to 10 pm (Saturday to Thursday)
2 pm to 10 pm (Friday)
Top Rated Hotels in Dubai Based on Verified Guest Reviews
Read More About Visiting Dubai