The great Mekong Delta is widely known as the rice producer of Vietnam and the great Mekong River has been the lifeline of the surrounding green rice fields and villages. The river flows all the way from Tibet and then embraces the sea by the time it reaches the southernmost section of Vietnam.  The economic importance of this delta plain is immeasurable to the locals.  For travelers, this quiet and serene region is a true representation of Vietnamese rural life.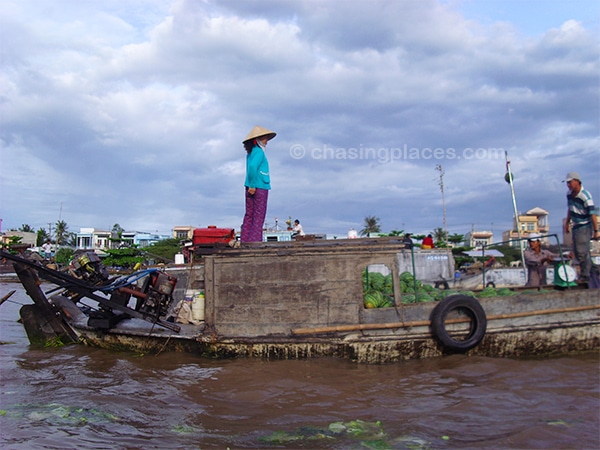 Visitors who want to spend a tranquil time connecting with nature usually make their way to the forested island of Phu Quoc. Here, you can enjoy secluded beaches, freshwater springs and fantastic diving sites. Other tourists choose to proceed to the unassuming capital of My Tho of the Tien Giang Province, because it is the closest to Ho Chi Minh City.  River boat tours are a tourism staple when you get to My Tho. Aside from cruising the river to admire the scenic landscape and riverside villages, boat tours can also include stopovers to fish, study honey bee farms and admire beautiful flower gardens.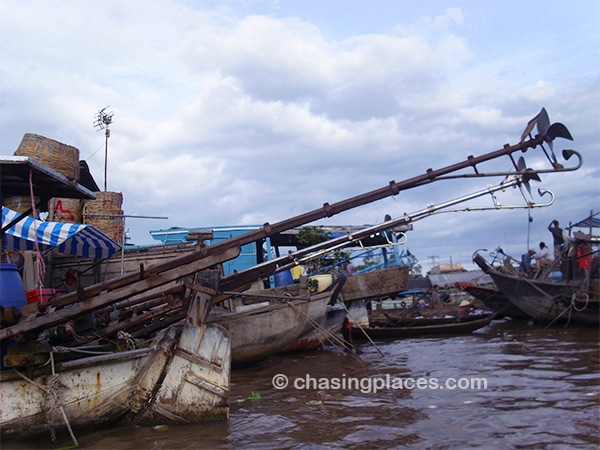 Many tourists who do not have much time to create an itinerary usually arrange a 1 or 3 day guided tour around the area. Others prefer to travel on their own at their own pace. This is the more complicated way to do it. But since we had enough time and a yearning for some surprising adventure, we decided to do the latter.
We did not only want to go for a river cruise, we wanted to see floating markets and take photos of local boatmen complete with their authentic Vietnamese hats. Thus, we decided to make our way to the town of Can Tho.
 Welcome to Can Tho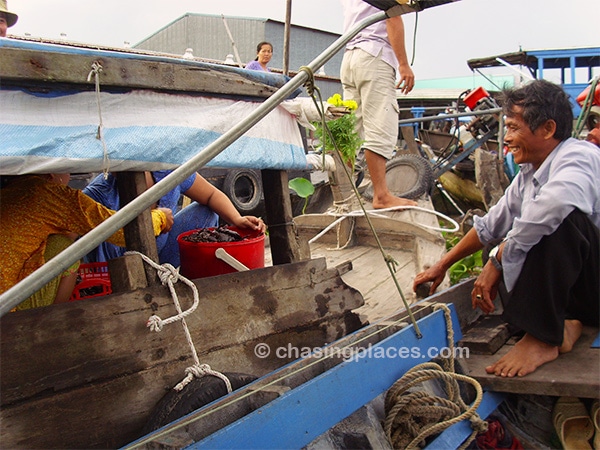 Like other backpackers, we chose to head out to Can Tho because it's a convenient access point to great attractions in the region like the Cai Rang Floating Market. There is not really any tourist attraction in town, but Can Tho has a lovely riverfront that makes for a relaxing spot to stroll especially at night.
Can Tho is a busy town with a number of tourist accommodation choices because it is a regional hub. While here, you can easily find a guesthouse or a homestay for a few dollars. The locals are very easy going and friendly. But it was hard to find people who could speak English, unless they were working for a tour company or owners of a guesthouse. This is not necessarily a bad thing as it is a welcome change for us.  We were in an authentic Vietnamese town and the lack of English speakers was part of the adventure.  After arriving in town, we easily found a nice clean, yet basic room that we had booked online in a small building a few meters from the narrow street.
Travel Checklist: Do you have everything you need?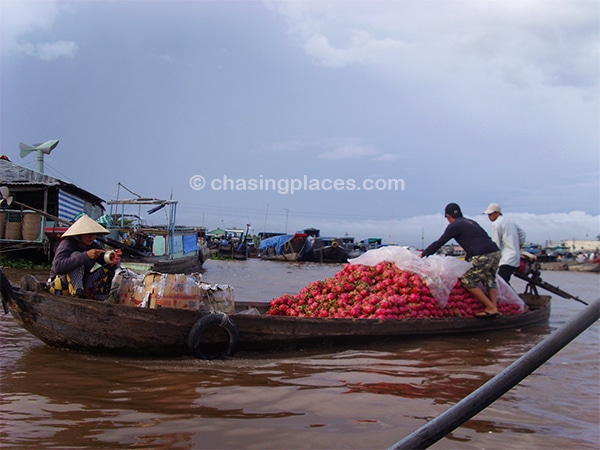 Before we retired for the night, we arranged a tour with a local man who was a private boat operator. He fetched us from our guesthouse and took us for a river cruise.  During the tour, we passed by the vibrant Cai Rang river market, where large boats selling wholesale products were moored.  It was a different setting to the usual floating market, but nonetheless fascinating. We could see people living in these boats carrying extremely large quantities of fruits and vegetables. Our tour also included a stopover at a rice noodle factory by the riverside.  Rice noodles are very important in the Vietnamese culinary culture, as it is the main ingredient in pho- the country's staple soup dish.  The factory was by no means sophisticated. It looked more like a basic wooden house with a basic yard surrounded by tall unmaintained grass and trees. It was very interesting to see locals still using traditional means and tools to make rice noodles.
Overall, our trip to the Mekong Delta was nothing fancy and yet very memorable. Travelling into the mouth of Mekong is not about experiencing grand attractions, pulsating nightlife and cheap thrills. It is all about immersing yourself into the peaceful, rural Vietnamese lifestyle while enjoying the breathtaking riverside landscape.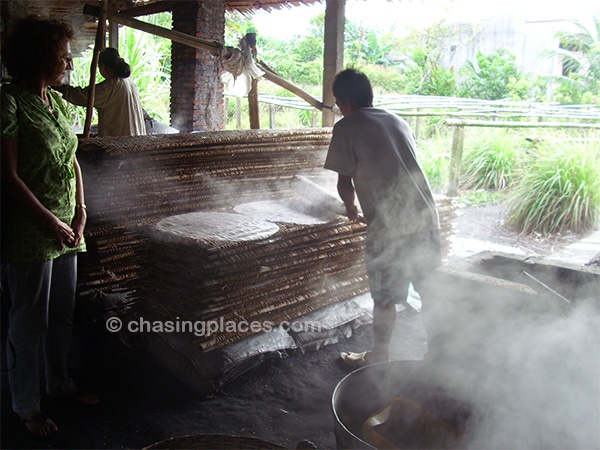 In Search of Dinner in Vihn Long
The next day we proceeded to the town of Vihn Long. It was also a busy town though there were few attractions. We only had a night to spend in Vihn Long so we just wanted to get a feel for the very cultural Vietnamese town. It quickly turned dark after we arrived at our guesthouse. We took our time resting and getting settled in. After a few hours we decided to find a place to eat.  We must have waited too long to have dinner as most eateries in our area were already closed.  So we walked for about 40 minutes and finally we saw this nice quiet restaurant. But the problem was that their menu was all in Vietnamese and not a single server spoke English. We wanted to just get chicken and rice but they did not understand us.
The manager then came up with a clever plan of using his computer to access Google Translate.  Google Translate is by no means perfect, but they finally understood that we wanted a chicken meal; though we were not sure what kind of chicken we were going to get. When the much-anticipated order finally came, we were surprised to see sizzling plates covered with roasted chicken drizzled in barbecue sauce with vegetables and fries on the side. Strangely, it was a more western oriented meal but it was absolutely delicious and very cheap too.  Even though we got a little "lost in translation" we ended up with a fantastic meal.
Want to find the cheapest rooms in Can Tho and the rest of the Mekong?
Can Tho has a solid selection of rooms to choose from.  We stayed quite close to the river, which turned out to be a good decision.  I would suggest using one of these two sites if you're booking rooms in this region of Vietnam: www.agoda.com or www.hotelscombined.com. When we stayed in Vietnam we booked most of our rooms with Agoda. They had a solid selection of rooms even in the most remote places we travelled.  Many of our readers who are on a strict budget also love www.hotelscombined.com while travelling in Vietnam. Their price comparison searches can save you some money, especially if you're travelling for an extended period of time.  Hopefully, these suggestions can get you pointed in the right direction for your journey to this remarkable region of Vietnam!