No, I am not talking about the band (but that would be a cool experience too). I am talking about the eagles with the largest wingspan on the planet! I had the golden opportunity to meet these fantastic creatures during my trip to Davao, Philippines, and this is my experience.
The setting for this tale is the Philippine Eagle Research & Nature Center (PEC), and the protagonists are the mighty Philippine Eagles.  I have to admit that I am neither an animal lover nor a wildlife fanatic. Oftentimes, a zoo is the last thing that I want to visit when I'm traveling to a place. But to see the biggest eagles in the world with my own eyes is an opportunity too great to resist.  Besides, this particular visit did not cost a lot of money or time.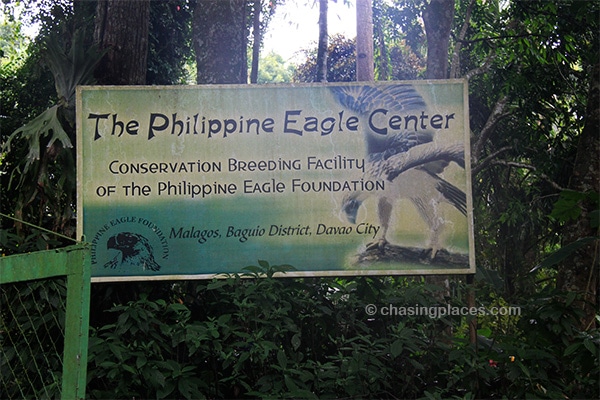 How we got to the Philippine Eagle Research & Nature Center?
The Eagle Center is about a one hour drive away from Davao City. Most domestic tourists come in groups so they prefer to hire a private van to take them to the center.  We opted for the cheaper option and used public transport, particularly a bus to Calinan from the Annil Terminal, which lies at the corner of the San Pedro Extension and Quirino. We paid about 30 pesos each for the bus fare.  From Calinan, we hired a tricycle to Malagos, which is about 10 to 15 minute drive.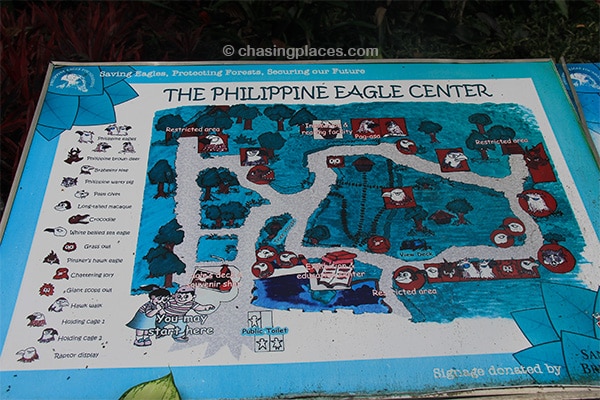 The Setting
The Philippine Eagle Research & Nature Center was mainly established to put forth aggressive conservation efforts to protect these endangered birds. It is located on the outskirts of massive Davao City, which lies about 36 kilometers from the city center. The Eagle center is specifically situated in near a barangay (village) called Malagos, and surrounded by thick forest.  PEC is within the Davao City Water District. When we got to the entrance, we were asked to pay a minimal entrance fee. The water district is surrounded by dense forest and is a good place to have a nice picnic. When we reached the entrance of the Eagle Center, we paid another entrance fee of 50 pesos per person. Those below 18 years of age get a discount, and only need to pay 30 pesos.
At the PEC entrance, you will see a row of souvenir stands that sell shirts and cheap local crafts. We also saw this large yellow python inside a small cage. Locals are charging people who wish to take photos with the snake. I personally did not find this particular money-making scheme appealing. And for such a huge snake, the cage was not that big!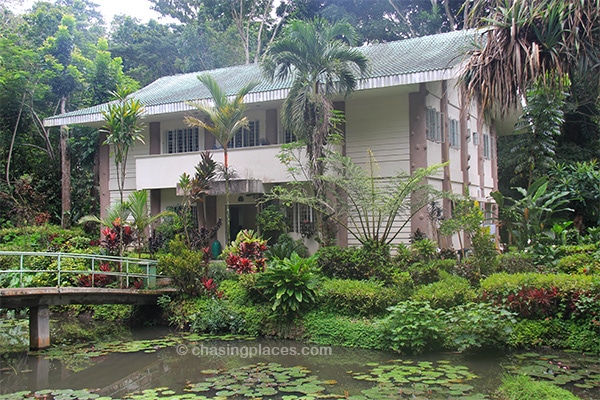 After arriving at the center grounds, we found out that there are about 35 Philippine Eagles that live there. It was also very interesting to learn that about 20 of these birds were bred through artificial insemination. Aside from the eagles, PEC is also home to other mammals, reptiles and birds. The center does not only provide continuous care for the birds, but they are also involved in important endeavors like conservation education programs, community-based awareness initiatives, field research and captive breeding projects.
Although the center is equipped with an audio-visual room that showcases educational videos, we did not get the chance to watch one. Our visit appeared to be during low season as we hardly saw any tourists while staff members were busy having a meeting.  We later found out that free guided tours and lectures are offered by volunteers but only if you call the center and arrange it beforehand.  The center even offers falconry sessions at certain times, when the keeper allows an eagle to fly as the visitors watch in awe.
The Protagonists
The title of the largest eagle in the world is very much contested due to many considerations.  But the Philippine Eagle earns the title based on wing span.  Also known as monkey-eating Eagles, these creatures once dominated the vast forestland of the Davao Province. And like all the tragic stories of endangered animals all over mother earth, deforestation and abusive hunting behavior soon forced these fascinating birds to dwindle in number.  From thousands, there are now only around 500 eagles in the Philippines.
Most of the eagles at the center were kept in cages, but we saw two that were just standing on bird platforms with leashes tied around one of their feet. These birds are visually stunning, and we were fortunate enough to see some of them show off their approximate seven-foot wingspan.  The Eagle Center seemed to have a big enough space to accommodate the birds. But somehow, I think the cages are still too small for these fierce creatures, especially when you consider that they are known to swipe monkeys off from branches.
It's sad to realize that their gigantic wings must heed to their cages' limitations. Such incredible wings are obviously meant to spread freely in the open sky and cast a big shadow on the land below. We, humans were not supposed to look at them in the eyes; we were supposed to admire them from the ground.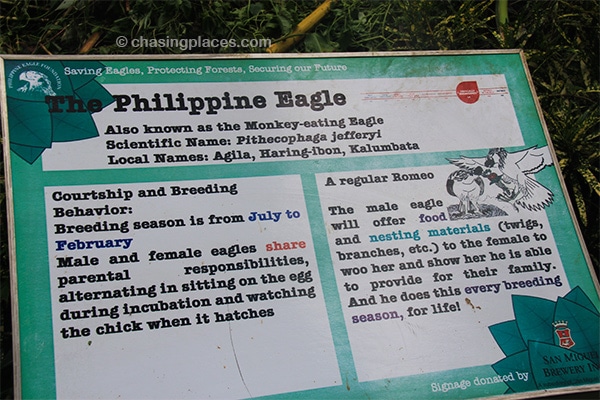 Travel Checklist: Do you have everything you need?
Spending on Mother Nature
The PEC ticket booth has a small store that sell t-shirts and some souvenirs. We were informed that the proceeds of the shop go to the center's conservation program and to the local community. The local cooperative in charge of the shop is also running a fundraising program for tree planting.  I was really mesmerized by the eagles, so much so that I wanted to do something for them. So we bought a souvenir shirt and had a tree planted in our name. The deed felt good, and I'm recommending it to all visitors. After all, as tourists, we spend money on trivial dust-collecting souvenirs. It's not really bad to spend a little on Mother Nature, even once in a while.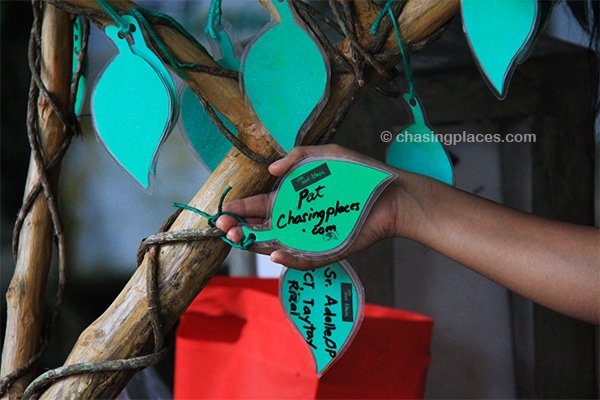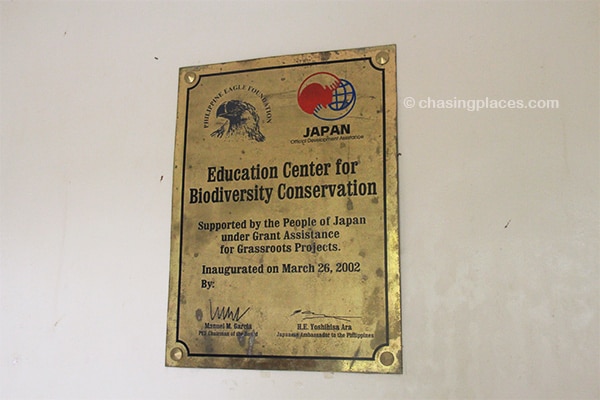 Saying Goodbye
It certainly was not a busy day at PEC, and the weather was relentlessly threatening us mere mortals with a heavy downpour. Sure enough, after more than an hour walking around the center grounds, the threat became reality. As the rain poured heavily from the angry sky, we knew it was time to say goodbye.  We waited for a tricycle that was willing to take us back to the bus station. Of course, it was hard to find one who would not overcharge us. Finally, we split the cost with another domestic tourist. It wasn't the sunniest of days, but I was glad that I did not have to battle with a crowd just to get a glimpse of these famous eagles. I was happy that I had the chance to see their fierceness and intimidating beauty. As the tricycle made its way out of the forested center, I knew that this may be my first and last date with the eagles. But if I do see them again, I hope it will be when I'm looking up as they soar magnificently high, dominating the Philippine sky once again.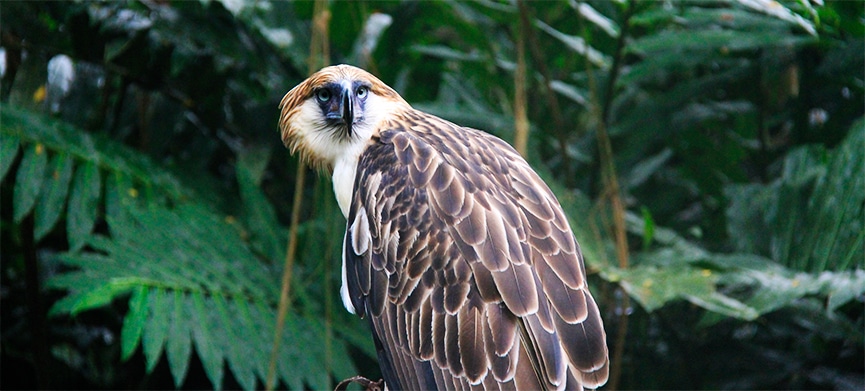 Finding a Room near the Philippine Eagle Center
If you want to check out the Philippine Eagle Center, then it's best to book a hotel in Davao where there are more services available for tourists.  This is what we did. The ride took about an hour each way but you will get a feel for the area during the ride.
The next question is which hotel site to use? In our case, we used www.agoda.com.  We were quite satisfied with their selection of rooms in Davao and the prices listed. Another practical alternative would be to use a price comparison site such as www.hotelscombined.com. To save you some time, I have created links to these two sites below:
Hotels/Guesthouses in Davao with Agoda
Hotels/Guesthouses in Davao with Hotelscombined
I do hope that these suggestions have come in handy!
 Safe travels and enjoy your time in the Philippines!