If you have not heard of Malaysia's Redang Island (or Pulau Redang in Bahasa Malay), this is the perfect time to read about it.
Chasing Places' travel writers have visited the major islands in Malaysia; and all we can say is Redang Island is the most beautiful in terms of beaches.
The sand here is unbelievably powdery, and white and the water is so crystal clear. In addition, Redang is known for its rich marine ecosystem, making it a top diving site. It is even declared a Marine Park zone. If you are looking for an island getaway in Malaysia, I wouldn't hesitate to recommend this island.
If I have managed to convince you with my description and the pictures of Redang, I guess the next thing you may want to know is how to get from Kuala Lumpur to Pulau Redang?
Getting to Pulau Redang from the Malaysian city to Kuala Lumpur typically involves a domestic flight and a ferry ride.  To help you out with this question, here the step-by-step guide on how to get from Kuala Lumpur to Redang Island (Pulau Redang):
1. Take a domestic flight from Kuala Lumpur to Kuala Terengganu.
Kuala Lumpur is the federal capital of Malaysia, and it is the main hub for international flights coming into the country. Kuala Terengganu is the capital of Terengganu – a province in peninsular Malaysia. KT, as the locals call it, is the major jumping point for accessing Redang Island.
Both AirAsia and Malindo Air have daily flights from Kuala Lumpur's KLIA2 Terminal to Kuala Terengganu.
The flight time is roughly 1 hour, so you won't need to be in the air for a long time. This makes visiting Pulau Redang an ideal getaway if you are coming from Kuala Lumpur.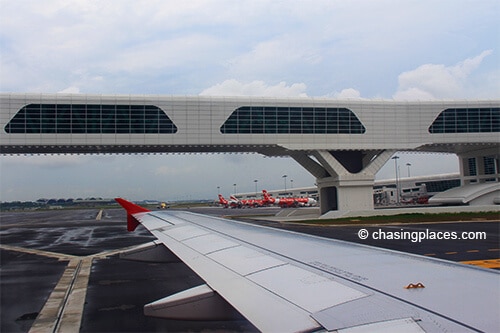 2.  Take a taxi to Shahbandar Jetty located in downtown Kuala Terengganu.
Once you land at Kuala Terengganu Airport, Shahbandar Jetty is roughly a 30-minute drive from the airport.
From the arrival area of Kuala Terengganu Airport, you can take a taxi to Shahbandar Jetty.
Alternatively, you can book a room near the jetty in Kuala Terengganu if you arrive in Kuala Terengganu the night before your ferry departs for Redang.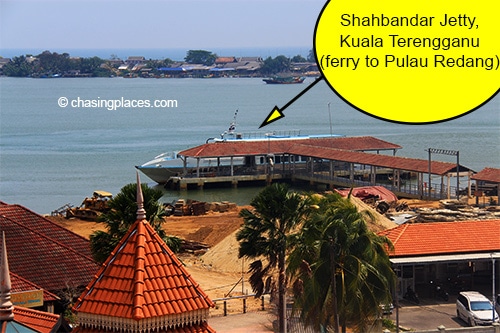 Important note: The ferry to Redang Island only runs a couple of times per day, so if you cannot make it to the jetty in time, it is advisable to book a hotel in the city center, preferably near the jetty.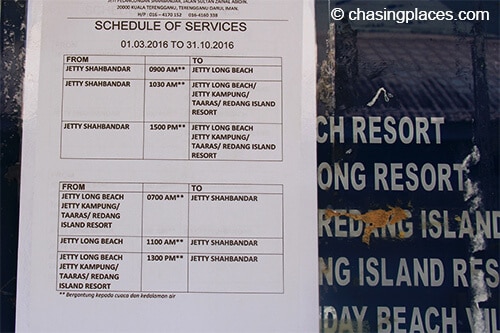 3. Buy your ticket and your environmental fee.
The ferry ticket from Kuala Terengganu to Pulau Redang costs 55 RM each way (110 RM round trip per pax).
You will also need to pay for the environmental ticket which is 5 RM. If you know the time you are coming back to the mainland, you can also buy your return ticket in advance.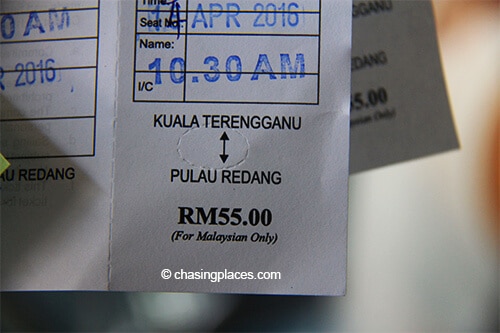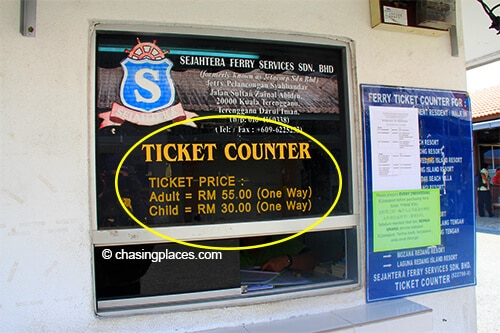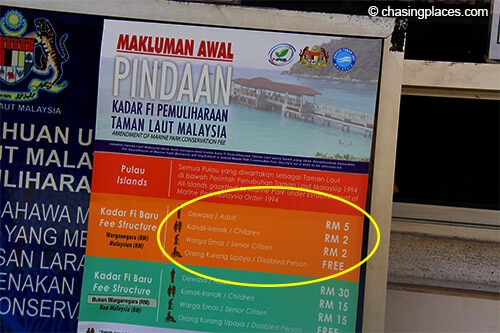 4. Arrive at the actual jetty on time.
They recommended passengers to be there 30 minutes before the departure time.  The ferry ride to Pulau Redang takes approximately 1 hour and 30 minutes as the island is 45 kilometers off the coast of Kuala Terengganu.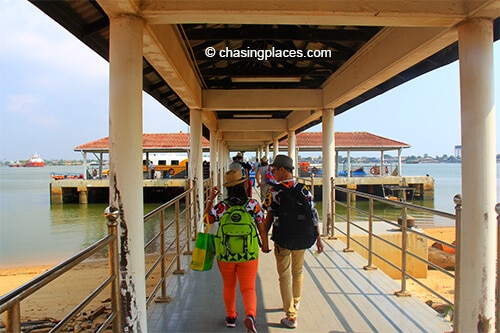 Travel Checklist: Do you have everything you need?
5. Get off Berjaya Jetty if you're staying in Kampung Baru. 
The public ferry stops at Berjaya Jetty to drop off tourists and locals who are staying in Kampung Baru (the main village on the island).
If you are heading to Long Beach, you will need to get on a smaller boat to Long Beach. The staff of the first ferry will direct you to the small boat at the jetty.
Long Beach is the most popular beach on the island. It is where most accommodation facilities are located on Pulau Redang.
6. From Long Beach or Kampung Baru, you can arrange a vehicle to bring you straight to your hotel.
They usually charge you extra for this transfer so make sure you ask them ahead of time about the fees associated with your room booking.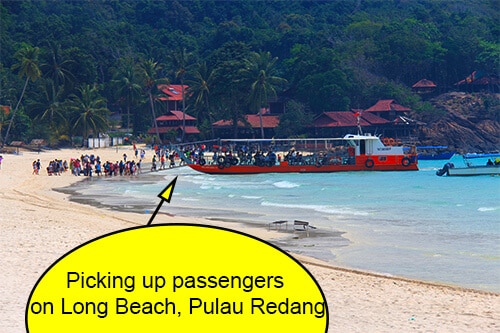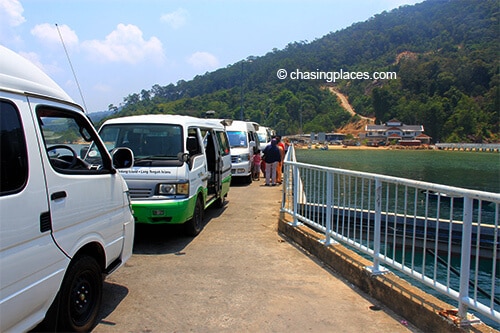 Important Things to Remember:
There are no ATMs or banks on the island, so make sure to bring enough cash to last for your entire stay. Pulau Redang is an upscale island, and also a remote one, so food and drinks are more expensive than on the mainland.
If you are going to book with the biggest resorts on Redang Island, they usually have their own ferries that transfer guests from either Merang or Kuala Terengganu.
Merang is a coastal town north of Kuala Terengganu. I wouldn't recommend taking a ferry from Merang to Pulau Redang if you landed at Kuala Terengganu Airport unless you have to for some reason (E.g., your resort only has boats there and not in Kuala Terengganu).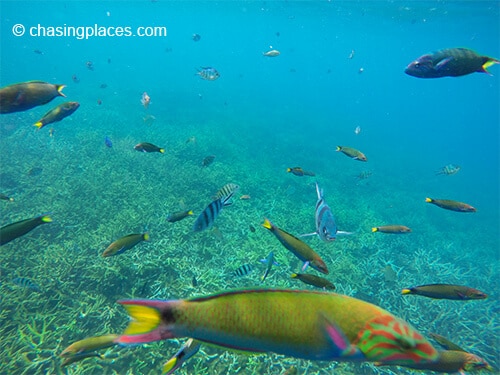 Where did we stay during this trip?
While in Kuala Terengganu
Since we flew into Kuala Terengganu from Kuala Lumpur the night before our ferry departure to Pulau Redang, we had to book a room close to the Shahbandar Jetty.  Eventually, we decided to stay at DJ Citi Point Hotel.
We don't have a direct affiliation with this property on Kuala Terengganu or any property in Malaysia, therefore our opinion is an unbiased one.
Overall, it turned out to be a nice, convenient and clean budget choice. The room we had was not overly fancy, but it was only a five-minute walk to the Jetty and Chinatown, and only 2 minutes from the bus station.
At the time of writing it had a score of 7.3/10 based on 858 verified guest reviews. Based on our experience in Kuala Terengganu, if you are looking for something a bit more upscale then these options are also within walking distance to the pier:
Grand Continential Hotel Kuala Terengganu
While on Redang Island 
The accommodation choices on Pulau Redang are mainly resorts, and they are considerably more expensive than the other Malaysian Islands. We opted against booking an all-inclusive package so we stayed at De Rimba Resort near Kampung Baru.
From here, we could easily walk to the nearby public beach.  We also booked a boat tour that allowed us to visit and spend a few hours on Long Beach as part of a snorkeling tour.
It's important to note that we don't have a direct affiliation with this property or any property in Malaysia, therefore our opinions and suggestions are unbiased.
Overall, we felt that it was a pretty solid budget place to stay if you're up for walking a bit and walking up a hillside to get to your room.  It's definitely not suitable for elderly travelers or those with small children due to the steep incline to their rooms.
At the time of writing it had a score of 6.5/10 based on 29 verified guest reviews.  I consider this to be a bit underrated based on our experience there.  We liked the 'local' environment around this property with only 'local' restaurants to choose from.
Let's face it, most visitors to Redang would prefer something closer to the beach and more upscale. In that case, I would suggest checking out these guest favorites on the islands, based on my research and experience visiting the Redang:
Taaras Beach and Spa Resort (with a superb beach and an isolated location it's a solid choice – rated 8.3/10 based on 568 verified guest reviews at the time of writing).
Laguna Redang Island Resort (perfectly located on Long Beach, meaning perfect convenience – also rated 8.3/10 at the time of writing).
Going Back to Kuala Terengganu
If your resort does not have its own ferry to bring you back to the mainland, you can use the public ferry to go back as we did. Here the steps to go back to Kuala Terengganu:
Arrange transport with your hotel to bring you back to the jetty in Kampung Baru.
Buy the ticket if you have not bought it yet.
At the time of writing, public ferries from Redang Island to Kuala Terengganu only run three times per day during high season: 7 am, 11 am and 1 pm.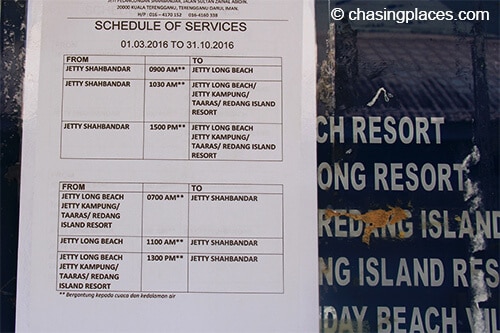 How to find the cheapest rooms on Redang Island (Pulau Redang)?
Although many travel companies may want you to believe that you can only visit Pulau Redang as part of a package, this is simply not true.
We booked our room online, our ferry tickets at the ticket counter and our meals at local restaurants.  So if you dislike packaged vacations, you still have plenty of room options. Before we finalized our room, we referred to three different websites: www.agoda.com, www.booking.com and www.hotelscombined.com.
All of these sites are very reputable and offer excellent prices.  Of the three, www.hotelscombined.com is the most unique option because it is a price comparison site that simultaneously compares the cheapest room prices from the world's leading sites.  I have created links to their respective property lists on Pulau Redang to save you some time:
Rooms on Pulau Redang – www.agoda.com
Rooms on Pulau Redang – www.booking.com
Compare Room Prices on Pulau Redang – www.hotelscombined.com 
So there you have it, a step-by-step guide on how to get from Kuala Lumpur to Pulau Redang.   If you find this guide useful, please share it with your fellow travelers on Facebook.
Safe travels and keep on chasing places.
Article updated in January 2020. Please take note that transport prices and tour fees may change from the time of travel.