If you're planning on visiting Malaysia in anytime in the near future you will probably come across the term 'Pulau Redang' many times while researching for your trip.  If you are not yet familiar, 'pulau' translates to 'island' in Bahasa Malaysia. Therefore, when you combine the terms Pulau and Redang we begin to talk about one of Malaysia's premier islands.
Pulau Redang is quite well known by locals and by international tourists visiting Malaysia due to its pristine beaches and underwater attraction. However, due to the monsoon season from October to February, it is visited the most from March to September. I visited Pulau Redang during the month of May.  As expected, the weather was perfect with blue skies and a balmy breeze, without a drop of rain during my entire 3-day trip.
During my second day on Pulau Redang, my travel companion and I decided that it would be a good idea to see if Pulau Redang's underwater world still lived up to the positive reviews we had been reading online. I had my doubts, primarily because an island with so many top-notch resorts and tourists must have some ecosystem problems by now?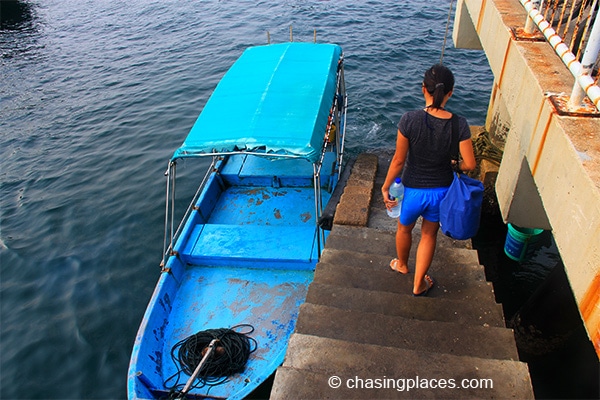 Would I recommend taking a snorkeling tour on Pulau Redang?
Based on my experience, the overwhelming answer is YES! Our tour was affordable, enjoyable and very laidback.  The marine life was impressive and our tour guide made the whole experience stress-free.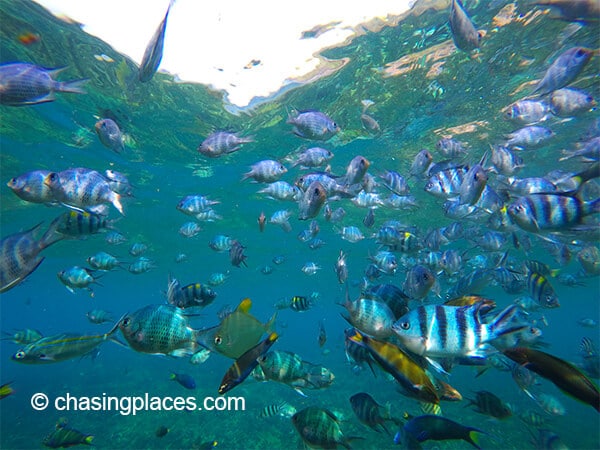 Arranging our Snorkeling Tour
Since we arranged our own accommodation before arriving on Pulau Redang we didn't pre-book any tours on the island. I typically like to book my own rooms and my own tours opposed to packaged getaways.  This trip to Redang Island was no exception.
We decided to stay at Redang De Rimba Resort which is not on Long Beach or any of the famous beaches on Pulau Redang. Instead, our resort was near Kampung Baru – the small local village on the island. During our first day on the island we knew that we wanted to snorkel.  Subsequently, I began to look around for snorkeling companies and boat operators that might be willing to take us out for a trip during our second day on Redang. Since we were a small group of two, I knew that we wouldn't be filling up an entire boat, which meant some negotiating would have to happen before we could agree on a price with a driver.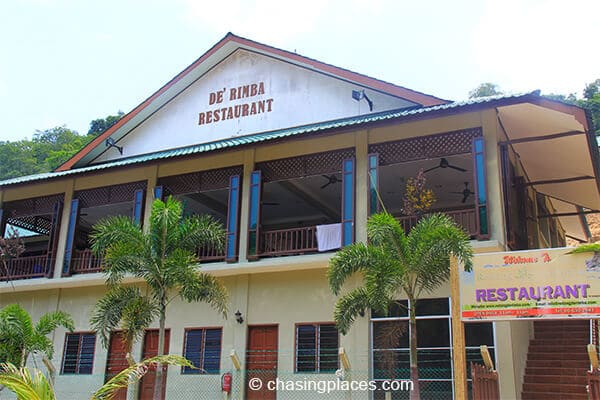 Under ideal circumstances, boat drivers on Redang Island want to fill up their vessels with as many tourists as possible.  This allows them to charge per person for their snorkeling tours which translates to more money for them at the end of the day. Since we were a group of two, I knew that we were going to have to pay a premium for the luxury of going on a private snorkeling tour. I approached two different boat operators.  Both of which wanted too much money for the simple snorkeling excursion that we were looking for.
Eventually, we decided to try at our resort to see if their prices were comparable to the other drivers we had spoken to.  Surprisingly, they were even cheaper than the private operators who were advertising similar snorkeling tours (cheaper by about 10 RM per passenger). Similarly, they also were very open to letting us draft up our own little tour itinerary. I also liked their transparency in terms of telling us upfront that all snorkeling gear would be provided at no extra cost as part of the tour. We would pay for our own lunch.
Our Snorkeling Tour Itinerary
            When we were coming up with our itinerary for the day, we had two main priorities: 1) we wanted to snorkel at two different spots for an hour each and 2) we wanted to visit Long Beach for lunch and some fun in the sun afterwards. To our surprise, our resort said that we could "stay at Long Beach for as long as
[we] wanted." After a short discussion, here is the itinerary that we agreed on:
8:00 am – Pick up at Resort
8:30 am – Begin Boat Trip around Pulau Redang
9:00 – 10:00 am – Snorkeling Session #1
10:00 – 10:30 am – Boat Transfer
10:30 – 11:30 am – Snorkeling Session #2
11:30 – 11:45 am – Boat Transfer to Long Beach
11:45 – Onwards – Free time on Long Beach, Pulau Redang
Total Cost for 2 Passengers = 200 RM
(Included in price: driver, pick-up, ground transport and all snorkel gear. Not included in price: lunch)
Travel Checklist: Do you have everything you need?
Our Snorkeling Experience
Based on the itinerary above, we ended up snorkeling at two different spots near Pulau Redang. We didn't go into the Marine Park for these sessions to save some time and money. Our tour guide (boat operator) turned out to be quite enthusiastic about snorkeling and swam with us at both sites.  His ultimate goal was to show us unique types of fish species. He was really laidback in terms of time.  This made the experience much more pleasant because we didn't have to worry about other tourists cutting our snorkeling sessions short. We could have snorkeled for an extra 30 minutes at each site, and I honestly feel like he wouldn't have cared.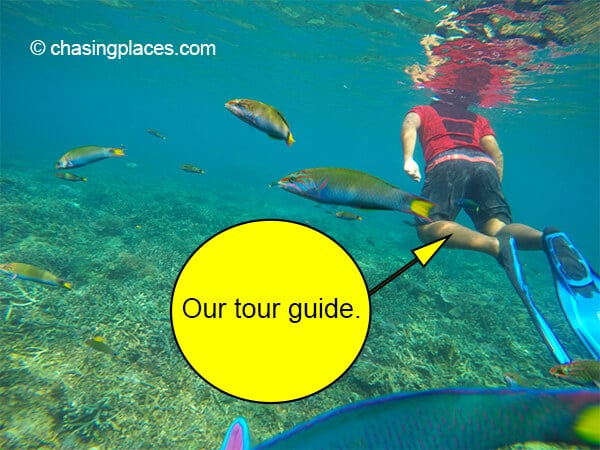 Overall, I was quite impressed with the different types of fish species that we saw at both sites. I'm not a marine biologist by any means, therefore I won't attempt to name specifics, but there was an abundant amount of fish swimming around us (and we didn't have to feed them). Some of the coral was noticeably dead, but there were some signs of healthy growth and colors in some of the areas. Considering how close we were to Pulau Redang, the coral was quite impressive as a whole.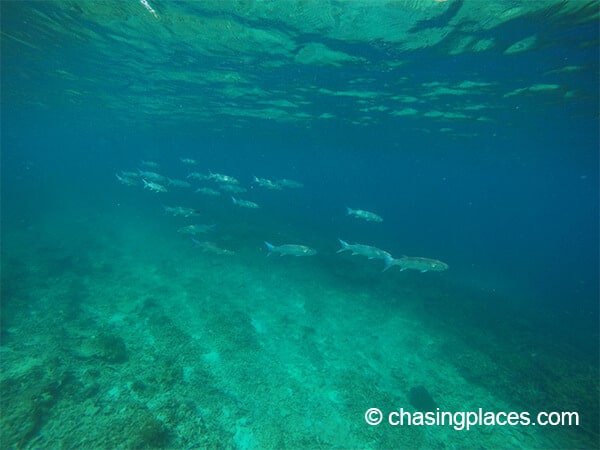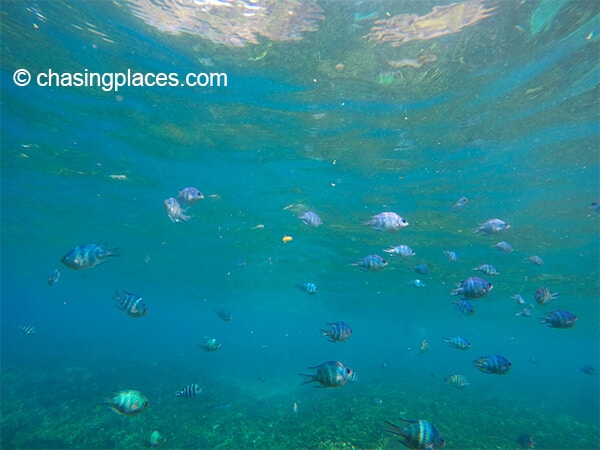 Here is a video of our snorkeling experience in the beautiful waters of Redang Island:
Our Visit to Long Beach, Pulau Redang (Redang Island)
Once we finished our second snorkeling session, we immediately headed to Long Beach on Pulau Redang for a late brunch. Since we opted to choose our own brunch, it wasn't included in the total price of our snorkeling tour. This allowed us to choose exactly what we were looking for when we arrived at Long Beach.
Visiting Long Beach as part of our snorkeling tour turned out to be a good decision. After burning some calories and working up an appetite during the morning snorkeling sessions, it was nice to find a wide selection of beachfront restaurants to choose from. The beach itself is quite striking with very powdery white sand and crystal clear water. A rocky headland in the middle of the beach makes it quite picturesque to snap photos as you relax on the beach. We didn't spend the night on Long Beach, but based on my impressions of it, it looked like a great spot to stay while on Pulau Redang. Next time, I would probably opt for another snorkeling session after lunch to bring the full day total to three opposed to only two.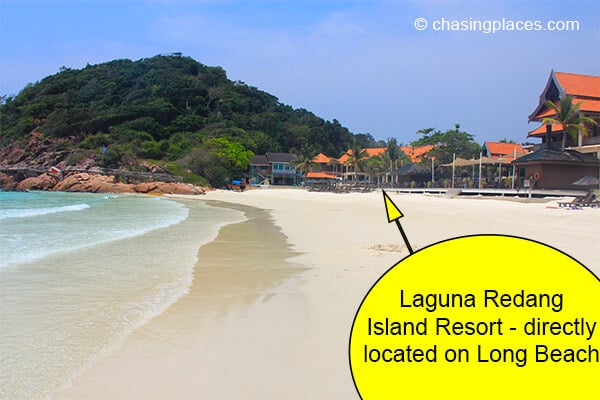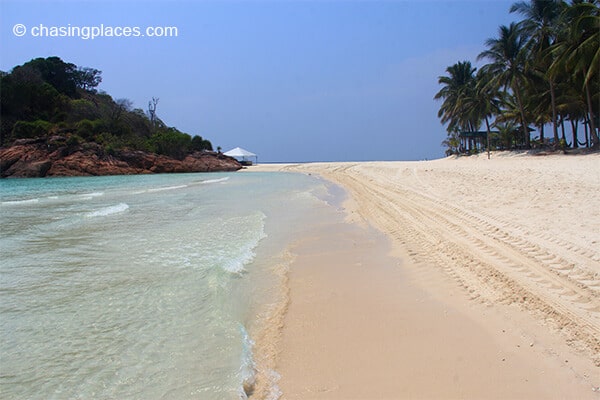 Where did we stay while on Pulau Redang?
We typically arrange our own accommodation opposed to booking packaged vacations.  Therefore, we booked online well in advance at Redang De Rimba Resort. It isn't near Long Beach, but rather, near the local village on the island. With only local houses and restaurants in the vicinity we experienced more of the local culture on the island opposed to staying at an isolated beach resort or on Long Beach. At the time of writing Redang De Rimba Resort had a score of 6.5/10 based on 29 verified guest reviews. We don't have a direct affiliation with this property or any property on Redang, therefore in an unbiased manner we can say that this score is probably a bit low for this property. It's not fancy or luxurious by any means but it wasn't particularly bad. Actually, we sort of thought its hillside location was ideal for tourists who want to experience the local culture while being close to the jungle. The staff were also super friendly.
If you're travelling and you want something on Pulau Redang that's a bit more upscale, family friendly, or closer to the beach then here are the most popular choices based on verified guest reviews at the time of writing:
The Taaras Beach & Spa Resort – rated 8.2/10 based on 575 verified guest reviews. I actually visited this property during my time on Pulau Redang. It's located on a super nice private beach with spectacular water which is perfect for swimming. If I had the choice and the cash, I would stay here on Pulau Redang over any other resort.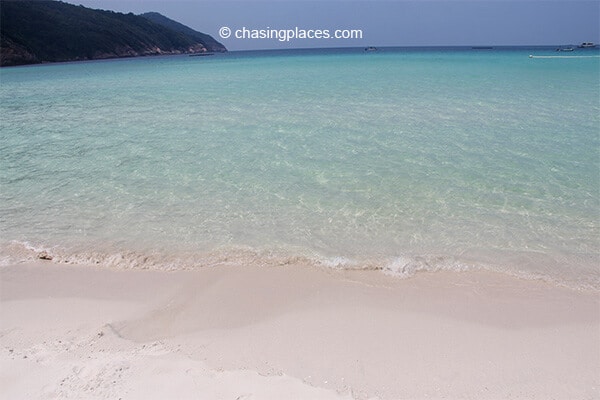 Laguna Redang Island Resort – rated 8.0/10 based on 11 verified guest reviews. I saw this property during our visit to Long Beach. It's ideally located right on one end of Long Beach.  A very nice, well managed property. I would consider this to be the best property on Long Beach.
How to find the cheapest rooms on Pulau Redang?
I have visited most of Malaysia's islands. Each and every time I plan a trip I refer to one of these three reputable sites: www.agoda.com, www.booking.com or www.hotelscombined.com. Agoda.com is the most popular booking site in Malaysia and Southeast Asia for that matter whereas www.booking.com is extremely popular with our readers due to their excellent customer service and second-to-none cancellation policies. The third site that we commonly use to find the cheapest rooms is www.hotelscombined.com because it's a price comparison site that compares all the world's best room providers simultaneously.  I have created links to their respective property lists for Pulau Redang to save you some time:
Rooms on Pulau Redang – www.agoda.com
Rooms on Pulau Redang – www.booking.com
Compare Room Prices on Pulau Redang – www.hotelscombined.com