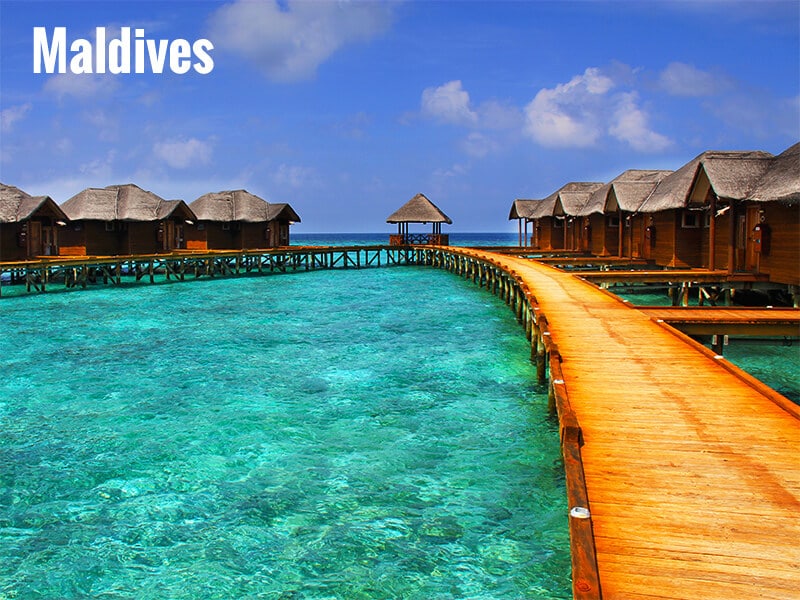 Over the years, visiting the Maldives has become synonymous with going for a luxurious island getaway. But do you know that you could actually visit the Maldives on a budget?
You may hear a lot of people talking about their vacation to the  Maldives mainly consisting of booking a stay at a private island resort. Indeed, Yes, has become the tourism norm for the Maldives for decades.
Opening Up the Maldives to the Other Types of Travelers
In the past years, however, the Maldives government came up with a brilliant idea to open up the island nation to independent travellers who are more budget-conscious.
This move benefits those who are unwilling to spend their money on an island resort stay or who are not interested in being confined in comfort of one tiny island during their vacation.
Indeed, there is more to the Maldives that is worth exploring.
The move to open up tourism to a wider range of travellers also benefit the locals inhabiting the islands. These locals can build their own small businesses and accommodate tourists. They have the chance to earn a living, and all the tourism money will not just go to the pockets of big resort companies and rich businessmen.
It is definitely a win-win situation.
So if you 're one of those interested in visiting the Maldives, now is the best time ever!  If you're not, this may change your mind: Why you should visit the Maldives.
You don't have to be a millionaire or spend a chunk of your life savings to explore the Maldives.
All you need is to plan your trip well, book a hotel within your budget and come up with itinerary with activities that suit your preferences.
To help you with your epic trip to the Maldives, here are  7 Essential Tips on How to Visit the Maldives on Budget:
Tip 7. Use the Public Ferry
Following this tip will really save you a lot of cash! A number of tourists that come to the Maldives and stay on private islands are forced to book a private boat transfer to get to their resorts.  
This is not really an issue for some people willing to splurge, but if you're following a strict budget, private boat transfers are not really practical!
Unless you don't care about the expenses, taking a private boat transfer to every destination of the Maldives is super expensive for the average  Joe.
A great alternative is to use the public ferry for your visit to the accessible islands of the Maldives. From the international airport, you can actually take the public ferry to Male and other neighboring islands. From Male, you can also take a ferry to other inhabited islands.  
What you need to do is to take note of the steps on how to take the public ferry and look into the ferry schedule.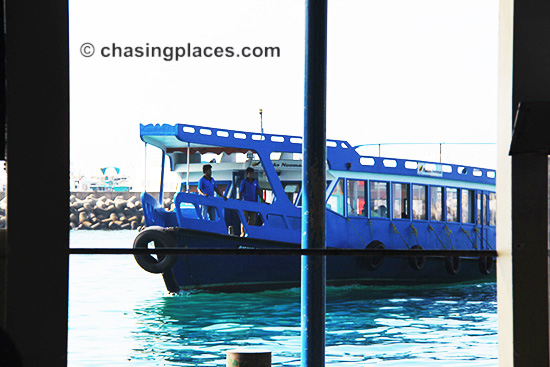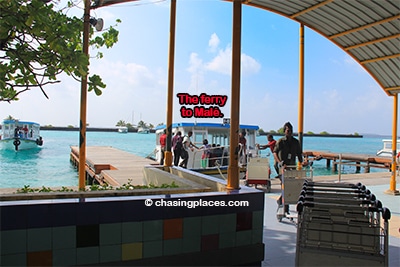 Tip 6. Stay on an inhabited island.
There are two types of islands for tourists visiting the Maldives – the inhabited and uninhabited islands.
The uninhabited islands are ones with private island resorts, which the Maldives is known for. If you only book a stay at a  private island resort, expect to spend most of your time on one island.
Inhabited islands are ones where Maldivians live.  Before these islands are off limits to tourists but now some of them are allowed to accommodate visitors.
Inhabited islands, like the one we stayed at – Maafushi Island, has a collection of small resorts and boutique hotels that are significantly cheaper than private island resorts. These islands are also equipped with restaurants to cater to visitors.
Staying in Male and inhabited islands will not only save you some money, it will also give you a wider perspective of the Maldives as a country as you are more exposed to the local people and culture.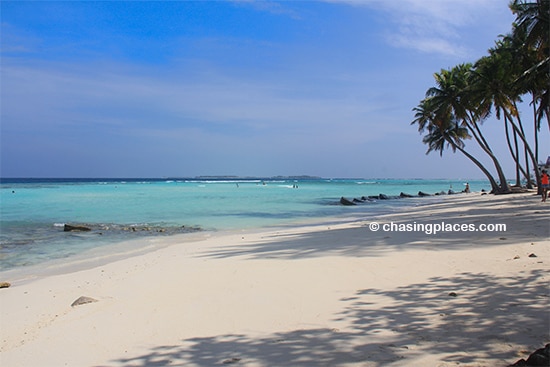 Tip 5. Walk as much as you can around Male
Private resorts and companies offer a tour around Male. But if you're not a fan of tours, and would like to save some cash, I suggest that you explore Male on your own.
Male is safe enough to walk around.  Choose a hotel near the central area and you can walk your way to the most significant sights. If you're not staying in Male, then you can take a taxi from the pier and go to the downtown. From here, you can just walk to explore the capital of the Maldives.
Other accessible islands like Hulhumale and Villingili are also small enough to walk around. No need to spend too much cash on transport.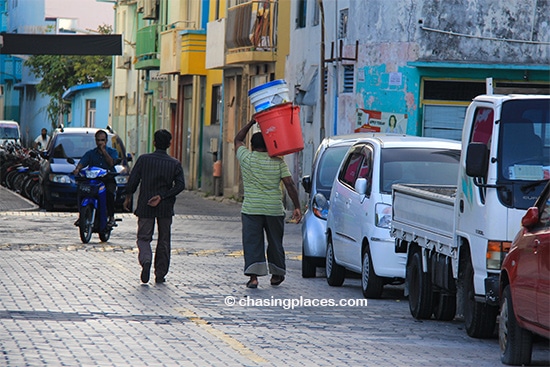 Tip 4. Visit the more accessible islands near Male
If you want to explore the Maldives without breaking the bank, then islands like Hulhumale and Villingili make great day trip choices.
There is no need for private boat transfer or group tour. These islands can be accessed by public ferry. Once there, you can simply walk around to explore. You may bring your own food and beverage and have a picnic at one of the island's beautiful beaches.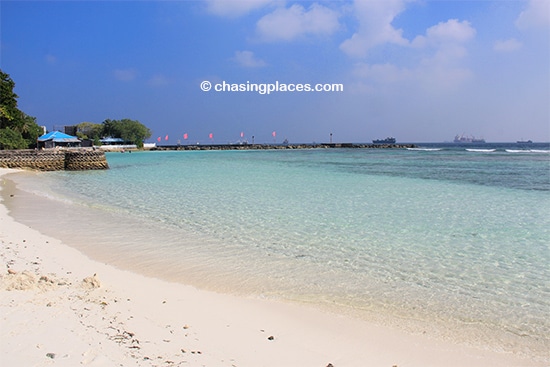 Tip 3. Dine in boutique hotels and choose local food.
Like other places, the Maldives has a range of restaurants. During our travel experience to the Maldives, we dined at mid-range restaurants or restaurants attached to our boutique hotels. The prices for these types of restaurants are reasonable. The less costly meals are usually local dishes.
So instead of looking for western food, try local delights. They are generally cheaper because of the accessibility of the ingredients and the restaurant cook is so much more familiar with how to prepare them well. Grab this opportunity to try local cuisine.  After all, it is part of the Maldives travel experience.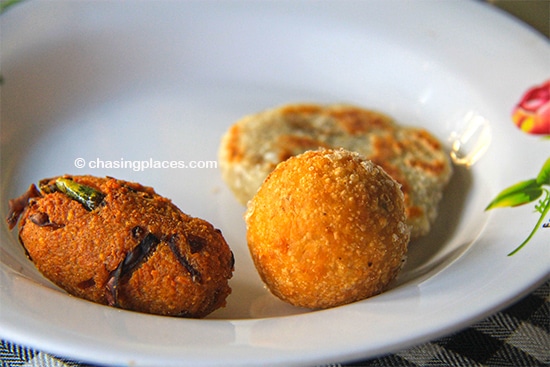 Tip 2. Go on a  day trip to a private island resort.
If you're curious to see what a private island resort in the Maldives looks like, there is a way to do that without having to spend money to actually stay in one.
How?
Just book a tour with your hotel on the inhabited island. During our stay in Maafushi, our hotel was offering several activities like snorkeling and fishing. One of their tour packages includes a visit to a private island resort. Some of these resorts allow day trip visitors as long as they pay a certain fee to be granted access to the beach and facilities.
We found this to be another good deal. We get to spend a few hours in a private resort, with a really nice beach, but the cost of the visit is less than staying in a resort for a night.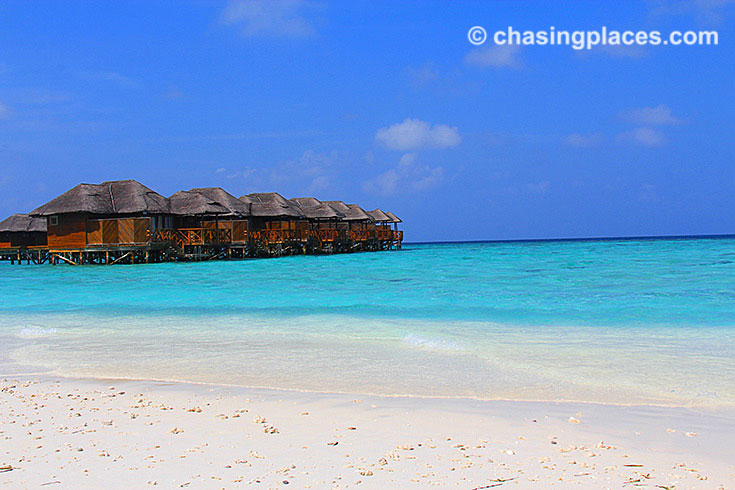 Tip 1. Bring your own snorkeling equipment and travel essentials.
This may be a very simple tip but it can save you cash. Renting a snorkeling gear is relatively expensive on the Maldives. The cost of the rental will add up to the already high cost of a snorkeling trip.  
We highly suggest that you bring your own snorkel equipment so you will save money on the rental. It is also very convenient to do so because some inhabited islands have nearby reef atoll, so you don't need to boat transfer to snorkel. Just get your mask and swim away!
Travel essentials like sunscreen lotion, hats, sarong, etc. will cost more if you buy them from Maldives resorts and shops.
Remember that the local economy relies heavily on tourism so the cost for travel-related stuff is higher than in other places. If you want to save money, then bring enough of your travel essentials so you don't have to buy an overpriced sunscreen lotion from a tourist shop.
Are you planning to do a bit of work while vacationing in the Maldives?
Sometimes accessing your work while you`re on a vacation can be a productive idea. Travel utilities such as Cloud Citrix VDI and QuickBooks Enterprise cloud can let you access your work remotely from anywhere on any device.
---

So there you have it –  the 7 essential tips on how to visit the Maldives on budget.  If you have any questions and would like to add more tips and suggestions, don't hesitate to comment below.
We wish you an epic trip to the beautiful Maldives!
Chase. Experience. Inspire.