Hoi An may be primarily known as a medieval town with UNESCO World Heritage Site status, but visitors are bound for other surprises when they get there. And that is exactly what we experienced when we visited this charming Vietnamese town recently.
Aside from its traditional shop houses, exquisite temples and old bridges, Hoi An is home to many tailoring shops. After noticing these shops, we decided to make some inquiries. We finally confirmed that the tailoring businesses in town are thriving. These tailoring shops do quite well because they provide tourists with cheaper alternatives when it comes to owning a brand new tailor-made suit or gown.
I guess you can say that the presence of these shops is a result of the mass tourism that has developed in this area.  But when I say "mass tourism", you might think that these shops are full of tourists eager to have their body proportions measured. To the contrary, although there were several shops lining the streets close to the old quarter; we did not see have to rub shoulders with a crowd.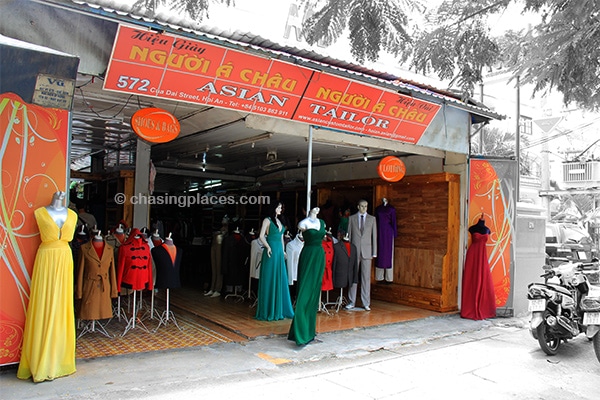 The absence of a crowd gave us the opportunity to browse around different shops and actually talk to the shop attendants. Like those that work in the tourist industry all over Vietnam, the workers in these shops could speak fluent English. We went through a couple of shops until we settled for one. Perhaps, the female attendants in this particular shop were noticeably more charming and well-spoken. They were very good at convincing us to get a dress and suit made with them. Of course, her years of sales experience helped her to say the right things at the appropriate moment.
Finally, my travel companions, two gentlemen and a lady were convinced that we wanted to get something done. But it was never our plan to fall into a tourist trap as some seasoned travelers may view this situation.  What really convinced us was the prices of the tailoring/sewing jobs. They were definitely cheaper than the prevailing rates in first world (developed) countries. So we thought that we would eventually need a suit or a dress for some future functions, therefore it was more practical to get here.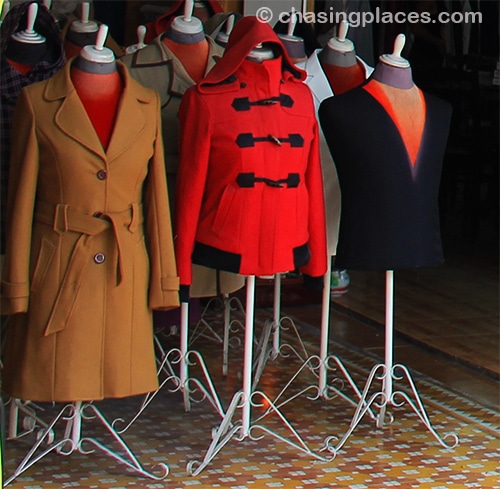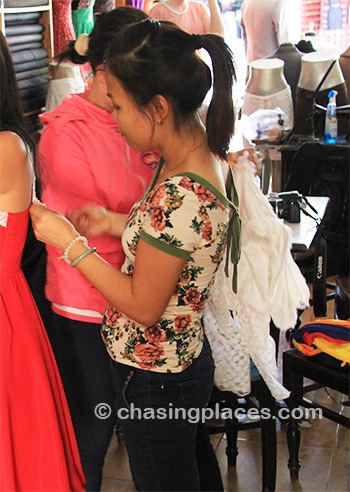 Most of the Hoi An shops will let clients choose the material they want their dress or suit to be made of.  They have numerous magazines filled with various samples of suits, pants and dresses laid out in their shops. What customers only need to do is to tell them what design they wish to have made. If in case, you don't like any of the designs in the store or in the magazines, the shops are also equipped with a computer and internet connection. In our case, we only needed to browse for a particular clothing style we wanted them to make.
Women living in countries where custom-made sewing is very expensive would consider this Hoi An tailoring shop a dream come true. And it was exactly my female travel companion felt as she was picking out dress designs and materials, and having her body measurements taken. In her words, "I feel like princess, because dresses are being made exclusively for me."
My male companions had suits and dress shirts made, while my female friend and I requested for a couple of party dresses. As we were discussing the designs with the lady shop keeper, I was amazed at how well she knew her job. She was not a seamstress, but she knew a lot about designs and fabrics, and she was skilled enough to get our dresses measured. We chatted a little bit and I found out that she wasn't even the owner of the shop, but rather, the trusted keeper because she knows how to speak English. I told her that she should run her own shop someday instead of producing money for somebody else who does not have the skills she has. She only gave out a shy grin after hearing what I had to say.
By this point in time, we were happy about the level of customer service at the shop, but we were not really sure of the outcome of the suits, shirts and dresses.  I was given a strong impression that the tailors/seamstresses could pretty much create anything as some designs were taken from the internet.
Travel Checklist: Do you have everything you need?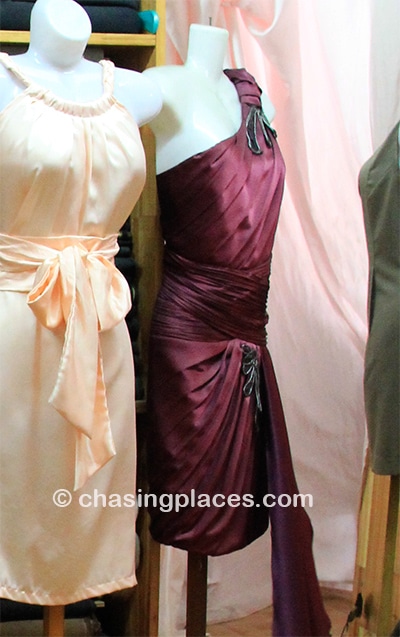 We were not only impressed with the seemingly excellent tailoring skills of the people working in the shop, but also their turnaround time.  After we settled the price, the fabric and design to be used, the attendant asked us when we were leaving Hoi An. At that time, we had only two days left in town. She casually told us to come back the next afternoon to get fitted. It gave me the impression that the tailor/seamstress working on our clothing would have to work all night. We were a little doubtful whether they would be able to follow the schedule that they had set but we proceeded to make the order.  We were only asked to do a down payment instead of paying the whole amount.
The next day, sure enough, the clothes including the suit were ready for fitting. We had to make some minor adjustments especially for the suit, but overall we were happy about the quality of the dresses and the suits. It was truly impressive for them to finish the order on time without compromising the quality. The attendant told us to come back the next day to pick up our clothes. Overall, it was a pleasant experience to have dresses made in a Hoi An tailoring shop. It became a fascinating part of the whole travel trip in this Vietnamese town. I was glad that we were supporting the local economy.  And of course, I was happy with my single-strapped red dress, which I wore to a beautiful wedding celebration a few weeks later.
If you want to have a dashing suit or a glamorous dress made in Hoi An, here are some essential tips:
1. There are many shops to choose from but not all of them deliver the same level of service, so carefully pick out a reputable tailoring shop. Usually the ones that have been established for a long time value their reputation instead of just making money.
2. Ask your hotel/guesthouse for some suggestions. Some of them will have a guestbook that documents the tailoring experiences of past guests. But take note that hotel workers, taxi drivers and touts can get a commission out of referring you to a particular shop. If your hotel/guesthouse seems reputable, then their recommendations may still be valid despite the commission.
3. Make sure you have enough time to wait for the tailoring job to be done. Discuss the turnaround time with the shop.  The shop should allocate time for fitting and for making adjustments to the suit/dress.  
4. Pay a small down payment first and then pay the bulk of the amount after the job is done. This is particularly important if you are not going to spend a lot of time in Hoi An.
5. Most tailoring shops prefer US dollars (cash), but they also accept major credit cards like VISA and Mastercard. However, take note that they will charge you an additional amount (about 3 to 5 percent) if you choose to pay with credit card.
 How to find the cheapest rooms in Hoi An?
Hoi An, like many of the other cities we have visited in Vietnam is loaded with solid budget and mid-range accommodation options. It also has a few upper-options as well.  I would suggest using one of these two sites for your room bookings: www.agoda.com and www.hotelscombined.com.
We used www.agoda.com for our bookings during our stay in Hoi An and we were quite satisfied. Recently, we have been using www.hotelscombined.com more for our bookings because of their price comparison searches. Many of our readers who backpack in Vietnam use Hotelscombined.com because over the course of a few weeks they save some serious money. I hope that these suggestions can get you one step closer to finding the exact type of room you are looking for in historic Hoi An!