Planning Websites we used for this Trip to Bhaktapur
World Nomads Travel Insurance. 24/7 coverage for 150+ adventure activities. Get a Quote
Momondo, Booking Buddy. We always use these 2 great price comparison sites to find the world's cheapest flights.
Agoda, Booking.com, HotelsCombined. We have relied on these 3 accommodation sites for over 10 years.
See the Complete List of all the Cost-Cutting Travel Resources we use here….
Bhaktapur
Aside from being the main access point to the highest peak in the world, Nepal is home to many UNESCO World Heritage Sites. Thus, it's one of the most fascinating countries to visit while in South Asia. One of the heritage sites that is oozing with intense culture and history is the ancient city of Bhaktapur. This Nepalese city's history goes all the way back to the 8th century. That is why it's not surprising that it was once the mighty capital of Nepal.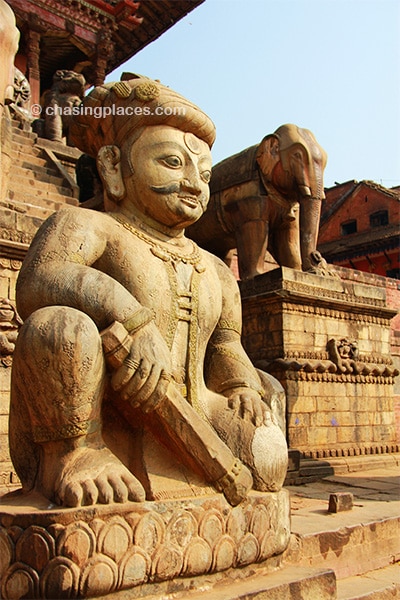 Once surrounded by thick walls to keep it safe from the outside world, Bhaktapur remains a functional city with around 1000 thousand residents. But upon setting foot in Bhaktapur, you will find yourself being brought back to its ancient past. Your eyesight will be transfixed to old temples, palaces, traditional wooden houses, intricately designed pagodas, and thick walls of greyish and orange hues.   Indeed, Bhaktapur will command nothing but admiration. You will be glad that a place such as this is being preserved and continues to exist.
The combination of Buddhist and Hindu religious influences are all over Bhaktapur's medieval core. Here, the traditional Newari culture is struggling to survive amidst the insistence of modern pop culture.
Every ancient city in Nepal has a main square called Durbar Square, and the one in Bhaktapur is nothing but impressive.  The area is the old, yet vibrant beating heart of the city. The most notable buildings in the city serve as boundaries to the square. These buildings include King Bhupatindra Malla statue, the National Art Gallery, the Phasi Dega Temple, the Palace of 55 windows, and the Kedarnath Temples.
The entrance to each building is beautifully designed. You will find a number of terracotta figures, stone sculptures and wood carving masterpieces adorning the buildings. If you take the time and look closely at their complex details, you will gain more respect to the Nepalese artistry and heritage.
Your exploration of Bhaktapur does not end at Durbar Square. In fact, the city is divided into several squares or sections. The secondary square in the city that is arguably just as impressive as Durbar is called Taumandhi Square. It is best known for its exquisite temples that are designed with rectangular shapes and multiple roofs. Like the Durbar Square, Taumandhi is also teeming with spectacular woodwork and stone sculptures. If you are walking around this square, don't miss out the opportunity to visit Tilmad Narayan, Tilmadhave Narayan, and Bhairabnath Temple, which are the main attractions in this vicinity.  Many tourists choose to stay right in the heart of Bhaktapur with the locals.  If that interests you then you can explore the hotels and guesthouses in the ancient city here.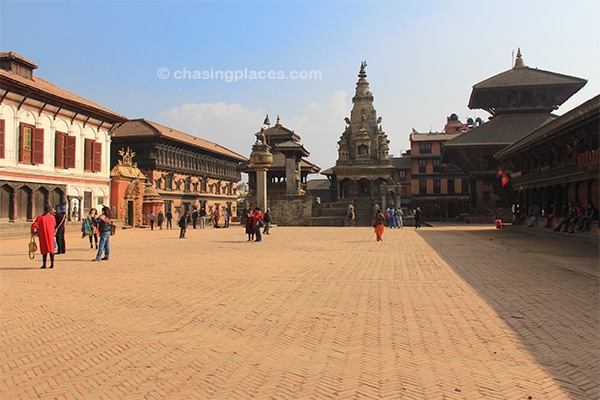 Travel Checklist: Do you have everything you need?
The oldest square in Bhaktapur is called Dattatraya. This is also where you can find the city's oldest place of worship, which is aptly called Dattatraya Temple. Sometimes, it's hard to distinguish the different squares because they have similar looking structures. The same can be said about Dattatraya as it also has the familiar wood, stone and brass structures.
The Pottery Square is very unique from the other squares in the Bhaktapur. It is not known for its temples, palaces and buildings. It is a working square which does not highlight the grandness of architecture. Instead, it features the trade that has become the main source of income for Bhaktaphur residents for many centuries.  But just when you think it's just your usual pottery-making space, you are wrong.  The potters in Bhaktapur still follow the traditional pottery-making methods and use the basic tools utilized by their ancestors. Here, you won't find sophisticated machines, but instead, wooden wheels of different sizes and shapes, and the raw skills of potters, who are usually old men.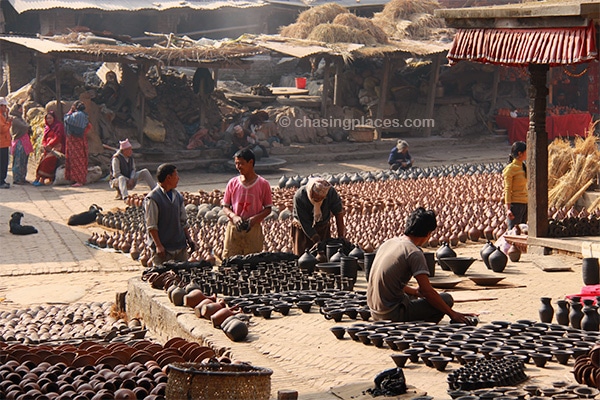 As you observe the potters working, it will be quite clear to you that they are not doing this for tourism purposes. As they work, they remain focused despite all the visitors who are wondering around, taking photos. Based on the way they act, pottery-making comes so naturally to them that it seems like the trade was a precious legacy passed down by their parents and forefathers.  It is truly an amazing site to see.
Aside from the main squares, there are also a number of stalls all around the city which sell various crafts, paintings and souvenir items. These stalls are quite attractive because they are usually bursting with colors. It is a nice feeling to just walk around Bhaktapur's narrow cobblestone or sandy streets and do some shop browsing.  Most vendors can understand English and are friendly. But just like any market, try to check the prices at different stalls before deciding on buying a certain item.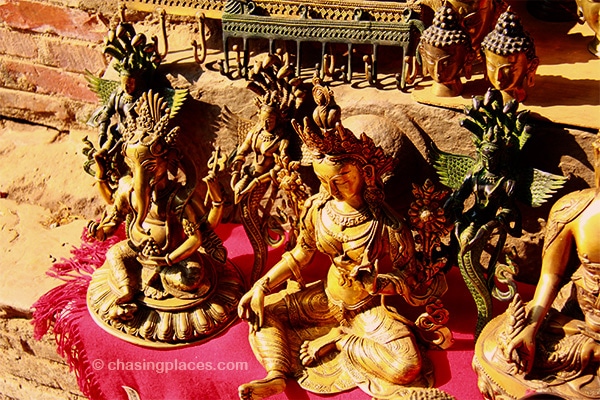 Important Reminders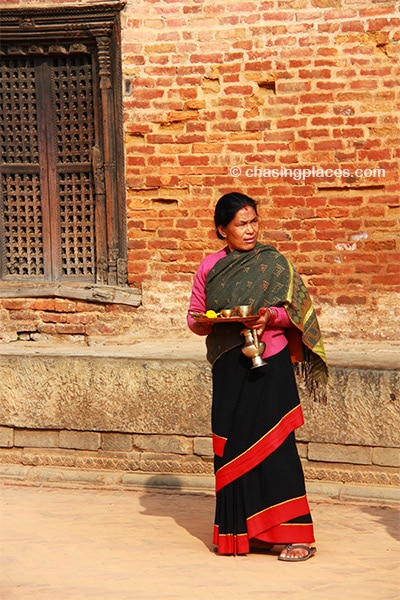 Because it is attracting several tourists every day, Bhaktapur has it fair share of touts although they are not too pushy. At the entrance, you will encounter some who will offer their tour guide services, although they are not part of an official tour guide company. Some of them are very young-looking college students, who seem to know a lot about Bhaktapur's different individual attractions including their design and history. You can hire one of these English-speaking local tour guide for about 10 US dollars. Other touts will be asking you to visit some small art galleries which sell art work. This is not necessarily a bad thing as you are not forced to buy anything. But if you're not into art and pressed with time, then the aggressive invitation can get annoying.
Although you can see locals coming in and out of Bhaktapur, there is a "check point" at each entrance of the city to identify tourists coming in.  This is because tourists need to pay an entrance fee before entering.  After paying, you will be given a ticket and a Bhaktapur brochure.  Should you wish to come in and out of the city after paying the entrance, inform the ticket salesperson so a whole day pass note can be written on your ticket.
How to Get to Bhaktapur?
The ancient city of Bhaktapur lies 12 kilometers east of Kathmandu, the Nepalese capital. There are public transport such as mini buses and buses that go from Kathmandu to Bhaktapur. But if you're traveling with a group, consider hiring a taxi to bring you to Bhaktapur and other nearby attractions for the whole day.
Want to find the best hotel room/guesthouse in Bhaktapur?
Bhaktapur is a fascinating place to stay for a night or two.  It's one of the most historical and cultural places I have seen.  Therefore, I would strongly recommend booking a room there.  I would suggest using either www.agoda.com or www.hotelscombined.com. Agoda has a very large selection and solid prices, whereas www.hotelscombined.com is an excellent price comparison site.  We use both of them extensively.